Spring Meet the Buyers Conference Lays Out Welcome Mat for Government Contracting
The Spring Meet the Buyers Conference is an opportunity for business owners to network directly with government agency representatives.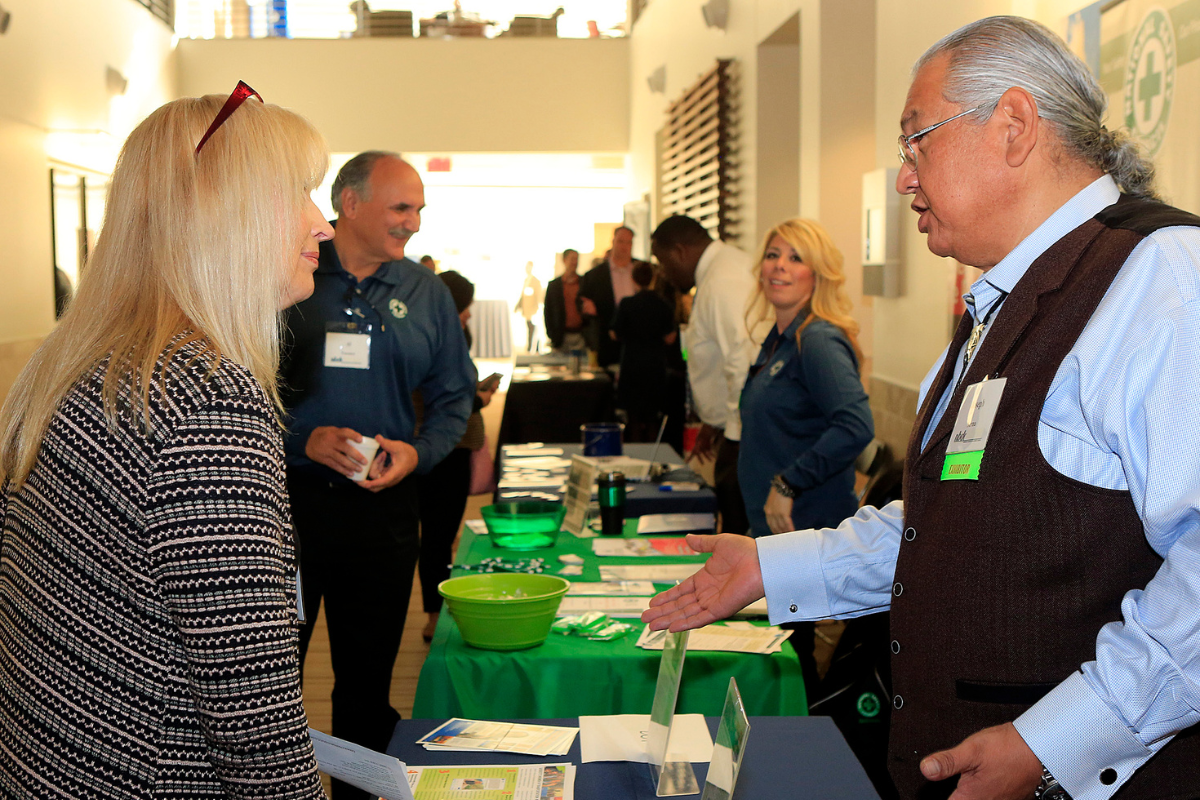 Omaha, Nebraska – Fred McBride, Vice President of RTG Building Services, Inc. says the annual Meet the Buyers conferences are like a welcome mat for small business owners who want to place their products and services directly in front of local, state, and federal contracting officers.
"I think it's the best networking opportunity we've found to meet as many entities that are of interest to our business as we can in one place in a small time frame," McBride says.
The spring 2023 Meet the Buyers conference returns to Omaha on April 20. Hosted by the Nebraska Business Development Center (NBDC) APEX Accelerator program, (formerly the Procurement Technical Assistance Center/PTAC), and the Greater Omaha Chamber of Commerce, the conference will be held at the Barbara Weitz Community Engagement Center, 6400 University Drive South. There is no cost to attend, and those interested in attending can register at http://nbdc.unomaha.edu/mtb.
Another Meet the Buyers event will be held in the fall in Scottsbluff from October 17-19.
"If you have been in business for a decade or even just a year, the Meet the Buyers Conference is a great event to attend," says APEX Accelerator Consultant Daniel Kuchar. He says that many businesses don't consider government contracting for their organization, but it can be a valuable strategy for growth.
"For businesses new to government contracting, the conference can open the door to the government marketplace by meeting with agency representatives face-to-face and giving businesses the skills they need to get started. For businesses owners who may have some government contracting experience already, Meet the Buyers is a way to deepen relationships and take advantage of new opportunities for growth," said Kuchar.
Agencies participating in the spring conference include:
Offutt Air Force Base
S. Army Corps of Engineers
General Services Administration
Department of Veterans Affairs - Construction Team 2
Nebraska Army National Guard
National Park Service
Omaha Public Power District (OPPD)
Union Pacific
Turner Construction
University of Nebraska Purchasing
The U.S. Small Business Administration
Kuchar says that attendees uncertain how to they can get the most out of the April Meet the Buyers conference may contact the NBDC's APEX Accelerator consultants in advance to get tips on refining their presentations. For more information, contact him at dckuchar@unomaha.edu or call 402-853-3933.
McBride says he attended Meet the Buyers conferences in Omaha and Kearney along with RTG Building Services Owner Ramiro Gaitan. Both plan to attend the spring conference.
"We focus on visiting with people we have tried to do business with in the past," McBride says. "Even though it's a very busy conference, we have still been able to talk to more than a half dozen agencies we have interest in."
McBride says bringing so many representatives together in one place is a rare opportunity to have a lasting, positive impact on a small business. "We can send out emails and make calls, and they often fall on deaf ears," he says. "With big agencies and corporations, you don't always know who to call, and even if you do, it's hard to get past what I call 'the gatekeeper.' Meet the Buyers offers one stop shopping for networking and connections."
He says RTG Building Services has secured two federal General Services Administration (GSA) contracts, one at the U.S. courthouse in Cedar Rapids, Iowa; and one at the Land Port of Entry in Lukeville, Ariz., as a result of meeting with GSA officers at Meet the Buyers, and utilizing RTG's 8(a) Business Development program certification from the Small Business Administration (SBA).
Matt Dieckhoff, of Gana Trucking & Excavating in Martell, Neb., and his fellow estimators have taken advantage of several NBDC educational and networking opportunities, including the Meet the Buyers conference last fall in Scottsbluff.
Dieckhoff says Gana started in 1995 with one truck and has since grown to a fleet of more than 100 trucks and 200 pieces of heavy equipment providing aggregate hauling, commercial excavation and commercial grading throughout the region.
"In order to continue to expand, we wanted to pursue more government contracting work," he says. "We attended the Meet the Buyers conference because Army Corps of Engineering work is a big interest of ours."
The conference provided opportunities beyond meeting with Corps of Engineering representatives, Dieckhoff says. "At Meet the Buyers, you can get in front of 20 agencies in two hours," he says, "or you can spend a year on your own trying to get in front of five."