Prescription Pyro, LLC is Dedicated to Fighting and Preventing Wildfires
The loss of his best friend's life nearly 30 years ago put Bob Harrold on a career path where he and his company, Prescription Pyro, are dedicated to saving lives and protecting property.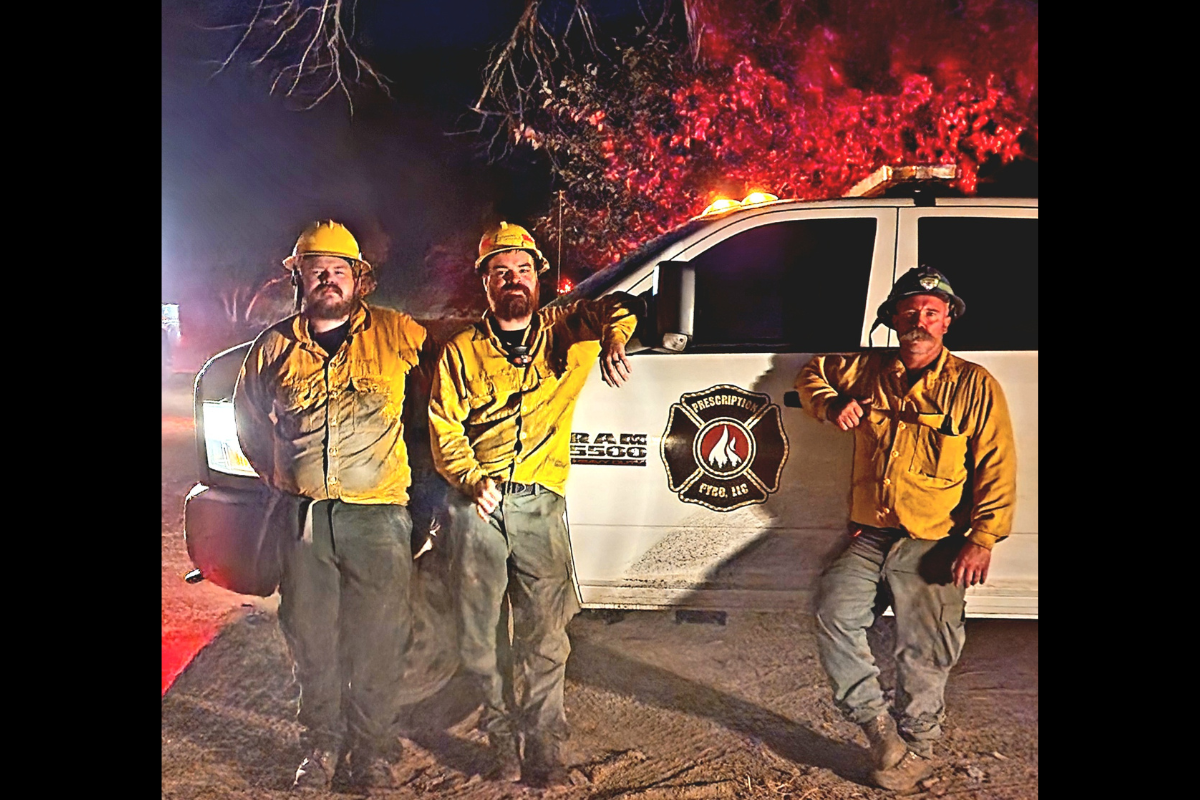 Broken Bow, Nebraska – The loss of his best friend's life nearly 30 years ago put Bob Harrold on a career path where he and his company are dedicated to saving lives and protecting property.
Harrold is the founder and owner of Prescription Pyro, LLC, a wildfire fighting and prevention service based in Broken Bow.
In 2010, Harrold purchased a used pickup truck and started to build the company that would evolve into Prescription Pyro. His initial services included custom burn and cedar tree removal for private landowners, and some contracting for the state of Nebraska.
Today, Prescription Pyro has grown from a sole proprietorship with that one used truck to a successful federal contracting service with two wildland brush trucks and nine seasonal employees.
Harrold's story is truly one of recovery that dates back to his youth and a tragic vehicle accident on May 11, 1994. His best friend was the driver and was not wearing a seat belt. He was thrown from the vehicle and died at age 20. Harrold was wearing a seat belt.
For Harrold, the event was his "rock bottom." He entered alcohol treatment and worked to turn his life around. Supported by family and friends, Harrold's probation officer told him "to find a way to give back to the community." That proved to be the advice that has guided Harrold through nearly three decades of sobriety and a life where he not only gives back to the community, but also encourages others through training and business mentorship.
In 1997, Harrold joined the volunteer fire department because his father had friends who were volunteer firefighters – and that decision also influenced his career path. He earned his GED and was working seven days a week at up to three different jobs, while also volunteering with area youth sports programs.
Within two years of purchasing that old pickup truck in 2010, Harrold had purchased three additional used pickups that he, a friend and his father, a welder, retrofitted with equipment to perform custom burn and cedar tree removal services. After re-investing heavily into his company, Harrold founded Prescription Pyro.
In 2018, Prescription Pyro purchased its first wildland brush truck. Seeking opportunities, he entered the federal marketplace as a subcontractor to a Prime Contractor with the US Forest Service. In late 2021, Harrold worked with the Nebraska Business Development Center (NBDC) Nebraska APEX Accelerator Consultant Chuck Beck to pursue his goal of contracting directly with the Forest Service.
"During the initial appointment, I discussed NBDC's programs and services," Beck recalls. "Over time, I provided Bob with government contracting information, and created a BidMatch profile for Prescription Pyro so he would receive notifications of government opportunities."
Beck completed market research and assisted Harrold with updating the company's System for Award Management (SAM) registration, a required step when working with the government. "I also helped Bob locate the federal opportunity that he was interested in, and we reviewed the vendor application together," Beck says. "Prescription Pyro was subsequently awarded the contract."
Prescription Pyro contracted for 61 days with the Forest Service in 2022, and will expand its service in 2023 by being on contract the entire fire season, which Harrold says commonly is February through September, depending on the region. In addition to the 61 contract days with the Forest Service, Prescription Pyro worked an additional 40 days for another contractor – responding to fires on federal land in Nebraska and New Mexico.
Harrold has been a mentor and trained others who have started their own businesses and become federal contractors with the US Forest Service. He serves as a board member of the Nebraska Prescribed Fire Council and helps arrange and sponsor a Regional Burn Conference with associations from the central U.S. He also has spoken at several schools and churches about his sobriety and the impact of losing his best friend.
In the off season, Harrold says Prescription Pyro works on a variety of fire prevention tasks, including prescribed burns and fulfilling contracts for area public power companies to remove brush and trees from beneath power lines.
"Fire prevention is a big part of our mission," Harrold says. "If we don't maintain the grasslands and remove the invasive species of trees, the danger of wildfires could be a lot worse. Nebraska is very proactive, and it works."