Medical Innovation Series, Commercialization Team Help Entrepreneurs Take Ideas to Marketplace
Government funding to help with the feasibility of medical innovation to mitigate glaucoma progression.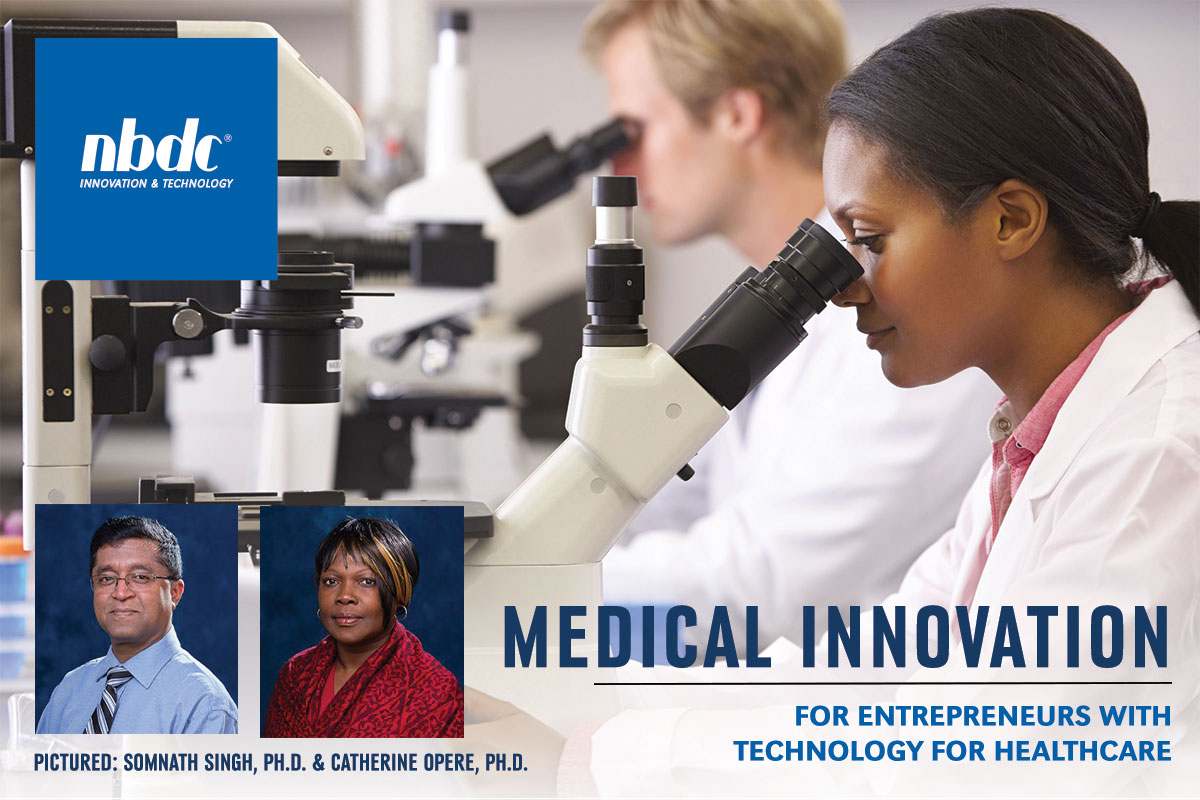 Omaha, Nebraska – Researchers and innovators are adept at making brilliant discoveries, but when it comes to securing funding to take those breakthroughs to commercialization, they rely upon the advice and guidance of the Innovation and Technology Commercialization team of consultants at the Nebraska Business Development Center (NBDC).

Somnath Singh, Ph.D., is a professor and director of the Master of Science in Pharmaceutical Sciences Department at Creighton University's School of Pharmacy and Health Professions, while Catherine Opere, Ph.D., is a professor at the School of Pharmacy and Health Professions. They have collaborated on creating a sustained release delivery system that could significantly increase a specific drug's potential to mitigate the progression of glaucoma.

"The therapeutic potential of the drug has been reported in literature," Singh says. "We have been working on a safe and efficient delivery method that will get it to where it not only provides symptomatic relief but also attacks the root cause."

In order to apply for Small Business Technology Transfer (STTR) government funding to conduct testing and prove the delivery system's feasibility, the two researchers sought the advice of the NBDC and its Procurement Technical Assistance Center (PTAC) and Innovation and Technology Commercialization team.

"Our delivery system has huge commercial potential," Opere says, "but we are researchers, not business people. We knew there was no way we could submit our grant proposal without help."

NBDC Technology Commercialization Director Josh Nichol-Caddy and others worked with Singh and Opere to apply for the STTR funding.

NBDC offers professional guidance on applying for STTR and Small Business Innovation Research (SBIR) funding in one-on-one sessions and in webinars such as the Medical Innovation series for entrepreneurs with innovations that serve medical sectors and support healthcare systems.

Offered by the NBDC in partnership with UNeMed and the Sustainable Heartland Accelerator Regional Partnership Hub (SHARPhub), the completed and upcoming webinar series includes:
Identifying National Institutes of Health (NIH) Institutes and Developing a Specific Aims Page, Oct. 13, 11 am to 12:30 pm CST.
Lunch and Learn – How to Assess the Market of Your Technology, Oct. 15, 11:45 am to 1 pm.
SBIR/STTR Proposal Prep for NIH, Oct. 19, 8:30 am to 1 pm.
Lunch and Learn – Startups' Key Legal Issues, Nov. 4, 11:45 am to 1 pm.
Developing your SBIR/STTR Commercialization Plan, Nov. 16, 8:30 am to 10:30 am.
All of these are free and open to persons interested in SBIR/STTR funding, especially companies applying for the NIH Jan 5, 2022 deadline. The next training series will start in December and the goal is to help companies applying for the NIH April 5, 2022 deadline.
Funded by a 2018
National Institutes of Health
(NIH) FastTrack STTR grant awarded to
BBC Entrepreneurial Training & Consulting
(BBCetc), SHARPhub focuses on training, early-stage funding through competitive SBIR and STTR grant applications, mentoring and networking. SHARPhub services are free and available to innovators in the SHARPhub region of North Dakota, South Dakota, Nebraska, Kansas and Oklahoma.
"Our goal is to help innovators in life sciences move their research into commercialization," says SHARPhub Program Manager Marisol Rodriguez. "By empowering innovators with the best tools and knowledge, we improve their chances at achieving success in the commercial marketplace."
Rodriguez says the Medical Innovation series utilizes the knowledge and experience of BBCetc's team of consultants along with the NBDC consultants and UNeMed, the technology transfer and commercialization office for the University of Nebraska Medical Center and UNO.
"SHARPhub's goal is to advance medical innovations that improve human life," she says. "Obtaining these grants is a very competitive process, and we are collaborating to help move the needle so more companies realize their goals."
Companies wanting to learn about the SHARPhub program may obtain more information at
www.sharpideahub.com
.
Singh and Opere say they will call upon Nichol-Caddy and the NBDC for support as they continue to navigate the grant application process. "The NBDC is an amazing resource," they say. "This is a very stressful time, but Josh has been such a calm, reliable person. He and the other consultants are instrumental in helping people like us cross over into business."
About NBDC
The Nebraska Business Development Center (NBDC) helps Nebraska businesses start, grow and develop, by strengthening Nebraska businesses for a healthy economy and prosperous communities. NBDC is a University of Nebraska at Omaha center that provides confidential consulting business development services across Nebraska to entrepreneurs and business owners for the life cycle of their business. NBDC partners with the University of Nebraska-Lincoln, University of Nebraska at Kearney, University of Nebraska Medical Center, Wayne State College, and Chadron State College to deliver its services statewide. The U.S. Small Business Administration (SBA), the U.S. Defense Logistics Agency (DLA), the U.S. Department of Commerce (EDA), and other federal, state and private organizations support NBDC. Visit nbdc.unomaha.edu for more information.
---
If you have a story idea, news tip or event, please contact:
Jen Decker, Communications Manager, Nebraska Business Development Center
jenniferdecker@unomaha.edu | 402.554.3616