SBDC's International Trade Program Delivers Market Research, Guidance
Eswari Kalugasalam brings a world of experience to the clients she serves as international trade and market research consultant.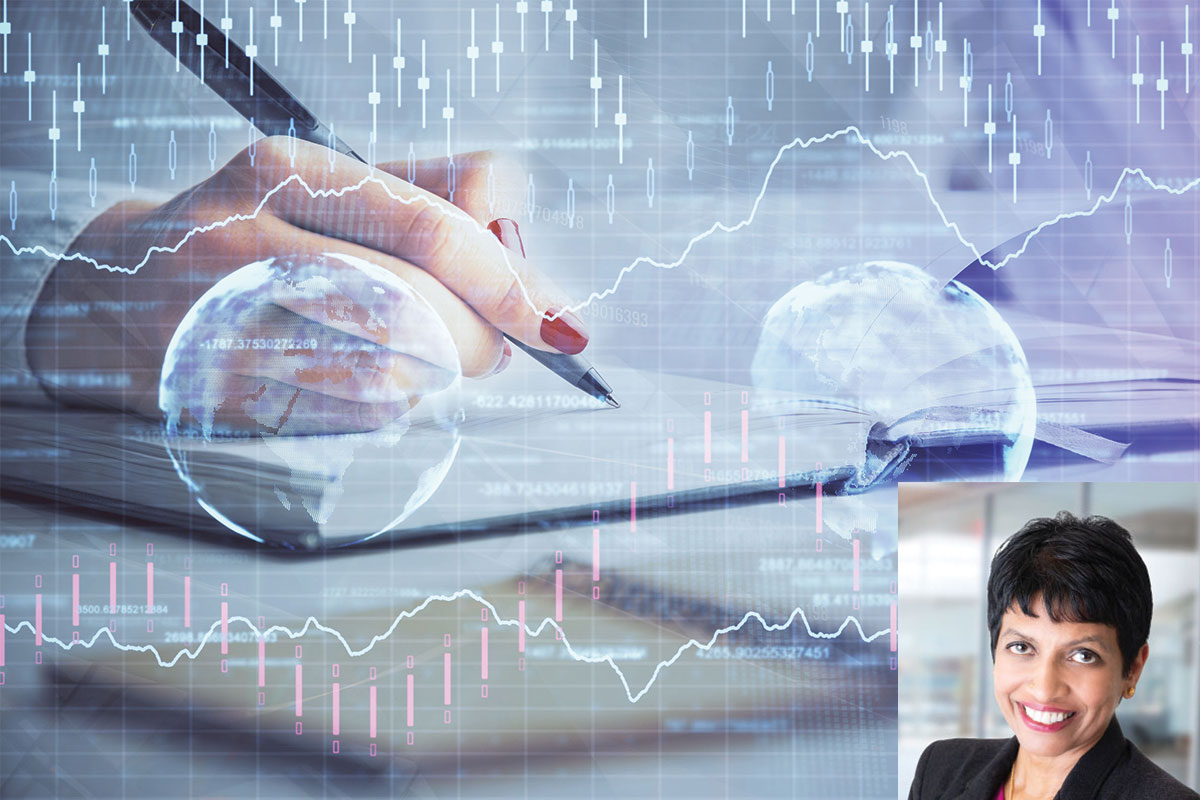 Omaha, Nebraska – From Malaysia to London and now to the Nebraska Business Development Center (NBDC), Eswari Kalugasalam brings a world of experience to the clients she serves as international trade and market research consultant.
"NBDC's programs are all about making people's business dreams come true," Kalugasalam says. "Their success and my role in it makes me feel fulfilled."
Kalugasalam came to Omaha four years ago. She graduated from the UNO College of Business Administration's Executive MBA program in 2019. That same year, she joined the staff at NBDC as an international trade consultant. She recently added market research to her duties.
Since 2010, the international trade program of NBDC's Small Business Development Center has operated from the NBDC office at UNO's College of Business Administration in Omaha. Clients rely upon the international trade program for expert advice regarding importing, exporting, foreign tariffs and taxes, market potential and competition, and the policies and procedures of the U.S. Customs and Border Protection.
"Initially, our program worked largely with other state agencies to share information regarding partnerships and compliance," Kalugasalam says. "In time, we have developed more extensive services that we directly offer to our clients."
As an international trade consultant, Kalugasalam helps small businesses investigate their potential in the global marketplace, identifying pros and cons and gauging economic viability. "We go on to guide them through the next step in the import or export process," she says.
Kalugasalam has had more than 20 years of experience in marketing, communications, business development and research. She has advised local and international C- Suite business leaders from Asia, the European Union and the Middle East on strategic corporate positioning. In addition to her EMBA degree, she earned a bachelor of law (LLB Hons) degree from the University of London.
For businesses interested in exporting their goods or services, the NBDC's market research services include:
Screening and assessing potential markets
Identifying target markets
Analyzing competition and barriers to success
Identifying export channels
Researching international pricing
Finding the best methods to export products
The international trade program also provides information regarding specific procedures and regulations that affect exporting, and identify programs that can open new markets and secure financial benefits.
Historically, Kalugasalam says, Nebraska small businesses tend to look to Canada and Mexico as their export markets. More recently, there is growing interest in the United Kingdom market and how its exit from the European Union could impact U.S. trade. "World trade is evolving because of the times in which we live," she says. "Many companies are planning for the future when the Covid-19 crisis has passed by exploring foreign markets."
Her experience-based trade advice mirrors her personal willingness to travel halfway around the world and work in Omaha. "People are often very afraid of the unknown, but you should always be open to opportunities," she says. "There is a whole world of market potential out there waiting to be explored."
Business owners interested in obtaining more information may contact Kalugasalam at 402-554-6268, or by email at ekalugasalam@unomaha.edu.
About NBDC
The Nebraska Business Development Center (NBDC) helps Nebraska businesses start, grow and develop, by strengthening Nebraska businesses for a healthy economy and prosperous communities. NBDC is a University of Nebraska at Omaha center that provides confidential consulting business development services across Nebraska to entrepreneurs and business owners for the life cycle of their business. NBDC partners with the University of Nebraska-Lincoln, University of Nebraska at Kearney, University of Nebraska Medical Center, Wayne State College, and Chadron State College to deliver its services statewide. The U.S. Small Business Administration (SBA), the U.S. Defense Logistics Agency (DLA), the U.S. Department of Commerce (EDA), and other federal, state and private organizations support NBDC. Visit nbdc.unomaha.edu for more information.
---
If you have a story idea, news tip or event, please contact:
Kelly Jefferson, Communications Director
kjefferson@unomaha.edu | 402.554.6256