Client Story: Airport Professional Services, LLC
PTAC assistance secures government payment for airport firefighting training device firm.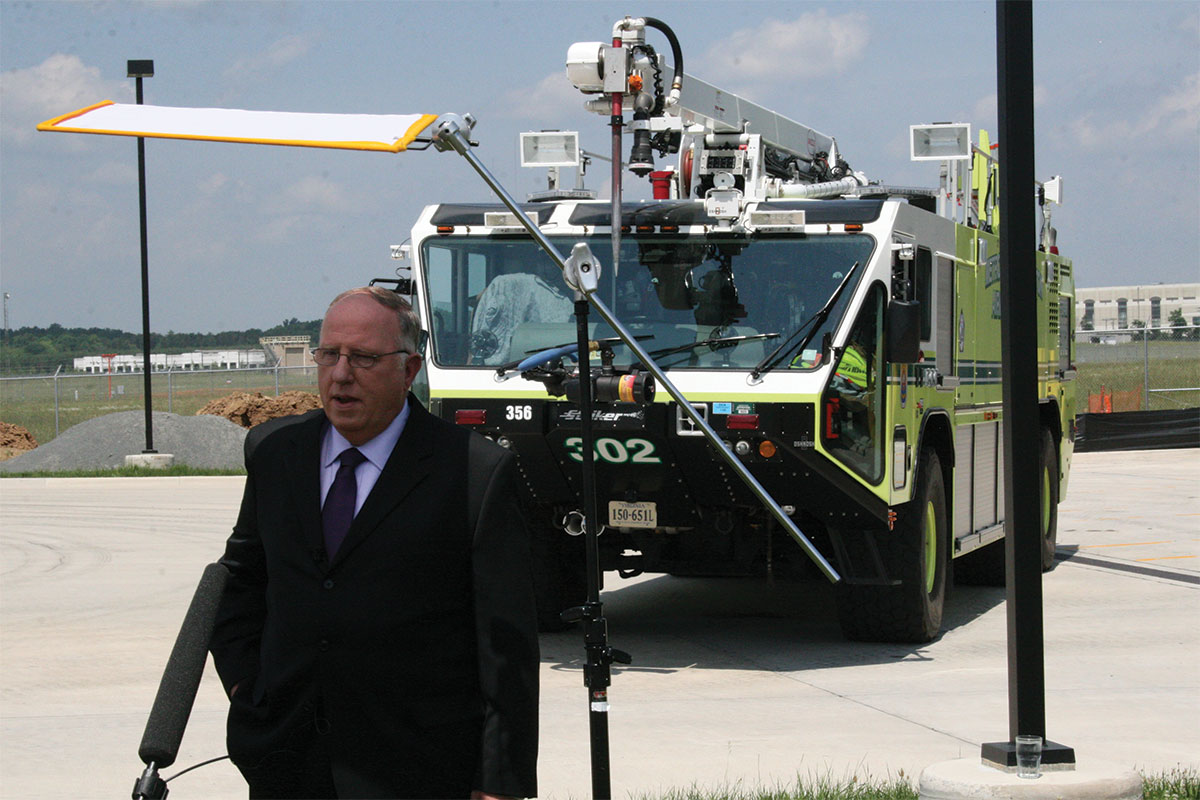 Omaha, Nebraska – A firm that designed and manufactures an aircraft firefighting training tool used around the world turned to the Nebraska Business Development Center (NBDC) and its Procurement Technical Assistance Center (PTAC) to successfully secure a payment from the United States Air Force.
Airport Professional Services (APS) LLC, was founded in 2001 by Gary Schott, a retired Air Force Chief Master Sergeant who also served more than two decades as the Fire Chief at Eppley Airfield in Omaha. APS was headquartered in Bellevue, Neb., until its recent sale by Schott to a new owner in Dallas, Texas.
Schott, whose Air Force duties included supervising more than a dozen air base fire departments, formed APS as an aircraft rescue firefighting consulting company. His original goal was to help airport managers develop new firefighting facilities, programs and disaster preparedness and recovery plans, as well as improve training processes and programs. However, once Schott recognized the need to offer hands-on training products for various aircraft firefighting situations, he redirected the company's efforts to develop the integrated Penetration Aircraft Skin Trainer (PAST) system.
The PAST system, which includes the training device, along with removable and replaceable aircraft fuselage-grade aluminum panels, and a foundation anchor system (FAS), has been purchased by more than 100 airports worldwide for training aircraft firefighting crews.
Schott contacted PTAC counselor Mary Graff in September 2020 and related difficulties he was having receiving payment for a PAST system that he sold and shipped to the U.S. Air Force base in Lakenheath, England, in early July. He asked for Graff's assistance submitting his invoice through the Department of Defense's electronic invoicing system, Wide-Area Workflow (WAWF).
"I am computer illiterate," Schott says. "I needed help, and Mary stepped in to save me."
Graff reviewed the contract and found it did require that Schott use WAWF to invoice the government, and it stated that he must have an Item Unique Identification (IUID) number on the product he shipped. Graff assisted Mr. Schott in starting the WAWF invoice, but soon learned that they could not complete the invoice process without creating an IUID number. Graff called the support desk for the WAWF system and was sent instructions for creating the IUID.
After discovering errors in the instructions she received, Graff again contacted the support desk and received several "work arounds" from the instructions. After investing hours in creating the IUID number, Graff was successful and the invoice was submitted in the WAWF system.
"I was amazed she was so good at what she was doing," Schott says. "She was telling them how to fix the errors she found."
Graff continued to work with Air Force representatives until the invoice was eventually forwarded to the Defense Finance Accounting Service (DFAS) office for processing. In late October, Graff and Schott received confirmation that the invoice had been accepted and would be paid.
"I was very impressed by Mary's knowledge, patience and professionalism," Schott says. "We went through three or four help desks. I thought I'd never get paid."
He says Graff stays in contact to check on his business needs. "Every time she calls," he says, "I start the conversation by thanking her all over again."
About NBDC
The Nebraska Business Development Center (NBDC) helps Nebraska businesses start, grow and develop, by strengthening Nebraska businesses for a healthy economy and prosperous communities. NBDC is a University of Nebraska at Omaha center that provides confidential consulting business development services across Nebraska to entrepreneurs and business owners for the life cycle of their business. NBDC partners with the University of Nebraska-Lincoln, University of Nebraska at Kearney, University of Nebraska Medical Center, Wayne State College, and Chadron State College to deliver its services statewide. The U.S. Small Business Administration (SBA), the U.S. Defense Logistics Agency (DLA), the U.S. Department of Commerce (EDA), and other federal, state and private organizations support NBDC. Visit nbdc.unomaha.edu for more information.
---
If you have a story idea, news tip or event, please contact:
Jen Decker, Communications Manager, Nebraska Business Development Center
jenniferdecker@unomaha.edu | 402.554.3616