Client Story: Curbside Magic Mobile Pet Spaw
Mobile Pet Grooming business is a Paw-fect Solution for NBDC Client from Alliance, Nebraska.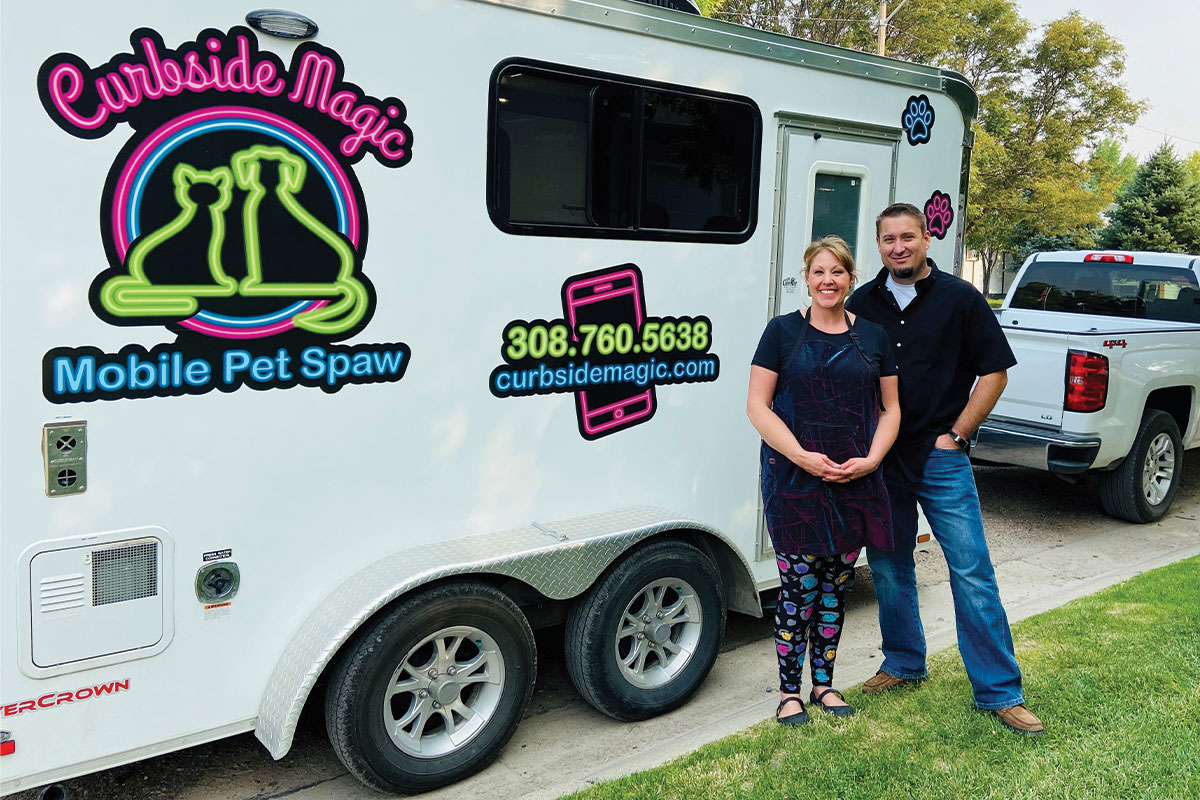 Alliance, Nebraska – Timing along with solid advice from the Nebraska Business Development Center office in Chadron has put Dodi Megli and her husband, Derek, on the road to success with their Curbside Magic Mobile Pet Spaw.
Dodi first came to NBDC Chadron in the fall of 2016 seeking help with a business plan and financials with the goal of purchasing an existing flower shop in Alliance. She also went to Colorado to learn about being a florist.
When the sale of that flower shop did not materialize, she found a second flower shop in Alliance to purchase. In both cases, the owners were not ready to sell and turned down her offers.
Dropping her pursuit of a floral business, Dodi decided to tap into her love for animals. "I used to work in animal rescue and fostering," she says.
She went to Loveland, Colo., earned her grooming certification at Classy Pet Grooming School and began pampering dogs and cats in Alliance.
She and Derek returned to NBDC and collaborated with consultant Gary Dusek and office manager Jennifer Wittrock to review their business plan and research the grooming market. "We wanted to be sure the market wasn't oversaturated," Dodi recalls. "Instead, we found there was actually a shortage of groomers in the area."
The couple purchased and outfitted a trailer, and Dodi worked as a groomer for a local veterinarian to further develop her skills. A Fear Free Certified Professional, she also became a member of the National Dog Groomers Association of America.
The couple officially opened Curbside Magic Mobile Pet Spaw on March 16, 2020 – days before the news of the coronavirus (COVID 19) pandemic spreading from China to the U.S. prompted precautions and restrictions nationwide.
"People immediately changed their lifestyles and began spending more time at home," Dodi says. "It was an unfortunate situation, but it helped to show what a value a mobile grooming service is.
"Business really took off and hasn't slowed since," she says. "The curbside aspect, with us coming right to your door or driveway, has helped us to stay very popular."
In addition to Alliance, Curbside Magic Mobile Pet Spaw also serves the communities of Bridgeport, Hay Springs and Hemingford.
She says she was familiar with NBDC because her grandfather, Harlan Tyndall, told her about his positive experience seeking advice many years earlier. "He said, 'You ought to go talk to them, they are very helpful,'" she says.
After taking advantage of the NBDC services, she says she agrees. "The local team in Chadron is amazing and a great group of individuals to work with," she says. "They did everything they said they would. They were the final step before diving into this adventure, and have been so supportive of Derek and me setting our sails to go forward with our plans. I've enjoyed getting to know them and sharing the joys of opening the Spaw with them."
About NBDC
The Nebraska Business Development Center (NBDC) helps Nebraska businesses start, grow and develop, by strengthening Nebraska businesses for a healthy economy and prosperous communities. NBDC is a University of Nebraska at Omaha center that provides confidential consulting business development services across Nebraska to entrepreneurs and business owners for the life cycle of their business. NBDC partners with the University of Nebraska-Lincoln, University of Nebraska at Kearney, University of Nebraska Medical Center, Wayne State College, and Chadron State College to deliver its services statewide. The U.S. Small Business Administration (SBA), the U.S. Defense Logistics Agency (DLA), the U.S. Department of Commerce (EDA), and other federal, state and private organizations support NBDC. Visit nbdc.unomaha.edu for more information.
---
If you have a story idea, news tip or event, please contact:
Jen Decker, Communications Manager, Nebraska Business Development Center
jenniferdecker@unomaha.edu | 402.554.3616