Client Story: Sound Works
Sound advice from NBDC helps employee buy Norfolk business.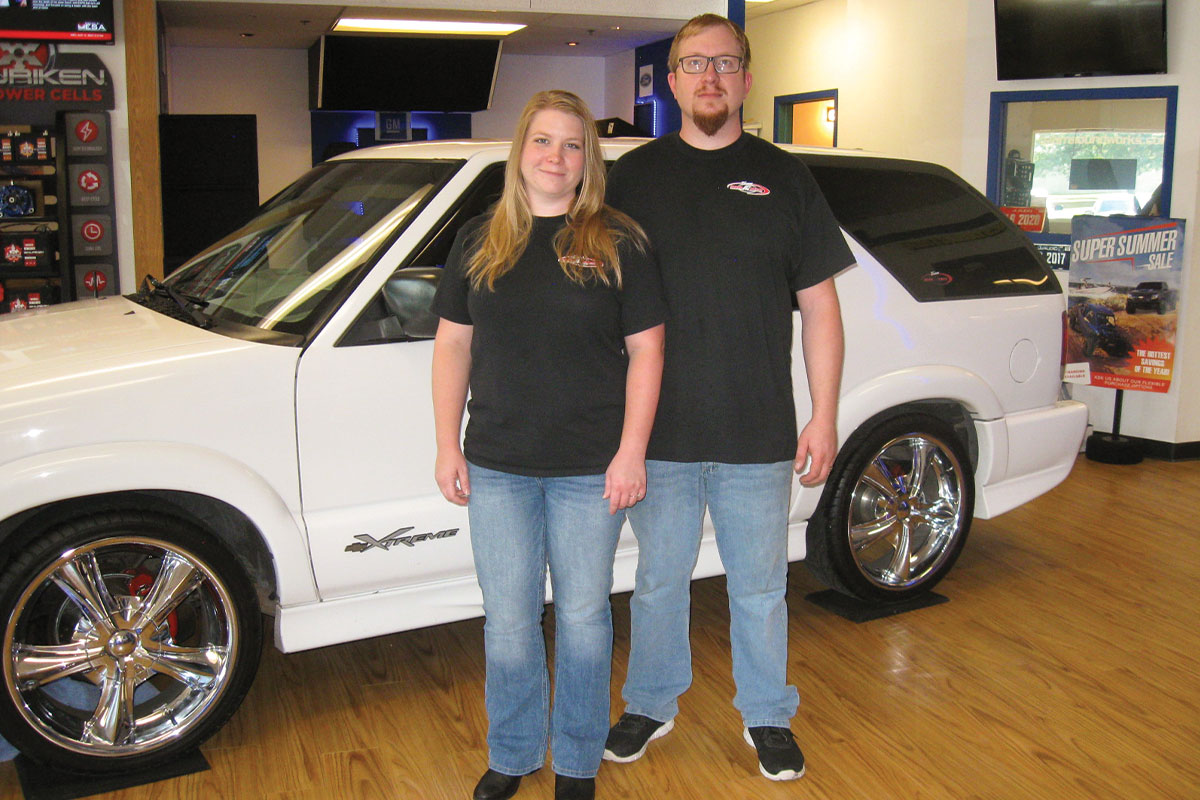 | Industry | NBDC Services | Results |
| --- | --- | --- |
| Automotive Parts and Accessories | Northeast Nebraska Economic Development District (NENEDD) loan application | NENEDD and bank loans approved |
Jonathon Schahrer was interested when he heard the owner of Sound Works, an automobile and marine sound and security technologies sales and installation company, was contemplating selling his longtime Norfolk business.
But before he could become the new owner, Schahrer had to become an employee and learn every aspect of the business.
Schahrer worked as a salesman and installer for Sound Works for about 18 months before he and his wife, Lora, had gained enough inside knowledge to feel comfortable about becoming buyers. Still, they needed some sound advice, and they turned to Loren Kucera, director of the Nebraska Business Development Center (NBDC) office in Wayne. Kucera had helped guide Sound Works' founder, Phil Zastrow, when he started the business in 1994.
Schahrer had been interested in stereos and speakers since he was young. "Before I could even drive, I was custom building speaker boxes to see what I could do to make them louder," he says. "I was from a family of carpenters, so it kind of came naturally."
He had never before owned a business, however, so his banker suggested he meet with Kucera. "They had a solid business plan but needed help securing financing," Kucera recalls. "They did approach a lender who was interested in financing the acquisition but felt the bank needed a Small Business Administration (SBA) guaranty. Since Jonathon was a current employee, I knew the SBA would need a business valuation.
"In order to save the Schahrers money, I suggested to the lender that we pursue an application with the Northeast Nebraska Economic Development District (NENEDD) which would lower the bank's risk," Kucera says. "The lender agreed, so I prepared the application for a NENEDD loan." The NENEDD and the bank approved the loan and the Schahrers took possession on Oct. 1, 2019.
Schahrer says the business experienced a downturn early in the coronavirus pandemic this spring but has since rebounded. "It was scary for a while, but now we are booked three weeks solid," he says.
He credits Kucera and NBDC with being "extremely accommodating." "No matter what, Loren has been quick to answer all of our questions and provide us tons of guidance," he says. "This is the first business I have ever bought, but I'm convinced if I had done it differently without Loren's advice, it wouldn't have gone as smoothly as it did."
| Consultant | County | State Senate District | Congressional District |
| --- | --- | --- | --- |
| Loren Kucera | Madison | 19 | One |
About NBDC
The Nebraska Business Development Center (NBDC) helps Nebraska businesses start, grow and develop, by strengthening Nebraska businesses for a healthy economy and prosperous communities. NBDC is a University of Nebraska at Omaha center that provides confidential consulting business development services across Nebraska to entrepreneurs and business owners for the life cycle of their business. NBDC partners with the University of Nebraska-Lincoln, University of Nebraska at Kearney, University of Nebraska Medical Center, Wayne State College, and Chadron State College to deliver its services statewide. The U.S. Small Business Administration (SBA), the U.S. Defense Logistics Agency (DLA), the U.S. Department of Commerce (EDA), and other federal, state and private organizations support NBDC. Visit nbdc.unomaha.edu for more information.
---
If you have a story idea, news tip or event, please contact:
Jen Decker, Communications Manager, Nebraska Business Development Center
jenniferdecker@unomaha.edu | 402.554.3616