NBDC and Extension Launch University of Nebraska SourceLink® Resource Navigator
Online tool will connect entrepreneurs with University of Nebraska resources.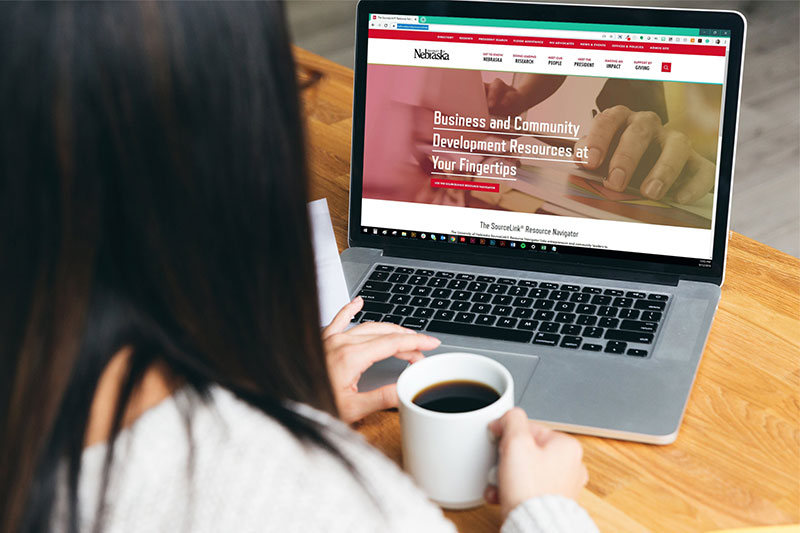 Omaha, Nebraska – Nebraska Business Development Center (NBDC) at the University of Nebraska at Omaha (UNO) and the Nebraska Extension Community Vitality Initiative (CVI), recently announced the launch of the University of Nebraska SourceLink® Resource Navigator.
Over the past two years, CVI, NBDC and the Rural Futures Institute (RFI) have collaborated to support the University's role in the economic and community success across Nebraska.

One initiative was to create the University of Nebraska SourceLink® Resource Navigator, an online tool for entrepreneurs and community leaders to find solutions and opportunities provided by the services of the University of Nebraska. This prototype was developed based on preliminary conversations with industry leaders from across Nebraska as well as best-practice conversations with other states throughout the past two years. The project team determined that the SourceLink® Resource Navigator provides a worthwhile tangible strategy to create, implement and sustain a statewide system for ready and easy access to business and community development resources. The database will include an interactive map to find the nearest experts based on need at each of the four University of Nebraska campuses.

Andy Stoll with the Kauffman Foundation says, "Entrepreneurial talent is universal but entrepreneurial ecosystems are not." A powerful way to strengthen the environment for business development is easy access to available resources and services that entrepreneurs need and want. Nebraska SourceLink® provides web-based infrastructure that helps entrepreneurs locate the right resources at the right time according to Don Macke, Community Vitality Initiative, Nebraska Extension, UNL.

Since its rollout, resource partners listed on the University of Nebraska SourceLink® Resource Navigator have started seeing inquiries from entrepreneurs.

"I am excited that the Weibling Entrepreneurship Clinic is part of SourceLink®. As a provider of legal support for entrepreneurs, we depend on identifying opportunities to provide timely legal services," said Brett Stohs, Director, Entrepreneurship Legal Clinic UNL. "Though the platform only recently rolled out, we've already connected with an entrepreneur who found us through the platform, and we look forward to addressing her needs in the near future."

Catherine Lang, State Director of the Nebraska Business Development Center, is excited for the opportunity to deliver a resource tool that will help facilitate the connections of entrepreneurs and business development resource providers.

"The University of Nebraska has many programs and services to support entrepreneurship, innovation and business development - finding those resources can be a challenge for a busy business owner. The University of Nebraska SourceLink® Resource Navigator and the connections it will facilitate will support Nebraskans as they build the Nebraska economy," Lang said.

The long-term goal of the pilot is to add nonprofit resources partners outside of the university system & include a people-powered call center, blog postings, and a calendar for regional and state events. Connecting entrepreneurial resources to communities, schools, and entrepreneurs is the intent of the Nebraska Entrepreneurship Initiative.
To check out the tool, navigate to nebraska.edu/sourcelink. For questions regarding the tool or the above initiatives, please contact Connie Hancock with CVI: chancock1@unl.edu or 308.235.5442.
About NBDC
The Nebraska Business Development Center (NBDC) helps Nebraska businesses start, grow and develop, by strengthening Nebraska businesses for a healthy economy and prosperous communities. NBDC is a University of Nebraska at Omaha center that provides confidential consulting business development services across Nebraska to entrepreneurs and business owners for the life cycle of their business. NBDC partners with the University of Nebraska-Lincoln, University of Nebraska at Kearney, University of Nebraska Medical Center, Wayne State College, and Chadron State College to deliver its services statewide. The U.S. Small Business Administration (SBA), the U.S. Defense Logistics Agency (DLA), the U.S. Department of Commerce (EDA), and other federal, state and private organizations support NBDC. Visit nbdc.unomaha.edu for more information.
---
If you have a story idea, news tip or event, please contact:
Jen Decker, Communications Manager, Nebraska Business Development Center
jenniferdecker@unomaha.edu | 402.554.3616