NBDC Lincoln Center Director, Umeda Islamova, Named 2019 Nebraska SBDC State Star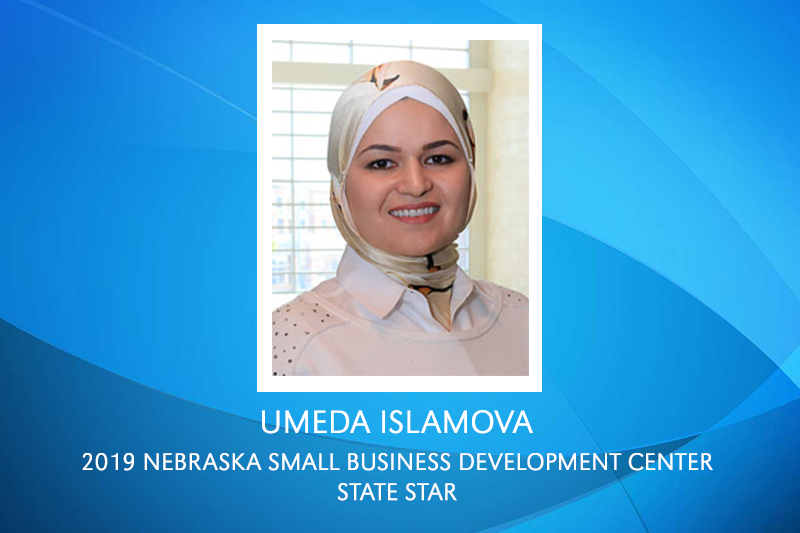 Omaha, Nebraska – Nebraska Business Development Center (NBDC) at the University of Nebraska at Omaha (UNO) is pleased to announce that Umeda Islamova, NBDC Lincoln Center Director was named the 2019 Nebraska Small Business Development Center State Star.
Every year, Small Business Development Centers (SBDC) throughout the country nominate their peers for innovative programming and excellence in service to their respective business communities. NBDC State Director, Catherine Lang, chose Islamova for this honor. State Star honorees are defined by exemplary performance, making significant contributions to the Nebraska SBDC program and having a passion for and strong commitment to small businesses.
"Umeda Islamova has been an SBDC Consultant for the Nebraska Business Development Center (NBDC) for 18 months," said Lang. "In her short time as the Lincoln Center Director, she has engaged with business and partner communities in Lincoln and Southeast Nebraska, building connections that support client development for the center. Umeda has initiated several training events that are particularly valuable to the economy of her region. Before joining NBDC, Umeda had extensive experience providing assistance to start-up companies, working for a start-up company and supporting her family's small business. Umeda recently successfully completed her EDFP Certification."
Islamova joined NBDC in 2018 as an employee of University of Nebraska-Lincoln (UNL) and operating out of the UNL College of Business and the Nebraska Innovation Campus. Under the SBDC program, she has received her Economic Development Finance Professional certification through the National Development Council. Her community involvement includes hosting a successful Lunch & Learn series, presenting at Elevate19, mentoring with NMotion Accelerator Program and judging at a Pitch competition.
Since joining NBDC, Islamova provided no-cost business consulting to small businesses within the 16 Nebraska counties she serves. She has assisted clients in acquiring $4.8 million in loans/capital, creating 55 jobs, starting 21 new businesses and counseling over 200 clients. All of this was made possible through a partnership between the Small Business Administration, University of Nebraska at Omaha and the University of Nebraska-Lincoln. For more information about the services NBDC provides, 402.554.NBDC (6232) or nbdc@unomaha.edu.
About NBDC
The Nebraska Business Development Center (NBDC) helps Nebraska businesses start, grow and develop, by strengthening Nebraska businesses for a healthy economy and prosperous communities. NBDC is a University of Nebraska at Omaha center that provides confidential consulting business development services across Nebraska to entrepreneurs and business owners for the life cycle of their business. NBDC partners with the University of Nebraska-Lincoln, University of Nebraska at Kearney, University of Nebraska Medical Center, Wayne State College, and Chadron State College to deliver its services statewide. The U.S. Small Business Administration (SBA), the U.S. Defense Logistics Agency (DLA), the U.S. Department of Commerce (EDA), and other federal, state and private organizations support NBDC. Visit nbdc.unomaha.edu for more information.
---
If you have a story idea, news tip or event, please contact:
Jen Decker, Communications Manager, Nebraska Business Development Center
jenniferdecker@unomaha.edu | 402.554.3616