NBDC PTAC Co-Hosts Encountering Innovation Omaha at University of Nebraska at Omaha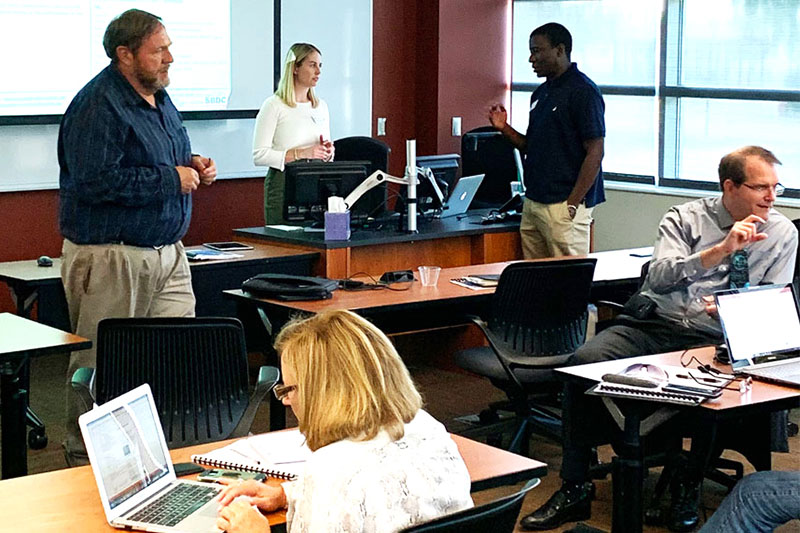 Omaha, NE - Nebraska Business Development Center (NBDC) Procurement Technical Assistance Center at the University of Nebraska at Omaha (UNO) co-hosted Encountering Innovation Omaha in a two-part event that provided 16 Nebraska innovators the opportunity to present and highlight their technology to U.S. Department of Defense (DoD) technology scouts.
Encountering Innovation Omaha was developed to introduce and prepare Nebraska companies for the larger Kansas event and included a two-day workshop to prepare attendees to pitch their innovation on June 25 in Omaha, and if interested, at the Kansas event later this year. Attendees learned business foundations, understanding of the DoD and preparing DoD documents.
"As a DoD Tech Scout, these regional technology events like Encountering Innovation Omaha or Kansas City provide us the opportunity to collaborate, mentor, and find innovation that we normally wouldn't find, said Tim Fowler, IAC Field Science & Technology Advisor Imbedded in USSTRATCOM. Over the years, we have found game-changing technologies that have direct impact to the warfighter. Myself and my fellow tech scouts welcome pitches from small business, mom and pop shops, students and universities. We listen, evaluate and do our best to rapidly push tech that answers the needs of our country. We look forward to building on what Omaha started this year and grow its potential."
Of the 16 Nebraska companies in attendance, four companies presented innovation that had outstanding opportunities for the DoD. Tech scouts provided valuable information to the companies to help them prepare for their official pitch to the DoD at the September conference in Kansas. Justus Decher, a serial entrepreneur and founder of MyVitalz and partner to RDB Bioinformatics and BreezMed, attended the 2018 Kansas conference as well as Encountering Innovation Omaha in June.
"The Nebraska Business Development Center provided BreezMed and RDB Bioinformatics the opportunity to pitch to Department of Defense Tech Scouts from USCENTCOM and USSTRATCOM much needed medical technology innovations for the military's greatest asset - the soldier," said Decher.
 "NBDC was honored to assist the Nebraska companies who participated in Encountering Innovation Omaha, said Catherine Lang, NBDC State Director. This event proved that there is amazing innovation occurring in our state, and we are excited to see where these companies will go with their technologies. The event in Nebraska was a preparatory effort in advance of the Encountering Innovation event in Kansas, September 23-27. We hope that all the companies will take their technologies to the next level by pitching in Kansas. We look forward to learning from our event and continuing Encounter Innovation in the future."
The DoD seeks a broad range of innovations from healthcare, to cyber security, to energy, and beyond; if you think you have something that the DoD may be interested in, contact NBDC PTAC to discuss your options. Additionally, applications for the Kansas City conference are being accepted through July 28th, 2019, see 2019 Application.
NBDC PTAC intends to host Encountering Innovation Omaha in the following years and expand the reach to include businesses all across the state of Nebraska. For more information on Encountering Innovation or to sign up to get information on next year's event in Nebraska, please contact Josh Nichol-Caddy, jnicholcaddy@unomaha.edu.
Encountering Innovation is a program of the Kansas Small Business Development Center that launched in 2017 and has grown to include innovators from a 9-state region, including Nebraska. The Encountering Innovation events bring together small business innovators and technology scouts from the DoD and other federal agencies to discover and pursue collaboration and contacting opportunities. Similar events are put on by communities across the country including New York, Ohio, and Alabama.
About NBDC
The Nebraska Business Development Center (NBDC) helps Nebraska businesses start, grow and develop, by strengthening Nebraska businesses for a healthy economy and prosperous communities. NBDC is a University of Nebraska at Omaha center that provides confidential consulting business development services across Nebraska to entrepreneurs and business owners for the life cycle of their business. NBDC partners with the University of Nebraska-Lincoln, University of Nebraska at Kearney, University of Nebraska Medical Center, Wayne State College, and Chadron State College to deliver its services statewide. The U.S. Small Business Administration (SBA), the U.S. Defense Logistics Agency (DLA), the U.S. Department of Commerce (EDA), and other federal, state and private organizations support NBDC. Visit nbdc.unomaha.edu for more information.
---
If you have a story idea, news tip or event, please contact:
Jen Decker, Communications Manager, Nebraska Business Development Center
jenniferdecker@unomaha.edu | 402.554.3616