NBDC Announces 2018 Nebraska Business Honors Winners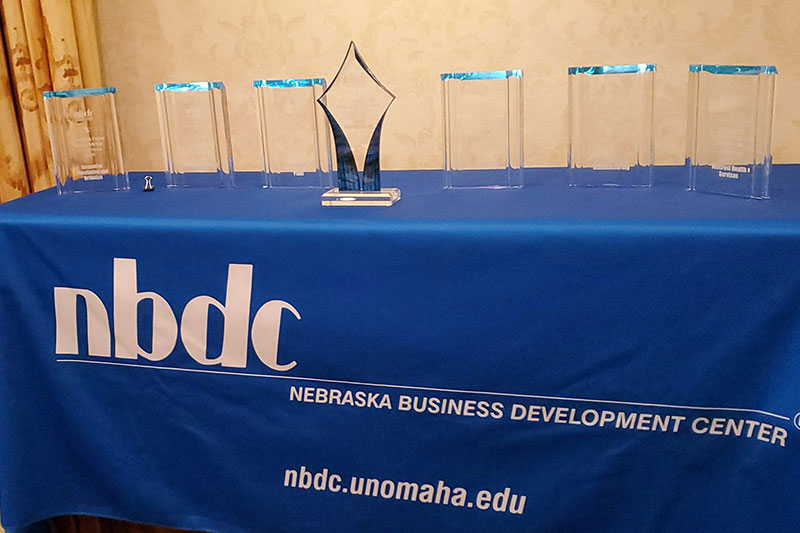 Omaha, Nebraska – Nebraska Business Development Center (NBDC) at the University of Nebraska at Omaha (UNO) is pleased to announce the 2018 Business Honors Recipients: 
2018 Champion of Small Business - Landen Chiropractic, P.C., Chadron, NE 
2018 Sustainability Business of the Year - Tyson Foods Bacon Plant, Omaha, NE 
2018 Export Business of the Year - Brehmer Manufacturing, Lyons, NE 
2018 Government Contractor of the Year - McDaniel Farms, Inc., Sargent, NE 
2018 Manufacturing Business of theYear - Airlite Plastics, Omaha, NE 
2018 Innovation Business of the Year - Innovative Prosthetics and Orthotics, Hastings, NE 
2018 Employee Development Business of the Year - Hillcrest Health Services, Bellevue, NE
The NBDC Business Honors Awards recognize the achievement of seven NBDC clients who have demonstrated business success, sales or employee growth or have shown creativity or innovation in either product or service offerings. Award winners were recognized during the NBDC Business Honors luncheon on March 13th. The luncheon was held at the Governor's Residence in Lincoln, Nebraska.
"Each year we are honored to recognized a few of the many clients we have served across Nebraska. These Awards highlight the variety of business success in Nebraska. The highlight of the lunch is listening to the winners describe their success. The business owners are right to be proud of their accomplishments. They are the backbone of the economic success in Nebraska, creating jobs, building strong communities and supporting the economy of Nebraska," said Catherine Lang, State Director, NBDC.
NBDC consultants nominate clients who fit the criteria for their respective award and are voted upon by the NBDC Advisory Board. The Business Honor award recipients are featured in the 2018 NBDC annual report along with other business success stories from across Nebraska.
To request a copy of the 2018 NBDC annual report, please call 402-554-2521.
About NBDC
The Nebraska Business Development Center (NBDC) helps Nebraska businesses start, grow and develop, by strengthening Nebraska businesses for a healthy economy and prosperous communities. NBDC is a University of Nebraska at Omaha center that provides confidential consulting business development services across Nebraska to entrepreneurs and business owners for the life cycle of their business. NBDC partners with the University of Nebraska-Lincoln, University of Nebraska at Kearney, University of Nebraska Medical Center, Wayne State College, and Chadron State College to deliver its services statewide. The U.S. Small Business Administration (SBA), the U.S. Defense Logistics Agency (DLA), the U.S. Department of Commerce (EDA), and other federal, state and private organizations support NBDC. Visit nbdc.unomaha.edu for more information.
---
If you have a story idea, news tip or event, please contact:
Jen Decker, Communications Manager, Nebraska Business Development Center
jenniferdecker@unomaha.edu | 402.554.3616