NBDC Offers Second Emergency Preparedness and Business Continuity Certification Session to Begin January 25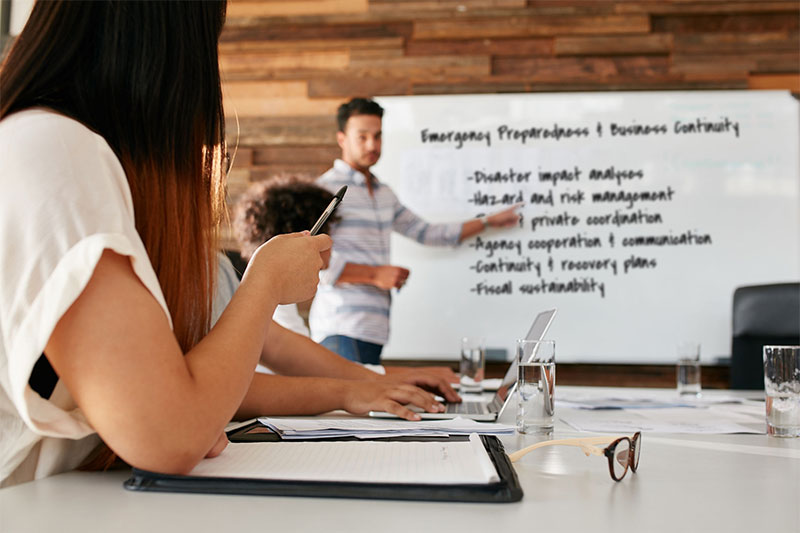 Omaha, Nebraska – Nebraska Business Development Center (NBDC) to hold Emergency Preparedness and Business Continuity certification session beginning on January 25. Due to the success of the first session, this is the second time this certification has been offered to area businesses looking to improve their business continuity in the event of an emergency.
The nine-session certification is a collaborative effort of the NBDC at the University of Nebraska at Omaha, the National Safety Council, Nebraska, and the National Strategic Research Institute (NSRI) at the University of Nebraska.
Harold Sargus, manager of professional and organizational development at the NBDC, and Eric Koeppe, president and CEO of the National Safety Council, Nebraska, say the two entities first collaborated on a Safety Leadership certification class that was launched in 2016.
"The Safety Leadership certification has gone very well, largely because of the expertise our two entities bring to the classroom," Koeppe says.
Koeppe says he attended a National Safety Council conference that included a session on emergency preparedness and business continuity.
"It emphasized how important it is to have a plan, because for whatever reason, if there is a significant interruption to your business, you need to be prepared," he says.
He and Sargus then led the development of the Emergency Preparedness and Business Continuity certification curriculum. Designed to deliver information useful to any size business, the training includes presentations, interactive discussions and simulation exercises on a wide variety of possible scenarios, from natural disasters to terrorism and other workplace emergencies.
In the first eight sessions, participants learn about disaster impact analyses, hazard and risk management, public and private coordination during events, agency cooperation and communication, continuity and recovery plans, and fiscal sustainability. The final session features a capstone simulation where participants roleplay a disaster scenario to apply what they have learned and test their decision making skills.
"Everyone takes something away from this workshop, no matter their industry or the size of their business," Koeppe says. "A small business that hasn't yet developed a plan gets a roadmap of sorts that they can use. A large corporation that already has a plan can go back and take a more critical look at any facets that need to be refined or updated."
Penny Lyons, manager of drug and alcohol testing at Union Pacific and a National Safety Council, Nebraska board member, completed the first certification class. She says she gained a valuable working knowledge of disaster preparedness.
"I really got a lot out of it," she says. "I wanted to learn something outside the normal scope of my work, and I appreciated the various perspectives of the different instructors."
Lyons says she has since passed on some of the information to others in risk management at Union Pacific.
"I would recommend this class to anyone, even people who are not in the emergency preparedness trenches, so to speak," she says. "When you have a better understanding of the various aspects of these plans, it creates more buy-in."
Sargus says the NBDC hopes to eventually create an online workshop series based on the Emergency Preparedness and Business Continuity certification class.
"The sooner a business gets up and running after a major disruption, the sooner employees will receive a paycheck," he says. "That translates into community vitality."
The certification that begins January 25 will include sessions on February 1, 15 and 22; March 1, 15 and 22; and April 12 and 26. The cost is $2,195. All sessions take place at UNO's College of Business Administration, 6708 Pine Street, from 8:30 a.m. to 4:30 p.m.
For more information or to register, contact Kim Harter with NBDC, by email at kkharter@unomaha.edu or by calling 402.554.4095.
About NBDC
The Nebraska Business Development Center (NBDC) helps Nebraska businesses start, grow and develop, by strengthening Nebraska businesses for a healthy economy and prosperous communities. NBDC is a University of Nebraska at Omaha center that provides confidential consulting business development services across Nebraska to entrepreneurs and business owners for the life cycle of their business. NBDC partners with the University of Nebraska-Lincoln, University of Nebraska at Kearney, University of Nebraska Medical Center, Wayne State College, and Chadron State College to deliver its services statewide. The U.S. Small Business Administration (SBA), the U.S. Defense Logistics Agency (DLA), the U.S. Department of Commerce (EDA), and other federal, state and private organizations support NBDC. Visit nbdc.unomaha.edu for more information.
---
If you have a story idea, news tip or event, please contact:
Jen Decker, Communications Manager, Nebraska Business Development Center
jenniferdecker@unomaha.edu | 402.554.3616