Debora Heard and Claire Du Laney Awarded Champion of History Award From History Nebraska
History Nebraska will present five awards at an April 26 event at the Nebraska History Museum in Lincoln.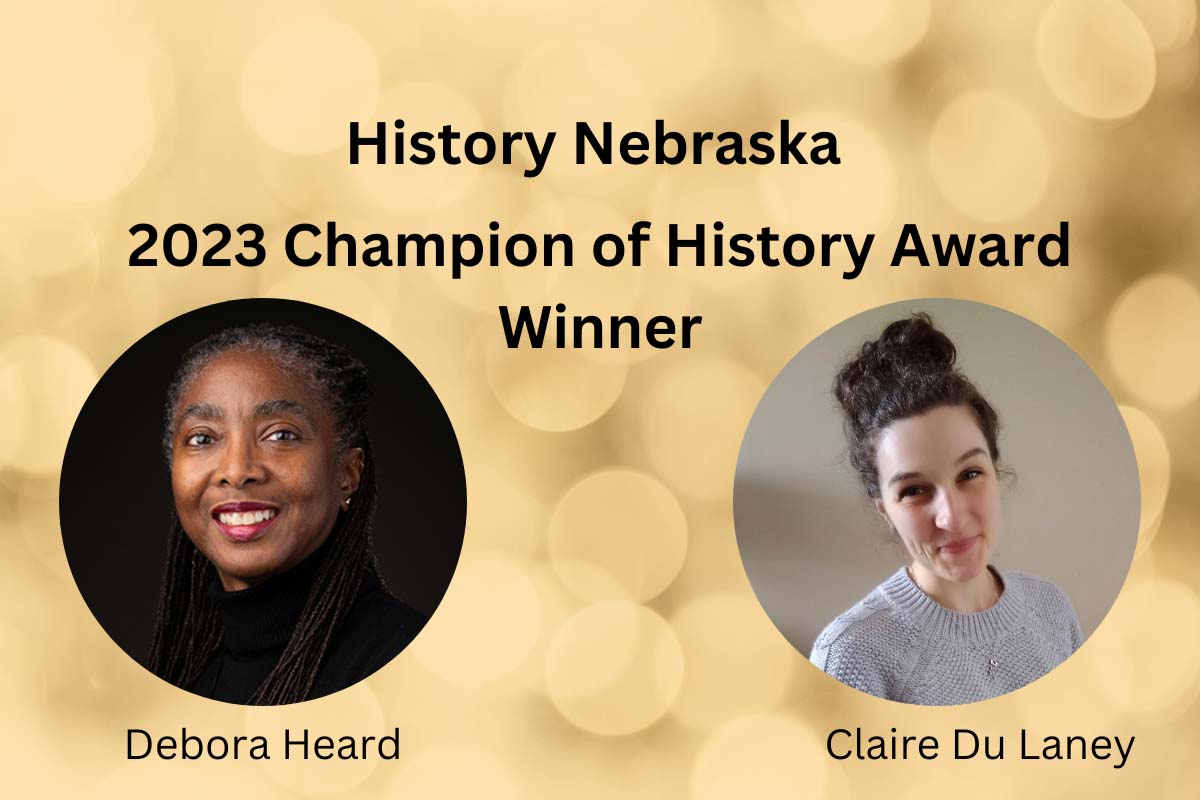 History Nebraska has announced its 2023 awardees from across the state to Nebraskans in Beatrice, Hastings, Lincoln, Peru and Omaha. Debora Heard, UNO Libraries and Department of Black Studies, and Claire Du Laney, UNO Libraries, have been announced as one of the 2023 Champion of History Award winners through History Nebraska. The award recognizes people who provide "significant contributions to the preservation and interpretation of Nebraska history," according to the organization. Heard and Du Laney are being honored for the 'Charting Our Path DEAI Strategic Investment Project'. The project celebrates, promotes, and documents the 50th anniversary of the UNO Department of Black Studies.
Heard, who joined UNO Libraries in 2020 and the Department of Black Studies in 2019, is the project coordinator of Charting Our Path. Du Laney, who joined UNO Libraries in 2019, is the Outreach Archivist.
Since the fall of 2021 Heard organized over two dozen webinars with topics ranging from discussions with alumni of the 1969 Omaha 54 Black student protests at UNO to Black Frontier Identities, Black family history, and the history of jazz in Omaha. The recordings have over 28,000 views. Many of the webinars were recorded and are available to view at the Charting Our Path.
In addition to the webinars and additional programming, Du Laney curated traveling, online, campus (2021-2022), and pop-up exhibits about the significance of the birth of the Black Studies department and the Omaha 54. The traveling exhibit has been in Lincoln, Kearney, and Omaha. You can currently view the exhibit at the Baright Public Library in Ralston where it is on view until May 12.
"The Black Studies department at UNO is one of the oldest departments in the country. Its history in the Omaha community and on campus has, until now, not been shared, promoted, understood, or valued as it deserves." Explained Dave Richards, Dean of Library Services, "Debora and Claire, as the project leads of the Charting Our Path Project, are both champions of promoting and sharing an important yet often under told story of Omaha's and Nebraska's African-American experience"
In addition to the UNO Strategic Investment Grant awarded to the UNO Libraries and the Department of Black Studies, Charting Our Path was funded and supported, in part, by Humanities Nebraska, Nebraska Cultural Endowment, Goldstein Center for Human Rights, College of Arts and Sciences, UNO Libraries, and the Department of Black Studies. Interested in bringing the traveling exhibit to your location? Contact Claire Du Laney to get more information.
---
About the University of Nebraska at Omaha Libraries
UNO Libraries fulfill the UNO mission through dynamic services, highly qualified and adaptive personnel, unique and extensive collections, and accessible learning spaces and environments. With its two locations, Dr. C.C. and Mabel L. Criss Library on UNO's Dodge Campus and in KANEKO-UNO Library located in Omaha's Old Market, UNO Libraries provides UNO students, faculty and staff, and the Omaha community with the resources and materials needed to excel academically and professionally.
About Charting Our Path
Charting Our Path: Celebrating 50 Years of Black Studies is a cooperative project of the Department of Black Studies and UNO Libraries. The project will honor the 50th anniversary of the Department of Black Studies in 2021-2022 through campus and community speakers, exhibits, and events as well as supporting expanding research, creative activity, and open access instructional resources. Support is provided by UNO's Strategic Investment in Social Justice, Inequality, Race, and Class initiative. Charting Our Path is one of the 'Telling Our Story' proposals and was funded for 2021-2023. The project leads are Dr. Cynthia Robinson, Amy C. Schindler, and Claire Du Laney.
About History Nebraska
History Nebraska was founded in 1878 as the Nebraska State Historical Society by citizens who recognized Nebraska was going through great changes and they sought to record the stories of both indigenous and immigrant peoples. It was designated a state institution and began receiving funds from the legislature in 1883. Legislation in 1994 changed History Nebraska from a state institution to a state agency. The organization is headed by Director and CEO Jill Dolberg.