New Environmental Zines Combine Creativity and Research
UNO Librarians have a multi-semester collaboration with Introduction to Sociology sections to create zines on environmental topics examined through a social and sociological lens.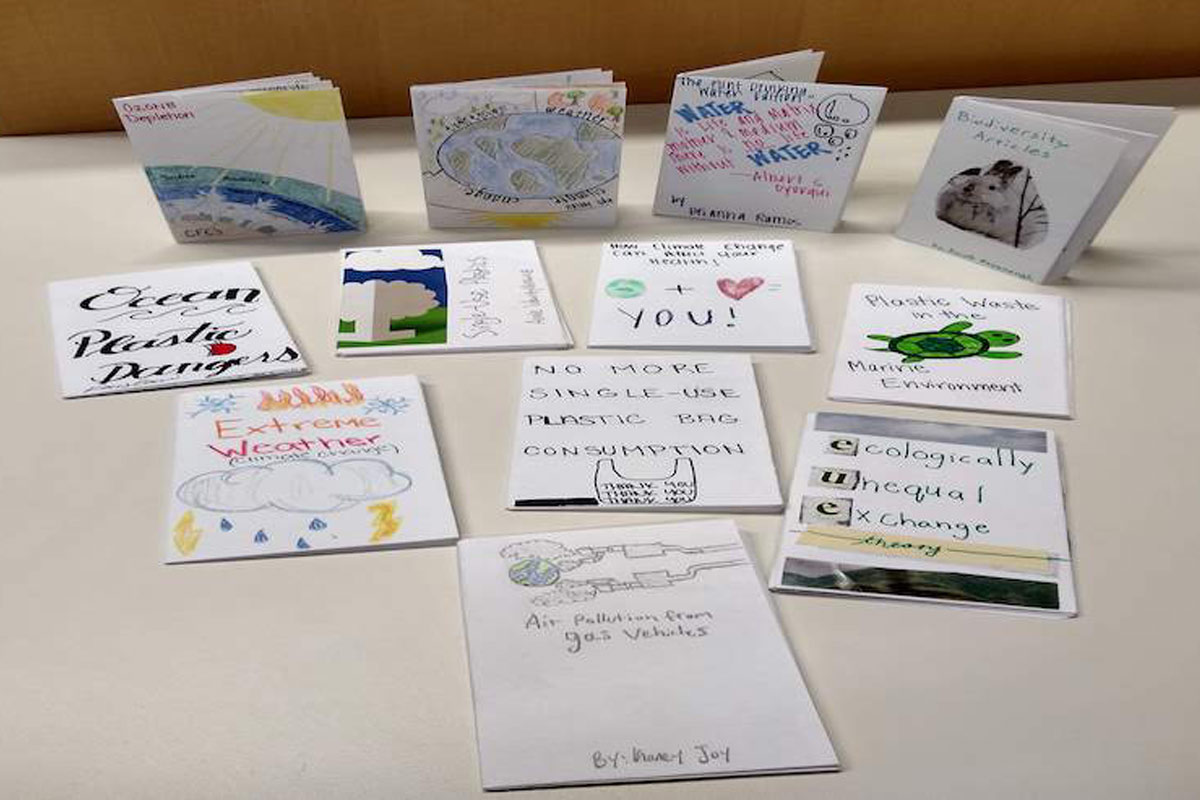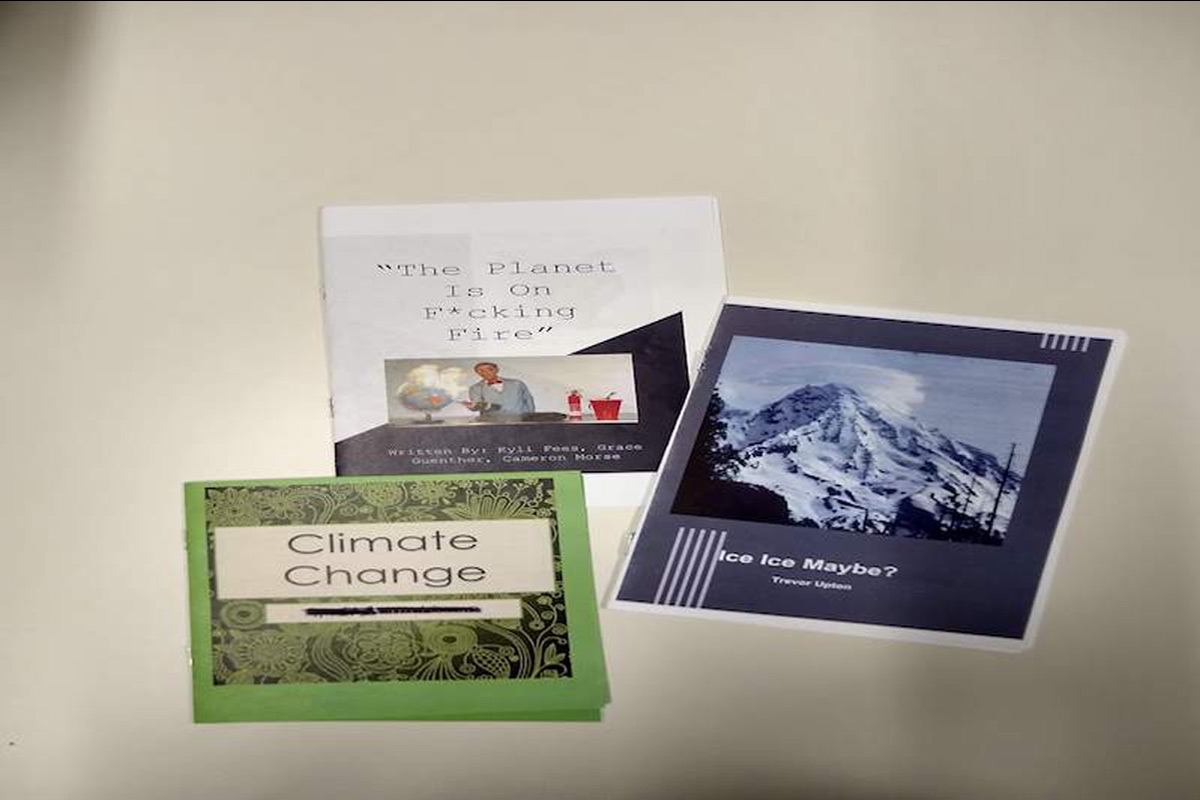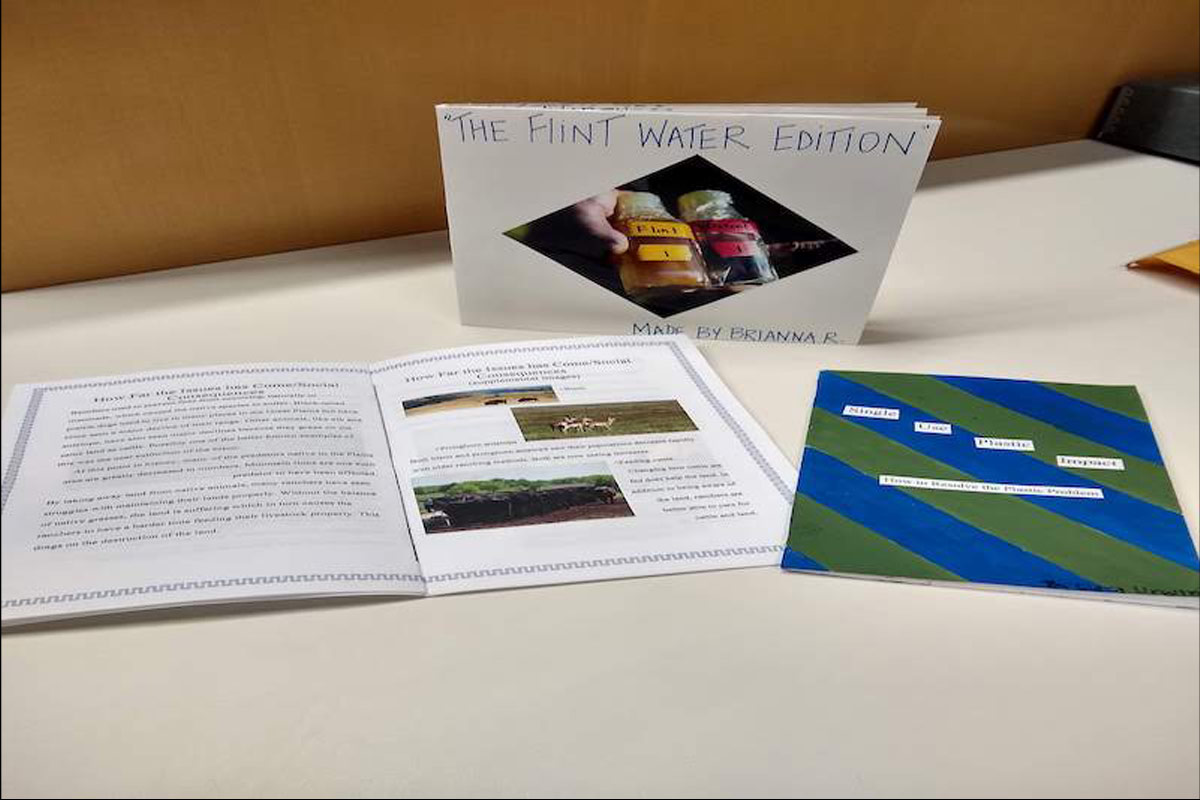 Starting in Fall 2019 and continuing through 2020, UNO Librarians Amy Schindler, Monica Maher, and Claire Du Laney collaborated with instructor Clare Maakestad and students in Introduction to Sociology sections to create zines on environmental topics. Maakestad had previously worked with UNO Librarian Omer Farooq, and this new zine partnership built on that previous session to become longstanding, mutually beneficial, and illustrative of the resilience of the UNO community during COVID.
What is a Zine?
Zines, from the term fan-zine and pronounced like magazine, are DIY-publications that come in many formats and cover a variety of topics. They are easily reproduced and can be created digitally, hand drawn, or mixed media. Zines serve important pedagogical functions in higher education classrooms, allowing students to apply important academic skills to creative and non-traditional project formats. One of the benefits of the zine format is that it's highly adaptive, and can be used in any discipline. If you're interested in using a zine in your class or you'd like to learn more about library collaborations, please contact us at unoasc@unomaha.edu.
SOC 1010
Collaboration
During the last academic year, Maakestad, Schindler, Du Laney, and Maher emphasized research proficiency, information literacy, and creativity. Students participated in Library Lab sessions, where they searched for articles, took notes, and worked on their zines. Students researched and summarized multiple articles in order to write the text of their zines. For the Spring 2020 class, students made mini-zines to learn annotation skills and allowed them to practice project time management.
Students in the Fall 2019 class presented their final project zines as if they were at a Zinefest, displaying their work at tables and answering questions from the audience. Students were able to discuss topics that were important to them and how they interpreted the research data while being given the opportunity to showcase their creativity. Students gained confidence in their research through informal oral presentations and displayed an ability to think critically on the fly when the audience asked questions.
Integrating Archives and Special Collections
As part of the class,
students
donate a copy of their zine to UNO Libraries' Archives and Special Collection.
ASC has a zine collection and the student zines are an important part of this collecting area.
Outreach Archivist Claire Du Laney said "archives can be intimidating for students, so it's important that their work and their voices are incorporated into the historical record. We want all researchers to be comfortable in the Reading Room, using the materials
, and adding their perspective."
Additionally, students could opt to have their zines distributed at Omaha
Zinefest
, sharing their work at this important community and cultural event.
Continuing Virtually
While the zine project was not used in Fall 2020, Maher and Du Laney stayed in contact with Maakestad throughout the semester, sharing resources for databases and online tutorials. The continued collaboration reflects a professional relationship grounded in strong pedagogy, a shared love of creative final projects, and flexibility that has been so essential in the time of COVID. She noted, "Creating zines has been an empowering and liberating project for students. It brings creativity and scholarship together to allow expression beyond what is possible with a term paper. My students and I are grateful for the partnership with ASC and the librarians!" Teaching faculty and instructors are encouraged to contact unoasc@unomaha.edu to learn more about how zines can help your students achieve research and creative learning outcomes.