John Bartle Receives National Award for Lifetime Scholarly Achievement
published: 2022/09/12
contact: Melanie Kiper - College of Public Affairs and Community Service
email: mkiper@unomaha.edu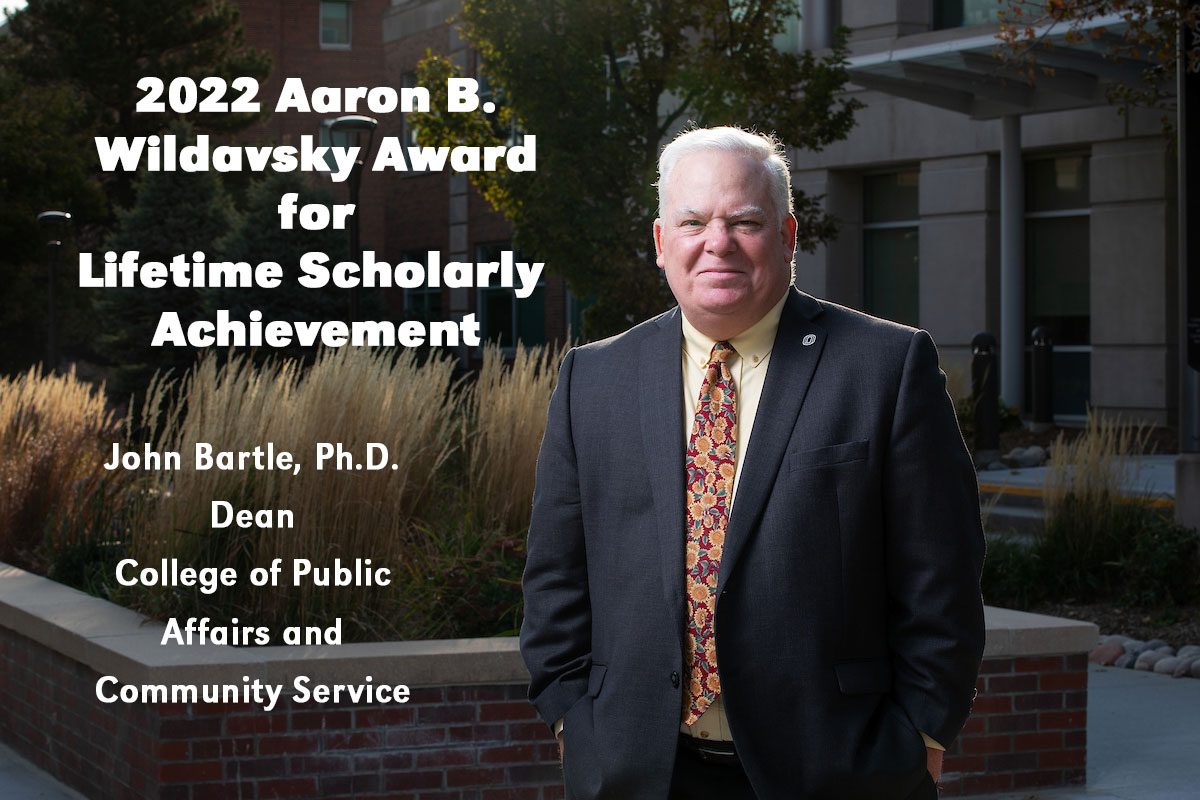 When the UNO School of Public Administration learned that it was ranked as number 5 in the nation for public finance and budgeting by U.S. News & World Report, it came as no surprise to the faculty and staff in the UNO College of Public Affairs and Community Service.
That's because they know much of their success is due to the stellar work and national reputation in this subject area held by their dean, John Bartle.
This reputation was recently affirmed when Bartle was awarded the Aaron B. Wildavsky Award honoring his lifetime achievement for scholarly work in the field of public budgeting and financial management. The Wildavsky Award is presented by the Association for Budgeting and Financial Management (ABFM), the premiere professional member organization for scholars in the science, processes, and art of public administration as it relates to budgeting and financial management
This is the first time the annual award was given to someone at UNO or in the NU system.
Like the U.S. News ranking, which is determined through peer assessments, the Wildavsky Award selection is based on peer nominations and deliberation by a committee of peers. Determination is based on the nominee's record of publication and service to a field over a sustained period of time. Bartle has this in spades, which was highlighted by the nomination letters submitted by his colleagues.
Contributions and Service to the Profession
Bartle is a nationally known scholar and expert on public finance.
Marilyn Rubin, distinguished research fellow in the School of Public Affairs and Administration at Rutgers University-Newark and collaborator, calls Bartle a "highly productive scholar and researcher" and points to Bartle's significant academic contributions, including his 2022 book, Innovative Infrastructure Finance: A Guide for State and Local Governments and their co-authored seminal article on gender-responsive budgeting in Public Administration Review in June 2005. This still stands as one of the few articles focused on equity in budgeting to appear in public administration journals.
Carol Ebdon, professor in the UNO School of Public Administration, calls Bartle's research "cutting edge in identifying topics before they become mainstream." His research on gender budgeting and his path-breaking research on sustainable development for public administration, are examples. She also points to his 2001 book, Evolving Theories of Public Budgeting, describing how it filled an important gap in the literature by bringing together the various theories that are used to understand and explain budgeting processes and outcomes.
These are just a couple of examples of the scope of his publications which includes six books, fifty-five articles, fifteen book chapters, and numerous editorials, book reviews, and reports.
Charles Menifield, professor and former dean of the School of Public Affairs and Administration at Rutgers University-Newark, makes note of Bartle's service to the profession and leadership roles with a long list of committee membership and offices held, including serving as chair of the ABFM itself. Bartle's service earned him election as a fellow of the National Academy of Public Administration and has served on its board of directors.
Bartle said, "I am deeply grateful for this award, and the support of people I admire. UNO has been a great place for me to pursue my scholarly passions, and my colleagues in the School of Public Administration have helped me every step of the way."
Mentorship: An Enduring Contribution
Bartle's greatest and most enduring contribution to the profession may be his passion for mentoring. All of the nominators mentioned Bartle's role as a mentor. Rubin describes how Bartle has mentored several doctoral students in the U.S. and abroad and that his students have found positions in several universities, and in local, state, and federal agencies.
Menifield describes himself as a mentee of Bartle, "I followed his direction without reservation and achieved much success under his guidance." Menifield notes that he has recommended the UNO public administration doctoral program to several students, and all of them have excelled under Bartle's leadership and mentorship.
Ebdon also describes herself as a mentee of Bartle. Her first academic position was at UNO. She calls him a generous mentor and describes how he is well-known for going out of his way to take students from other universities and emerging scholars under his wing and providing valuable advice and support that continues through their careers. His mentees have become deans, university president, assistant vice-provost, and university vice-president/chief of staff. His value as a mentor is illustrated by the fact that he has served as an external review for 55 promotion cases.
Bartle's reputation and generosity with his time plays a big role in the visibility and prestige of public administration and other academic programs in UNO's College of Public Affairs and Community Service. Scholars know about its programs and recommend the programs to others because of him. The College continues to flourish under his leadership, making UNO one of the best places to study public administration.