Our Roots, Our History. Celebrating 50 Years of Growth and Excellence | UNO School of Public Administration
The School of Public Administration (SPA) at UNO has roots that run deep, and their spread is wide. Celebrating 50 years of formal existence, the School's presence in service and excellence is illustrated by the national respect it has garnered.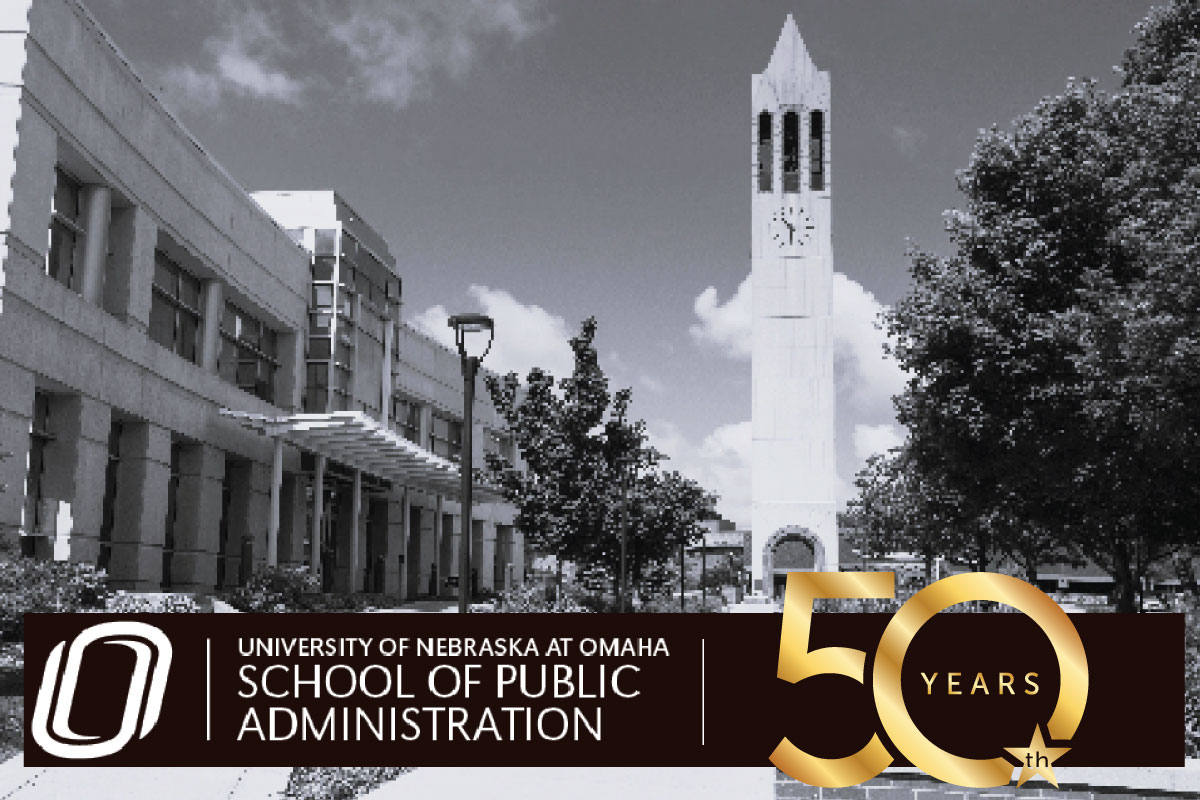 The SPA is the state's highest ranked school by U.S. News & World Report. It features national authors, award-winning faculty, and alumni found world-wide. The UNO College of Public Affairs and Community Service (CPACS) houses this school, and it is also celebrating 50 years of excellence.
The evolution of the School has been gradual, gaining strength and expanding to include professional programs; undergraduate minors in public administration; emergency management and disaster science; tribal management and emergency services; and aviation, as well as graduate programing in public administration and urban studies.
The School is now considered one of the best in the country. And we are celebrating!
According to John Bartle, Ph.D., CPACS dean and past director of SPA, the Department of Public Administration was the core of the college that started in 1972. The master's degrees in public administration (MPA) and urban studies (MSUS) were the first two programs offered, and the department had five faculty members. The department was located in an on-campus house, and while it had a slight family-feel to it, the move in 2008 to the current CPACS building was a large step up.
In 2002, the department gained official School status, attaining national prestige as well as developing a more comprehensive focus. A doctoral program in public administration, created in 1994, was the second freestanding doctoral program created at UNO. The School was also delving into online programming. SPA became the second school in the nation to offer an online MPA program, enhancing its national rankings and exposure. Growth continued in the School as it added the Aviation Institute in 1995 and the Emergency Management and Disaster Science bachelor's degree in 2010.
According to Bartle, this innovative approach has kept the School relevant.
"We've created a lot of new programs within SPA, like the doctoral program and our online MPA. Another area of growth is with our nonprofit curriculum within the MPA program. Looking back on it, we were right to foster that growth as nonprofit administration is the largest concentration of our MPA program.
"Part of the culture here is caring about our students, and growing and focusing our programs on how society is changing. We have nationally prominent faculty who win awards and are heads of world-wide organizations. We have established real leadership in the discipline as one of the top schools in the world," Bartle said.
And this reputation is well-known. The school's highest rankings yet were announced in March, and last year saw the largest incoming doctoral class yet, with students attending from around the globe.
According to Craig Maher, Ph.D., current director of SPA, another part of this new growth is the School's commitment to diversity and inclusion, which goes beyond the School's strategic plan. The SPA is also developing a strong presence at the undergraduate level by adding minors in public administration, nonprofit management, and cross-sector collaborative leadership. The latter minor was recently developed with the help of the Volcker Alliance and in collaboration with the UNO College of Business, and was recipient of the 2021 Voinovich Challenge.
"Our commitment to inclusivity has lead to important policy changes; helping us recruit more diverse classes in our programs. We live our mission and vision: we serve to strengthen public service in a democratic and diverse society, and we aspire to be a pre-eminent resource for public service," Maher said.
B.J. Reed, Ph.D., mirrors these thoughts on the school's success in public service, including the importance of the SPA to local and state public administration. As the former school director, and later senior vice chancellor of academic and student affairs, he shares: "I think the legacy of the MPA program is that we have created a significant infrastructure of public managers and nonprofit managers, many of them who are doing really well. We have lots of folks who have made city and state government and nonprofit agencies success stories.
"The reputation of our faculty in providing management support to state and local agencies has been a big benefit to these governments and agencies. The professionalization of local government and of nonprofit agencies has been a huge shift. We have come a long way.
"Our national reputation piece is important; we are among the best in the country and recognized by our peers. That's an amazing accomplishment. We were a good teaching school, but our quality, and visibility of our faculty has changed dramatically from those beginning days."
Interested in SPA current programs, faculty, and students? Please read our annual report. If you are interested in supporting SPA students and programming, please visit our NU Foundation page.
Finally, we sincerely hope to see our alumni, current students and faculty, and all community supporters as we celebrate.