Report Shares Challenges and Opportunities for Women in STEM in Nebraska
Women in Nebraska's workforce frequently encounter and overcome gender barriers as they pursue careers in STEM fields, according to a new report released by the UNO Center for Public Affairs Research.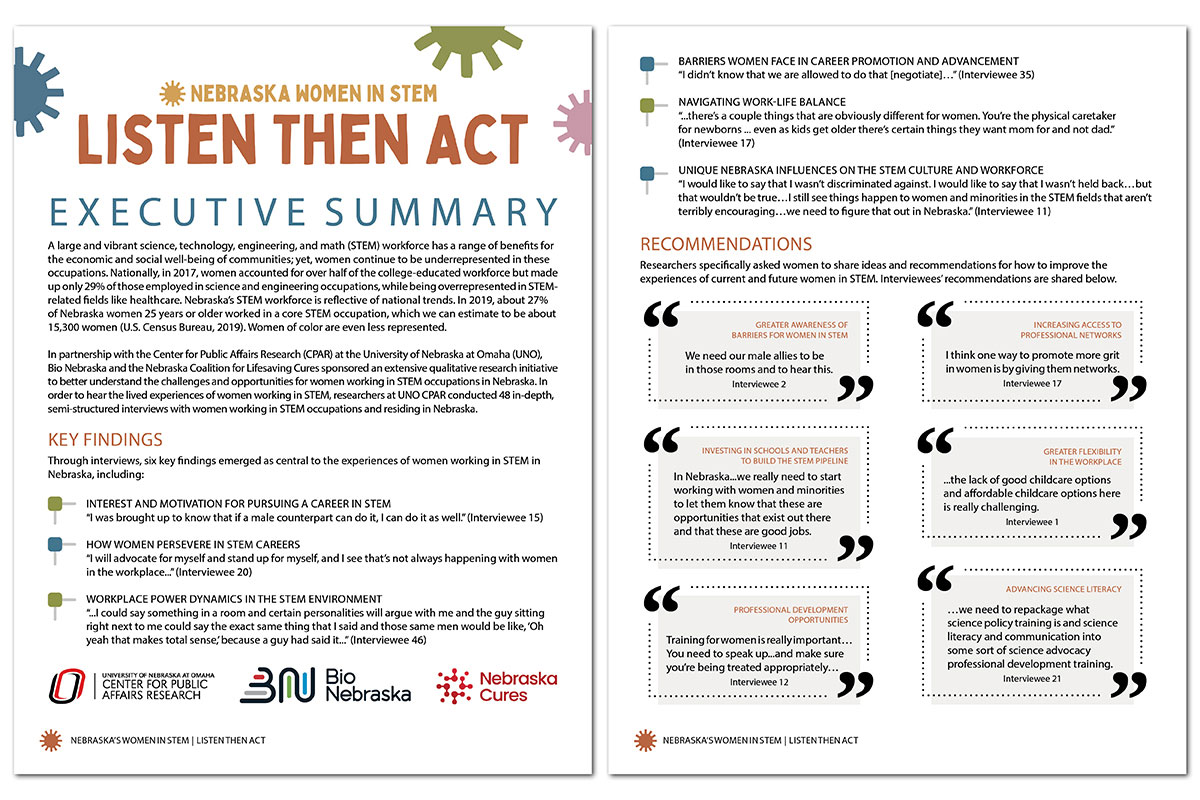 Omaha, Nebraska – The report — Nebraska's Women in STEM: Listen Then Act — provides data on the experiences of 48 women working in STEM and how they navigate the challenges and opportunities of working in traditionally male-dominated environments. Bio Nebraska and Nebraska Cures commissioned the report with NASA Nebraska Space Grant funding for a graduate student fellowship.
In 2019, only 5% of persons 25 years and older worked in a core STEM occupation in Nebraska. Of those that work in STEM, about 27% are women compared to 73% of men, using data from the United States Census Bureau's American Community Survey. Women of color are even less represented.
Researchers in the report identified themes across the women interviewed, including early interest in life to pursue a career in STEM; grit; workplace inequities; barriers in career promotion and advancement; challenges navigating work-life balance; and unique Nebraska influences on the STEM culture and workforce. The report also includes a series of recommendations with ideas from interview participants for how to recruit and retain women in STEM in Nebraska.
"Our research shows that Nebraska's women in STEM face considerable gender barriers when entering and advancing in STEM fields. The report also proposes solutions for how to support women in STEM at both the organization and public policy levels," said Josie Gatti Schafer, CPAR director.
Data in the report was collected through 48 in-depth interviews with women working in STEM who reside in Nebraska, led by Morgan Vogel, Ph.D., a research associate at CPAR. Interview participants represented a range of STEM occupations in academia and industry in Nebraska.
The full report as well as ways to be involved in sharing and acting on the research can be found online at NebraskaWomenInSTEM.com.
About CPAR
CPAR collaboratively produces and disseminates high-quality public scholarship about topics that impact the lives of Nebraskans. Ongoing projects from CPAR include policy analyses for the Planning Committee of the Nebraska State Legislature, the Nebraska Rural Transit Project, governing.unomaha.edu, and designation by the U.S. Census Bureau as a statewide liaison for disseminating a range of data products. Visit cpar.unomaha.edu to access CPAR's extensive data resources on state and local issues in Nebraska.