Not a Coincidence. A Top CPACS School Director Chosen for NU Leadership Program
Gaylene Armstrong, Ph.D., director of the School of Criminology and Criminal Justice, is one of four UNO faculty chosen for a NU system-wide leadership program. It's not surprising; the college is thriving.
published: 2022/06/01
contact: Jennifer Knight - College of Public Affairs and Community Service
email: jenniferknight@unomaha.edu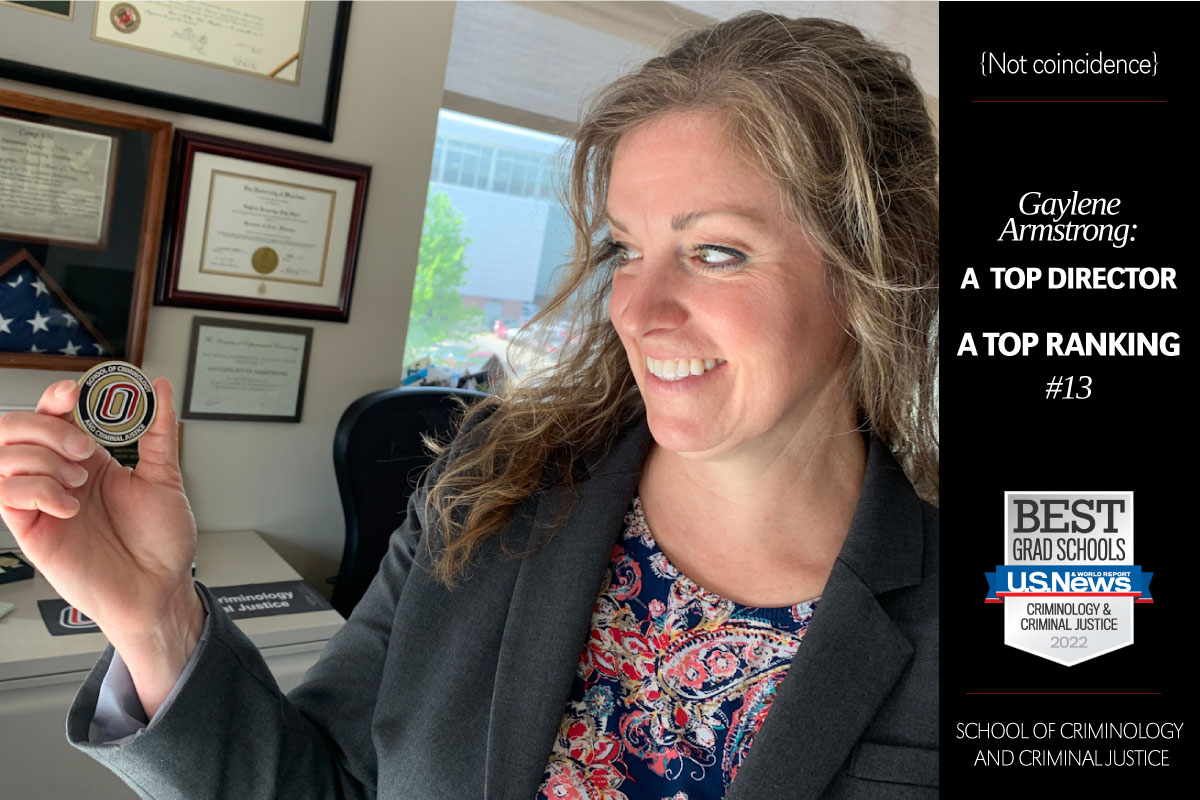 Phenomenal. Tremendous. Fantastic.
These are all words Gaylene Armstrong used while describing the faculty in her school.
National Experts. Incredible. Dynamic.
The praise continued as Armstrong shared accolades and experiences from her staff. In reality, these words also mirror herself.
As director of a nationally top ranked school, Armstrong has seen her school's enrollment grow, garner research grants, and start nationally significant programs. Her leadership of these efforts has been noticed; she is now one of four UNO faculty recently chosen for NU's Developing Excellence in Academic Leaders (NU DEAL) inaugural cohort program.
The choice of Armstrong to represent UNO is well founded. Her list of awards and achievements are long; she just recently received the Law Enforcement Coordination Award for Advancing Justice and Cooperation in Nebraska Enforcement from the U.S. Attorney's office and County Attorneys Association; and she has many other awards in recognition of her career accomplishments.
NU DEAL
Starting in the fall, the NU DEAL program brings together a handful of identified leaders representing all four NU campuses. They will learn about what each campus offers and learn from each other. Skill sets will be developed as the NU president will lead some of the starting fall sessions.
"I am very excited to be chosen for the NU DEAL program. My dean was very supportive. I hope to develop myself further so I can be a better leader in criminal justice," Armstrong said.
Armstrong has thoroughly enjoyed leading the School of Criminology and Criminal Justice (SCCJ) the last six years, in part due the talent and quality of the recently hired faculty in the school. Her faculty include Justin Nix, a national policing expert who works on officer involved shooting data relied upon by the Washington Post; Teresa Kulig who is writing a book on human trafficking; and Tara Richards, a researcher with several funded projects with colleagues both here on campus and nationally; as well as former FBI agents and heads of corrections.
It is a diverse, talented group in this school. "Not only are they highly productive, but they are truly good people," she said.
Armstrong herself has a wide background of experience and education. She became interested in criminology and criminal justice in Canada where she started out as a customs and immigration officer. Her interest in people's decisions and behaviors pointed her to earning her master's degree and doctorate in criminology and criminal justice at the University of Maryland, the top ranked school in criminal justice at the time. Currently, one of her top projects is a nationwide example; her UNO team along with a UNMC team are in the process of receiving $500 thousand in congressional funding to expand a gun violence intervention program for high-risk individuals.
Armstrong is a first-generation high school and college graduate. From that, she has seen the importance of mentoring and supporting students. That is perhaps one reason why the SCCJ has grown so much and is a powerhouse in the field of criminal justice.
SSCJ by the Numbers
20 Ph.D.s are on faculty
Just shy of 1,000 undergrad majors
Two locations for the UNO undergraduate degree on both the UNO and UNL campuses
UNL has a fully staffed program, with over 300 students earning a UNO SCCJ degree
More than 100 master's degree and doctoral students, with some online, some in the military, some in different parts of the country, and many local to Nebraska
Top rankings including #13 in the nation for its programs, out of hundreds of programs
"We offer one of the top criminal justice degrees in the country, and it is in our own Nebraska backyard where we can continue to support our community," she said. "This is big. UNO is the major player in the Midwest region, including Iowa, Kansas, the Dakotas, and Colorado. If you are interested in a helping profession, there are so many opportunities for you in law enforcement, corrections, victimology, and beyond. We will help you figure out the best career path.
"As Wayne Gretzky says, 'You will miss all the shots not taken.' This is truly one of the best places to be as a criminology and criminal justice student, so take your shot!"