IS&T Learning @ Home: Cade Wolcott
IS&T graduation student speaker Cade Wolcott has some words of advice for the University of Nebraska at Omaha community.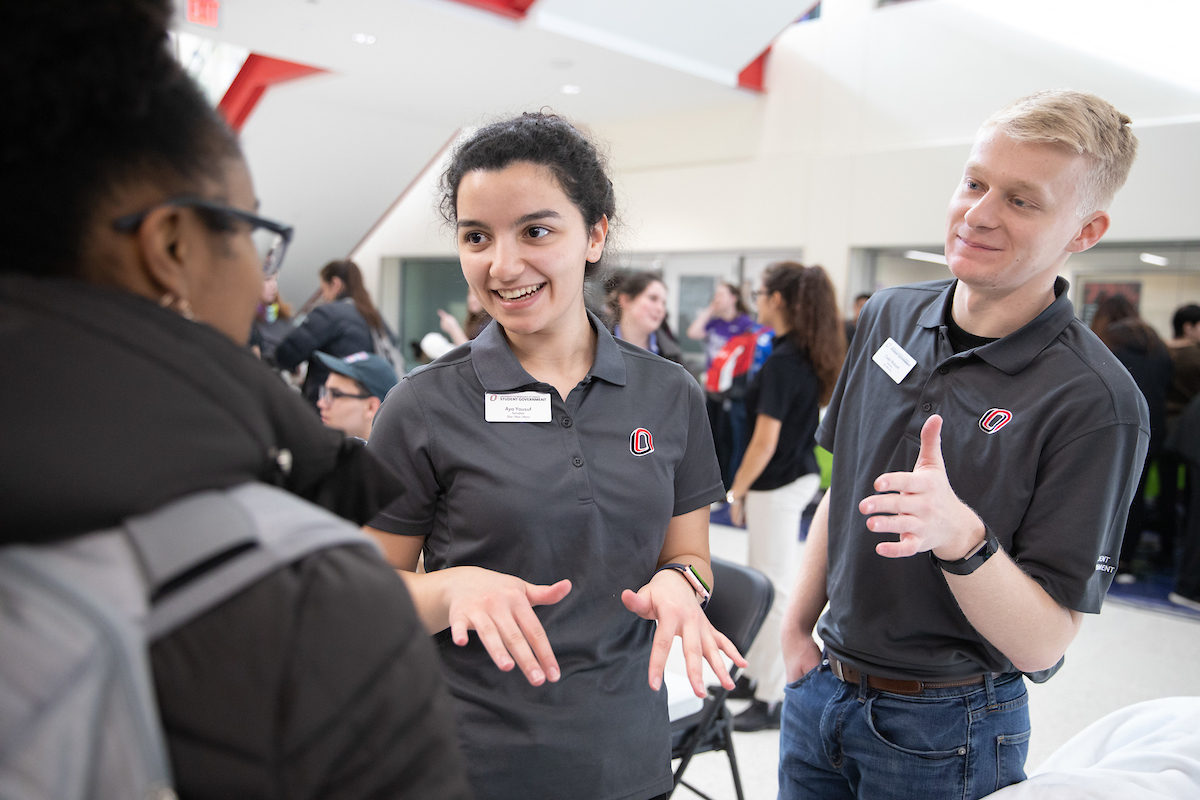 Cade Wolcott, right, speaks to a student during Durango Days
From the start of Cade Wolcott's college career, the whole "Pomp and Circumstance" bit was a celebration he was looking forward to – just like the rest of his graduating class. Wolcott has a history at the University of Nebraska at Omaha (UNO). He started out at the College of Information Science and Technology (IS&T) five years ago as a high school intern, before he was even sure what he wanted to major in. After arriving at UNO, Wolcott dove into college life: he majored in computer science with a minor in IT innovation, joined student organizations, sat on Student Court as a justice, earned the spot as IS&T's student speaker at graduation, and received the Chancellor's Award for Outstanding Student Leadership. He was well on his way to wearing that cap and gown in Baxter Arena when the COVID-19 pandemic hit, UNO transitioned to remote learning, and moved graduation ceremonies virtually.
"It's interesting, to say the least. Walking across the stage is that hallmark moment many people look to," Wolcott says. "I'm glad the university is offering the option to walk in December. I'm just excited to have a celebration, virtual or otherwise. It will be nice to have some sort of celebration to recognize our accomplishments."
Like a lot of students at UNO, Wolcott moved back in with his parents in March. Speaking from the back porch of their home in Louisville, NE over birds chirping and his dog running in and out, he says he was often too busy to make the drive back home, so in a weird way it's nice to have the extra time with his family.

"I'll be the first to say that I'm very lucky and be in the position I'm in. There's a lot of people out there in with food insecurity, no internet. I'm focusing on how we can help," Wolcott isn't just saying these things, he was actively involved in helping improve the college experience for students. This year, he earned a University Innovation Fellowship through Stanford University. The program focuses on empowering students to make changes at their universities, giving them more autonomy and ability to be a part of the decision-making processes. He recently completed a challenge that centered around the impact COVID-19 has on students, helping reimagine the four-year college experience and supporting students' mental health during this difficult time.
"My favorite thing that I'm doing is my computer science capstone," Wolcott says. "We are building a game to help the biomechanics department perform research. This application helps people perform rhythmic training. The hypothesis is that people who perform this training helps with neurological disorders like Parkinson's Disease potentially improves their symptoms."
These kinds of projects are what Wolcott lived for throughout college, the chance to work in teams and create. He says he learned so much about himself, leadership, and the ability to connect with people across the university. He stresses the importance of getting involved during college, and praises UNO for creating space for students to be involved with decision making.
While celebrating his graduation over Zoom, Wolcott delivered his message to his fellow graduates – one that he hopes everyone at UNO will pay attention to.
"In college people are constantly asked 'what's next': what classes are you going to take, where are you going to go, it's a great question that I'm pondering right now," Wolcott says. "I wish we would ask ourselves more: where are you now, what are you already doing? How can we make the most in the college experience, students can make an impact today – not just later?"

Check out Wolcott's speech below, his talk begins at the 40:00 min mark.