Access to Exceptionally Cool Stuff
Looking for educational experiences from IS&T, but your student isn't college-age? From iSTEM after-school programs, exciting summer camps, and engaging high school internships, we have opportunities to get engaged and learn.
Computer Science Education Week 2023
High School Computer Science Quiz Bowl
National Computer Science Education Week kicks off a series of events and celebrations at IS&T, commemorating Grace Hopper. Events include the annual High School Computer Science Quiz Bowl and Programming Challenge, CS Ed Week Breakfast, Hour of Code, and student research presentations, The week is inspired by the achievements of Admiral Grace Murray Hopper, a computer scientist and United States Navy Rear Admiral. The event takes place the first week of December.
High School Internship Program
Summer 2022
Every summer, nearly a dozen high school students gain an unparalleled experience at IS&T as interns in our labs. Over eight intensive weeks, these high school students work side-by-side with IS&T professors, staff and graduate students in research areas and labs such as robotics, bioinformatics, software engineering, cybersecurity, and Unity game development. The Internships take place in June and July.

*Applications will be announced Spring 2022
Who to contact: Alexis Sherman (alexissherman@unomaha.edu)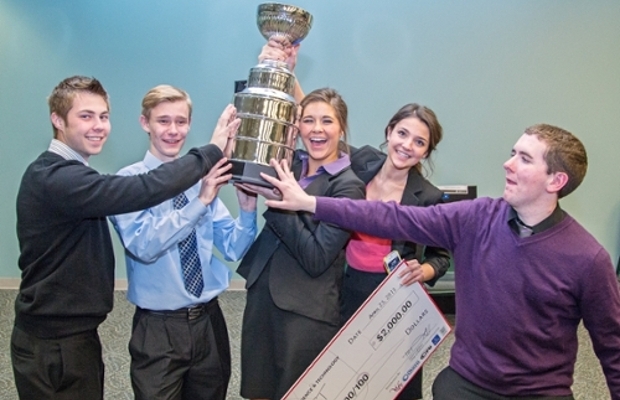 IT Innovation Cup
Bringing together the thrill of competition with hands-on educational activities, the annual IT Innovation Cup engages Nebraska and Iowa schools to create an innovative IT solution to today's most pressing societal problems. Established in 2012, the IT Innovation Cup presents a yearly challenge to high school teams in which teams must bring together a wide range of skills and expertise. The IT Innovation Cup pairs high school teams with IS&T mentors, campus resources, and networking opportunities with area IT companies and sponsors. The IT Innovation Cup runs from the Fall semester, starting in September, until April the following Spring semester each year.
Nullify's High School Capture the Flag Competition
High school students are given the opportunity to flex their cybersecurity prowess as teams compete for the top prize. From across the metro area, high school teams come to IS&T and hack their way to the top spot in a fast-paced competition that truly shows students what working in cybersecurity is all about.
iSTEM Out-of-School Time
Bringing iSTEM to every student. Out-of-school time programs and immersion experiences at IS&T, Techademy+ takes our Techademy classes and integrates them throughout the school year. We introduce students to concepts like Scratch programming or App Inventor – programs where they make cool stuff, and can practice on their own time. iSTEM programs run the duration of the school year at its participating schools.
Interested in starting an iSTEM Out-of-School-Time workshop at your school? Contact Dr. Deepak Khazanchi at khazanchi@unomaha.edu who is the principal investigotor for the grants that support this program.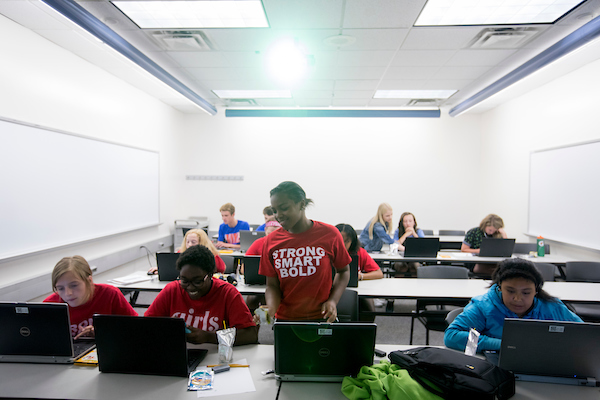 Students from Girls Inc. work together.
Dual Enrollment
UNO's Dual Enrollment program allows talented students to earn college credit while still in high school. College-bound students can get a jump on their degree and maximize their time in advanced high school classes. Dual enrollment can also provide enhanced curriculum opportunities that help students remain engaged in their junior and senior years of high school and help prepare for college-level work. The College of IS&T currently offers its dual enrollment program in 21 different schools across Nebraska. In 2022-2023, a total of 622 students were enrolled in these courses.
Courses that are currently offered by IS&T for dual enrollment include: CSCI 1200 Computer Science Principles, CYBR 1100 Introduction to Information Security, CIST 1300 — Introduction to Web Development, CIST 1400 — Introduction to Computer Science I, and CIST 2500 — Introduction to Applied Statistics for IS&T. More information about UNO's dual enrollment program and processes can be found here.
Early Entry Program
Currently enrolled high school students may apply to take undergraduate courses at IS&T concurrently with their high school program by enrolling through the UNO Early Entry Program. Enrollment requires the recommendation of their high school counselor and demonstration high academic achievement.
Women in IT School Initiatives
IS&T supports a diverse student body finding their place in IT, and is dedicated to help close the gender gap in IT. From multi-day immersion programs, celebrations, cross-campus collaborations, and involvement with the greater IT community, we work hard to make sure everyone feels at home in IT. Check out our multiple programs for young women and girls interested in IT to find the right program for you.