IS&T Launches iSTEM Virtual Toolbox
UNO's College of Information Science and Technology is creating a virtual toolbox for iSTEM activities, available free for all to use.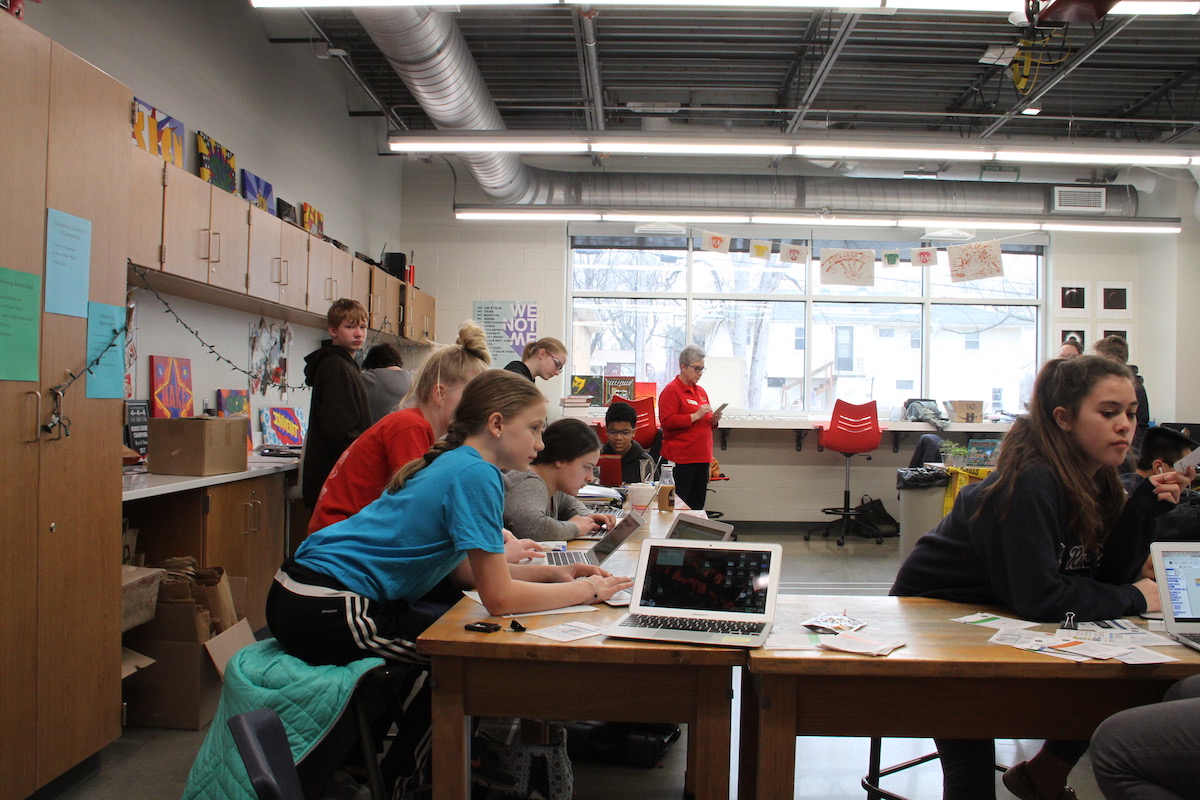 Students at Westside Middle School work at a past computer science event.
The University of Nebraska at Omaha College of Information Science and Technology is releasing an iSTEM Virtual Toolbox, a remote learning platform geared towards elementary through high school students and teachers. Each week, a new recorded session in the iSTEM field will be released with a workbook and additional resources. Some of the sessions will take place online, and some geared towards offline learning, with varying levels of difficulty. Tools for teachers will also be included in this session, with pre-made PowerPoints and resources available for classroom learning. This resource is available free to all visitors.
"As we are all getting used to the new normal of remote teaching and learning for now, we wanted to provide a resource for the community that leverages our strengths and programming," said Deepak Khazanchi, associate dean of academic affairs at the University of Nebraska at Omaha College of Information Science and Technology. "We also know the drive many students have to continue their education. This toolbox will offer our expertise in iSTEM, and give students of all ages a fun experience to learn at home."
In the coming weeks, IS&T will deliver a variety of lesson plans, social media challenges, recorded workshops, online teaching support and other iSTEM resources.
The iSTEM Virtual Toolbox was developed on the heels of IS&T's successful CodeCrush Virtual Immersion Experience. A program designed to show students and teachers the vast world of IT, the program was moved from an in-person experience to remote in March. From March 18th - 20th, nearly 50 participants engaged in panel discussions with Flywheel, Werner, and IS&T alumni and current students.

"With the success of CodeCrush Virtual, we knew we had a viable platform to offer students and teachers looking for ways to engage in iSTEM teaching and learning," said Amanda Rucker, communications specialist and CodeCrush lead at the University of Nebraska College of Information Science and Technology. "We know that the in-person experience is vital for our students and teachers, but without that opportunity we really dug into how we could bring iSTEM learning to students at home."

Working with Daniel Stokes, the iSTEM Program Coordinator at IS&T and a former middle school science teacher, as well as Hina Patel, the CodeCrush coordinator at IS&T and a former high school chemistry teacher, the team is putting together learning opportunities with IS&T staff, faculty, students, and other partners. The toolbox will be a collaboration between IS&T's faculty/staff and student instructors and our CodeCrush, iSTEM After School, Techademy, and the IS&T High School Internship programs.

"We're really looking to expand how we're delivering these lessons and make them useful for those learning at home, we don't want to leave any of our program participants behind," Stokes said. IS&T is also working on a plan to move it's summer workshops for middle and high schoolers, Techademy, online.

This effort would not have been possible without the ongoing support of grants from the following organizations:
· The Peter Kiewit Foundation (Codecrush challenge grant)
· Verizon Foundation (iSTEM Pathways grant)
About UNO's College of Information Science and Technology
The College of Information Science and Technology (IS&T) at the University of Nebraska at Omaha represents the joint efforts of the University of Nebraska, the State of Nebraska, and private industry to address the growing global needs for knowledgeable professionals in Information Technology (IT). The College was established at UNO in 1996 to meet the growing demand for IT graduates in the Omaha metropolitan and surrounding area.