UNO Joins UNL, UNMC on $13.75 Million Grant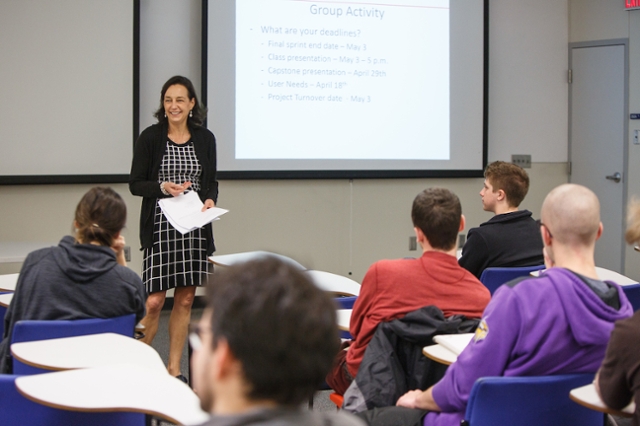 UNO professor Ann Fruhling, Ph.D., director of the College of Information Science and Technology's School of Interdisciplinary Informatics, Information, Science and Technology, and Matt Hale, Ph.D., assistant professor of interdisicplinary informatics, will contribute to a five-year, $13.75 million grant announced today by the University of Nebraska-Lincoln (UNL) to create a new center focused on transportation safety in the Midwest. 
The Mid-America Transportation Center, a consortium of academic institutions led by UNL, will lead the federally funded research center to improve transportation safety in Nebraska and neighboring states, with an emphasis on challenges facing rural areas and underserved communities.
Nebraska's Mid-America Transportation Center was designated the University Transportation Center of its four-state region after a competitive review. The center is funded by the U.S. Department of Transportation through the Fixing America's Surface Transportation Act. The FAST Act, passed by Congress and approved by President Obama in 2015, increased funding for 35 university transportation centers and was the first federal law in over a decade to provide long-term funding to improve the nation's transportation infrastructure.

As part of the award, Fruhling will develop an information system that includes mobile apps and a communication network that support first responders' communication to rural hospitals in the case of a hazmat disaster. This system will provide specific and detailed environmental and hazmat data and images to help emergency departments be prepared before the patients arrive.
Hale will analyze the project's application and security needs across the web service, mobile, and wearable components of the project.
"This grant confirms our regional leadership in transportation research and will enable us to develop solutions and products to improve safety in an industry that is an important driver of economic growth in our state," UNL Chancellor Ronnie Green said.
Laurence Rilett, MATC director, said receiving such funding enables the consortium to leverage its track record of success in transportation research and education to improve safety in the four Region 7 states: Nebraska, Iowa, Kansas and Missouri.
MATC is housed in the UNL College of Engineering. Its partner institutions include the University of Iowa, University of Kansas, University of Kansas Medical Center, Missouri University of Science and Technology, Lincoln University and Nebraska Indian Community College. The consortium also has partnerships with numerous private- and public-sector entities, including a longstanding relationship with the Nebraska Department of Roads.
In addition to working closely with consortium members, MATC utilizes additional expertise from the University of Nebraska Medical Center and UNO, which offer expertise in public health evaluation and information technology, respectively.
The states in Region 7 sit at the crossroads of the nation's roadway, railway and waterway systems and consistently rank among the top 10 states nationally in total freight movements. Additionally, Nebraska and its neighbors have challenges related to climate, stressed infrastructure and demographics. The effect of extreme weather, especially flooding, is one. Increased freight traffic in rural areas, especially from trucks carrying large volumes of hazardous waste materials, is another. Rural roads bear the brunt of wear and tear from heavy vehicles, yet local governments have fewer financial resources to keep up with repairs.
Rilett said these conditions create a "perfect storm" for public safety when the unexpected happens, as when flooding causes a bridge collapse or when a tanker crash causes the release of hazardous materials such as chlorine gas or anhydrous ammonia.
"At the end of the five-year project, our goal is to have a suite of products that promote safety and lead to measurable safety improvements in these communities," said Rilett, the Keith W. Klaasmeyer Chair in Engineering.
Since 2006, MATC has received nearly $30 million in funding through the U.S. Department of Transportation's university transportation center program, with $14 million coming from federal sources. 
About UNO's College of Information Science and Technology
The College of Information Science and Technology (IS&T) at the University of Nebraska at Omaha represents the joint efforts of the University of Nebraska, the State of Nebraska, and private industry to address the growing global needs for knowledgeable professionals in Information Technology (IT). The College was established at UNO in 1996 to meet the growing demand for IT graduates in the Omaha metropolitan and surrounding area, and is celebrating its 20
th
 anniversary this year. 
Media Contact
If you have a story idea, news tip or inquiry please contact:
Amanda Rucker, Communication Specialist, College of Information Science & Technology
arucker@unomaha.edu • 402.554.2070