UNO, UNL Infrastructure Project Part of Nearly $500,000 in NSF Funding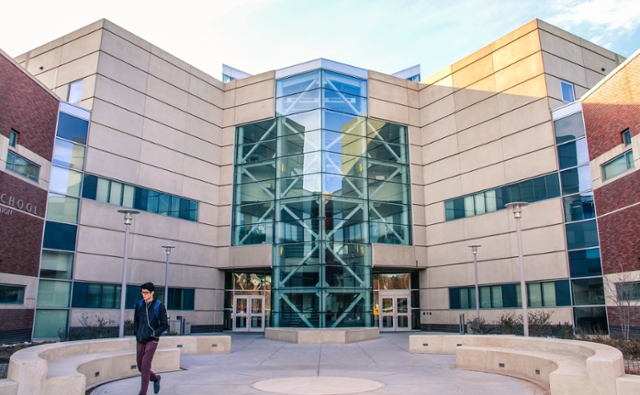 Today, the University of Nebraska at Omaha (UNO) College of Information Science and Technology (IS&T) announced new funding from the National Science Foundation (NSF) to use Big Data in order to improve the way we monitor bridge infrastructure for potential failures.  
The nearly $100,000 award is the latest of four projects from NSF for UNO IS&T in 2016, totaling in almost $500,000.
The project, titled "Big Data Innovations for Bridge Health", was featured in an NSF announcement highlighting awards to 10 "Big Data Spokes" in areas identified by NSF's Big Data Regional Innovation Hubs (BD Hubs) initiative. The BD Hubs initiative was created in 2012 to leverage Big Data through multi-sector collaborations between academia, industry, and government within four distinct U.S. regions: South, West, Midwest and Northeast. 
"Large amounts of bridge related information, both static and streaming, currently exists in silos," explained Robin Gandhi, an associate professor of information assurance at UNO and one of the project's two principal investigators. "While sharing of this data will create opportunities, the risks due to competitive advantage, liability, security and privacy need to be considered. This project will facilitate private, public and academic partnerships to address this challenging problem."
The project is also part of the National Big Data Research and Development Initiative, an effort to solve the nation's challenges by using insights gained through digital data.
"Big Data Innovations for Bridge Health" is a partnership between IS&T and the University of Nebraska-Lincoln's College of Engineering.
"We're honored and excited to receive this award from the National Science Foundation," Deepak Khazanchi, associate dean at the College of Information Science and Technology said. "This project will provides the foundation for a million dollar grant for providing the infrastructure and open standardized data access to both academic researchers and practitioners about the health of our bridges and buildings. This effort is a testament to the collaboration between UNL engineering and UNO's IS&T."
"The award allows us to further examine, collaborate and develop plans for improving methodologies used to address bridge and infrastructure condition evaluation, deficiency identification, service-life extension and, ultimately, improved management of our transportation system," Daniel Linzell, department chair and professor of civil engineering at UNL, said. "The collaboration between the UNO College of Information Science and Technology and the UNL Department of Civil Engineering certainly affords an excellent opportunity for these two entities to continue addressing this issue."
In addition to Big Data Innovations for Bridge Health, IS&T received three other awards from NSF in 2016: 
1) QuaSim: A Virtual Interactive Quantum Cryptography Educator-A Project-based Gamified Educational Paradigm
Principal Investigator:  Abhishek Parakh (Interdisciplinary Informatics)
Co-Principal Investigator:  Mahadevan Subramanian (Computer Science)
Amount: $290,037 
As part of an effort to improve the quality and efficiency of undergraduate and graduate STEM education, IS&T received funds to implement a game-based simulator to help students better understand quantum cryptography called QuaSim. QuaSim is a pedagogical game-based simulator that allows students an interactive experience to improve learning by transforming subject-based lectures in quantum cryptography into project-based virtual simulations.
2) FIRST: Better Crowds for Better Safety 
Principal Investigator:  Brian Ricks (Computer Science)
Award amount: $19,991 matched with $19,991 from UNO IS&T  
While crowd simulation has been able to successfully create believable crowd movements, crowd simulation experts lack the algorithms and computational tools to mimic behavior of a crowd within large buildings. NSF has awarded IS&T funds to design and validate computer algorithms for realistic, data-driven crowd simulation and therefor help determine how crowds will respond in a large facility in both normal and emergency situations. Through this work, buildings could be designed safer, security managers could test evacuation techniques prior to emergencies, and options could be quickly explored to reduce congestion.
3) EAGER: Citizen Science as a Tool for Temporal Water Quality Assessment at the Major Watershed Scale
Principal Investigator: Alan Kolok (Biology)
Co-Principal Investigators: Ann Fruhling (Interdisciplinary Informatics), Shannon Bartelt-Hunt (UNL Engineering)
Award amount: $100,000
In this cross-campus effort, this project's goal is to build a national citizen science network which can help monitor large areas of water for contaminants. Currently using traditional methods, it is impossible to collect such data successfully from large areas of water. Through this research, the team hopes to evaluate the capacity for citizen scientists to collect repeatable and quantitative data, leverage information technology using mobile devices to capture and validate the data, and launch a citizen scientist campaign within the Mississippi River watershed. It is hoped that this project will help develop protocols to assure data quality and reliability from citizen scientists.

About UNO's College of Information Science and Technology
The College of Information Science and Technology (IS&T) at the University of Nebraska at Omaha represents the joint efforts of the University of Nebraska, the State of Nebraska, and private industry to address the growing global needs for knowledgeable professionals in Information Technology (IT). The College was established at UNO in 1996 to meet the growing demand for IT graduates in the Omaha metropolitan and surrounding area, and is celebrating its 20th anniversary this year. 
Media Contact
If you have a story idea, news tip or inquiry please contact:
Amanda Rucker, Communication Specialist, College of Information Science & Technology
arucker@unomaha.edu • 402.554.2070