Stellar Student: Gabriela Amador
For as long as she can remember, teacher candidate Gabriela "Gaby" Amador has dreamed of becoming an educator.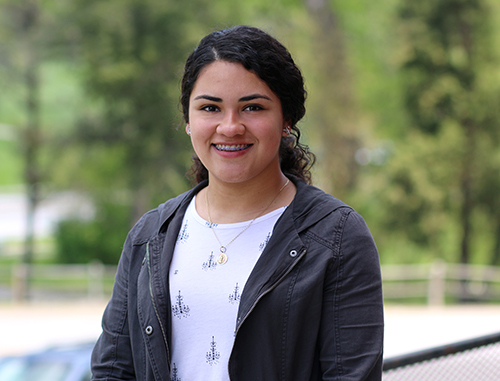 "In high school, I returned to my elementary school for an intern experience with my former third-grade teacher. After that, I knew I was going to be an elementary school teacher one day."
Gaby grew up around children in a large yet tight-knit extended family—her mother is the oldest of nine siblings. "As the second-oldest cousin, I loved caring for and playing with my younger cousins."
Family is the driving force behind Gaby's academic success and journey to college. During the last academic year, Gaby lived with her two sisters—all were UNO students and Thompson Scholars. They created a home away from their South Sioux City home at Maverick Village.
Gaby and her sisters are first generation college students. They are also first generation high school graduates.
When Gaby's mother and father were young children, economic hardship forced them to quit school. Although he loved school, Gaby's father left in the 8th grade to help support his family. He worked in the fields of a Nicaraguan farm before enlisting in the military at the age of 18. Gaby's mother grew up in Mexico, and she stopped attending school in 3rd grade to help care for her eight younger siblings.
Gaby is a first generation college student and a Thompson Scholar. She is also a first generation high school graduate.
Gaby tears up when she talks about her parent's brief time in school, but she describes it as a motivator to pursue her own degree.
"Growing up, my dad always enforced school and talked about its importance. He would say, 'Education is something you will always have. You are so fortunate to live in America where education is free. Don't take it for granted and always do your best.'"
Gaby shared her family's experiences through her work with UNO's Service Learning Academy. First introduced through faculty member Dr. Sandra Rodriguez-Arroyo's Foundations of English as a Second Language (ESL) course, Gaby worked over several semesters on the College Prep and Family Learning project for the Learning Community of South Omaha, a program that helps ESL families prepare their children for college by providing resources like campus tours and financial aid literacy classes.
For her work with families and youth, she was honored in April 2017 with a prestigious Outstanding Service Learning Student Award, nominated by Dr. Rodriguez-Arroyo:
"Gaby's commitment to this service-learning experience was more than to fulfill a class requirement, she made it her personal mission to share college preparation information with the families. As a first-generation bilingual Latina college student, Gaby knows firsthand that her parents would have been more than happy to participate in a program when her older sister was starting to think about college, and she was not afraid to share her experiences."
Last fall, Gaby finished her final practicum in the Millard School District. She's on track to graduate in May 2019 with a dual endorsement in Elementary Education and ESL with a Spanish minor.
Gaby's goal as a bilingual teacher is to support families like hers. "My parents aren't very fluent in English, and growing up I watched them struggle to communicate with my teachers. As a teacher, I want to help parents like mine feel comfortable."
She gives credit to the advisors who guided her down a personalized academic path. "The advisors at the College of Education have helped me since the beginning. Before entering the Teacher Education program, Katie was super helpful and was always available with her support. She was patient with any questions that I had. Huai-Mei helped see what I would like best, how it would fit into my schedule, and supported what I wanted."