Nebraska's 2018-2019 Outstanding Music Educator of the Year
UNO alumna Debbie Martinez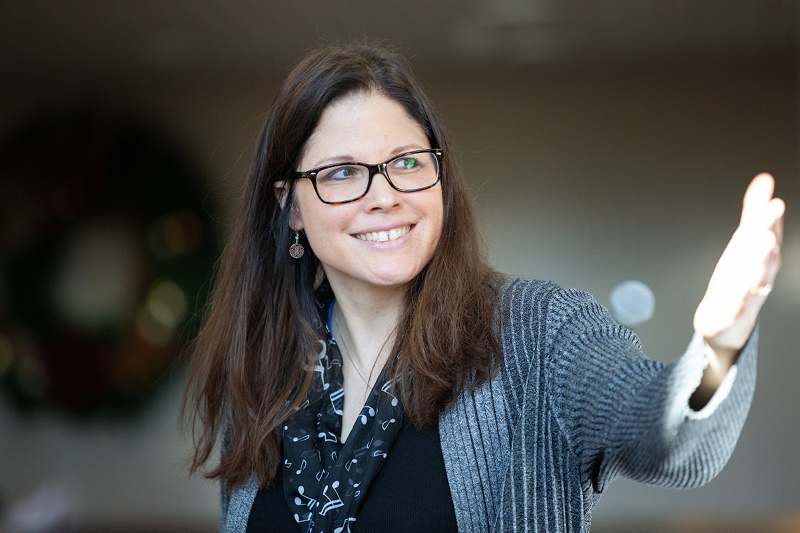 UNO alumna and Millard North Music Teacher Debbie Martinez recently was named the 2018-2019 Nebraska's Outstanding Music Educator of the Year by the National Federation of State High School Association (NFHS). The NFHS award by the Nebraska School Activities Association (NSAA) is in collaboration with the Nebraska Music Educators Association (NMEA).
Martinez holds a Bachelor of Music Education from UNO and recently conducted members of the Millard North High School Orchestra, mentored by UNO School of Music students, came together to perform at the UNMC Durham Outpatient Center
The performance culminated from a semester long service-learning project, "Sound Health; Bringing Music to Medicine". This collaborative project partners the UNMC Cancer Center Healing Arts program, Millard North High School and UNO School of Music.
The mission of "Sound Health" is to enrich the healthcare environment for patients, families, health care providers and staff through live music while providing music students with an opportunity for service learning and professional performing experience. The goals of Sound Health are to contribute to a healing environment; to give music students service learning opportunities; and to break down the "fourth wall" barriers, connecting musicians to their audiences.
Sound Health began in 2009 when Dr. Mary Perkinson, Coordinator of String Studies at UNO's School of Music, experienced first-hand the calming effects of live music through the Cleveland Clinic's Performing Arts Program.