A unit of UNO's College of Communication, Fine Arts and Media, UNO Television (UNO TV) provides production, program distribution and educational services to a diverse group of local, regional and national users.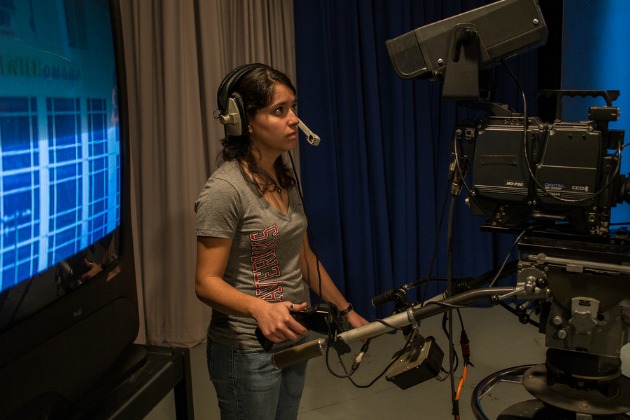 The UNO TV studio provides a laboratory where UNO broadcasting students receive applied instruction on professional broadcast equipment from professors and professionals in the industry.
As an integral part of the university, we provide unique educational opportunities to students through training and employment in a professional environment.
Services
Uplinks
Studio production
Field production
DVD creation
Online Course Delivery
We are the site coordinator for scheduling and facilitating online courses for UNO. Our delivery systems include the Lincoln/Omaha 2-way Fiber System connecting UNO, the University of Nebraska-Lincoln (UNL), and the University of Nebraska Medical Center (UNMC), as well as the statewide NEB*SAT interactive Network 3 and the new digital Network 2 systems.
Our Work with NET
UNO TV operates the Omaha Production Center for Nebraska Educational Telecommunications (NET) Television, one of the country's foremost state networks. We also produce instructional, educational and public affairs programs for statewide distribution on NET.
Our Work with the Knowledge Network
We also provide local programming for The Knowledge Network (TKN) of Greater Omaha, a nonprofit designed to provide educational services via local broadcast and cable television. TKN programs air on Cox Communications channel 18 and CenturyLink channel 69.