Abbie Syrek and Dr. Karen Fannin take on new positions in CFAM
Abbie Syrek is the new Assistant Dean of the College of Communication, Fine Arts and Media and Dr. Karen Fannin is the new Interim Director of the School of Music.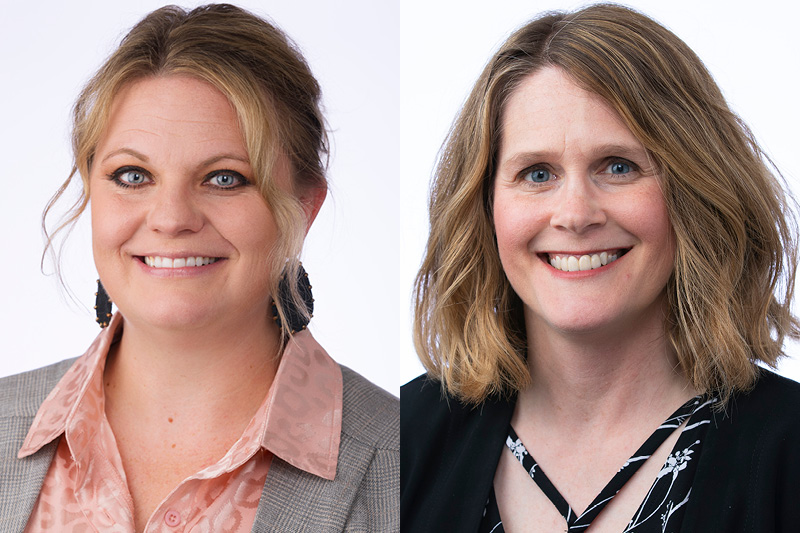 Abbie Syrek has been named the Assistant Dean of the College of Communication, Fine Arts and Media (CFAM) at the University of Nebraska at Omaha beginning August 1, 2022. The college consists of the School of the Arts, School of Communication and the School of Music. Abbie had previously been a School of Communication Senior Lecturer as well as Director of Forensics from 2006 to 2020.
In her new role, Abbie will provide leadership in the area of CFAM Student Services, including enrollment management, student recruiting, orientation, advising, retention, maintenance of degree audits, and completion.
Abbie holds a Master of Arts degree in Rhetoric/Speech Communication from Kansas State University, and a Bachelor of Arts degree in Speech Communication from UNO.
"I am honored to serve CFAM as Assistant Dean. With our three schools, our college offers students a limitless ability to explore, innovate, and design. For centuries, art, music, speech, theater, and the press have been celebrated for their ability to move people, and through that movement, impact society. It is for this reason that I have always believed our college to be the beating heart of UNO. I am eager to work with our faculty and students to develop exciting and diverse opportunities for our college and to pave the way for the arts, in all its many forms, to leave a lasting impact for every Maverick."
---
Dr. Karen Fannin has been named Interim Director of the UNO School of Music beginning August 1, 2022.
She is an Associate Professor, Director of Bands, and conducts the Symphonic Wind Ensemble, teaches undergraduate and graduate conducting, instructs courses in music education, and provides leadership for all aspects of the UNO band program.
Dr. Fannin earned a Doctor of Musical Arts in Conducting from the University of Colorado; a Master of Music in Conducting from Northwestern University; and a Bachelor of Music in Music Education from the University of Northern Iowa.
Contact Us
If you have a story idea or inquiry please contact:
Randy Mattley, Communications Specialist, College of Communication, Fine Arts and Media
rgmattley@unomaha.edu • 402.554.3216