MavForensics wins third straight Nebraska state championship
MavForensics continues winning ways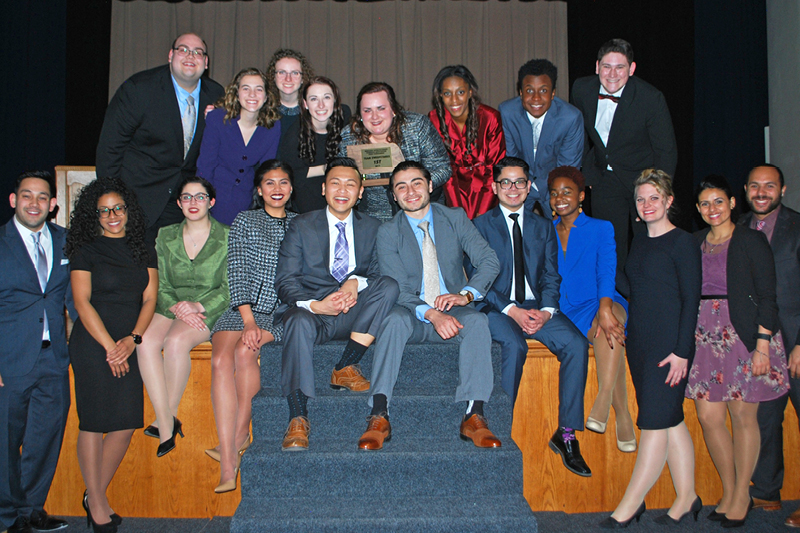 The University of Nebraska at Omaha's Forensics team won their third straight Nebraska Intercollegiate Forensics Association Championship at the state tournament held February, 11 in Hastings, Nebraska.
Team members are: Abbie Herbert, Dominic Hernandez, Alissa Duong, Raul Herrera, Gordon Ip, Cesar Magaña Linares, Seth Nelson, Megan Ojeda, Moriah Hood, Katiana Fischer, Abbie Perry, Sarah Maul, Ameres Groves.
The prestigious tournament featured competition from four of the nation's Top-20 forensics programs. The MavForensics team brought home championship honors, with several students winning individual awards and five others winning state championships.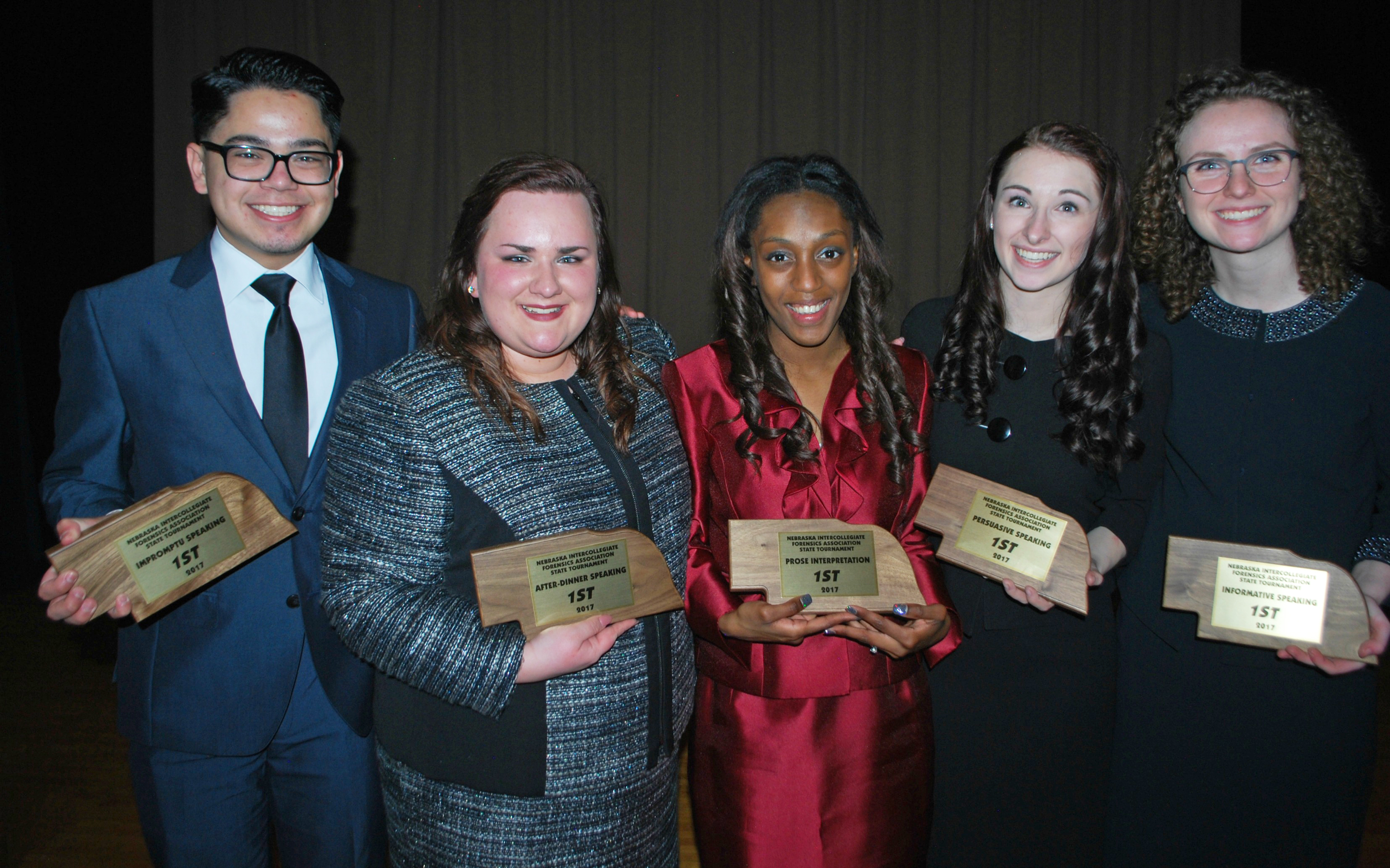 The state champions left to right: Cesar Magaña Linares - Impromptu Speaking, Abbie Herbert - After Dinner Speaking, T'eyrr Bynum - Prose Interpretation, Sarah Maul - Oratory, and Abbie Perry - Informative Speaking.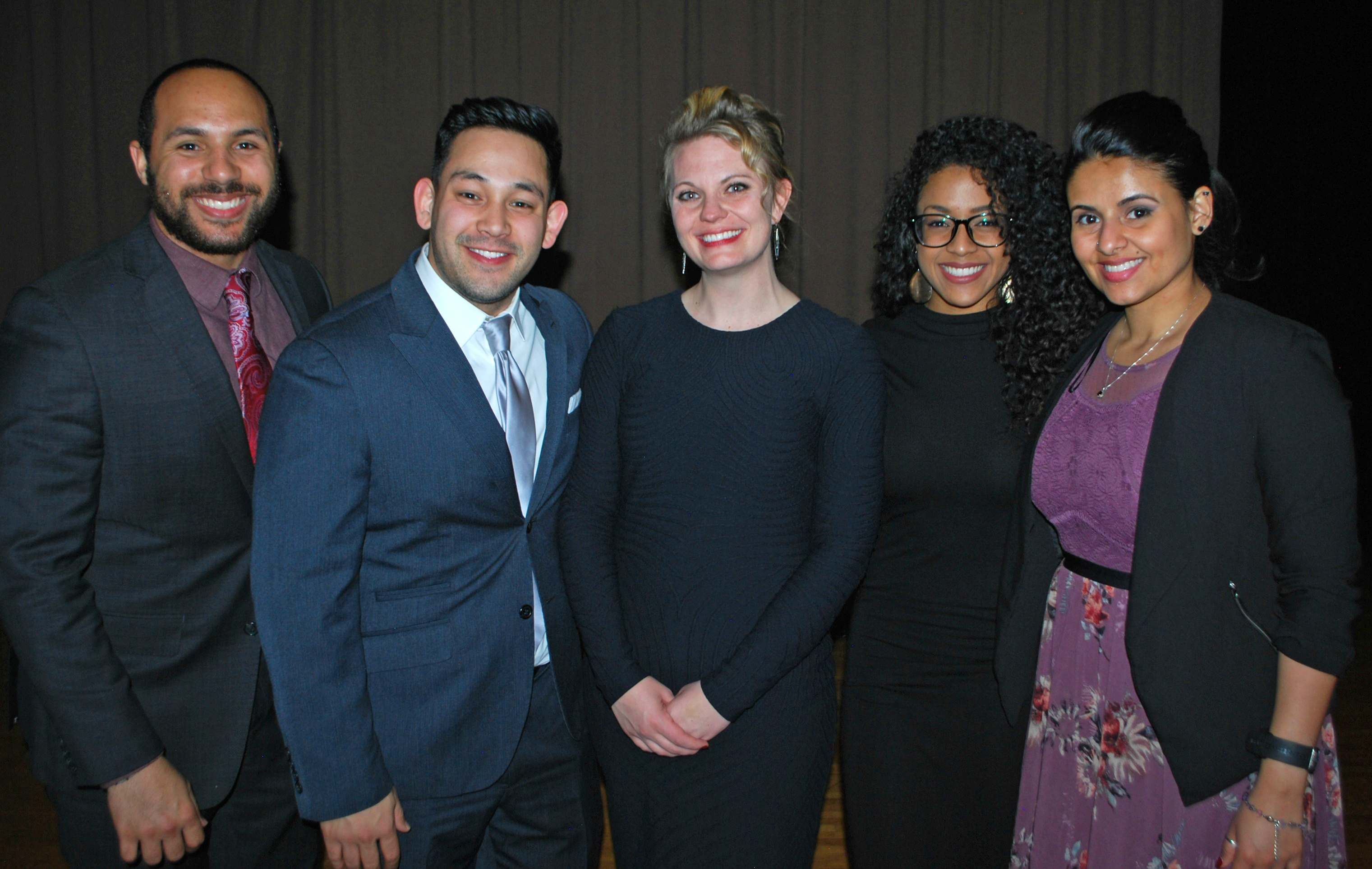 MavForensics coaches Traelon Graham, Cameron Logsdon, Abbie Syrek, QueenTara Pimentel, Kristina Medero. 
The top two speakers in Oratory (Persuasive Speaking) Sarah Maul and T'eyrr Bynum will advance to the Interstate Oratorical Association national tournament in Lafayette, Louisiana in April. They are the only two speakers representating Nebraska. 
The 2017 Spirit of NIFA Award was given to Gordon Ip, a UNO junior and Communication Studies major. Nominees are chosen from students of every college and university across Nebraska. Nominees are judged based on leadership traits, good sportsmanship, and demonstrate the exemplary values and academic rigor the organization celebrates. 
In addition, UNO Director of Forensics Abbie Syrek received the 2017 Nebraska Intercollegiate Forensics Association Distinguished Service Award. This award celebrates her commitment to forensics within the state of Nebraska, service to the NIFA organization and leadership and mentorship within the state. Syrek also served on the NIFA state committee for seven years and helped host seven state tournaments.
Want to hear the state champions? The public is invited to the MavForensics showcase on Sunday, March 26th at the Strauss Performing Arts Center at 5pm. The state champions will be sharing their speeches in warming up for the national competition.