ISSUED: (Friday, March 13, 2020 17:00 PM)
CAMPUS ANNOUNCEMENT
UNO campus remains open; classes moving to remote learning mode March 30.
More Information
CLOSE

X
News- School of Communication
School of Communication News and Events
September 2019
School of Communication welcomes new full-time faculty
The School of Communication welcomes our new tenure-track faculty. They will join us for the 2019-2020 academic year.
Dr. David Sutera
Dr. Nicky Chang Bi
Dr. Sharon Storch
Dr. Whitney Gent
The School of Communication welcomes our new communication studies instructors.
Allison Wakin and Amy Freshman joined us as instructors in the 2018-2019 academic year. Casey Riesberg and Stephanie Larsen will join us in the 2019-2020 academic year. These instructors are alumna of the School of Communication and were recently adjunct professors for our school.
April 22, 2019
Award Winning Faculty

Paige Toller, Ph.D. – Communication
Alumni Outstanding Teaching Award 
Paige Toller is an associate professor and the assistant director of UNO's School of Communication. She has taught at the undergraduate and graduate level. Her courses include qualitative methods, health communication, speech communication in business and the professions, and interpersonal communication. Toller's research interests are bereavement, parental grief, and end-of-life communication.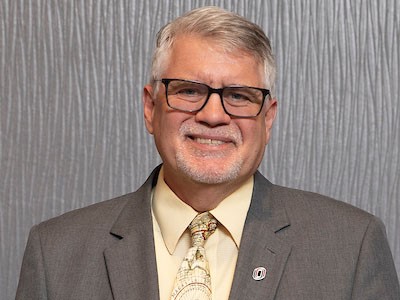 Chris Allen, Ph.D.
Faculty Excellence in Global Engagement Award
Seeing the world outside your own backyard can give anyone a new perspective on life. For Chris Allen, professor of communication, this is something he has experienced often in his 23 years as a member of the UNO faculty.
"I strongly believe that we can improve international relations through cultural exchanges, cooperative projects with our international colleagues, and student study abroad." says Allen. "By improving international relations I think we can begin to find ways to solve conflicts."
Each year, Allen leads a student trip to London to study media outlets and industries there. He has also been faculty advisor to the Omani Students in Nebraska group since 2012.
Allen believes getting students and faculty engaged in intercultural relationships may be a small step toward solving international conflict, but it's a start.
"I'm not an eternal optimist that it's going to happen soon, but I realize that solving conflicts is impossible without increasing understanding among the people of other countries. So to be recognized for my small efforts to introduce students to other countries, languages, cultures and religions, not to mention food, is an honor."
Courtesy of Charley Steed - University Communications  
https://www.unomaha.edu/news/2019/04/faculty-recognized-at-2019-honors-convocation.php