Bachelor of Arts in Studio Art
Concentration in Two Dimensional Arts
The concentration in Two Dimensional Arts comprises the studio areas of drawing, painting and printmaking.
Download the Two Dimensional Arts Concentration Degree Worksheet
Drawing
Drawing is an essential part of an artist's education. The drawing program begins with the first courses in the foundation program and continues to a BFA thesis for those students concentrating in drawing. The curriculum in drawing includes traditional drawing mediums, contemporary and nontraditional mediums, and aesthetic and critical issues that relate to drawing practice. All Two Dimensional Art concentration students are expected to complete three semesters of drawing including one semester of life drawing. A student choosing drawing as a major medium will pursue drawing as the final product and will continue through upper division coursework.
Painting
Painting is a complex activity with its own vocabulary of materials and ways to use those materials. The curriculum introduces students to the language of painting and acquaints them with an array of painting practices. Students begin with an introduction to oil painting with a series of exercises and projects that will bring students to an understanding of how the materials work as part of the process of developing pictorial ideas. Later students begin to explore and develop their own painting ideas. Exposure to modern and recent painting and to different ways to make and think about painting is an integral part of the curriculum. Finally, students explore in depth their own individual visual and conceptual sensibilities. The students work closely with an instructor to work toward self-direction in the development of those sensibilities in during upper division coursework.
Printmaking
Printmaking today combines 21st Century technologies with time honored traditional print processes. Present-day printmakers use all the print mediums to achieve numerous innovative approaches to contemporary art issues. The printmaking program at UNO teaches the skills necessary for a professional practice in the emerging art world of today.
The courses include printing technologies from the 15th to 21st centuries. The traditional courses cover all aspects of traditional print practices while the photographic and digital courses explore the possibilities of mixing traditional, photographic, and digital mediums to produce hybrid forms of print. Advanced students are encouraged to explore concepts through experimentation with the print processes of their choice.
The facilities provide a complete atelier for print production of intaglio, stone and plate lithography, relief printing and serigraphy. There are also facilities for photographic techniques in each medium and access to professional digital production equipment including wide format printers.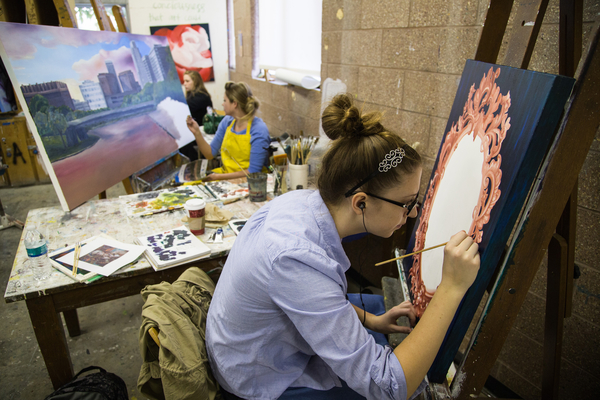 Concentration in Three Dimensional Arts
The concentration in Three Dimensional Arts comprises the studio areas of book arts, ceramics and sculpture.
Download the Three Dimensional Arts Concentration Degree Worksheet
Book Arts
The UNO Book Arts program is centered in the Fine Arts Press, a typographic studio and letterpress print shop devoted to book arts instruction. Students work within the tradition of hand set type, letterpress printing and hand bookbinding to create both limited edition and unique books. Interdisciplinary projects utilizing papermaking, classical printmaking, sculpture, or electronic imaging applications are also explored. Studio majors may choose a book arts concentration culminating in advanced study and a thesis exhibition. The facility houses Vandercook proof presses, iron handpresses, treadle presses, over 300 cases of monotype, foundry and wood type, standing presses for bookbinding as well as other elementary binding equipment.
Ceramics
Stressing both conceptual and technical skills, the Ceramics Program develops the students' awareness of the creative possibilities that the clay medium provides. The students are introduced to hand building, throwing on the potter's wheel and many glaze techniques as well as firing and glaze development and preparation. Students explore ceramic world history as well as design principles through slide lectures and demonstrations. A well-equipped studio features a gas kiln and electric kilns for low and high-temperature firings as well as semi-private studio space for advanced students. The ceramics education of the BFA major culminates in a thesis show in the UNO Art Gallery.
Sculpture
The sculpture program begins with a thorough introduction to three-dimensional concepts. At the beginning level students explore materials, formal principles, historical periods, and conceptual practices. Building upon this foundation, students relive the sculptural movements of the twentieth century, investigating in depth techniques of carving and casting, constructive methods, found object and assemblage, and installation and multi-media. Emphasizing the balance between technique and concept as well as the significance of a solid historical foundation, students at the advanced level define their contribution to contemporary sculpture by completing an ambitious presentation that culminates in their thesis exhibition.
---
Concentration in Graphic Design
The Graphic Design concentration prepares students for careers as creative professionals in a wide variety of fields and industries. As a discipline, it is used everywhere and as a professional practice, it is an activity that employs all types of media. Whether it's for print media, video, the web, or a mobile device, graphic design is a discipline that all creative professionals use in their daily work. The Graphic Design concentration at UNO explores these relationships as students acquire the knowledge as well as learn the skills and behaviors necessary to becoming a successful designer.
Download the Graphic Design Concentration Degree Worksheet
The Graphic Design concentration begins with a thorough introduction to the concepts, history, and practical skills that are foundational to the practice of graphic design. Students learn industry-standard digital tools, formal principles, graphic design history from ancient letterforms to contemporary digital typeface design, as well as professional practices and presentation skills.
We build upon this foundation by applying students' acquired knowledge and skills to solve design problems for more complex systems. Intermediate digital skills are paired with intermediate production and materials problems as students complete product and package design systems. These design systems are then paired with companion web and video components. Additionally, students continue their study of professional practices and presentation skills.
As students progress design problems are larger and more complex as students learn the practice of branding and brand design for all media. By completing this professional simulation style course, students will experience intensive group critiques. Students continue to learn and apply advanced digital and analog design skills. This course culminates in project presentations that are open to the campus community as well as the greater design community in Omaha and beyond.
Finally, students complete their capstone work with thesis projects, professional portfolio development, both online and offline, as well as a public exhibition of their creative work. Additionally, members of the AIGA UNO student group have the opportunity to integrate AIGA UNO client projects into their coursework in the Design Studio if they so choose. The Design Studio course may be repeated to complete additional portfolio work as students prepare for graduation and their new careers.
Concentration in Media Arts
In the Media Arts concentration, students approach media making as a contemporary art practice. As in other studio art areas we encourage students to take risks, try new genres, mechanics and aesthetics, to think critically and develop a serious practice as an artist.
Download the Media Arts Concentration Degree Worksheet
The mission of the Media Arts concentration is to:
Create innovative digital based art using contemporary techniques combined with meaningful concepts.

Focus on experimentation, image making, story-telling and play experiences within digital media in order to produce a broad range of works that are artistic, diverse and culturally meaningful.

Investigate literacy, critical theory and analysis of media art within social practices and as cultural artifacts.

Provide students with a deep understanding of the history and practice of media art-making in the context of early 21st century and its implications as a critically important arena of intellectual production.
Students completing a degree or certificate program from Metropolitan Community College in Design, Interactivity and Media Arts (DIMA), Photography, or Video/Audio Communications Arts can, upon successfully completing a Portfolio Review, transfer up to 15 semester hours of their specific MCC concentration coursework toward the 21 semester hour UNO Media Arts Concentration. If transfer hours are accepted toward the 21 hour Media Arts Concentration, additional Concentration hours will be advanced UNO coursework selected in consultation with a UNO faculty advisor.
Our Campus. Otherwise Known as Omaha.
The University of Nebraska does not discriminate based on race, color, ethnicity, national origin, sex, pregnancy, sexual orientation, gender identity, religion, disability, age, genetic information, veteran status, marital status, and/or political affiliation in its programs, activities, or employment. Learn more about Equity, Access and Diversity.
scroll to top of page