Bachelor of Arts in Studio Art
Concentration in Two Dimensional Arts
The concentration in Two Dimensional Arts comprises the studio areas of drawing, painting and printmaking.
Download the Two Dimensional Arts Concentration Degree Worksheet
Drawing
Two Dimensional Art concentration students are expected to complete three semesters of drawing including one semester of life drawing.  Students selecting drawing as a major medium pursues drawing as a final product as they continue upper division coursework.
Painting
The Painting Program introduces students to the language of painting and acquaints them with an array of painting practices. Students begin their introduction to oil painting with a series of exercises and projects that gives them an understanding of how materials work as part of the process of developing pictorial ideas. They are later allowed to explore and develop their own painting ideas.
Printmaking
Printmaking courses include technologies from the 15th to the 21st centuries.  Traditional print practices include stone and plate lithography, relief printing, serigraphy and intaglio. The Photographic and Digital Printmaking course explores the possibilities of mixing traditional, photographic, and digital mediums to produce hybrid forms of print.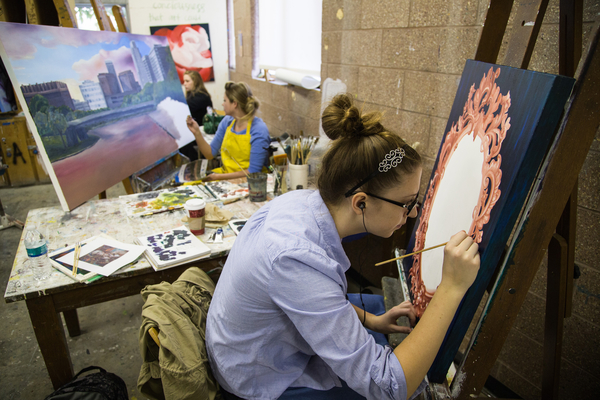 Concentration in Three Dimensional Arts


Download the Three Dimensional Arts Concentration Degree Worksheet
Book Arts
Students selecting the area of Book Arts work with hand set type, letterpress printing, and hand bookbinding to create both limited edition and unique books. They will work on a Vandercook proof press, iron hand presses, treadle presses and over 300 cases of monotype, foundry and wood type as well as bookbinding equipment.
Ceramics
The Ceramics Program develops awareness of the creative possibilities that the clay medium provides. Students are introduced to hand building, throwing on the potter's wheel, glaze techniques and firing as well as design principles. They are also encouraged to explore the world history of the ceramic process.
Sculpture
The Sculpture Program begins with a thorough introduction of the three-dimensional concepts of carving, casting, constructive and reductive methods, installation, assemblage and multi-media. Students will also learn about various materials, formal principles, historical periods, and conceptual practices. 
---
Concentration in Graphic Design
The Graphic Design concentration prepares students for careers as creative professionals in a wide variety of fields and industries of print media, video, web, and mobile devices. This concentration explores these relationships as students acquire the necessary knowledge and skills to becoming a successful designer.
Download the Graphic Design Concentration Degree Worksheet
The Graphic Design concentration begins with a thorough introduction to the concepts, history, and practical skills that are foundational to the practice of design. Upon this base, Graphic Design students progress to resolving design issues and problems with increasingly complex projects. Additionally, members of the AIGA UNO student group have the opportunity to integrate AIGA UNO client projects into their coursework in the Design Studio. 
Concentration in Media Arts
The Media Arts concentration approaches media making as a contemporary art practice. Students are encouraged to take risks, try new genres, mechanics and aesthetics, to think critically and develop a serious practice as an artist.
Download the Media Arts Concentration Degree Worksheet
Media Arts students create innovative digital art using contemporary techniques with a focus on experimentation, image making, story-telling and play experiences within digital media.
Students completing a degree or certificate program from Metropolitan Community College in Design, Interactivity and Media Arts (DIMA), Photography, or Video/Audio Communications Arts can, upon successfully completing a Portfolio Review, transfer up to 15 semester hours of their specific MCC concentration coursework toward the 21 semester hour UNO Media Arts Concentration. If transfer hours are accepted toward the 21 hour Media Arts Concentration, additional Concentration hours will be advanced UNO coursework selected in consultation with a UNO faculty advisor.
Our Campus. Otherwise Known as Omaha.
The University of Nebraska does not discriminate based on race, color, ethnicity, national origin, sex, pregnancy, sexual orientation, gender identity, religion, disability, age, genetic information, veteran status, marital status, and/or political affiliation in its programs, activities, or employment. Learn more about Equity, Access and Diversity.
scroll to top of page