UNO Print Workshop
The UNO Print Workshop was established to conduct research and teach collaborative printmaking within the academic environment of the Department of Art and Art History of the University of Nebraska Omaha. Artists are invited for a residency as part of the Visiting Artists Program to work with the faculty and students to produce an edition of multiples or series of monotypes/monoprints. This site houses those prints in a digital format.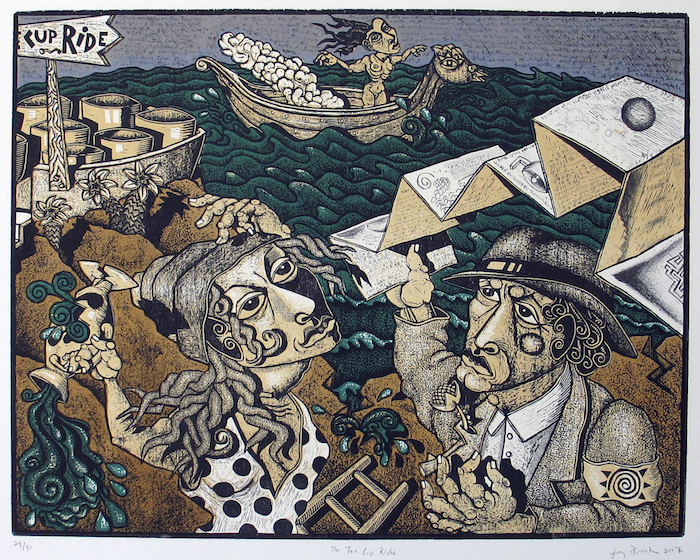 Jay Bolotin, The Teacup Ride 2006, color woodcut with lithograph on Rives BFK
---
Prints Available for Purchase, by Artist
Click on an artist's name to learn more:
---
Prints in Our Collection, by Artist
Click on an artist's name to learn more:
Find out more about our mission, history, and programs here.
---
VITO ACCONCI

Crash
1985; photo etching, aquatint, relief and shaped embossing on Arches; image: 17 1/2 x 23 3/4 (43.18 x 58.42), sheet: 20 x 25 1/4 (50.8 x 63.5); edition of 30
Born 1940 in New York City, New York
Vito Acconci, a graduate of the Writer's Workshop of the University of Iowa (M.F.A., 1964), freely admitted his limited skills as a maker of objects and depended upon Tom Majeski's training and talents to realize his idea. The sketches and notes related to a print first called "2 Frightened Faces: Ultimate Fear (The car is about to crash)" are now in the UNO Archives. Majeski printed the edition with assistance provided by Gary Day and students Jeff Spencer, Wendy Wiggs, Sue Sudbeck, and Richard Brown. The figures were photo etched, the windshield is aquatint in transparent blue and involved the use of a shaped zinc plate as did the rear view mirror, which was relief rolled. Acconci was enthusiastic about his UNO experience and pleased with the appearance of the print, but not so much with the strength of its concept. He wrote to Majeski, "Humor gives me a chance to have second thoughts, to reconsider. You don't have to be numbed by something, you can draw back. Laughing means you've reconsidered. Humor allows subordinate clauses and parentheses, allow you to see things in two or three different ways." "And yes, I like CRASH, too. But it might be a touch too much of a one-line joke. Maybe next time I can do something more expanded."
Back to top
---
KEITH ACHEPOHL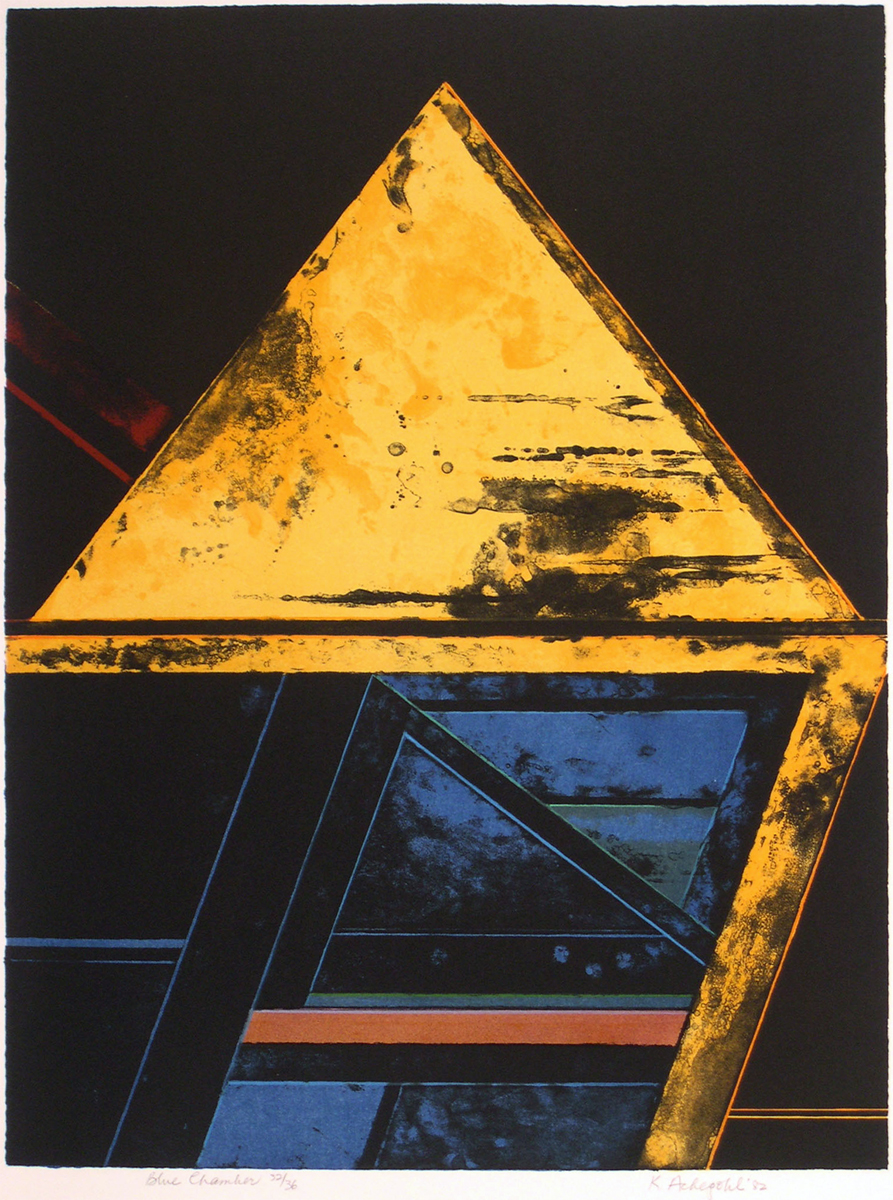 Blue Chamber
1982; color lithograph on Arches White; image: 25 5/8 x 21 1/8 65.024 x 53.644), sheet: 30 x 22 ¼ (76.2 x 56.515); edition of 36
Born 1934 in Chicago, Illinois
"Egypt: Day and Night", an exhibition of Keith Achepohl watercolors inspired by architectural monuments, opened at the Joslyn Art Museum in January 1983. "I'm interested in making it seem like you could possibly be in front of something like this, without there ever being something exactly like this; which means really trying to make a more poetic statement about what ancient architecture feels like rather than what it might actually be like," explained the University of Iowa Professor of Printmaking. During his February 1982 residency at UNO, Achepohl worked on a lithograph based on "Egypt: Day and Night, No. 191", 1979-80, a watercolor now in the collection of General Steel Industries, Inc. in Saint Louis. Richard Finch, whose chop stamp is on the lower right of the reverse side, oversaw the printing of the edition. Printmaker April Katz and student Anita Dillman assisted him.
---
EDITH ALTMAN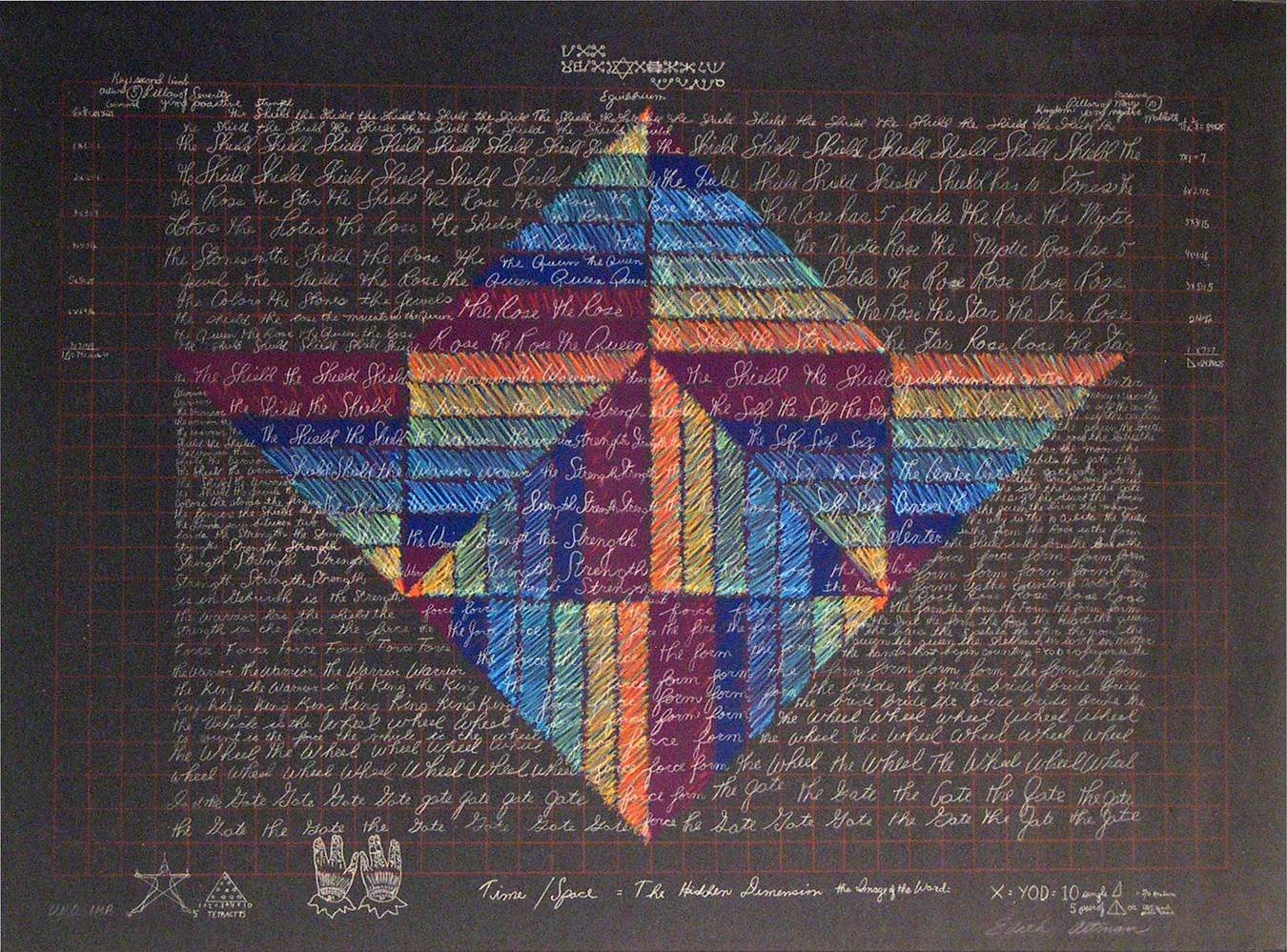 Time/Space = Hidden Dimension the Image of the Word
1981; color lithograph on Black Arches; sheet: 30 5/8 x 41 (77.724 x 104.14); edition of 30
Born 1931 in Altenberg, Germany
"My internal method is to seek the collective forms that connect my own personal historical experience with the prehistoric and ancient past. Through my rituals and environments I recall sacred numbers and form in geometry, architecture, psychology, and mythology. Thus I hope to reawaken the forgotten symbols in all of us that heal, and reunite us with the collective universal essence that transcends the experience of time." Edith Altman, 1983 Altman came to Chicago as a child shortly after her father was imprisoned in the Buchenwald Concentration Camp, near Weimar after Kristallnacht ( November 9-10, 1938). Starting in 1979, the artist, who attended Wayne State University in Detroit, Michigan, began "Time/Space: The Hidden Dimension", a body of work created through the measurement of time. Each of her marks has "a precise relationship to the time needed to make it." During her month long residency (October 3-28, 1981), the UNO Art Gallery featured her prints and related audiotapes. "Primarily, it's the soothing (or maddening depending on your patience) sound of counting the seconds going by in a whisper. Another voice reads a litany of measurements (" a measurement of holiness, a measurement of trembling, a measurement of shaking, etc)," observed Roger Catlin of the Omaha World Herald.
---
GARO ANTREASIAN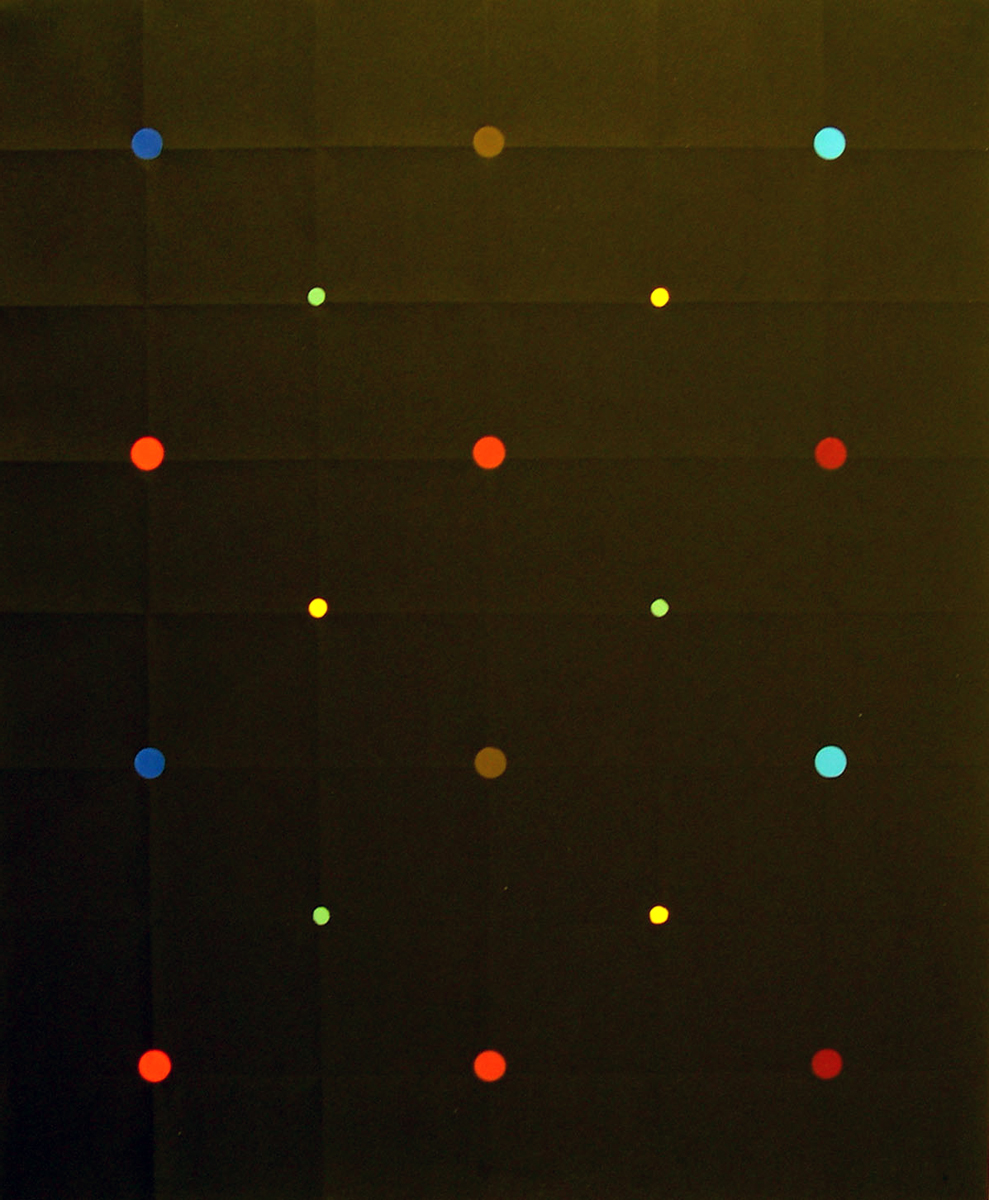 Untitled 79.4.1
1979; color lithograph, hand coloring and embossing on Black German Etching paper; image: 24 x 20 (60.96 x 50.8), sheet: 24 3/8 x 20 3/8 (60.96 x 50.8); edition of 30

Born 1922 in Indianapolis, Indiana
Antreasian served as the Technical Director for the Los Angeles based Tamarind Lithography Workshop, Inc. established in 1959 with substantial funding provided by the Ford Foundation. Its founder, June Wayne, opened the facility to bring European master-printers to the United States to train Americans in the processes of lithography. The Tamarind published many manuals and "fact sheets" on the collecting, display, storage and conservation of lithographs. The prestigious facility was also a significant catalyst for the emergence of collaborative workshops on American campuses. In 1970, the Tamarind Lithography Workshop itself was folded into the lithography program at the University of New Mexico in Albuquerque, where Antreasian had taught since 1964. He continued as the Technical Director and Wayne, who still operated a professional print shop in Los Angeles, served as an advisor. The Antreasian lithograph in the UNO collection was partially created in Des Moines, Iowa, where it was proofed as part of a demonstration during an annual print symposium at Drake University. It was then printed and embossed the following week, April 23 to April 27, 1979, during his residency at UNO. Student Dan Devening assisted John Sommers, a master printer at the Tamarind Institute, with the printing using aluminum lithography plates and a Plexiglas matrix for the embossment. Antreasian was pleased with the results.
---
SIAH ARMAJANI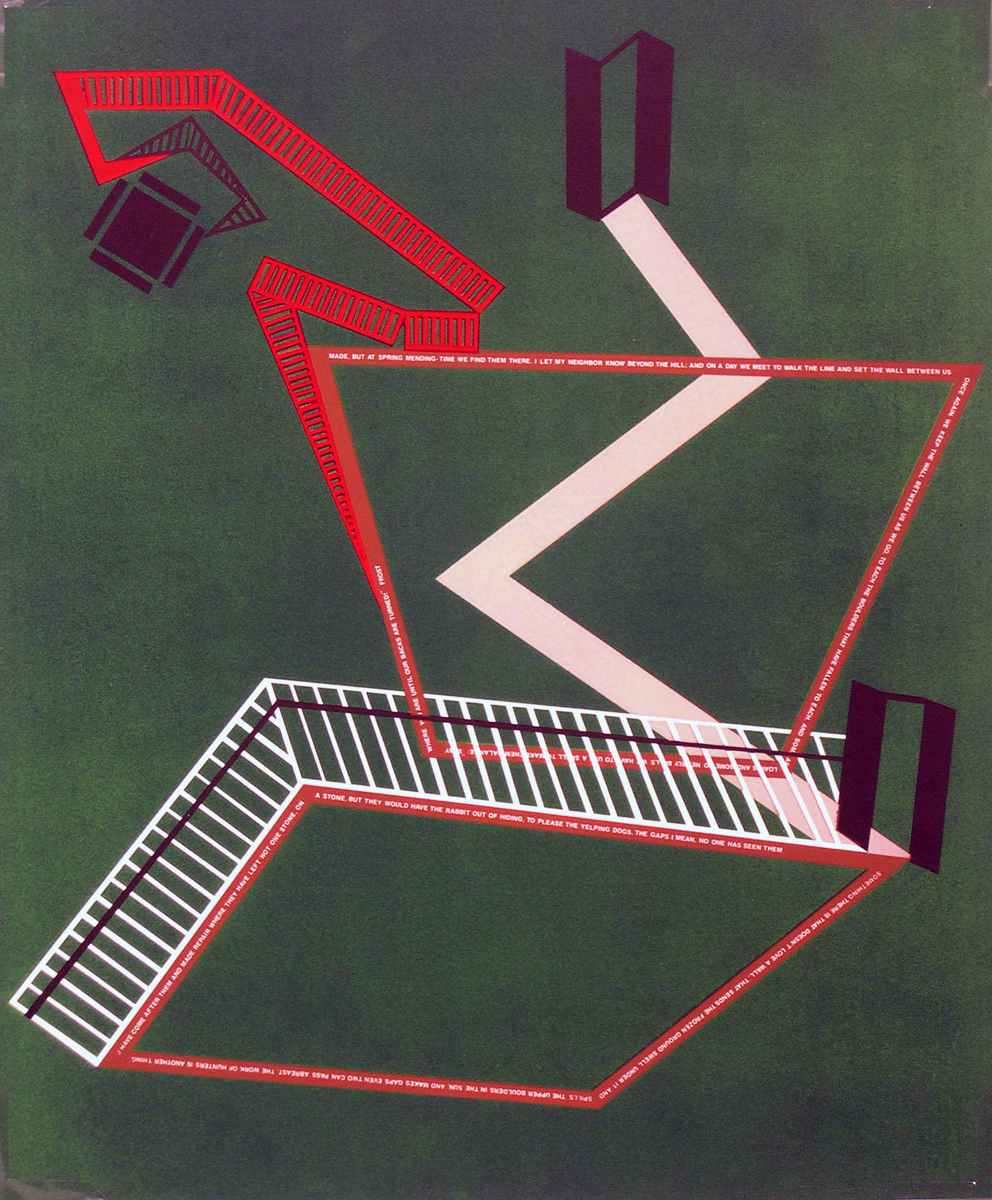 The Poetry Garden
1982; color lithograph on Rives BFK; sheet: 27 x 22 1/2 (68.58 x 57.15); edition of 12

Born 1939 in Teheran, Iran
Coming to the United States from Iran in 1960 at age 21, Siah Armajani earned a B.A. in Philosophy and Mathematics in 1963 from Macalester College in St. Paul, Minnesota. As a student, he developed a lifelong passion for the writings of John Dewey, Ralph Waldo Emerson, and Walt Whitman as well as an appreciation of the utopian design principles of the Bauhaus and Russian Constructivism. "Reading Garden #2", constructed on the grounds of the Joslyn Art Museum as part of the I-80 series, belongs to a group of public projects combining these seemingly disparate influences. His goal was to create a non-monumental public art that "requires each citizen to participate fully in everyday life, and to contribute to public good." Colored red, black, and white plus a "park bench green," his simply fabricated redwood structure had built-in benches, which the artist considered more "neighborly" than chairs. Robert Frost's poem Mending Wall, North of Boston (1914), printed on the wooden frame, required visitors to read as well as invite their individual contemplation while encouraging interaction and community building through conversation. The text reappears in the UNO print editioned entirely by students Jim Hejl, Janet Spring, and William Zuehlke following Armajani's residency September 1 through 3, 1982.
---
ALICE AYCOCK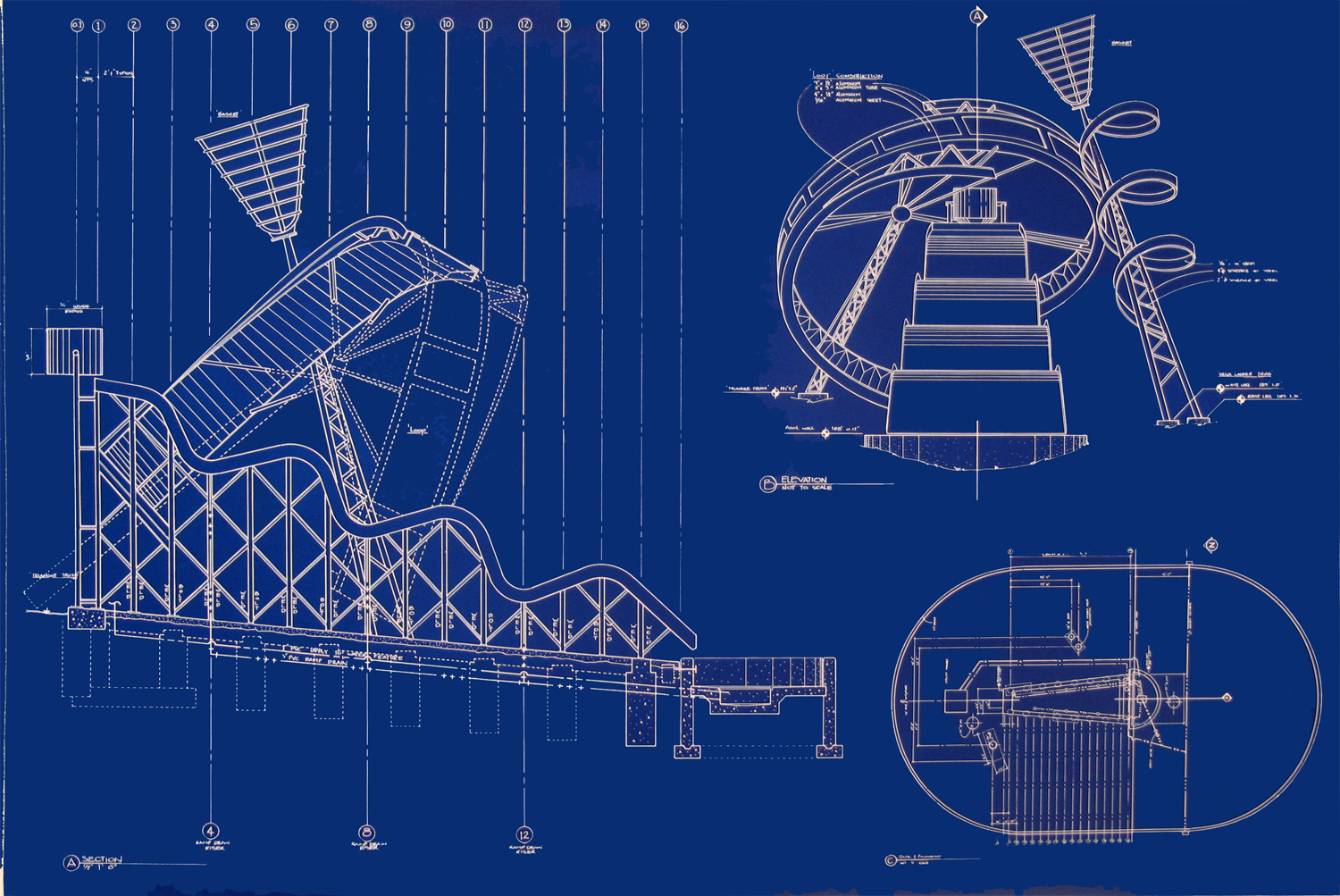 Untitled
1993; relief print; image: 24 x 36 (60.96 x 91.44), sheet 29 x 42 (73.7 x 106.7); edition of 30

Born 1946 in Harrisonburg, Pennsylvania
Waterworks, a 64-foot-long steel-and-aluminum sculptural fountain, which looks like a cross between a roller coaster and an overshot vertical waterwheel, was installed in front of the outpatient center of the University of Nebraska Medical Center in September 1993 and remained there until 1999 when it was placed in storage both because of a renovation of the area and because many at the hospital disliked it. Aycock, who was prepared to organize a "campaign to save the piece" was satisfied with its relocation to the newly constructed Peter Kiewit Information Science, Technology and Engineering Institute on the UNO campus, where administrators believed the artist's whimsical manipulations of engineering and technology would be better appreciated. "I'm sure that the piece will be disliked or liked, talked about in all kinds of ways, but there is something a little sheltering about being within a university that's kind of nice," Aycock responded in interviews. The artist, who attended Douglass College in New Brunswick, New Jersey (B.A., 1968) and Hunter College in New York City (M.A., 1971) has worked with many different non-profit and commercial presses to reproduce as prints the working drawings for her large-scale mechanical constructions.
To purchase this print, contact us at

printworkshop@unomaha.edu.
---
ROBERT BARRY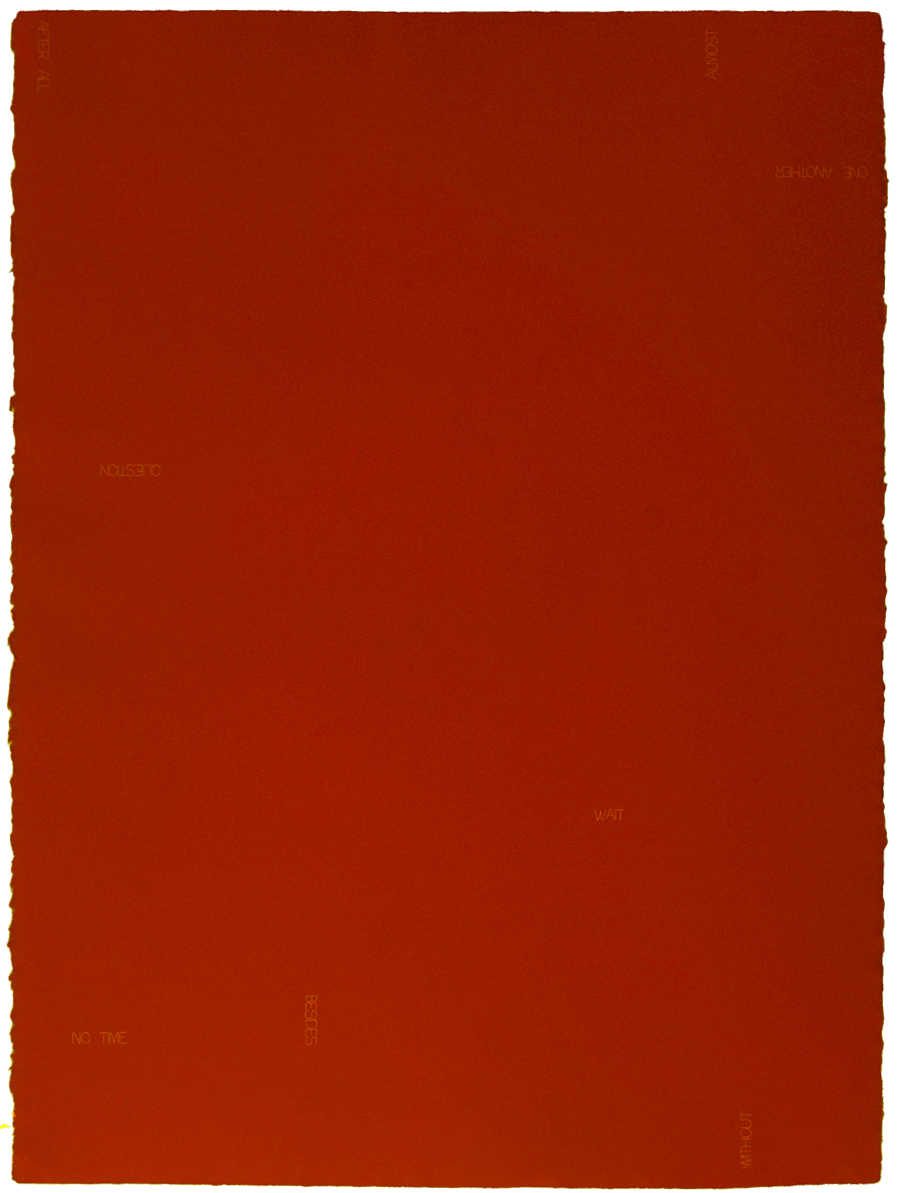 Untitled
1981; etching and aquatint on Arches Cover; sheet: 22 x 30 (55.88 x 76.2)

Born 1936 in New York, New York
Robert Barry, who has a M.A. from Hunter College, The City University of New York, abandoned painting in 1969 to immerse himself in Idea Art, an approach popularized by Sol LeWitt's 1967 essay "Paragraphs on Conceptual Art." Selected for the I-80 series, Barry created for the Joslyn Art Museum an installation consisting of a square red wall with stencil words running around the border. "The words, unlike the words in paintings from the past, are neither names of things nor narratives nor poems. They are rarely nouns. They both stand alone and relate to each other in space," explained curator Holliday T. Day. The installation also included "Don't Be So Sure," a continuous tape of spoken words separated by periods of silence that cycled every 90-minutes. Barry initiated a print edition based on the Joslyn installation during his residency at UNO (September 29 and 30, 1980). Tom Majeski, Gary Day, and student Bill Zuelke completed it in January 1981.
---
TREVOR BELL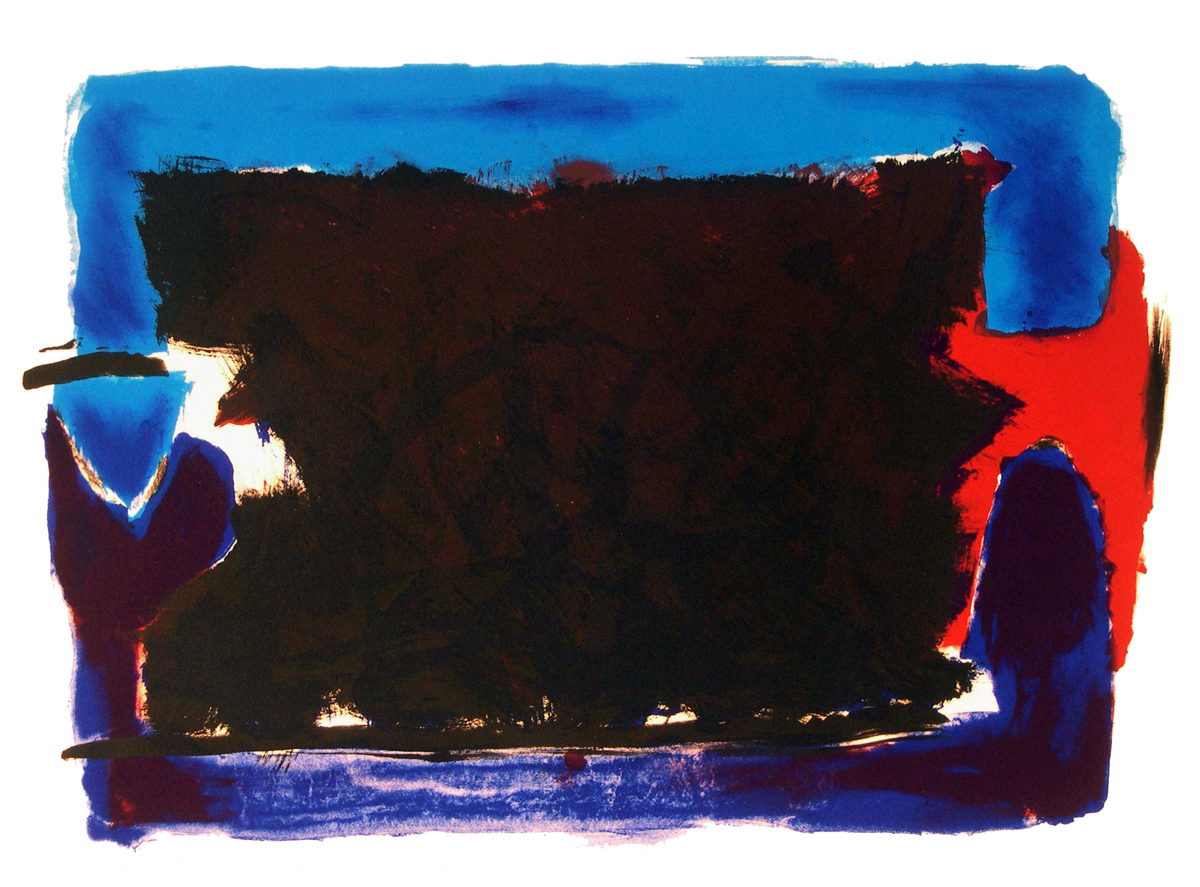 Untitled (Clamp Image With Black)
1982; color lithograph; sheet: 22 1/2 x 30 (55.88 x 76.2); edition of 30

Born 1930 in Leeds, England
In 1996, painter Trevor Bell retired from Florida State University in Tallahassee and moved to Penzance in the Cornwall region of Great Britain, where he had studied and begun his career in the 1950s. During his UNO residency a decade earlier, Bell editioned a lithograph based on "The Gates", a series of abstract canvases dominated by trapezoid shapes inspired by both Neolithic dolmen and Indian architecture of the Vedic period. An essay written by Jon Meyer for a 1989 exhibition at the Museum of Art in Fort Lauderdale, Florida, explains that these metaphoric works explored the gate as "a threshold, a place where the living essence (or `rasa') can flow and the transformative point where an individual could attain final release or `mukti.'"
---
KENT BELLOWS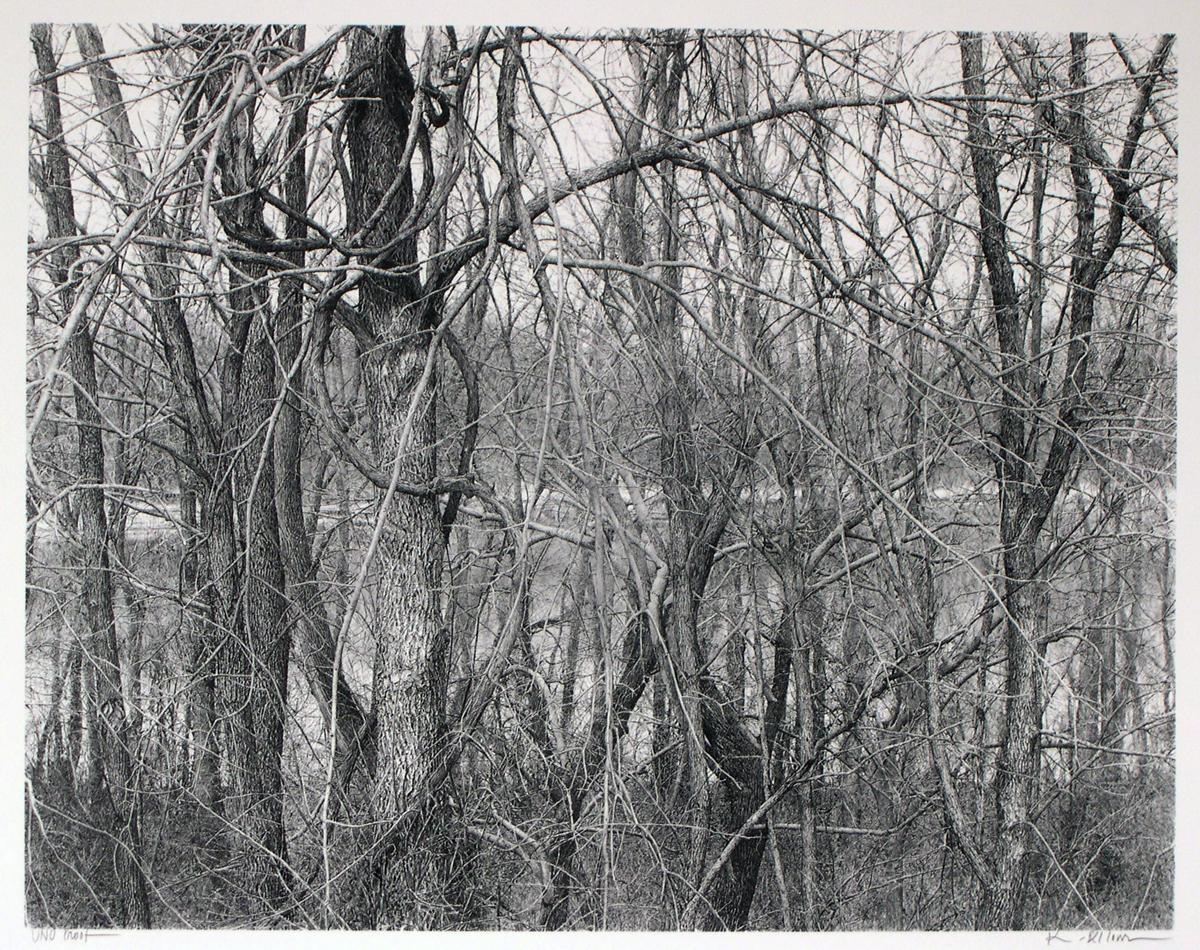 Untitled Landscape
1992; color lithograph; image: 18 7/8 x 24 (47.853 x 60.96), sheet,23 3/8 x 27 3/4 (59.334 x 70.485); edition of 75

Born 1949 in Blair, Nebraska; died September 14, 2005 in Omaha, Nebraska
Kent Bellows studied printmaking and life drawing at UNO for two years in the late 1960s, but never earned a degree. Using a 2B pencil, he achieved near photographic results in his painstakingly rendered figurative studies and portraits. Bellows began exhibiting his work in the Old Market in the early 1970s and developed an international reputation as a "Sharp Focus" artist by the 1980s, when major museums acquired his work. Bellows, who was an artist-in-residence at the Bemis Center in 1988, was according to its current Director Mark Masuoka, "key in establishing the Omaha art scene and the Old Market as we know it today." The artist also lent his talents to support the UNO Print Workshop in 1992, when he provided $1,000 to pay master printer Richard Finch for the printing of a lithograph based on a drawing of a grove of trees. He also placed an advertisement in the Omaha World Herald to attract buyers for the 75 impressions in the edition. The money raised helped cover expenses for Thomas Majeski's trip to China. Bellows was repaid with two UNO edition prints.
---
RICHARD BLACK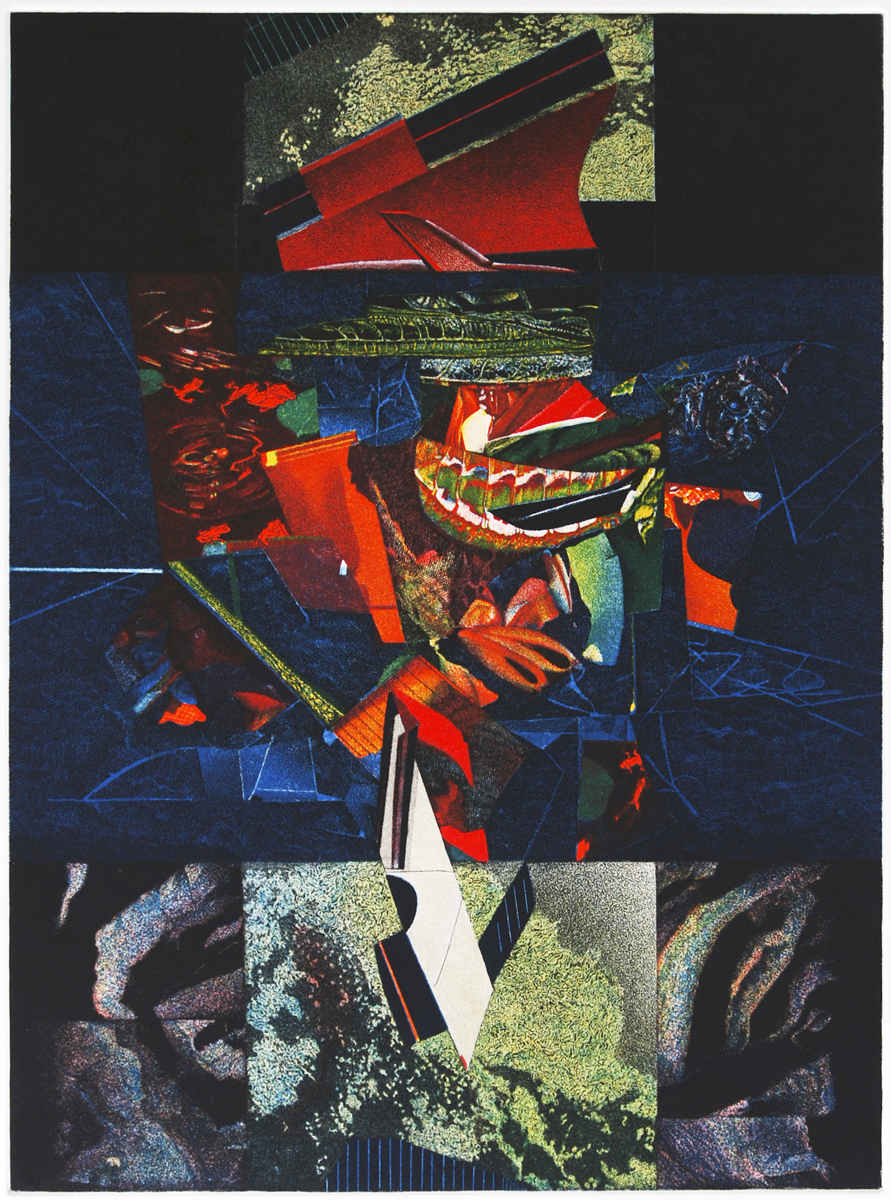 Genesis II: Noah's Ark
1985; color intaglio on Rives BFK; sheet: 28 ¼ x 22 (71.12 x 55.88); edition of 30

Born 1932 in Farnhamville, Iowa
"I enjoy the process of making a print and view this process as a journey into the unseen (never the unknown) for there are many ways of knowing. My idea of a journey is based upon the conviction that the presence of an image is there (in the block, plate or stone), where it has always been…waiting…I view the picture as a universe of sorts; a paradox of chaos and order." -- Richard Black, 1987 Drawing from both "the Book of Genesis" in The Bible and global creation myths, the Genesis II series begun in 1967 is also notable for Black's use of commercial inks called "process colors" to create "very vivid, very intense" compositions emphasizing texture, intricate layering and pattern. Printed February 19 through 23, 1985 by Black and Thomas Majeski with students Dick Brown, Sandra Kelly, and Mary Rowe, "Genesis II: Noah's Ark" sold well. "Never thought I might be buying my own pictures one day!" the artist wrote Tom in December 1986 after purchasing six impressions from the UNO Print Workshop because he had sold his share of the edition to buyers in Des Moines, where he taught at Drake University.
---
JAY BOLOTIN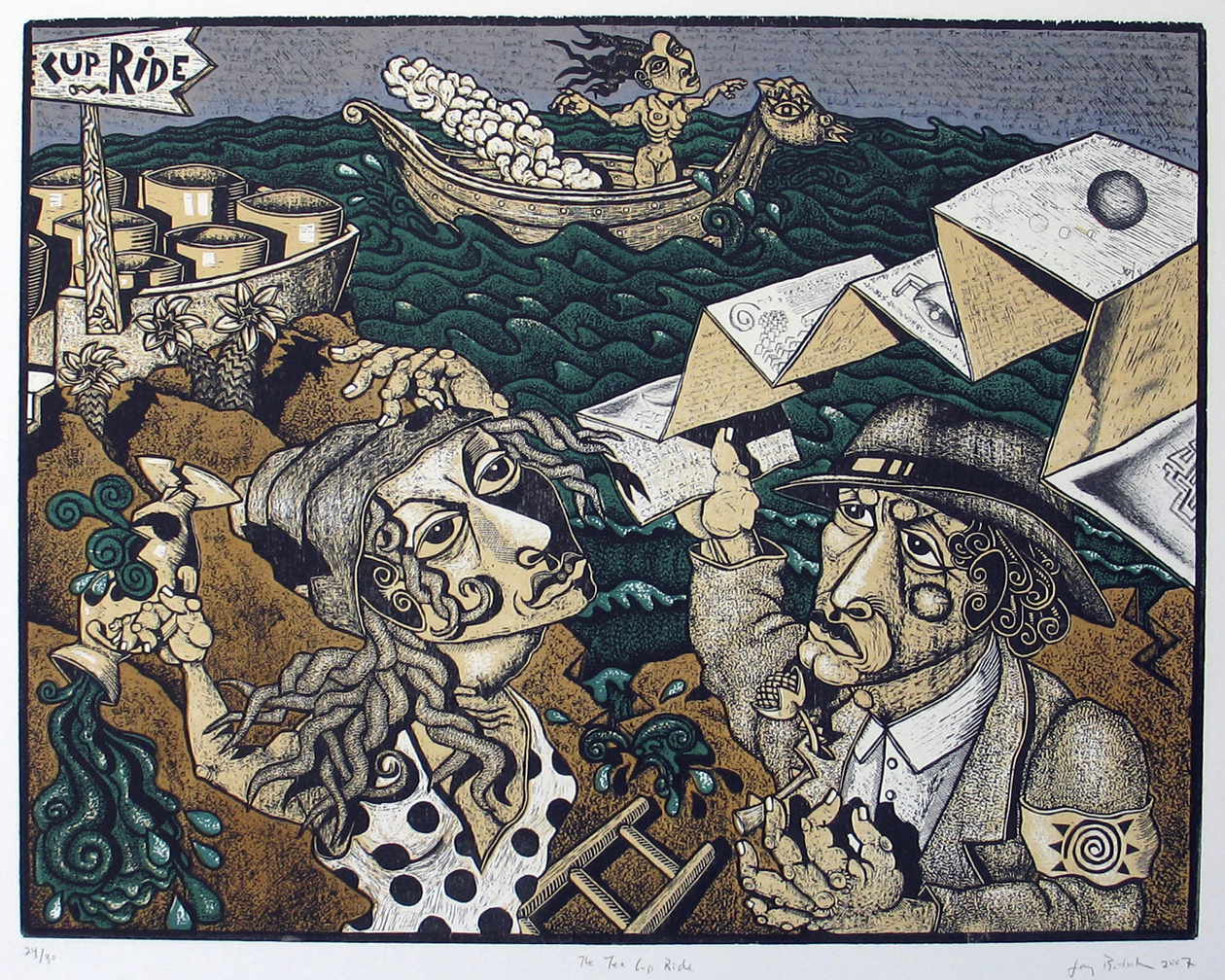 The Teacup Ride
2006; color woodcut with lithograph on Rives BFK; image: 22 x 30 (55.88 x 76.20); edition of 30

Born 1949 in Lexington, Kentucky
"The Jackleg Testament" is a "prequel" to the Biblical Book of Genesis that tells the story of Eve and Jack, her companion before Adam, who are thwarted by the evil Nobo Daddy while on their journey to Eden. This cast of characters resembling the Punch and Judy puppets originated in a portfolio of woodcuts that the artist digitally photographed and then animated using motion graphics software to create a digital woodcut film. A 1932 film by Czech animator Berthold Bartosch based on "The Idea", a woodcut novel by Belgian artist Frans Masreel inspired Bolotin. A country western songwriter in Nashville for many years, the now Cincinnati based artist composed an operatic score with a folk music flavor for "The Jackleg Testament", which was screened at The Joslyn Art Museum in conjunction with an exhibition of his work and during his residency at UNO in the fall 2006. Katrina Pierce and Ashley Vak, B.F.A. students in printmaking, helped Bolotin and Gary Day with the printing.
---
MICHAEL BRAKKE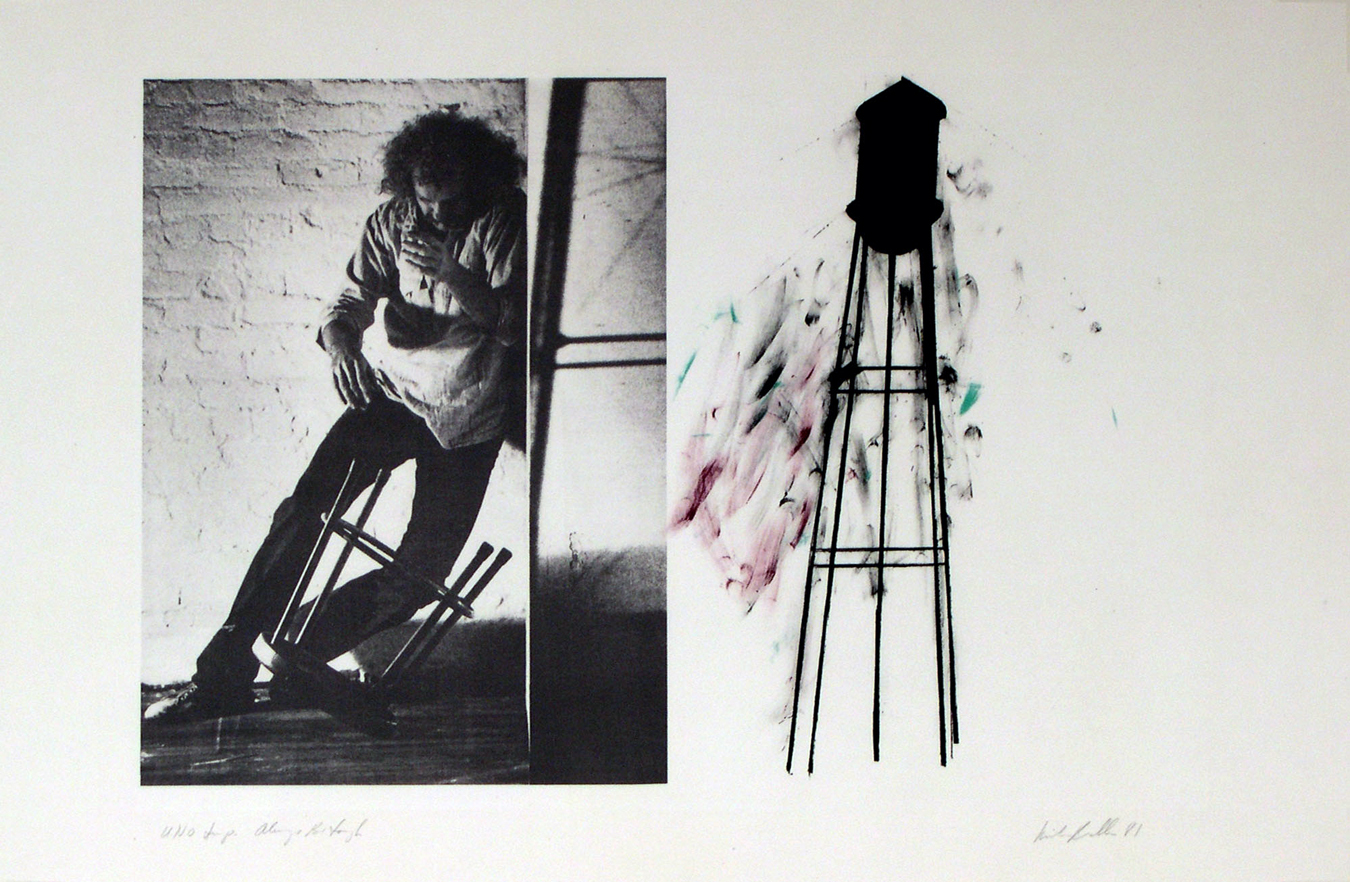 Always Be Tough
1981; color lithograph on Waxed Rives BFK; sheet: 23 x 35 (58.42 x 88.9); edition of 15

Born 1943 in Douglas, Arizona, died 2010 in Knoxville, Tennessee
In the fall 1980, the I-80 series at the Joslyn Art Museum featured Michael Brakke, a Yale University trained Professor of Painting & Drawing at the University of Tennessee at Knoxville. A recurring image, the silhouette of a water tower photographed in Ranchester, Wyoming, united the six large-scale diptychs exhibited. Depicting the "most common Midwest phenomenon, the water tower, with the most populist medium, photography" to mine "traditional metaphors of earth, heaven, and water," Brakke simultaneously questioned the nature of reality through his process by projecting the original photograph of the water tower onto a wall and then photographing himself with such props as a stool. Curator Holliday T. Day explained, "Brakke relates the tower to himself so that his physical relationship to the tower in the work becomes metaphorically important. Nothing is straightforward or still, but a constant flip-flop of meaning occurs both literally and metaphysically. What is outside, like the tower, becomes inside, in the studio. What is illusion, like the photograph, becomes actual, like paint. What is mundane becomes profound." During his residency, December 11-13, 1980, the artist proofed a print based on the diptych "Always Be Tough", which was printed by Gary Day and Thomas Majeski with students Bill Zuelke and Dan Devening.
---
PHYLLIS BRAMSON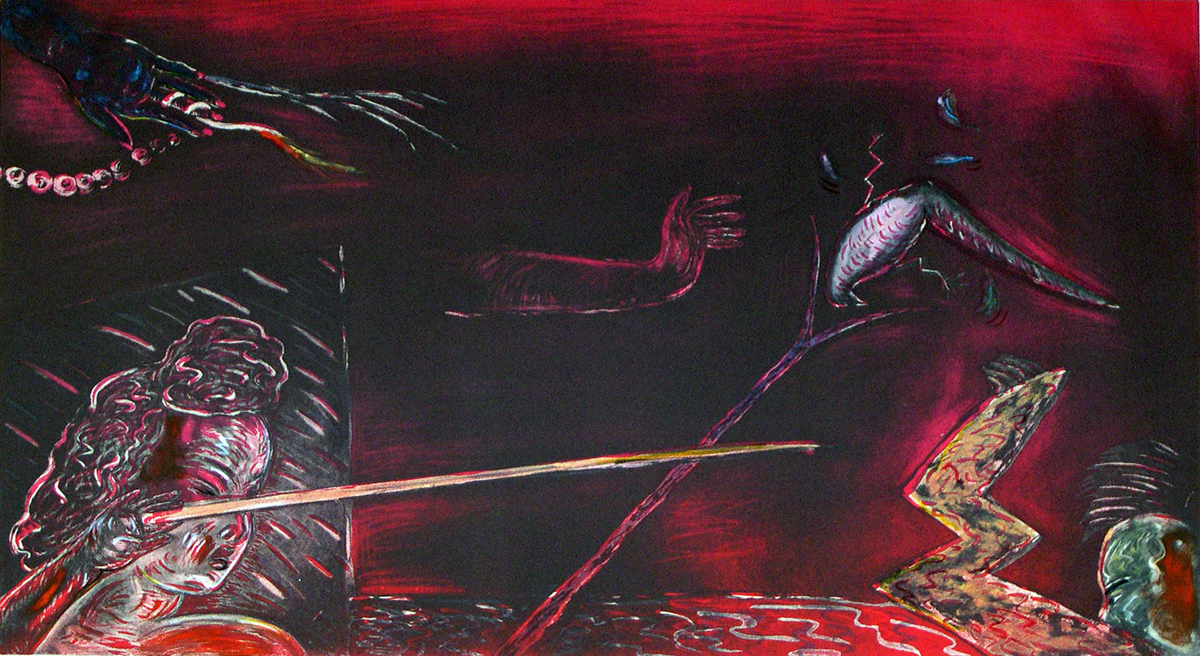 The Loss of Friendship I
1986; color etching, hand coloring, and relief; image: 19 1/2 x 35 1/4 (48.26 x 88.9), sheet: 24 x 39 1/4 (60.96 x 99.06); unique, monoprint

The Loss of Friendship II
1986; color etching, hand coloring, and relief; image: 19 1/2 x 35 1/4 (48.26 x 88.9), sheet: 24 x 39 1/4 (60.96 x 99.06); unique, monoprint

Born 1941 in Madison, Wisconsin
"I thought that Gary, you and the students were very kind and I enjoyed meeting and working with everyone," Phyllis Bramson wrote to Tom following her residency that focused on monotype and monoprint techniques. The Associate Professor of Painting at the University of Illinois at Chicago had studied at the University of Illinois in Urbana (B.F.A., 1963), the University of Wisconsin at Madison (M.A., 1964), and the School of the Art Institute of Chicago (M.F.A., 1974). She is known today for her associations with the Chicago Imagists, the city's printmaking community, and her longtime collaborations with master printer Bud Shark, owner of Shark's, Inc. in Boulder, Colorado. The work created while at UNO possesses the saturated, fauvist palette typically found in her paintings and prints from this period along with her heroine -- a "figure with broad shoulders, wasp waist, full limbs, tightly waved hair, and breasts and buttocks like globes"-- that the artist used to explore a "never-ending" and often foiled "pursuit of love and romance."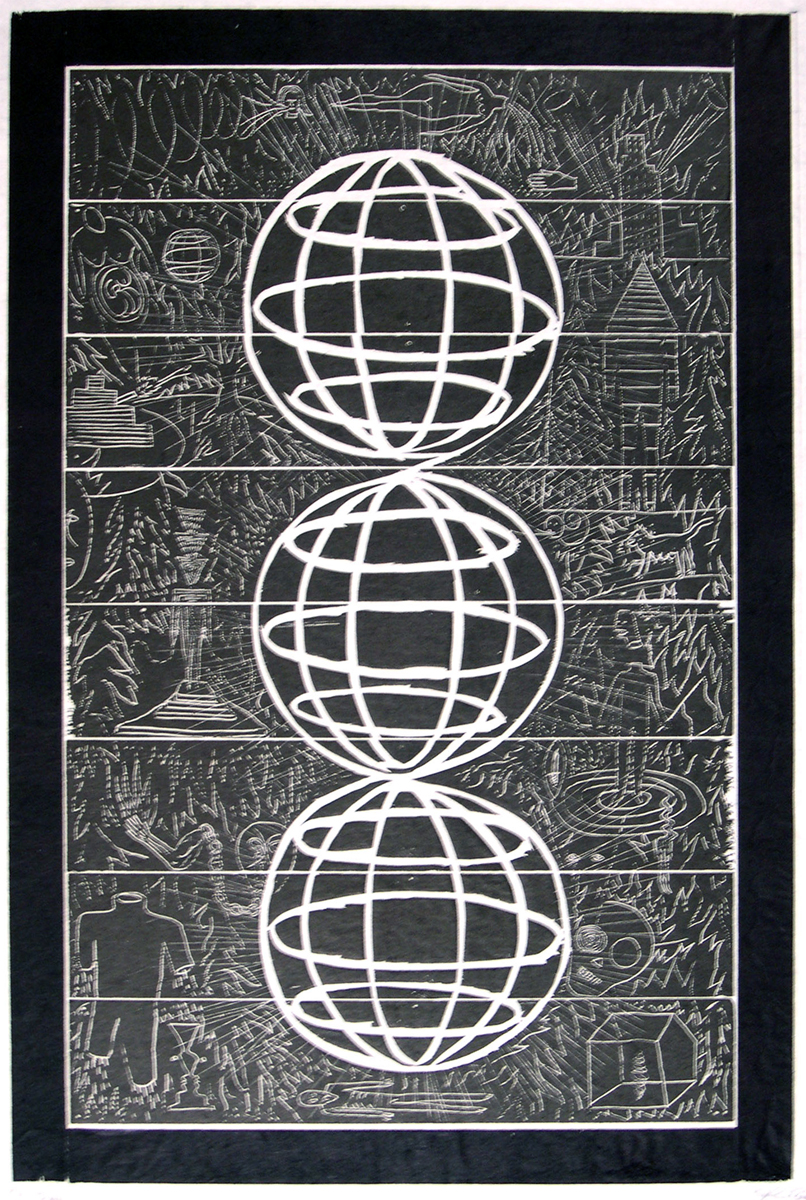 Tripoli
1984; two-color woodcut; image: 35 1/4 x 23 1/4 (89.53 x 59.05), sheet: 38 1/2 x 26 (97.79 x 68.88); edition of 30)

Omaha
1984; 15 color woodcut on Suzuki handmade paper; sheet: 62 x 36 (157.48 x 91.44); edition of 15

Born 1946 in Ames, Iowa
John Buck, who earned an M.F.A. in sculpture from the University of California at Davis, took up printmaking shortly before his residency at UNO. In 1982, he began working with Jack Lemon at Landfall Press in Chicago and the following year, he embarked on a long collaborative relationship with, printer Bud Shark of Colorado. The Professor of Sculpture at Montana State University in Bozeman proofed two woodblock prints during his residency (March 4-9, 1984) at UNO. Thomas Majeski and student Kenneth Jimmerson printed the edition of Tripoli, which has the dark background with white lines typically found in his early woodcuts. The graffiti of signs and symbols, which the artist drew into the wood with a stylus, nails, and sometimes even his fingernails, are idiosyncratic and recurring. The three spheres, the dominant image in Tripoli, also appear as a smaller, secondary image in a color lithograph titled "Jihad" (1984). Conversely, the small torso image in "Tripoli" dominates in "Avenue of the Americas" (1983-85), a two-color woodcut editioned by Landfall Press. The print "Omaha" represents a new direction in Buck's work; a shift away from graphic combinations of black, white, and red. Gary Day and student assistant Jim Heijl printed the edition using 14 shades of red and 26 blocks. Both "Tripoli" and "Omaha" were reproduced in the catalogue for a 1994 exhibition at the M.H. de Young Memorial Museum in San Francisco, California.
---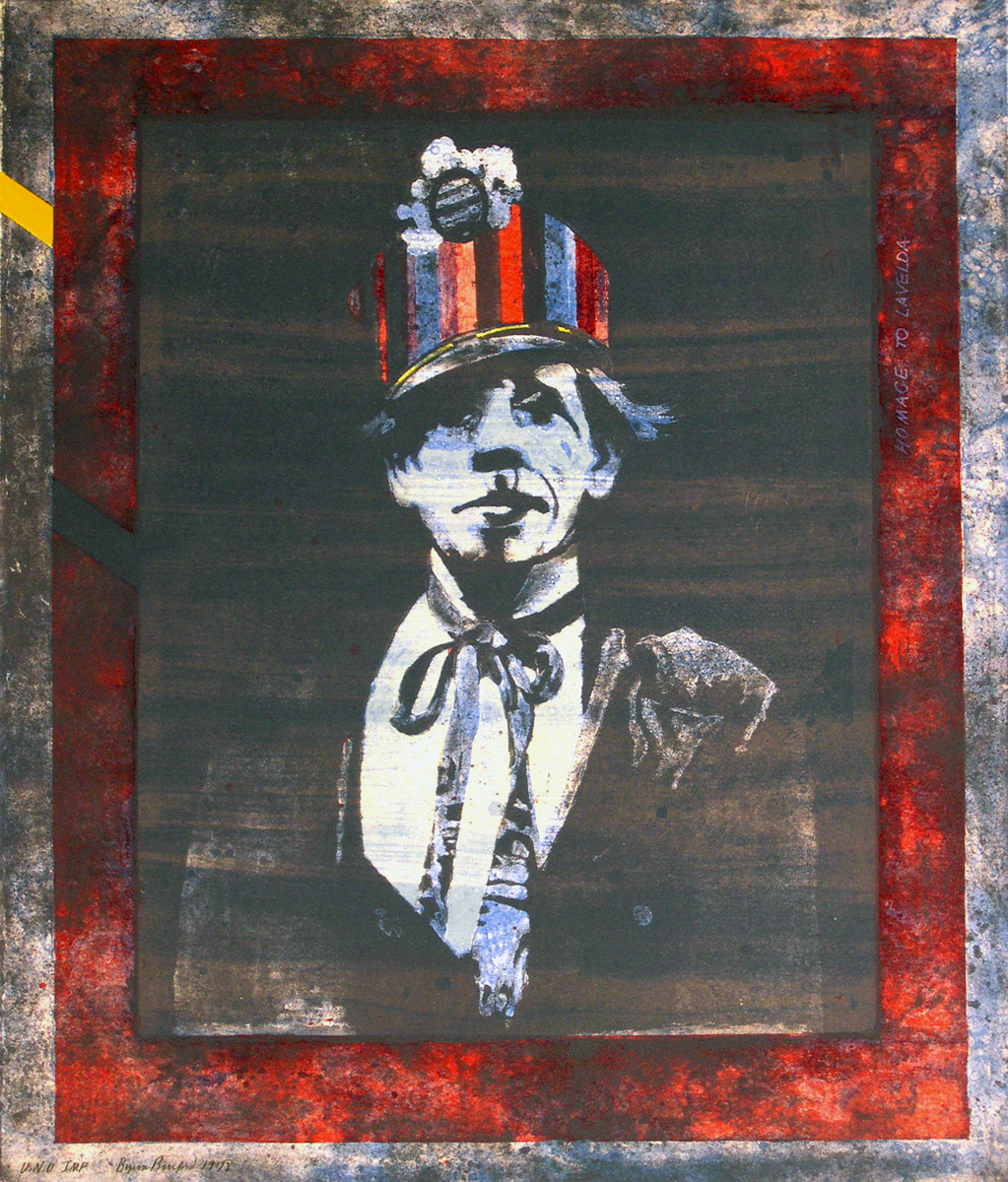 Homage To Lavelda
1978; color lithograph and hand coloring on Arches Cover; sheet: 26 x 22 (66.04 x 55.88); edition of 30

Born 1920 in Jackson, Mississippi
Burford studied with Grant Wood at the University of Iowa, earning a B.F.A. in 1942 and a M.F.A. in 1947. Upon graduating he was appointed to the faculty and taught painting there until 1986, when he was named Professor Emeritus. As a teenager, his father allowed him to work one summer for Tom Mix's Circus and this sparked a life-long fascination with circus life. Burford joined a variety of regional circus troops every summer for decades after and frequently played drums in a gorilla suit. "I've never clowned. I have too much respect for that profession," observed the artist during a 1981 interview. "Clowning is very, very difficult. There's probably more amateur clowns than probably anything else." This reverence and understanding of the difficulties of circus life shine through in the lithograph printed between November 24 and December 1, 1978. Students William Gross, Barry Carlson, and Dan Devening assisted Burford with the printing of the edition under the supervision of master printer Richard Finch, the Director of Normal Editions, whose chop marks are located in lower right hand corner of the print. This image of the clown Lavelda appears in And the Lord Knows What, a book inspired by a W.B. Yeats poem that Burford illustrated and published at the Iowa Offset Workshop under the joint auspices of Chicago Books and the University of Iowa Center for the Book in 1988.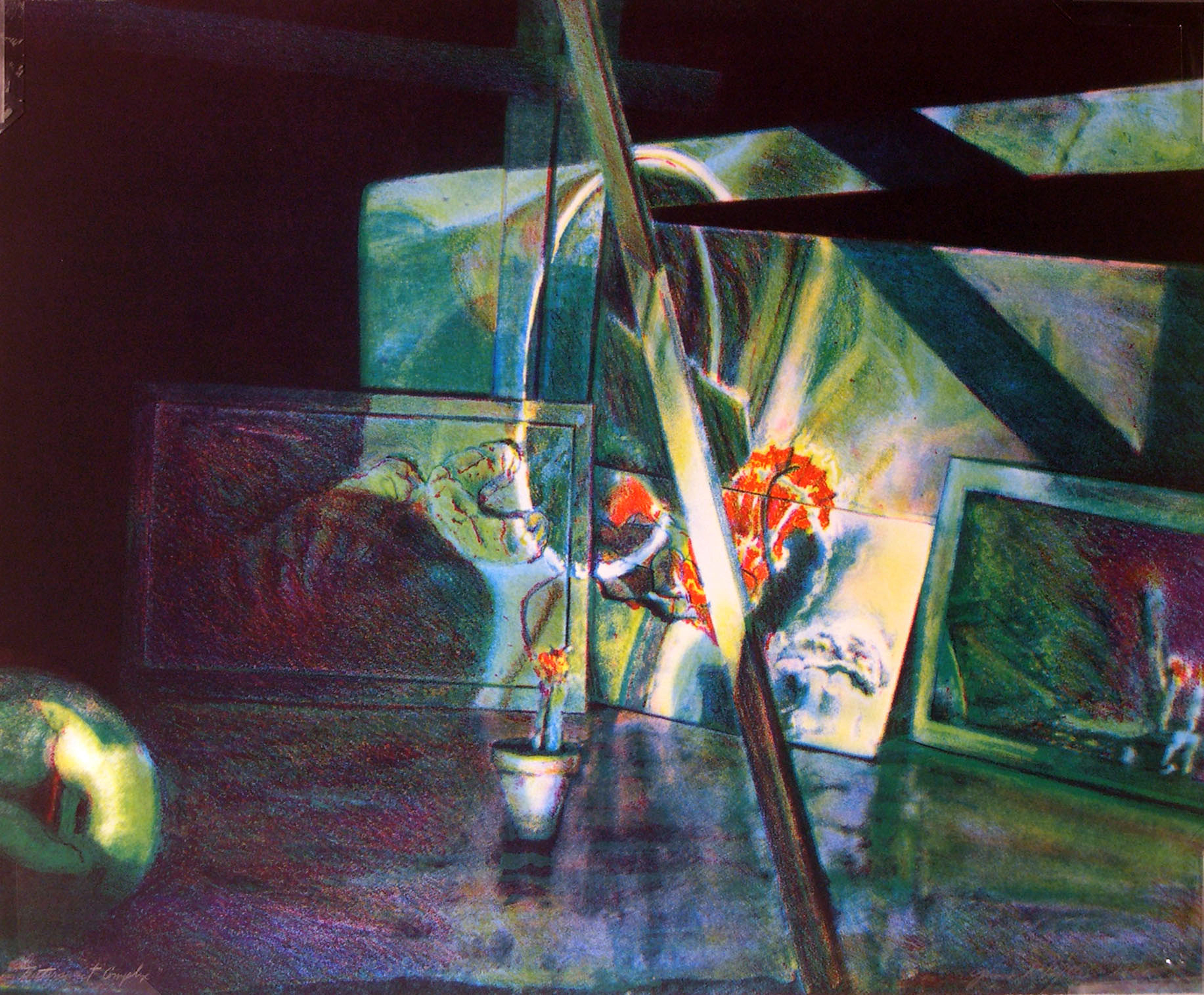 Bittersweet Complex
1977; color lithograph; sheet: 16 1/4 x 19 3/4 (41.275 x 50.165); edition of 30

Born 1945 in Fort Dodge, Iowa
Butler is an alumni of both UNO (he received his B.S. in Art Education in 1967) and the University of Nebraska Lincoln, where he completed an M.F.A. under printmaker Tom Coleman in 1970. Shortly after, he collaborated with the staff of the Tamarind Institute on the development of a pin-bar system, a process typically used in commercial offset lithography that provided him with a reliable method of achieving the precise registrations for his color lithographs of still-life subjects. The high-keyed color harmonies and sharply back-lit objects in these "tablescapes" were inspired by Caravaggio's "light and dark patterning, manipulations of space, and the plasticity of forms." Butler sought a "heightened reality through carefully orchestrated illusion" in his lithographs from this period. For several years after graduating from UNO, Butler would return over the winter break to teach Majeski lithography while his former teacher provided advice on etching techniques. In 1976, Butler joined the faculty at Illinois State University in Bloomington, which honored him with a Distinguished Professor award in 2002. He embarked on a long-term exploration of panoramic landscapes that resulted in the critically successful traveling exhibition, "Views Along the Mississippi River" in 1990.
---
BARRY CARLSEN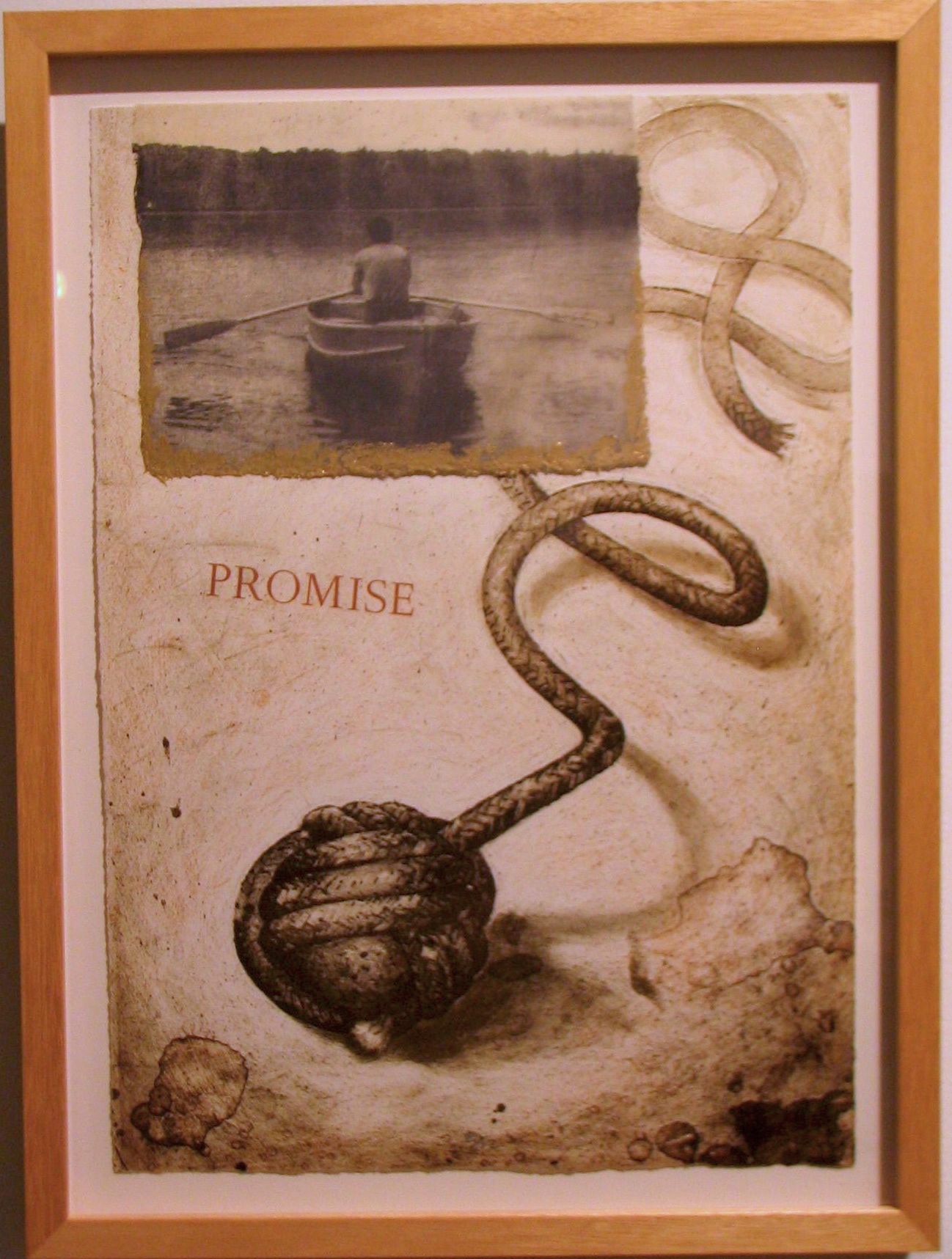 Promise
2010; lithograph, goldleaf and waxed paper; sheet: 24 x 18 (60.96 x 45.72)
Born Omaha, Nebraska
Barry Carlsen is a UNO alum who received his MFA from the University of Wisconsin Madison. Barry lives and works in the Madison area and has been successfully producing and exhibiting paintings and prints in several venues since 1983. His work has been shown throughout the United States and is included in multiple public collections.
"My paintings are reconstructions of another time, spawned from memory, at once real and yet imagined. They are amalgamations, the kind of blending or restructuring of place and situation that revisiting the past creates."
Barry combined multiple lithography techniques with and waxed paper to produce "Promise" He is an accomplished lithographer so he used the opportunity to demonstrate several techniques for the print students.
---
WARRINGTON COLESCOTT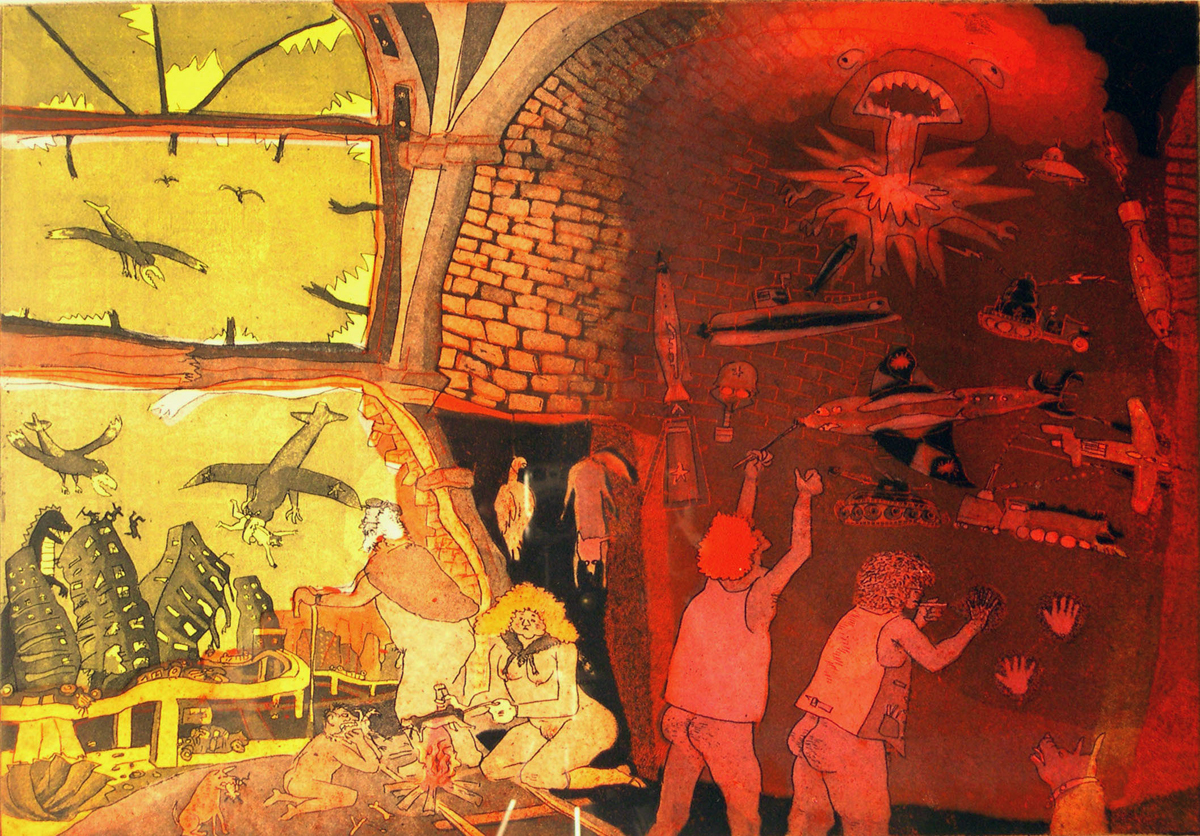 The History of Printmaking: The Last Printmaker
1977; color intaglio on Arches; sheet: 22 x 30 (55.88 x 76.2); edition of 30
Born 1921 in Oakland, California
"He is a super guy, and I know the students will like him and his work very much," wrote Pozzatti of Colescott, who taught all of the intaglio media, and especially color etching, at the University of Wisconsin in Madison. At the time of his residency, March 21-25, 1977, Colescott was working on an NEA supported project, "The History of Printmaking" (1975-1979). As the artist explained in his grant application, this portfolio of eleven color etchings and color lithographs affectionately satirized the gods of printmaking in a manner that was "humorous, grim, ribald, educational, violent, respectful, sexy," and sometimes "disrespectful." An exhibition in the UNO Art Gallery (March 2 to April 8, 1977) provided the University and Omaha communities an opportunity to see prints from this series. "Rarely do satire and lush technique go hand in hand but Colescott's works are the exception," observed Bidez Embry Moore of the Omaha World Herald. This duality is evident in the UNO impression, which is a variation of the impression "The Last Printmaker" included in the portfolio. While at first glance his work appears zany and crude, Colescott's handling of both content and his medium is very sophisticated and serious. His years of graduate study at the University of California at Berkeley in the 1960s were punctuated with demonstrations for free speech, civil rights and the women's movements as well as anti-war protests. Recurring themes of the Establishment's abuse of power, the violence prevalent both in American media and in daily life, and the often time sexualized content of the entertainment industry are readily apparent in his prints including "The Last Printmaker". Here we see the contemporary artist pantless and exposed. In a post apocalyptic world, he resorts to the most elementary form of art making used by his ancestors in the caves of France's Dordogne Valley, 30,000 years ago. "In this print you glimpse a mixture of pessimism and optimism; mankind desperate, but reacting with energy and courage, and the artist-printmaker still in there, recording our experience," Colescott explained. Students Beth Davis and Greg Mickells assisted Colescott and his wife, printmaker Frances Myers, with the edition.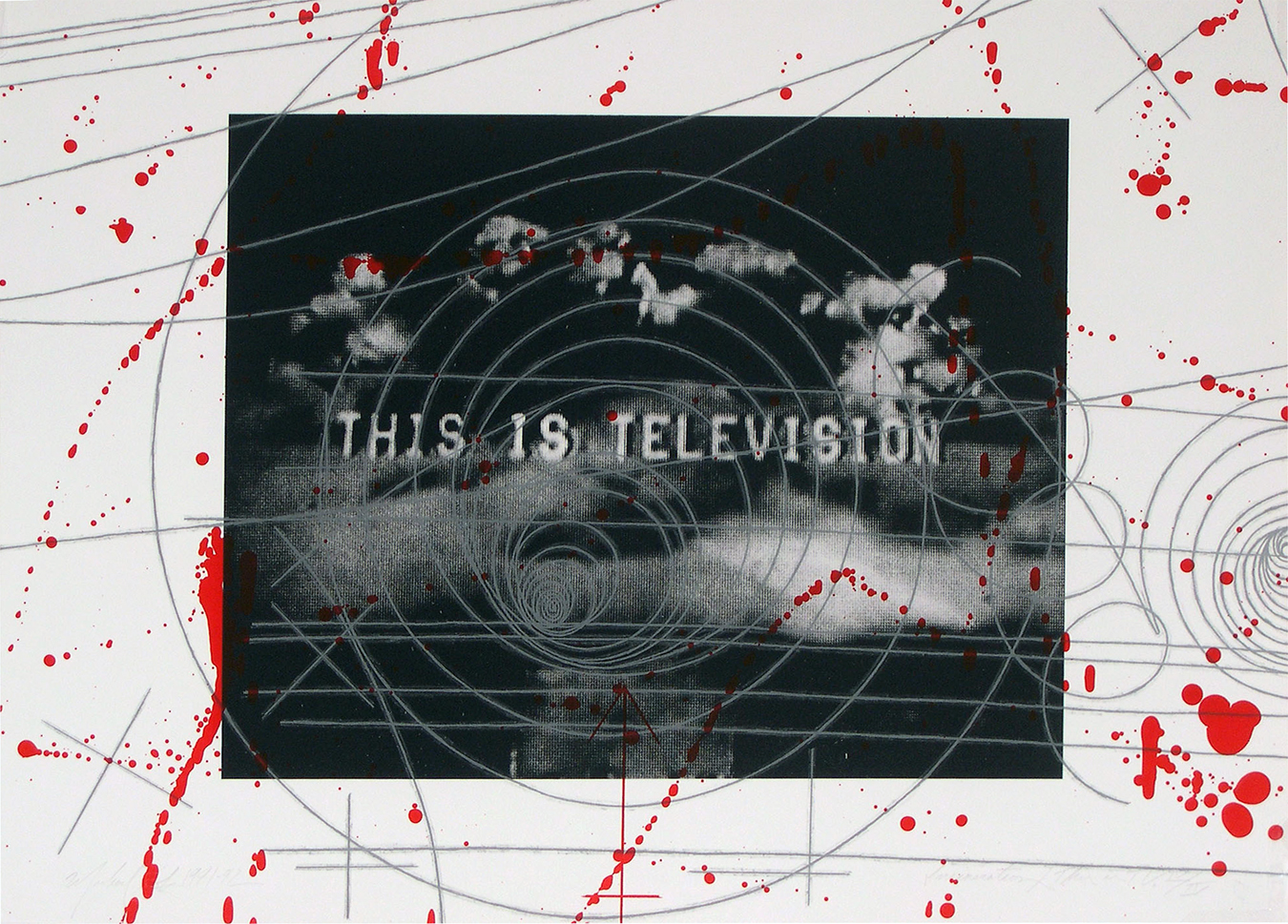 Incineration/This Is T.V.
1981; color lithograph; sheet: 22 1/2 x 30 1/8 (55.88 x 76.2); edition of 17

Born 1953 in Aguadilla, Puerto Rico
The Professor of Painting and Drawing at the University of New Mexico studied at the University of Oklahoma (M.F.A., 1978), the University of Dallas (M.A., 1976), and Florida State University (B.F.A., 1975). During his residency (November 10-13, 1980), Cook worked with Gary Day and students William Zuehlke and James Hejl on a print containing patterns appropriated from photographs of the bubbles created by electrically charged particles traveling on helical paths through superheated liquid hydrogen placed in a bubble chamber and exposed to a magnetic field. The bubble chamber, invented in 1952 by Donald A. Glaser, the 1960 Nobel Prize winner in Physics, is but one reference to science and technology that Cook linked to contemporary weaponry and a culture of violence. The UNO print is similar to work later included in two NYC exhibitions—the "Disarm Show/War Games" at The Kitchen (June 1982) and "The End of the World: Contemporary Visions of the Apocalypse" at The New Museum of Contemporary Art (1983-1984).
---
JEANINE COUPE RYDING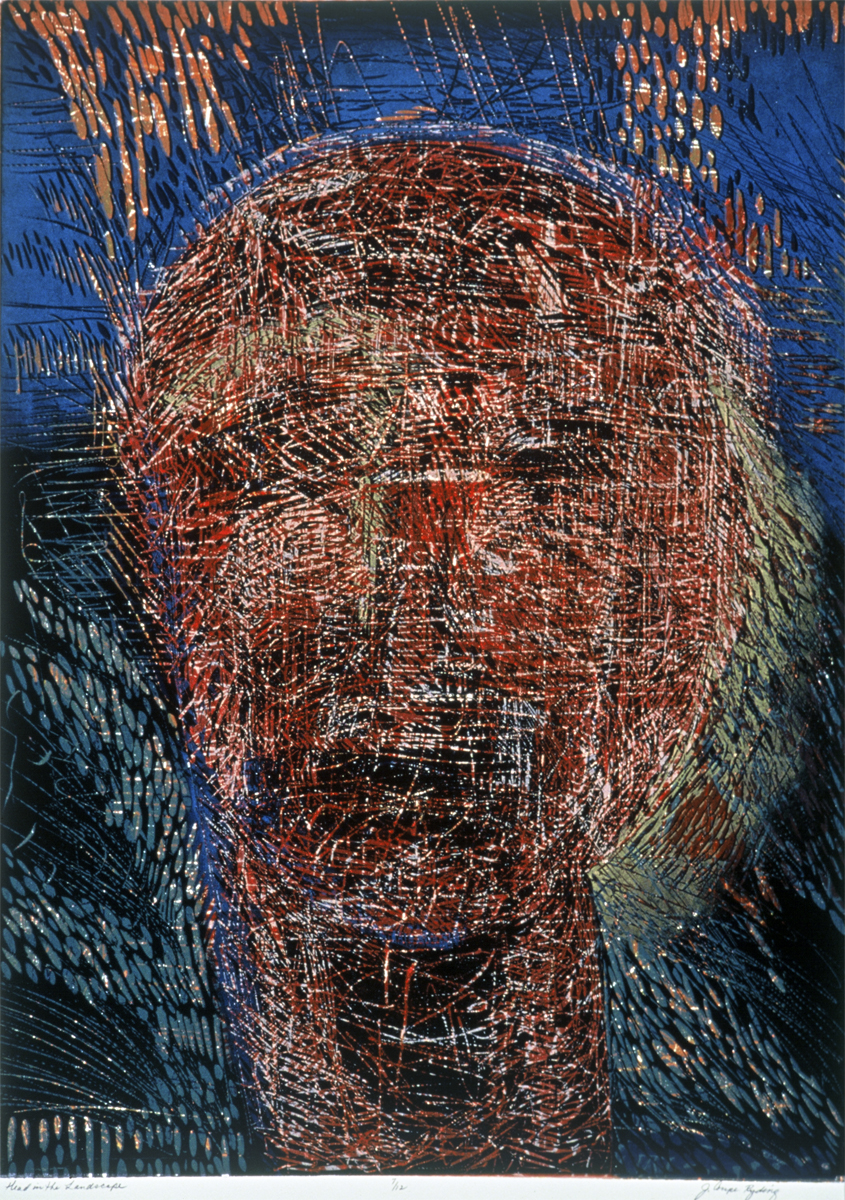 Head in a Landscape
1991; woodcut (unknown)

Born 1948 in Indianapolis, Indiana
The UNO Art Gallery (September 30-October 18, 1991) exhibited woodcuts by Jeanine Coupe Ryding known for her depictions of large heads floating before landscape settings. Both the Perimeter Gallery in Chicago and the Anderson O'Brien Gallery in Omaha represented Coupe Ryding, who studied at the University of Iowa (B.A., 1971) and the Hochschule der Kunste in Berlin (Meisterschuler, 1977). At the time of her residency, she was a conservator of works of art on paper at the Graphic Conservation Company in Chicago and taught relief printmaking at the School of the Art Institute.
---
JACK DAMER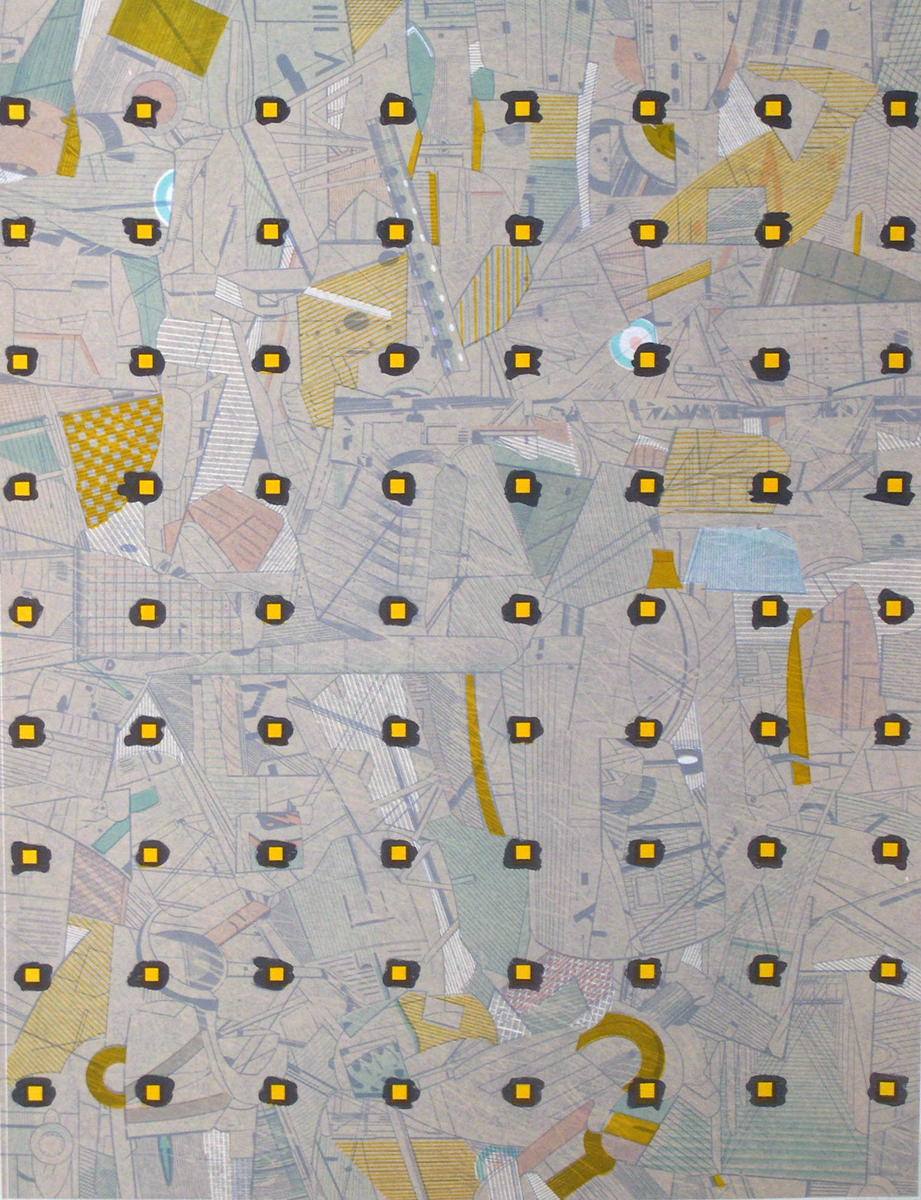 Numero UNO
1980; color lithograph on German Etching Paper; sheet: 30 1/2 x 23 9/16 (76.2 x 58.42); edition of 25

Born 1938 in Pittsburgh, Pennsylvania
A graduate of Carnegie Institute of Technology (M.F.A.,1965 and B.F.A., 1960), Jack Damer joined the faculty of the University of Wisconsin in Madison in 1965. During his residency (February 25-29, 1980), Damer worked with University of Wisconsin student Danny Miller and UNO student Barry Carlsen. Of such learning opportunities, Damer once observed, "The combination of art-making with teaching, while offering both exciting and anxious moments, provides an opportunity for moving between two modes of expression, i.e. making objects and formulating critical judgments. Perhaps it is, ironically, this relation between studio and classroom work that somehow stimulates the inspiration, which is, at times, difficult to come by in the unaccountable isolation of Academia. In that framework, I see the activity of the artist/teacher as being a significant and positive endeavor, performed in the midst of a generally cynical world."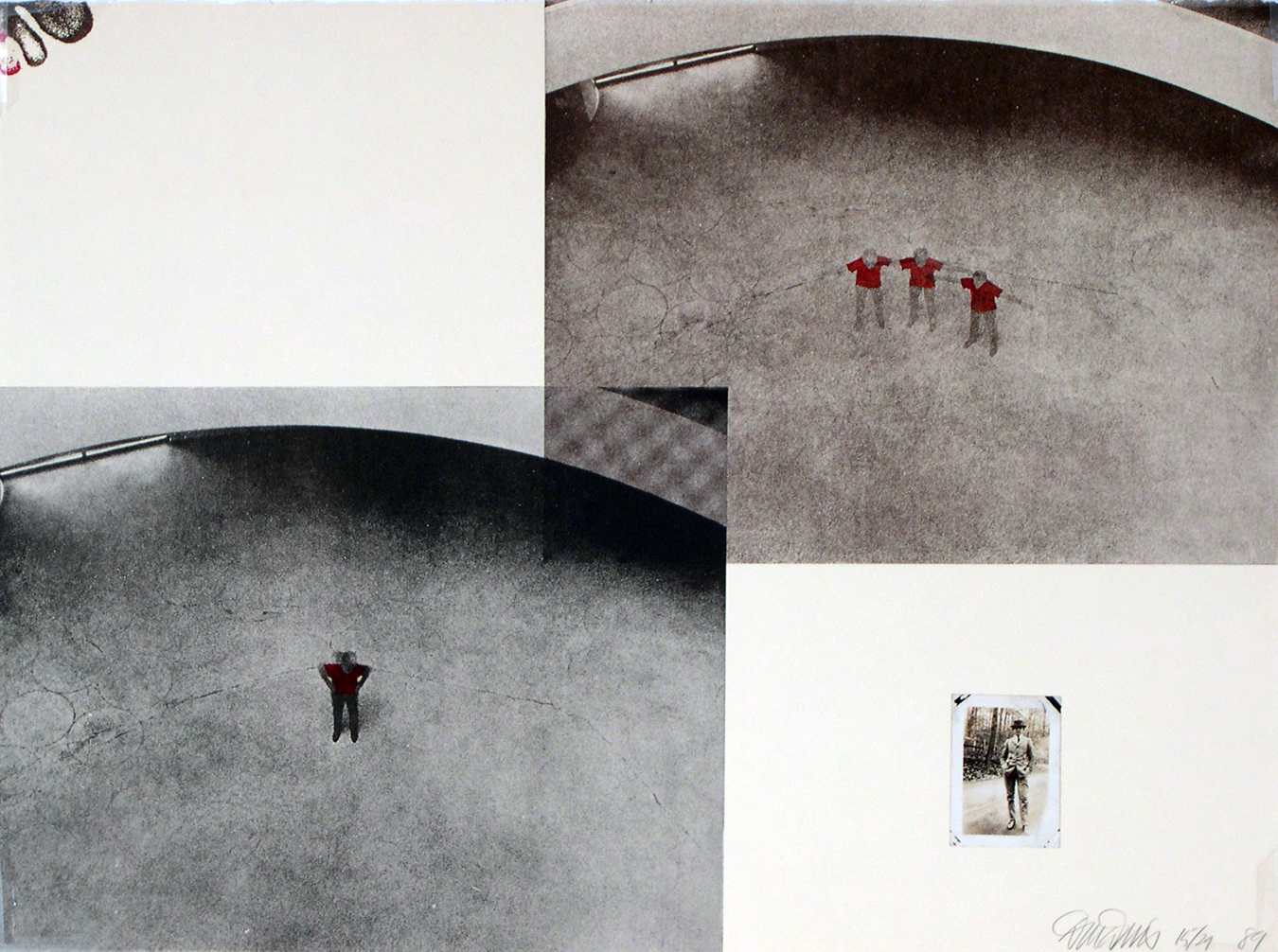 3 Man Song With Father And Foot I
1989; photo intaglio, photo collage and relief on Arches Cover Buff; sheet: 30 x 22 3/8 (76.2 x 55.88); edition of 30)

Born 1933 in Washington, D.C.
In early November 1989, student Robert Lewis helped Gary Day complete the edition. Each impression was accented with hand coloring, the addition of a red colored shirt, and individualized through the application of a thematically related yet unique photograph of a figure or figures standing in an open innocuous space such as an airport or shopping mall and looking up at what appears to be a surveillance camera. Hailed a pioneer of television/video art, Davis collaborated during Documenta 6 in 1977 with Nam June Paik and Joseph Beuys on the first global satellite television program by artists. Aside from writing architectural criticism for Newsweek magazine since 1969, he has published several books on new media art including in 1993, The Five Myths of TV Power (or, Why the Medium is Not the Message), which underscored the importance of the viewer, or the "human" element, in media theory.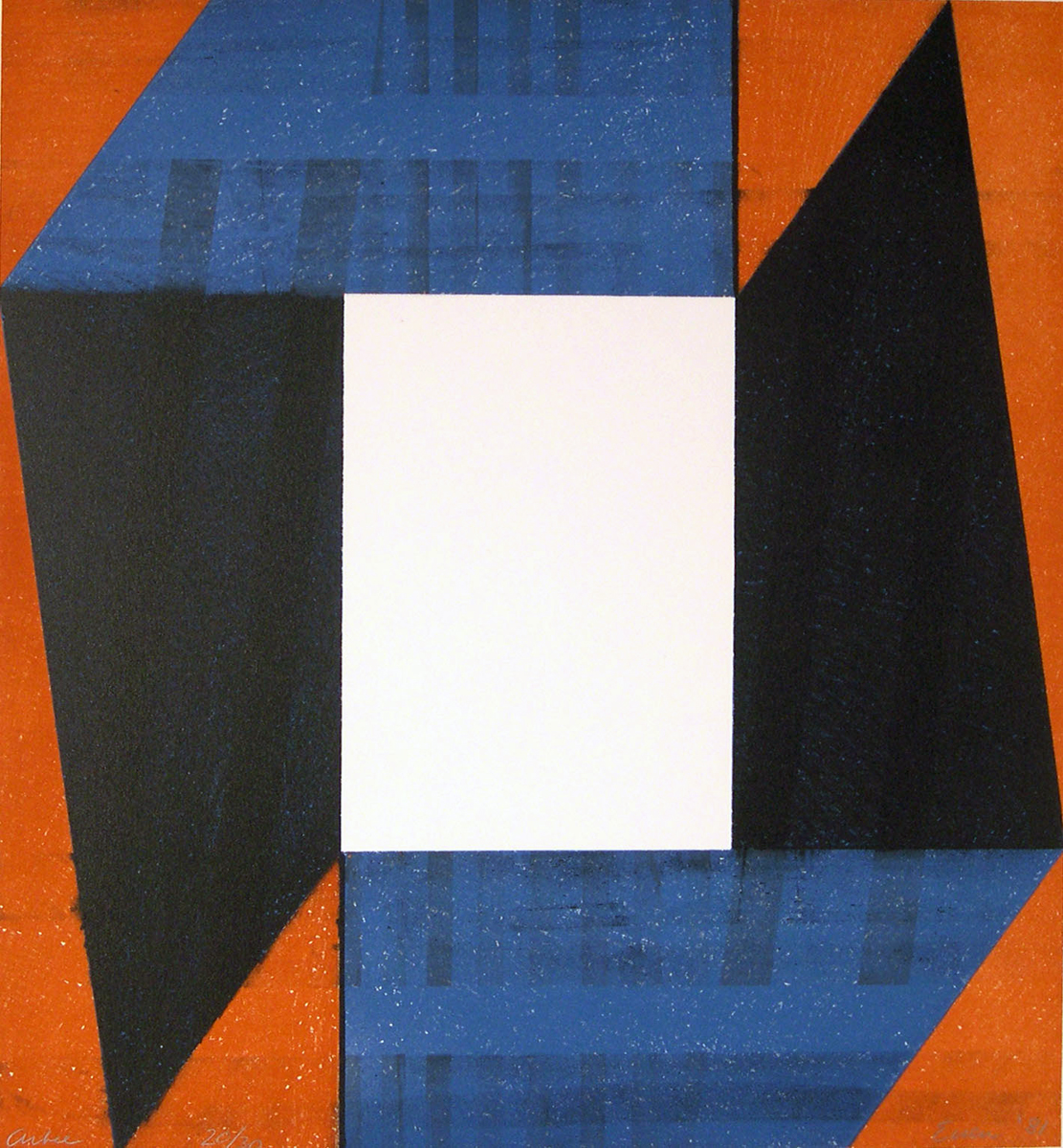 Arbee
1981; color lithography on Rives BFK; image: 17 3/8 x 16 (43.18 x 40.64), sheet: 25 1/2 x 18 3/8 (63.5 x 45.72); edition of 30

Born 1929 in Alvord, Iowa; died 2002
Following the completion of his education at Augustana College in Sioux Falls, South Dakota (B.A., 1951) and the University of Iowa (M.F.A., 1961), James Eisentrager joined the art department of the University of Nebraska Lincoln. "My work is about structure, composition, proportion, balance, and equilibrium," he explained during a segment of Arts of Nebraska on NET State Wide in March 1998, when he demonstrated his use of a ruler and a home-made compass to draw in charcoal geometric compositions then colored with water soluble paint to create a "colorful multi-dimensional effect." Thomas Majeski and student James Hejl printed the edition resulting from his residency from May 21 through June 11, 1981.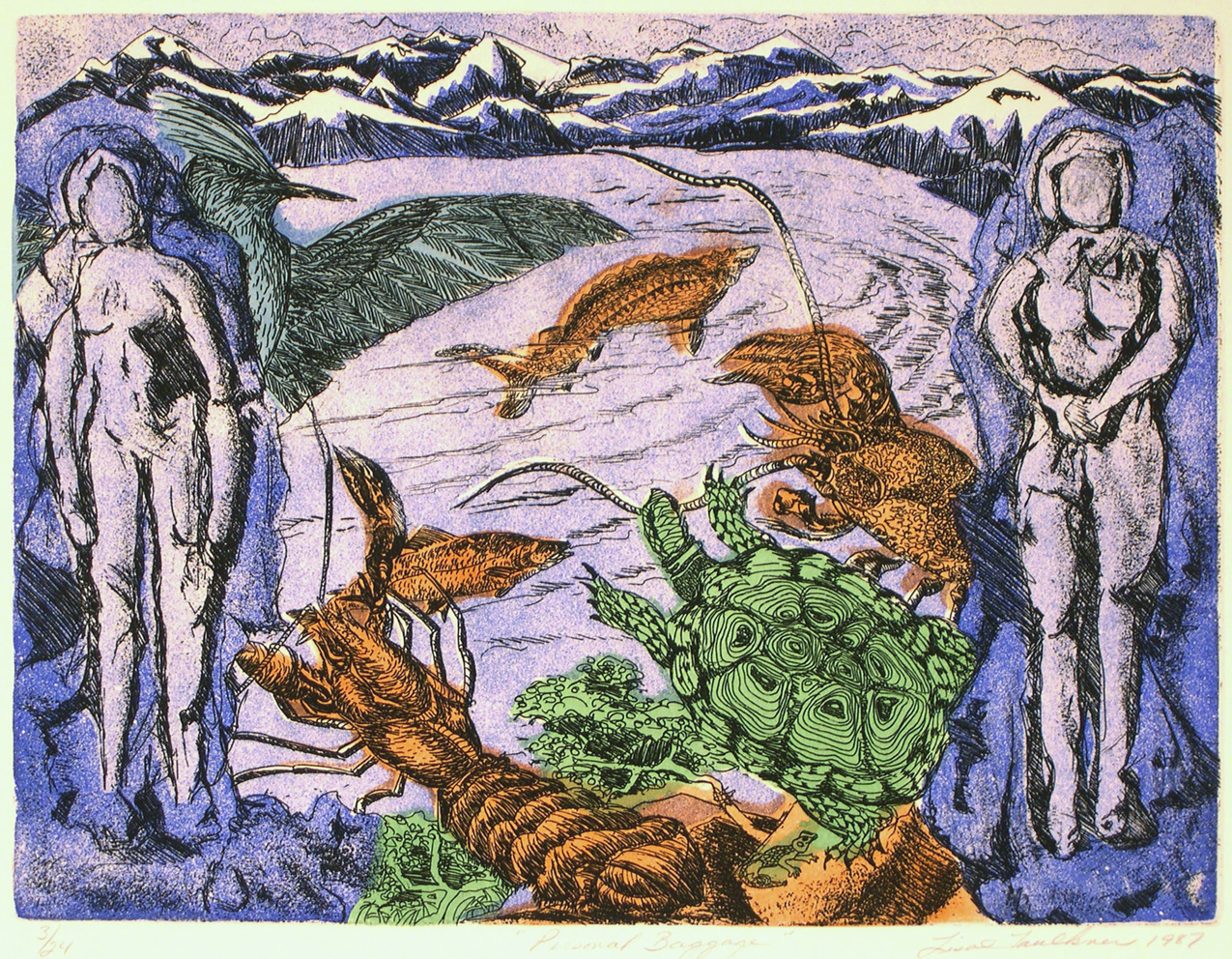 Personal Baggage
1987; color intaglio on paper; sheet: 22 x 23 (55.88 x 58.42); edition of 24

Born 1955
At the time of her residency, Faulkner-Wright, who studied with Warrington Colescott at the University of Wisconsin at Madison was teaching at Sierra Nevada College in Nevada. She is currently a watercolorist living in Las Vegas, Nevada.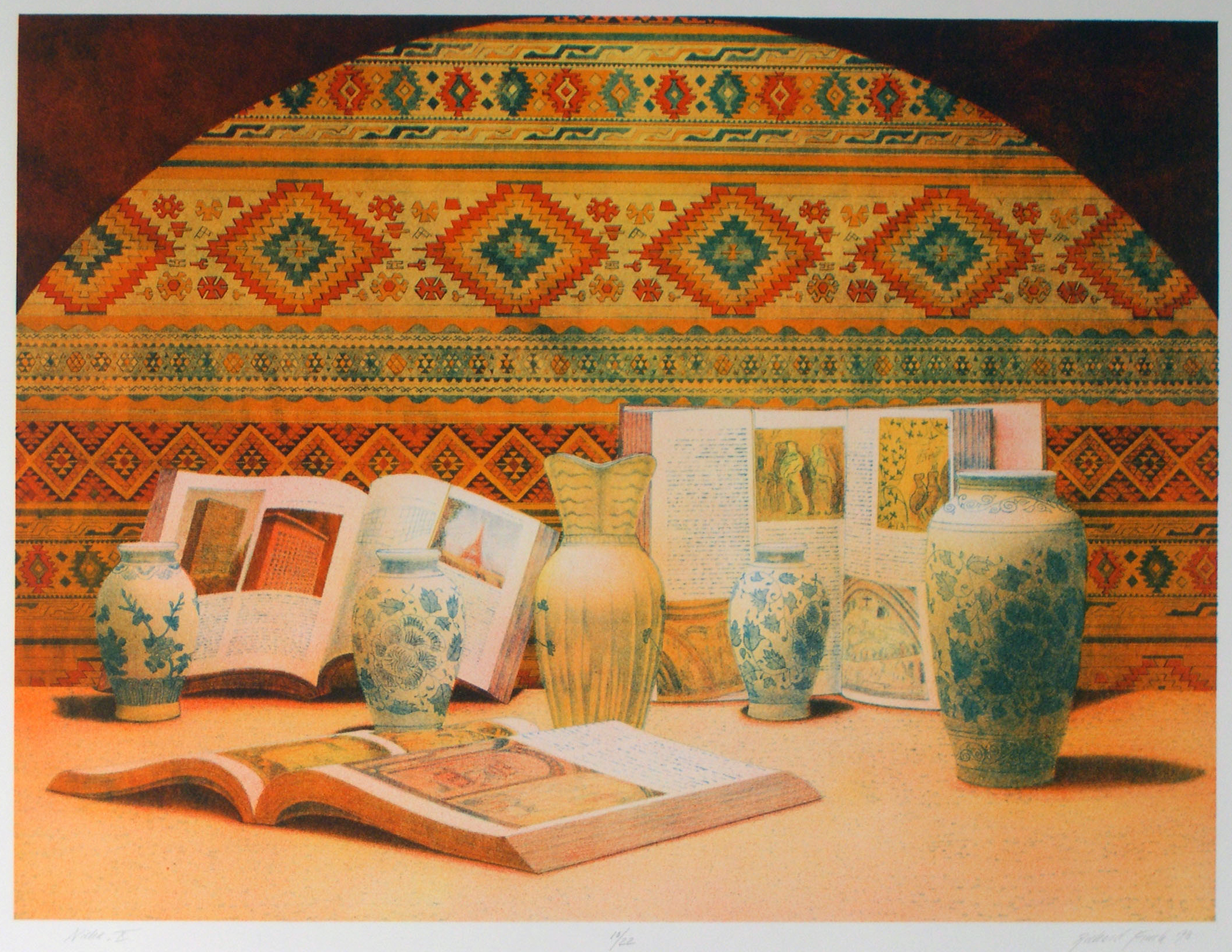 Niche, X
1998; color lithograph on Rives BFK White; image: 18 x 24 (45.72 x 60.96), sheet: 22 1/4 x 28 (55.88 x 71.12); edition of 22

Born 1951 in Springfield, Missouri
Richard Finch interned at Chicago's Landfall Press in 1973, while still a student at Southern Illinois University in Edwardsville (B.A., 1974 and M.F.A., 1976). Shortly after arriving at Illinois State University in Normal, Illinois in 1977, he established the Normal Editions Workshop and its visiting artist program. Over the years, he has collaborated with and printed for a variety of artists both at his own facility and as a master printer invited to oversee editions printed at UNO. Students Matt Leahy and Marc Manriquez assisted Finch during his own Visiting Artists residency April 6-9, 1998.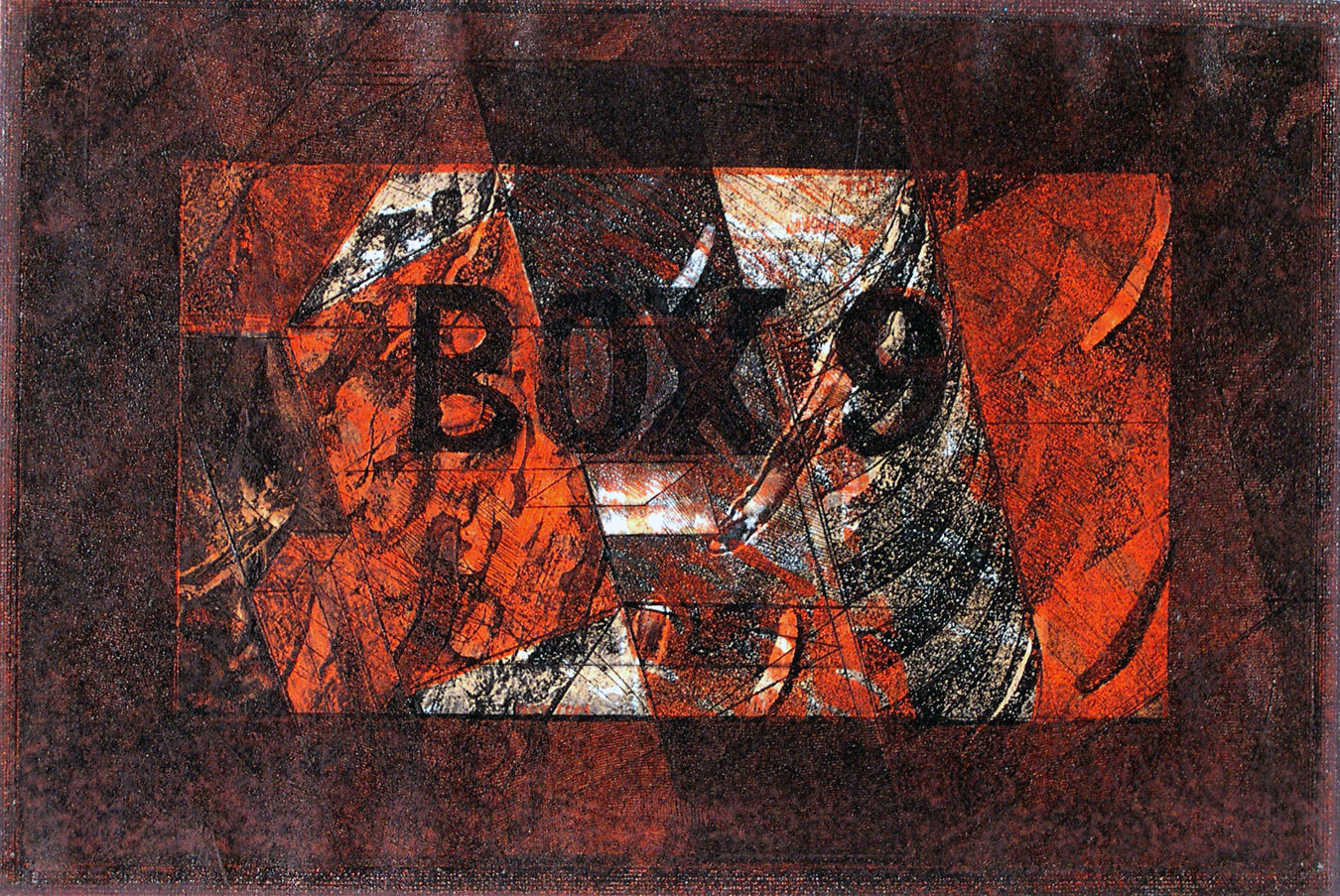 Box Number 9
1979; lithograph, intaglio and chine collé on Copperplate Deluxe; Image: 12 1/4 x 18 1/8 (30.48 x 45.72), sheet:18 x 24 (45.72 x 60.96); edition of 15

Born 1933 in Cedar Falls, Iowa; died in Normal, Illinois in 2005
After attending the University of Northern Iowa (M.F.A.1962), George taught at the University of Nebraska Lincoln before joining the faculty of Illinois State University in Normal, Illinois where he was a Professor Emeritus of Drawing and Printmaking. "Drawing with Graphite on Stone--A Conversation with Ray George," a January 1977 article in the Tamarind Technical Papers describes recent developments in his work following a 1976 residency at the lithography center. George developed an approach mixing lithography, intaglio, and chine collé to create textural variety to each impression's surface qualities. Like the UNO edition, these prints were abstractions remarkable for the tension between open spaces and closed forms, distinct and less defined lines and angles, and gradual color shifts. Students Mark Niemeyer, Beth Davis, and Stuart Dayton under the supervision of George and master printer Richard Finch printed the UNO edition during his residency, November 12-16, 1979.
---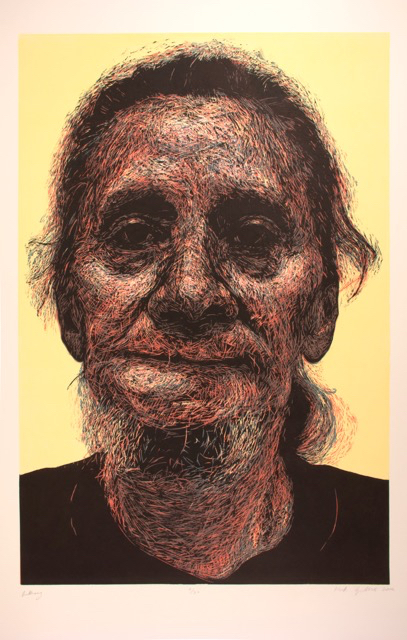 Anthony
2009; Color Woodcut; image 36"x 24", sheet: 42 x 30 (106.68 x 76.2)

Born 1969 in Scotland
Mark Gilbert is currently a PhD candidate in the Medical Science Interdepartmental Area (MSIA) program at the University of Nebraska Medical Center. His studies are focused in the interdisciplinary field of Art and Medicine. In tandem with his studies he is a graduate assistant with the College of Public Health, commissioned to produce a series of paintings that demonstrate the breadth of public health. The "Saving Faces Art Project" was established in 1999 at St. Bartholemew's and the Royal London Hospital. Mark was artist in residence and produced a major exhibition that has toured the United Kingdom, Europe, and North America. While in Nebraska, Mark has produced " Portraits of Care". Another large scale exhibition of medical subjects produced at UNMC.

The relationship between the subject and the artist is an integral part of the pictures he produces. Mark "has a unique ability to connect and respond to his subjects and to reflect them in a way that is full and human. "Anthony" is a large scale six color woodcut from the "Portraits of Care" series. Each block was hand cut by Mark Gilbert and several versions were color proofed before the final color set was decided.
To purchase this print, contact us at

printworkshop@unomaha.edu.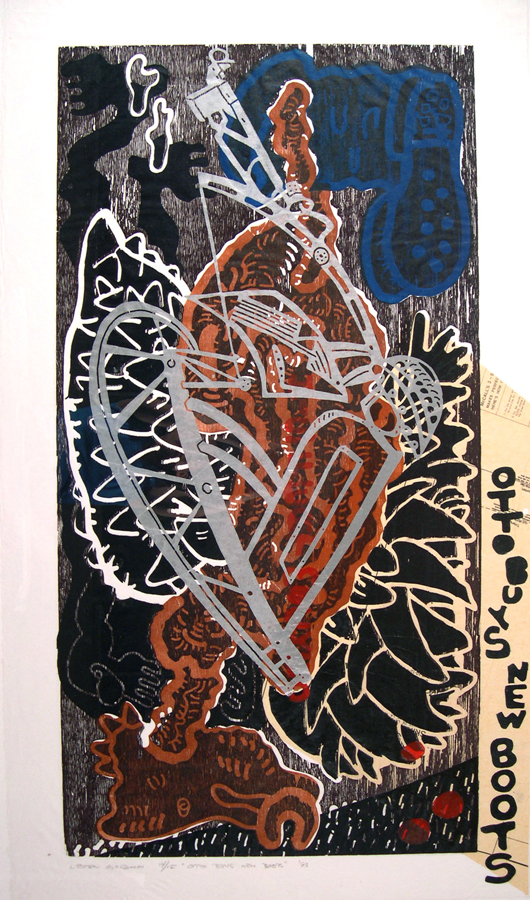 Otto Buys New Boots
1993; color woodcut and chine collé on rice paper; sheet: 52 1/4 x 30 (132.71 x 76.2); edition of 15

Born 1942 in Philadelphia, Pennsylvania; died Kansas City, Missouri Sept. 24, 2005
A remarkably talented realist painter trained at the Philadelphia College of Art in Pennsylvania (B.F.A.) and Indiana University at Bloomington (M.F.A.), Lester Goldman, a Professor of Painting at the Kansas City Art Institute (1966 to 2005), shifted to multimedia installation art in the 1970s. In Omaha to mount an installation for the 1992 Midlands Invitational at the Joslyn Art Museum, he also installed outdoor sculpture, a grouping of carved wooden totems, outside the Lou and Del Weber Fine Art Building and produced a woodcut for the UNO Print Workshop. The print is related to "The Latest Blow to Mirth", a three-part multimedia installation project in Kansas City, Missouri. "55 Gallons of Blue Laughter" (1989) and "Kabalival" (1993) debuted at the Leedy-Voulkos Contemporary Art Center and "Womb Shot" (1996) appeared at Grand Arts. Each of these "carnival-like, walkthrough events" featured Goldman's characters Otto and Lil. The couple drawn as if from a coloring book often exchange body parts or morph into "Lilotto," a name meant to suggest "lotto, the lottery, a game of chance."

Landscape VII: A-C
1985; color lithograph; image (each panel): 15 x 23 (38.1 x 58.42), sheet (each panel): 22 1/4 x 30 (55.88 x 76.2); edition of 18)

Born 1929 in Detroit, Michigan
After receiving a Ph.D. in studio art from Ohio State University in 1960 and after teaching in California, Harold Gregor joined the faculty of Illinois State University in Normal in 1970. By this time, his photorealist landscapes were frequently exhibited with paintings by Richard Estes and other Super Realists. The three lithographic plates editioned by the UNO Print Workshop can be displayed separately or framed together to form a triptych that provides the "continuous glance" of a panorama format, which the artist adopted in the early 1980s because it "approximates the way most of us actually experience the Midwest countryside, which is by driving past it in an automobile." Like his 1991 panoramic landscape murals for the Illinois State Library in Springfield, the color lithographs possess a "harsh, silvery light that touches each leaf, and the full draughtsmanly and painterly attention given to each detail" that as Gerald Nordland observed, "creates an image of vegetation at once seething with life and frozen."
---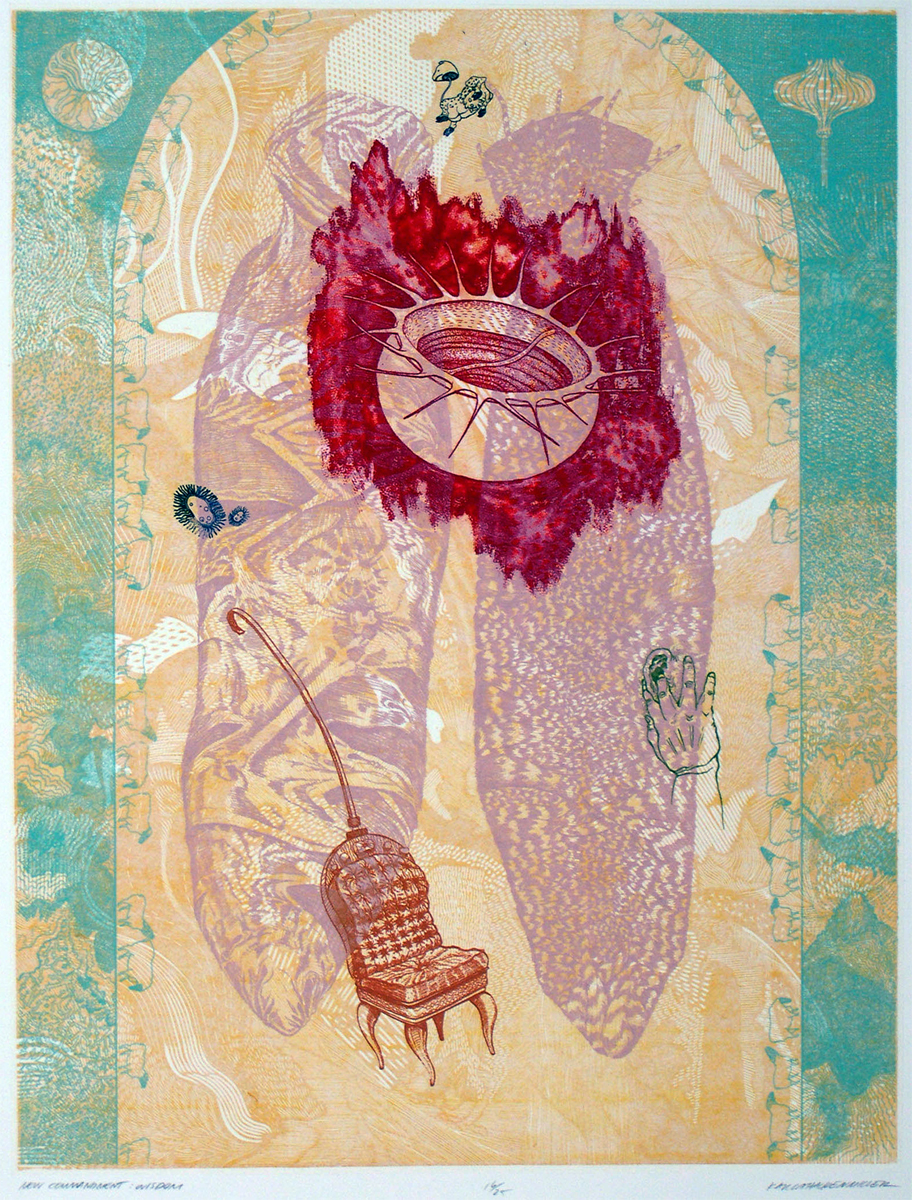 New Commandment: Wisdom
2002; color intaglio and relief on Mulberry Paper; image: 23 3/4 x 18 (58.42 x 45.72), sheet: 30 1/4 x 22 1/4 (76.2 x 55.88); edition of 25

Born in Stacyville, Iowa
A graduate of the University of South Dakota (M.F.A., 1997) where she studied with Lloyd Menard, Hackenmiller was the Assistant Director of Frogman's Press and Gallery in Beresford, South Dakota and taught at the University of Nebraska at Kearney before assuming her current position at Ohio University in Athens. The print editioned during her residency (March 25-28, 2002) belongs to a series infusing the Ten Commandments, which "offer us some guidance in defining who we are and who we hope to be" with a secularized psychological perspective on identity formation. "The New Commandment" series provides a means to play with ideas of identity and personal objectives. A person's sense of self can change on a regular basis, which in turn causes a reassessment of goals, aspirations, and priorities," explains Hackenmiller. Rather than relying on conventional Christian imagery to explore these highly personal directives, she relies on her own language to communicate the mystical beings and rituals of Catholicism that have fascinated her since her childhood in Northern Iowa.
---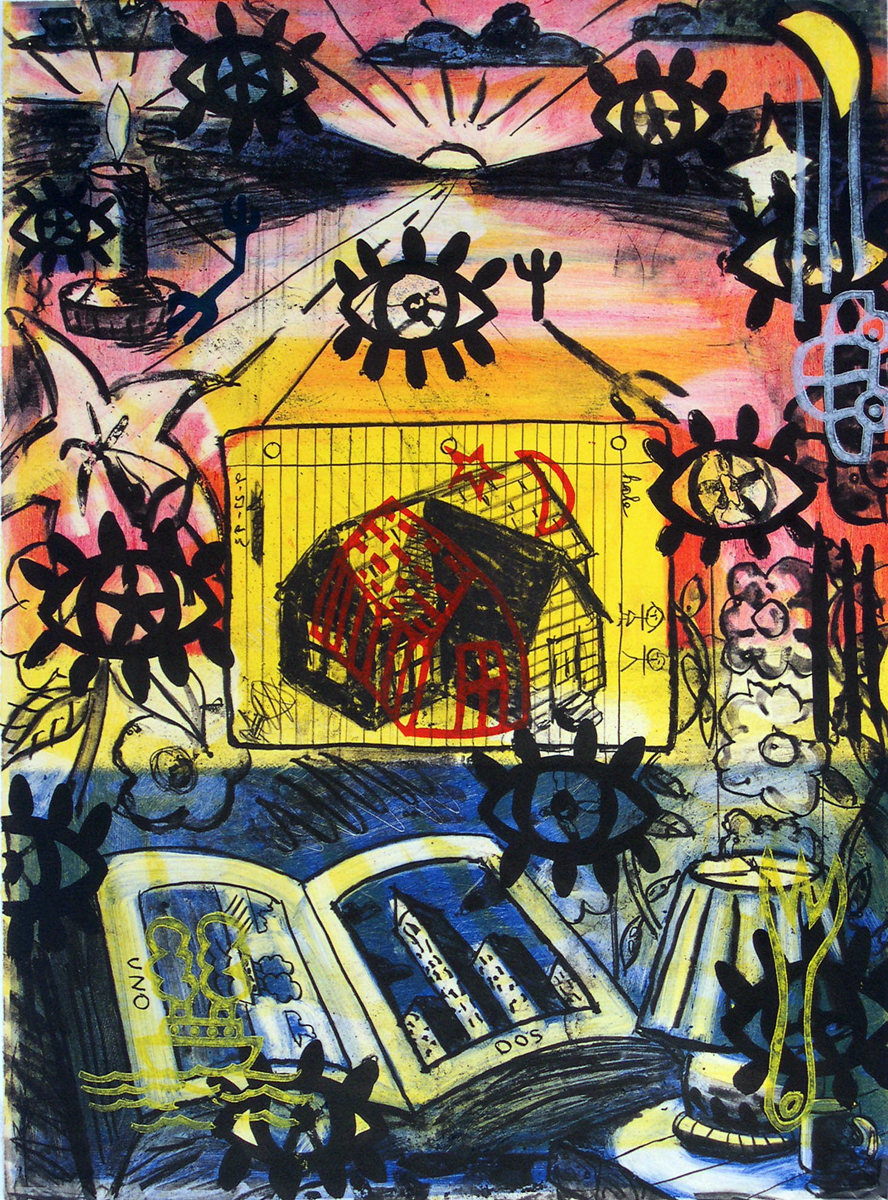 Omaha Notes
1993; color lithograph and relief printing; sheet: 30 3/8 x 22 (76.2 x 55.88);
unique edition V

Born 1948 in Philadelphia, Pennsylvania
"I want my art ," Hale observed, to be "a record of where I've been intellectually, emotionally, and physically." Like other lithographs in this series, "Omaha Notes" contains place specific imagery like the Henningson Memorial Campanile Bell Tower on the UNO campus and recurring images such as a candle in the upper left and an open book, which are found for example in "Travel Notes", a lithograph with linocut available through Flatbed Press. A graduate of the California State College at Long Beach (B.A., 1971) and the University of Illinois at Champaign/Urbana (M.F.A., 1973), Hale launched the Guest Artist in Printmaking Program at the University of Texas at Austin where he has taught since 1973.
---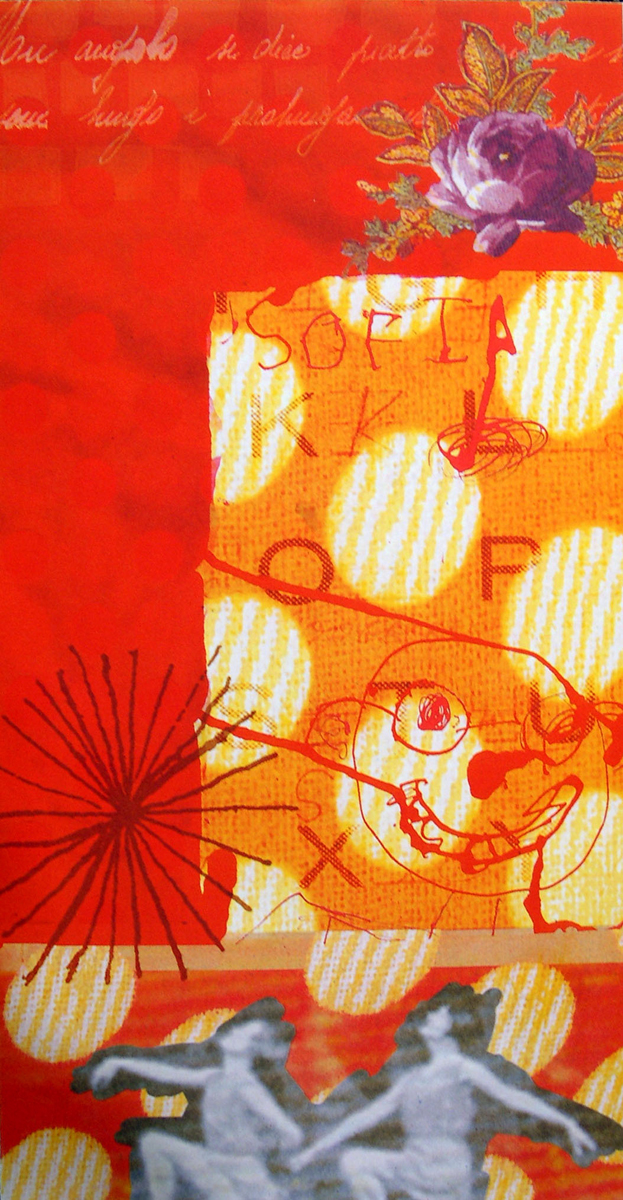 Dancers
2003; color lithograph on Rives BFK; sheet: 28 x 14 5/8 (71.12 x 35.56); edition of 30

The layering of imagery culled from eclectic sources—children's workbooks, coloring books, and cookbooks—helps Harshman call attention to "how we as adults fantasize about the innocence of childhood, how what is remembered is always better, more perfect, than what can be preserved from the past." The diving woman is one of several recurring images in her work. Harshman, who graduated from Cornell University in Ithaca, New York (B.F.A. 1987) and the University of Wisconsin at Madison (M.F.A., 1992), has taught printmaking at the University of Georgia since 1999. She worked with student assistants Melissa Corwin and Julie Sopscak and Professor Gary Day during her residency (October 27-31, 2003).
---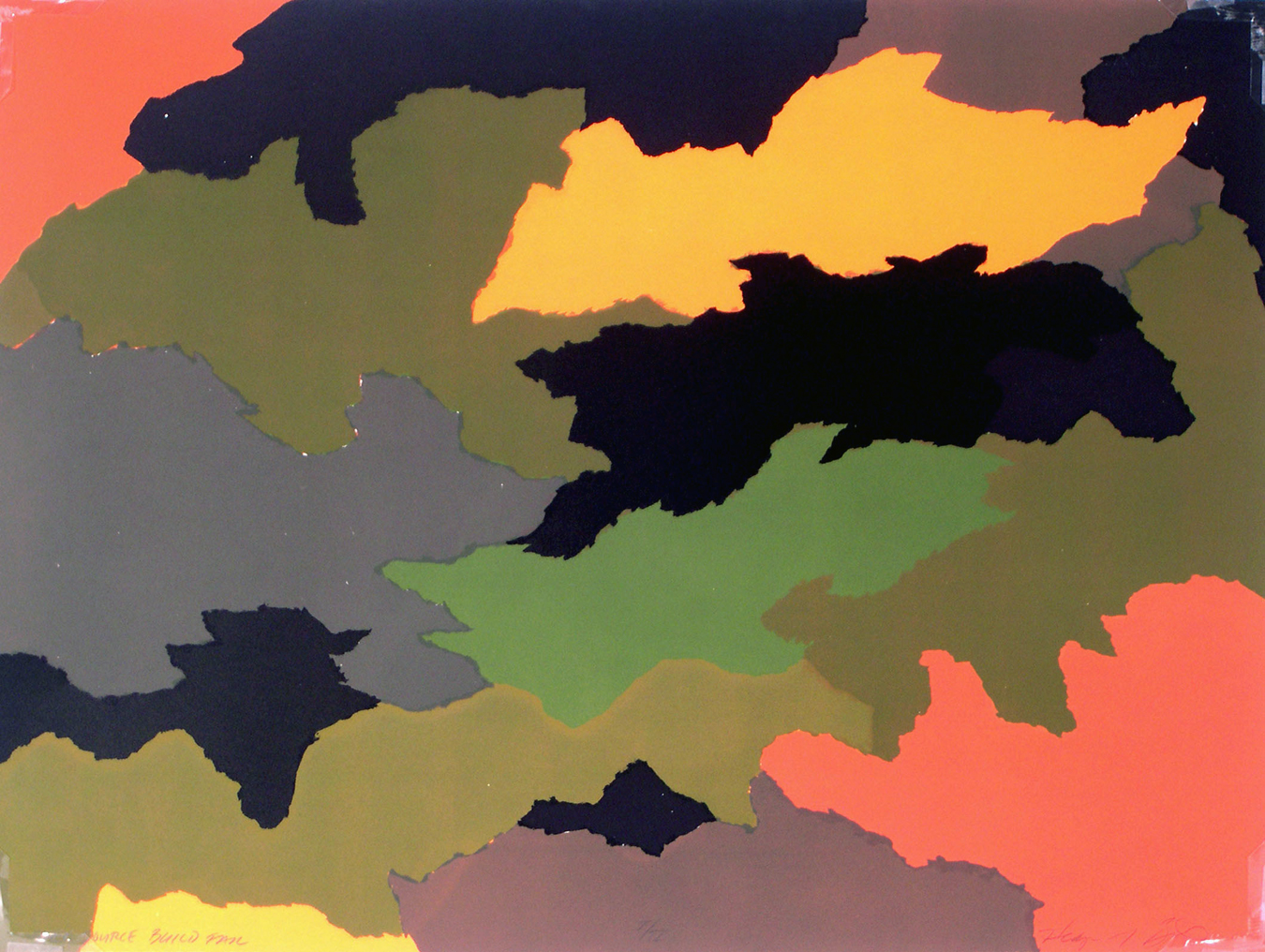 Seek Source Build Fail
1986; color lithograph; sheet: 22 1/2 x 38 (55.8 x 96.52); edition of 12

Born 1954 in Wichita, Kansas
In 1982, an agit-prop word piece by Edgar Heap of Birds appeared on a computer-controlled billboard located atop the old Allied Chemical building in Times Square. Along with fellow postmodernist Jenny Holzer, the Cheyenne-Arapaho artist was one of twelve selected for "Messages to the Public," a project co-sponsored by Spectacolor and the Public Art Fund of New York. The artist, who received a B.F.A. from the University of Kansas and an M.F.A. from Temple University in Philadelphia appeared in the I-80 series the same year. His installation at the Joslyn Art Museum consisted of four "word pieces," known collectively as "Understanding the Uniqueness of an Ethnic Entity"and "He Said, She Said" and composed of acrylic and die cut letters on wallboard. It also contained four large acrylic paintings with patterns reminiscent of military camouflage, but inspired by a bird's eye view of fallen leaves on the Cheyenne and Arapaho tribal reservation lands in western Oklahoma. The UNO edition completed in 1986 reproduces one of the paintings belonging to a series titled "Neuf", which is the Tsistsistas (Cheyenne) word for the cosmologically significant number four.
---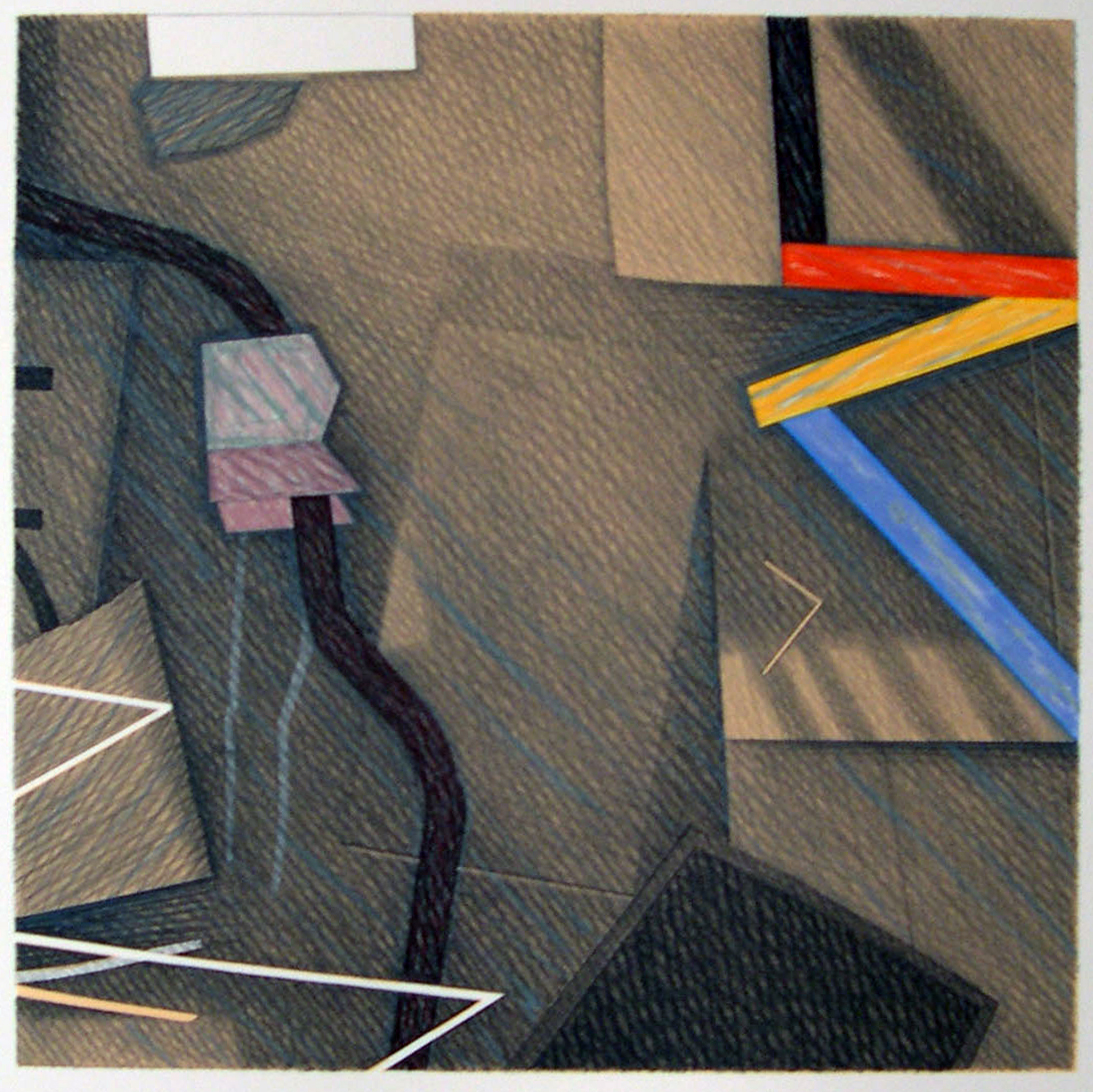 Lifeline Series
1981; color lithograph and hand coloring on Arches Buff; image: 15 x 15 (38.1 x 38.1), sheet: 22 3/8 x 22 3/8 (55.88 x 55.88); edition of 30
Born 1948 in Akron, Ohio
Sue Hettsmansperger, a Professor of Painting and Drawing at the University of Iowa since 1977, was trained at the University of New Mexico, Albuquerque (B.F.A., 1972 and M.A., 1974). This founding member of the feminist A.I.R. Gallery in New York City did not address gender directly in her work during the 1980s, when she painted finely shaded abstract patterns based on a tableau made of plastic, foam, and cut and folded paper. "This is going to be somewhat experimental for me, since I've never done a print in so short a time," she wrote Majeski shortly before her residency (April 5-12, 1981). The artist added watercolor hand coloring to each impression from the edition printed by students JoAnn K. Morrison, Margaret Litton, and Matt Garrean under the supervision of Richard Finch, whose chop stamp is in the lower left corner.
---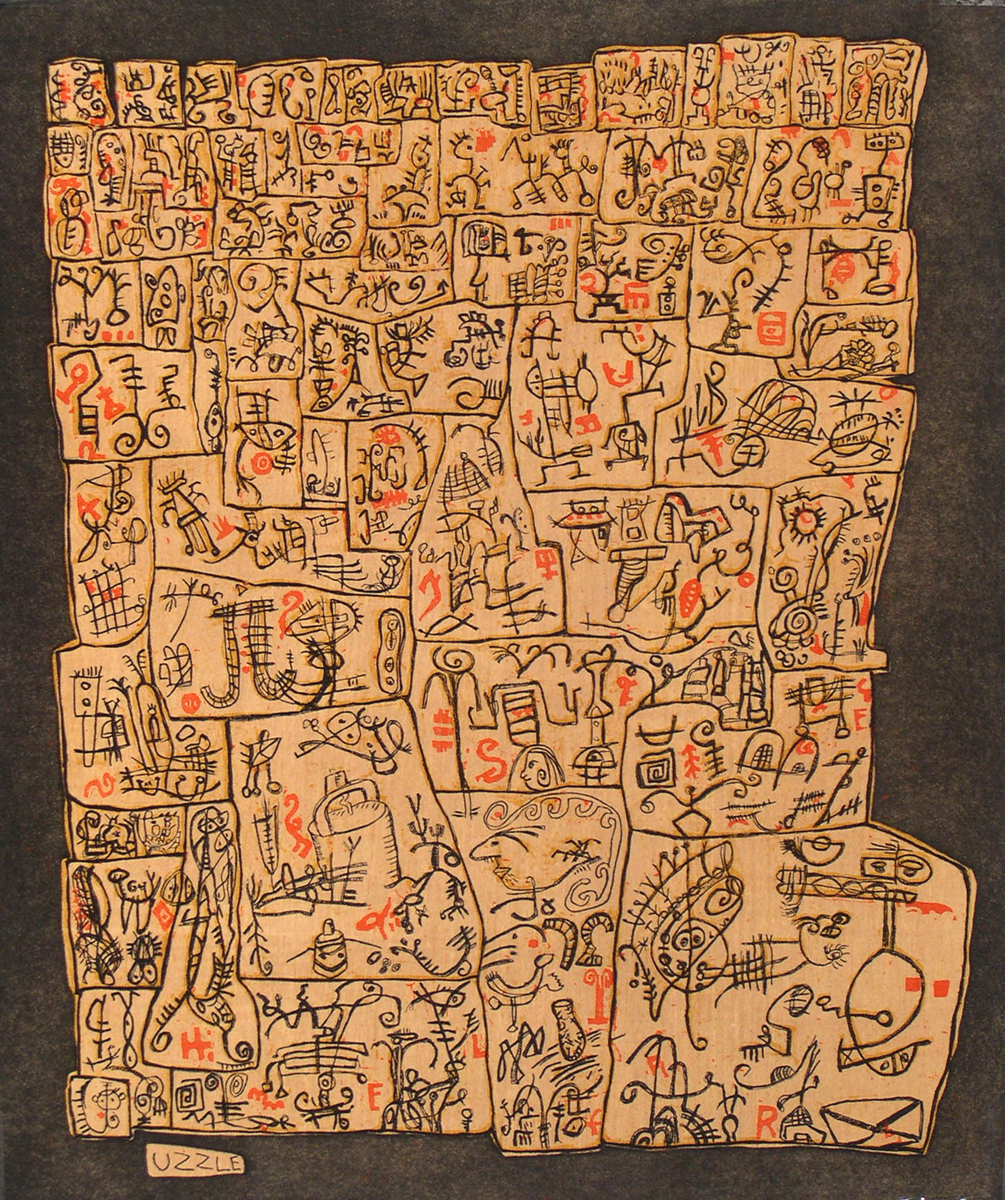 Uzzle
2001; color intaglio on Bluff Rives; image: sheet: 23 3/4 x 20 (60.325 x 50.8); edition of 25

Born 1946 in Chicago, Illinois
The Chicago-based artist John Himmelfarb is a master printmaker, working frequently and simultaneously with lithography, intaglio, serigraphy, and the computer. A distinctive calligraphic quality unites this work, and as John Brunetti has observed, it reflects his belief that drawing is "an extension of handwriting, closest to recording the immediacy of the artist's observations and states of mind; a fusion of verbal and visual language." Uzzle possesses the dense field of symbols and signs culled from Neolithic pictographs, Asian and Arabic alphabets and global religious symbols typically found in his prints. On February 16, 2001, the artist oversaw the printing by Gary Day using a plywood plate for the brown areas and zinc plates for the remaining colors. He was assisted by Julie Sopscak and Melissa Corwin.
---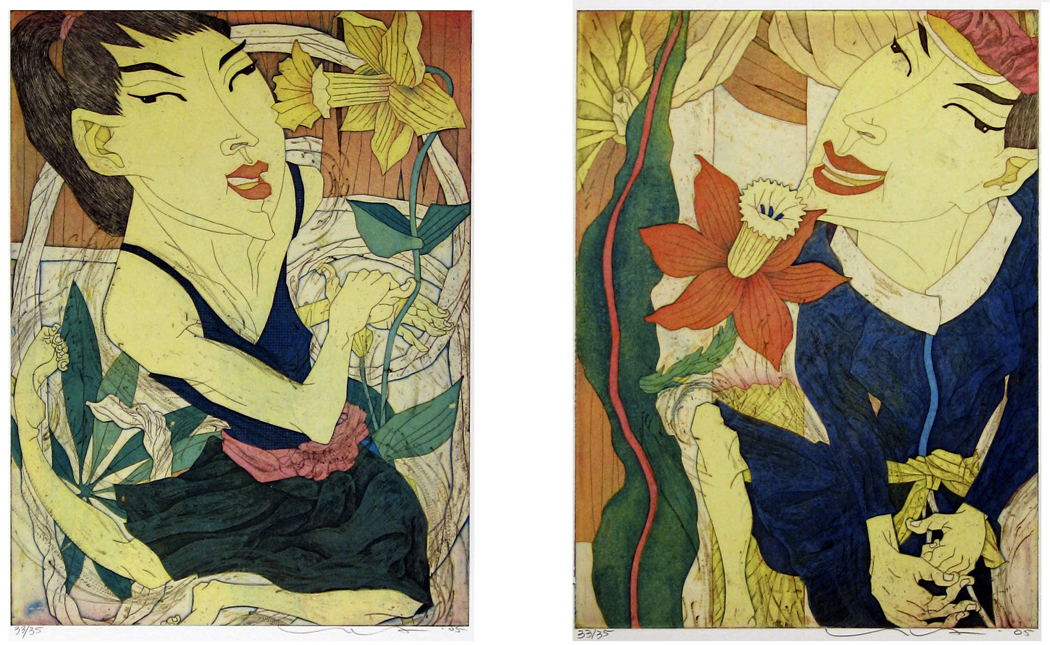 Levitation
2005; color intaglio and chine collé; image: 12x16 , sheet: 22 1/2x30 (30.5x40.6); edition of 30

Mystic Spell
2005; color intaglio and chine collé; image: 12x16 (30.5x40.6), sheet: 221/2x30 inches (); edition of 30

Born 1954 in Osaka, Japan
Yuji Hiratsuka, like Roger Shimorura before him, mixes west and east in his work, but with less emphasis on socio-cultural commentary and more placed of interplay of the visual effects achieved through old European engravings, which he collects, and the Japanese woodblock print. The artist, who studied at Indiana University at Bloomington (M.F.A., 1992) and is now Chair of the Art Department at Oregon State University, also favors a more intimate scale. The small intaglios produced during his residency (November 2-7, 2005) have an Asian theme, but the angularity of the small figures with enlarged heads and the treatment of space diverge from the conventions of 18th century Ukiyo-e prints.
---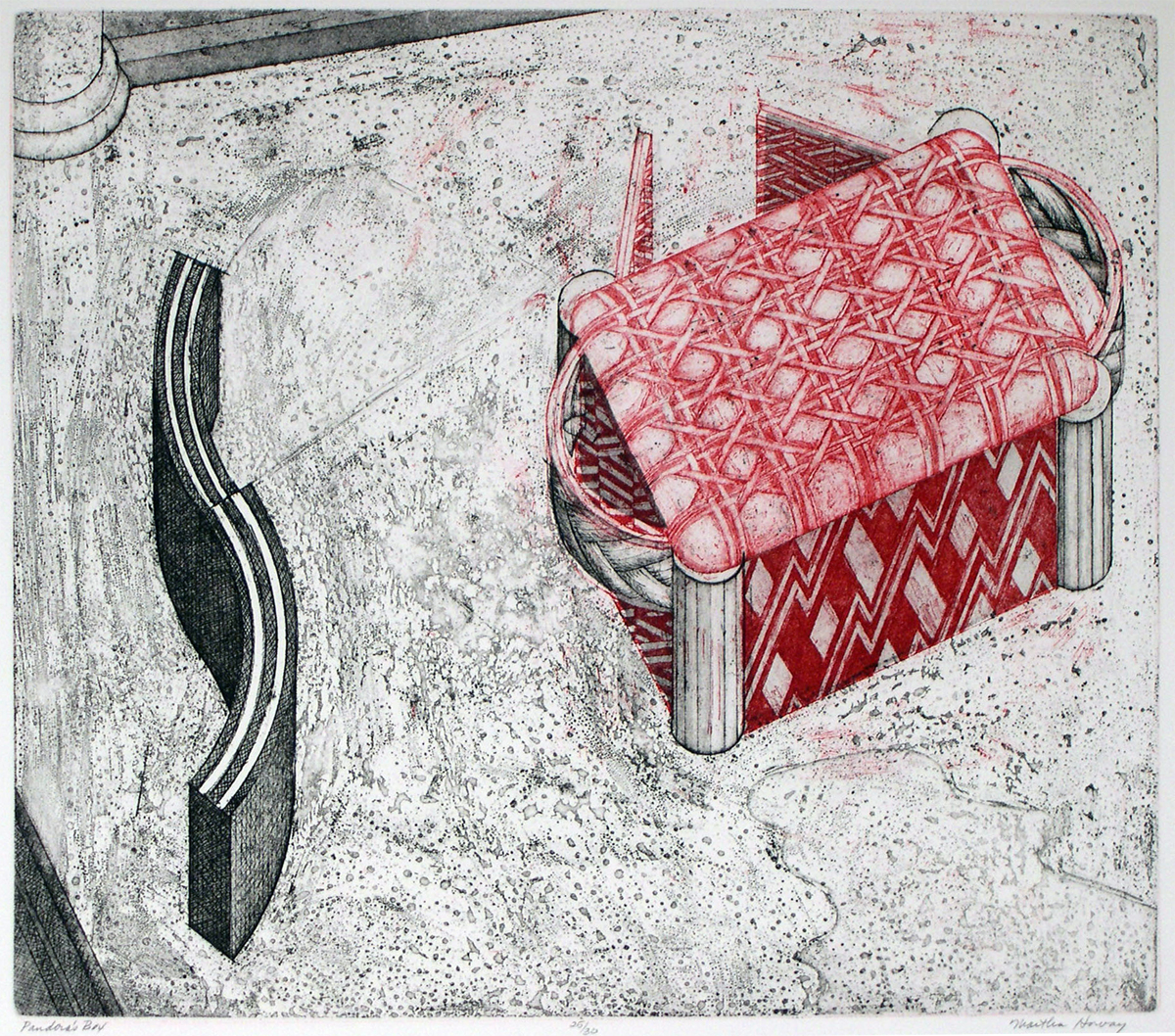 Pandora's Box
2000; color intaglio on Arches Cover; image: 17 1/2 x 19 3/4 (44.45 x 50.165), sheet: 22 1/2 x 25 (56.184 x 62.865); edition of 30

Born 1949 in Louisville, Kentucky
A four-time recipient of a Nebraska Arts Council Individual Artists Fellowship, Martha Horvay studied Industrial Design at the University of Michigan (B.S., 1971), before pursuing training in printmaking at the University of Louisville (M.A., 1974) and the Tyler School of Art at Temple University in Philadelphia (M.F.A., 1980). Between 1983 and 1998, she was faculty of the Department of Textiles, Clothing and Design at the University of Nebraska Lincoln. "Pandora's Box" begun during her residency (October 2-6, 2000) depicts a chest covered with a muted red and white pattern often seen in her paintings and it was drawn using axonometric perspective. Of her attraction to this method, she once explained, "lines stay parallel indefinitely to each, to one-another. No matter how far back they go they're still parallel, and what that does is it gives it a kind of awkward quality that's not true to life. It can look very wacky and distorted, but I really choose it for these distortions and it has a kind of childlike quality at the same time."
---
Veil
2002; digital ink jet on Schollershamer Velvet; image: sheet: 16 x 44 (40.64 x 111.76); edition of 25

Born 1950 in Omaha, Nebraska
Several students associated with the UNO Print Workshop have had much success as artists. Robert Hower, who received his B.F.A. from UNO and a M.F.A from the Cranbrook Academy of Art in Bloomfield Hills, Michigan is now the Director of Graphic Communication at the University of Texas at Arlington. The Joslyn Art Museum and Sheldon Memorial Art Gallery in Nebraska as well as museums across the nation have exhibited his prints and interactive computer generated projects, which have also appeared at the Videotex National Conference in New York City and Imaging the Past with Computer Graphics at The British Museum in London. During his residency (October 15-17, 2002), he worked with Gary Day and UNO students Julie Sopscak and Melissa Corwin on a panoramic abstract composition created digitally.
---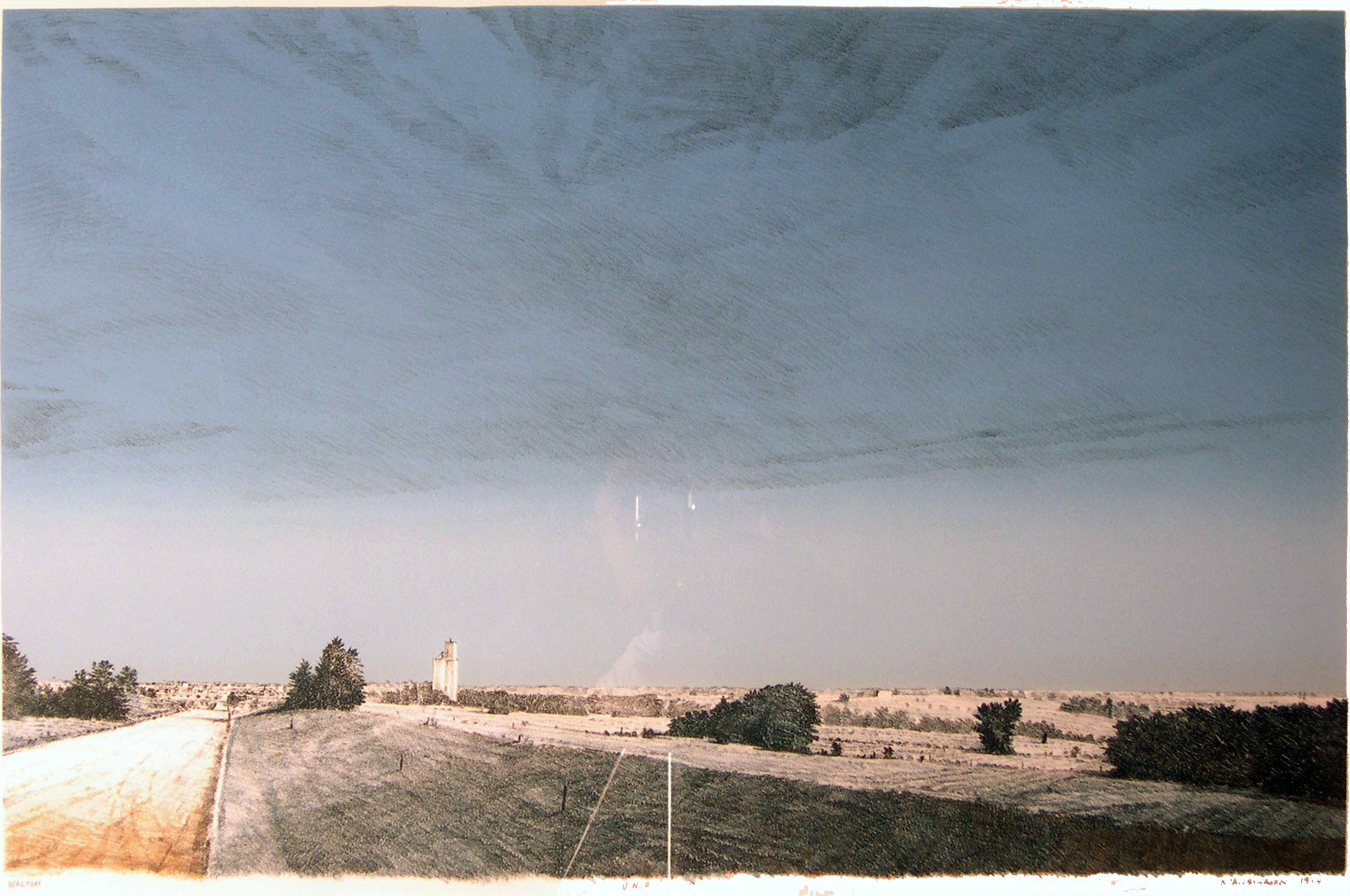 Walton
1984; color lithograph; image: 18 1/8 x 27 7/8 (45.72 x 68.58), sheet: 22 1/4 x 30 1/8 (55.88 x 76.2); edition of 30

Born 1941 in Wichita, Kansas
Jacobshagen, a Professor of Painting at the University of Nebraska Lincoln and graduate of the University of Kansas (M.F.A., 1968) has painted plein air landscapes in watercolor since 1969. His favorite haunts have been the Salt Valley area outside Lincoln as well as along the Platte River and in the Missouri Valley region. The date and location as well as temperature and time are noted in pencil on each study. This plein air work is then reworked into large-scale oil paintings and prints that provide "not a portrait of a definite place at a definite time, but of an ideal place at an ideal time." Between October 9 and November 1, 1984, Jacobshagen drove up from Lincoln to participate in a VAP residency and to work with printer Richard Finch on the edition. Students Richard Brown, Wendy Wiggs, and Sally Moluf helped with the printing. "I meant to write this note a month ago and thank you for the great time I had with the print workshop. The time spent working on the stone plus the added pleasure of getting to know you and Gary made the experience a very good one. I can certainly understand why the UNO Print Workshop has such a solid reputation."
---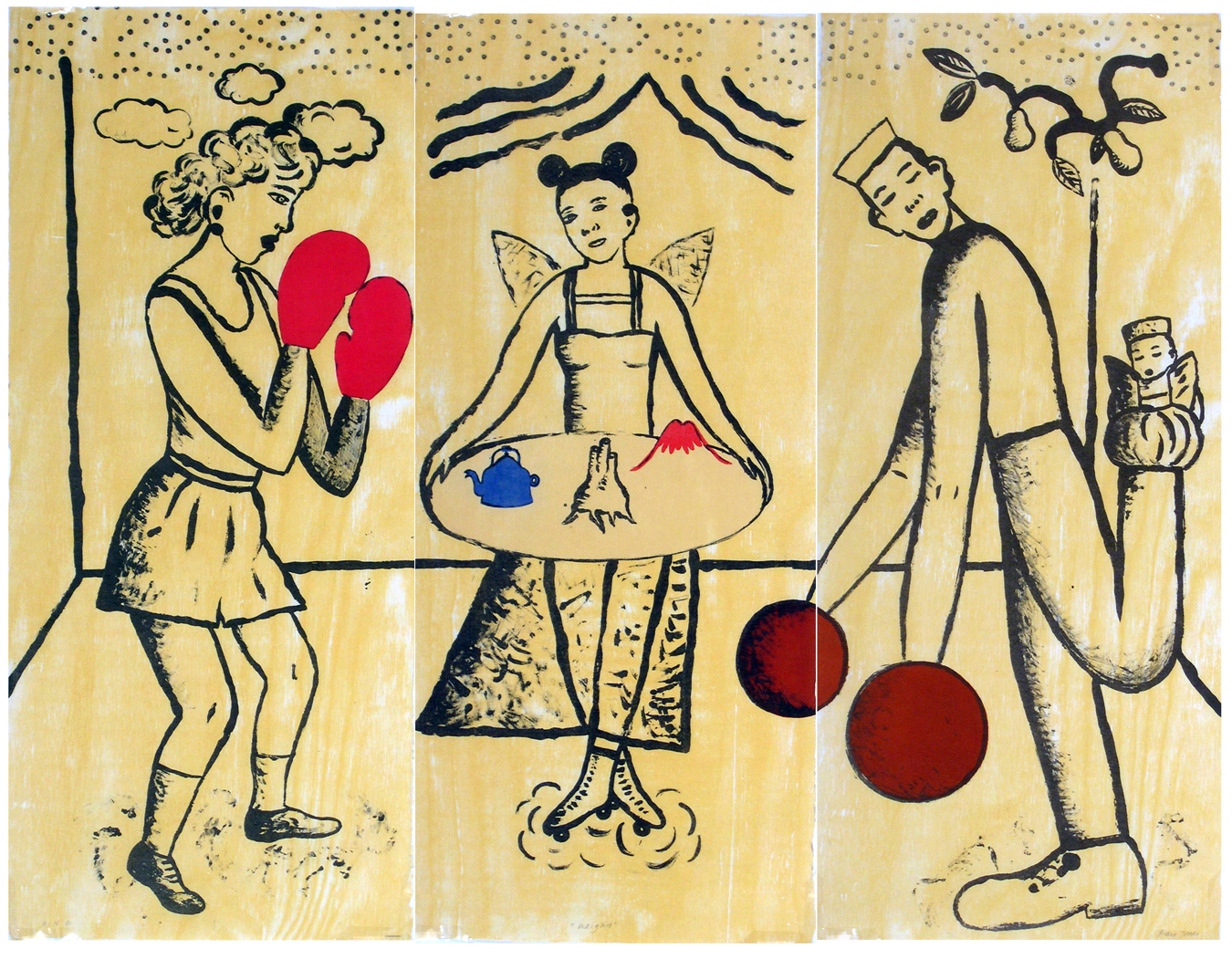 Weights
1993; color lithograph and woodblock triptych on Okawara Handmade; sheet (each panel): 34 x 14 3/4 (86.36 x 35.56); edition of 25

Born 1936 in Boston, Massachusetts
Fay Jones, who studied at the Rhode Island School of Design (B.F.A., 1957), put her career on the backburner after her husband, the painter Robert Jones, took a teaching position at the University of Washington in 1960. Today, the Seattle based artist has a strong following in the Pacific Northwest and has received broader recognition through national exhibitions and her receipt of N.E.A. fellowships in 1983 and 1990. Interestingly enough, 18th century courtship scenes painted by Antoine Watteau inspired Jones, who depicted the theatrics of loves won or lost not through the elegant dances of the "fete galante," but as a battle of the sexes in a boxing arena. In the triptych editioned by Gary Day and student assistant Jaime Hackbart, the woman wearing boxing gloves originates from "Self-Portrait: Braque Boxing", for which she appropriated the pose struck by the French painter in a 1910 photograph. Her opponent is the anchor shaped sailor, a man that rarely stays in port long. The boxer throws the knockout punch. Standing on one leg and with dead weights for hands, her lover appears on the verge of falling over and incapable of fight back.
---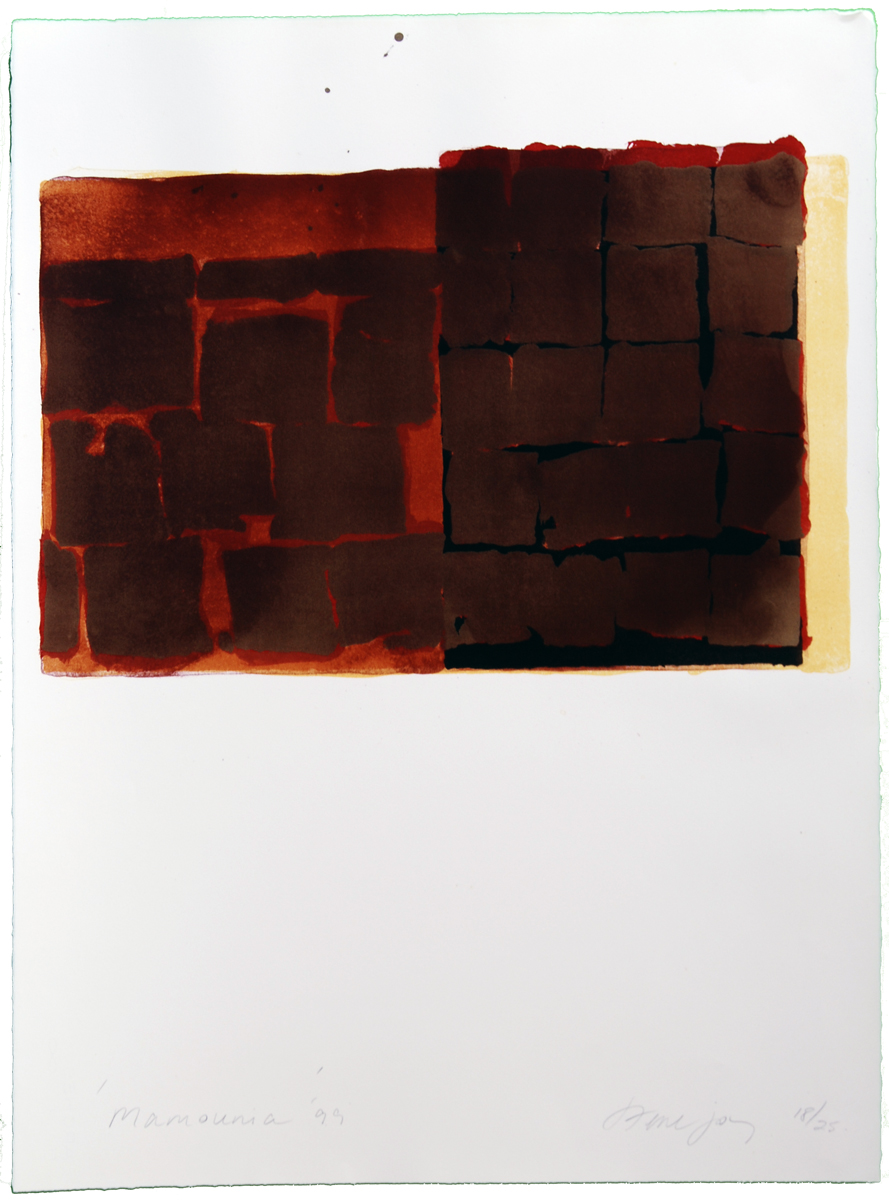 Mamounia
1999; color lithograph on Arches; sheet: 30 x 22 (76.2 x 55.88); edition of 25

Born 1952 in Plymouth, England
Since completing his education at the Cardiff College of Art (1975), the Exeter College of Art, (B.F.A., 1979) and the Chelsea College of Art (M.F.A., 1980), Steve Joy has taught in Europe and worked as a Curator and Exhibitions Director at the Bemis Center. Following Joy's Visiting Artists Program residency, Gary Day and student Marc Manriquez printed Mamounia, which is related to the "Oriental Hotels" series exploring the fading grandeur and lingering spirit of colonial hotels in the Middle East and Asia. La Mamounia is a hotel in Marrakech, Morocco. Joy's inspirations include Russian Orthodox icons and the spiritually infused abstractions of Barnett Newman and Mark Rothko. In June 2008, "Uncreated Light: Steve Joy Paintings, 1980-2008" opened at the Joslyn Art Museum in Omaha where he lives when not in London.
---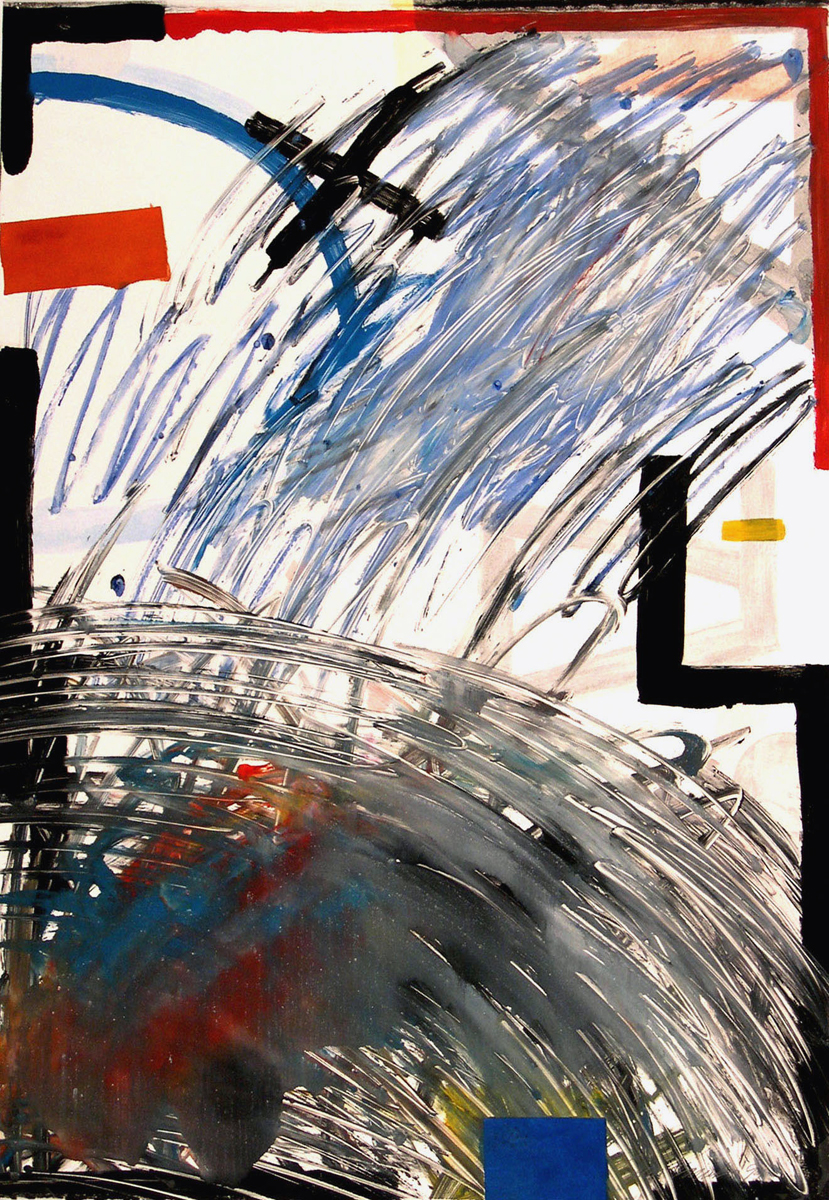 Untitled 1
1995; sheet: 45 1/4 x 31 3/8 (114.3 x 78.74); unique, monotype

Born 1942 in Nagoya, Japan
Before settling in Omaha, clay artist Jun Kaneko studied at the University of California at Berkeley (1966) under Peter Voulkos. Both artists are associated with the "American Clay Revolution" that emphasized sculptural approaches to ceramics rather than adherence to the traditional function bound uses of clay. The monotypes created as part of a Visiting Artist Program residency at UNO are similar to the "Hawaiian Series", six large-scale oil-stick drawings on rice paper resulting from a trip to Kauai, Hawaii in the winter of 1995. The scribbling lines, areas of stripes, and other surface patterns are also found on his glazed ceramic sculptures, the dangos. "There is, however, one important difference," observed John Perreault, who explained, "The surface decoration of the sculpture tends to flatten them, whereas the oil-stick lines or shapes on paper read as three-dimensional. The sculpture alludes to the two-dimensional and the drawings allude to the three-dimensional; the two tactics are mirror images. The drawings are quasi-representational, and perhaps the sculptures are not as abstract as one might first assume."
---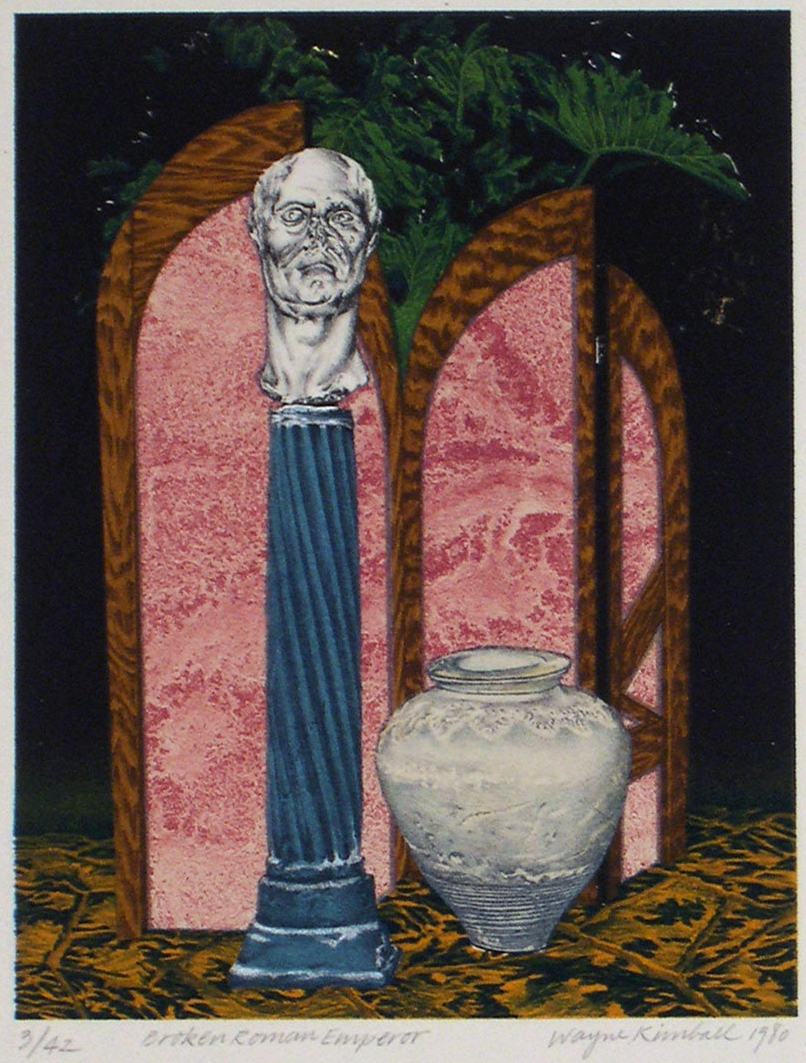 Broken Roman Emperor
1980; color lithograph on German Etching White; image: 6 1/8 x 4 5/8 (15.24 x 10.16), sheet: 15 x 11 (38.1 x 27.94); edition of 42)

Born 1943 in Salt Lake City, Utah
Following the completion of his education at Southern Utah State University (B.A., 1968) and the University of Arizona (M.F.A., 1970), Kimball received two fellowships to study at the Tamarind Institute in Albuquerque, New Mexico. He was teaching at Arizona State University at the time of his UNO residency (September 29-October 3, 1980). While on campus, he worked with students James Hejl and William Zuelke and Professor Gary Day on an edition related to the Roman Emperor print series then on view at the UNO Art Gallery. Kimball's artist statement explained that his preference for "high finish" and "small, intimate formats over larger ones" was a conscious rejection of the Abstract Expressionist and Pop artworks he had studied in graduate school and also stemmed from "a boyhood of viewing art in reproduced form in books and magazines rather than in actuality on gallery and museum walls."
---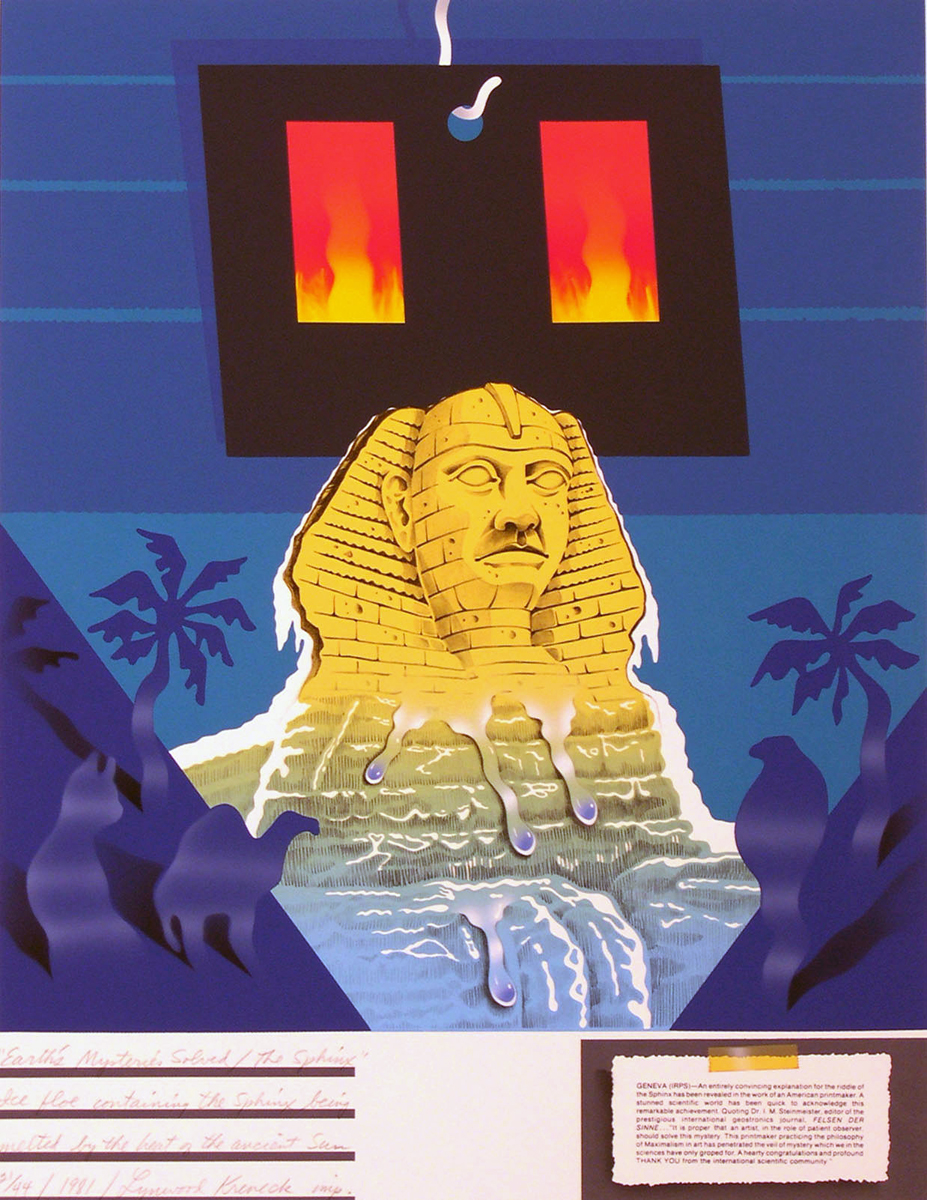 Earth's Mysteries Solved / The Sphinx: Ice floe containing the Sphinx being melted by the heat of the Ancient Sun
1981; color serigraph, lithograph, screen and air stencil on Arches 88;image: 23 7/8 x 18 3/8 (58.42 x 45.72),sheet: 28 1/4 x 22 1/4 (71.12 x 55.88); edition of 44

Born 1936 in Kenedy, Texas
A Professor Emeritus of Printmaking at Texas Tech University in Lubbock, Texas, Lenwood Kreneck studied lithography and etching at the University of Texas, Austin (M.F.A., 1965 and B.F.A., 1958). He has devoted his career, however, to the silkscreen process. While on campus (September 28-October 2, 1981), he lectured on his development of non-toxic water-based inks as well as taught students how to build the wood frames needed to screen print. Students James Hejl and JoAnn Morrison helped with the printing of a work from "Earth's Mysteries Solved", a series revealing the influences of Pop art, advertising art, comic books, and very colorful cardboard toys. In this series, Kreneck portrayed the artist as an "archeologist" or sleuth intent on discovering the truth behind the building of the pyramids and Stonehenge, as well as curiosities like the Bermuda Triangle, the Lock Ness monster, and flying saucers. Each print contains a faux "newspaper release in which the international scientific community expresses its gratitude to this artist for penetrating the veil of mystery surrounding the puzzle that has been solved."
---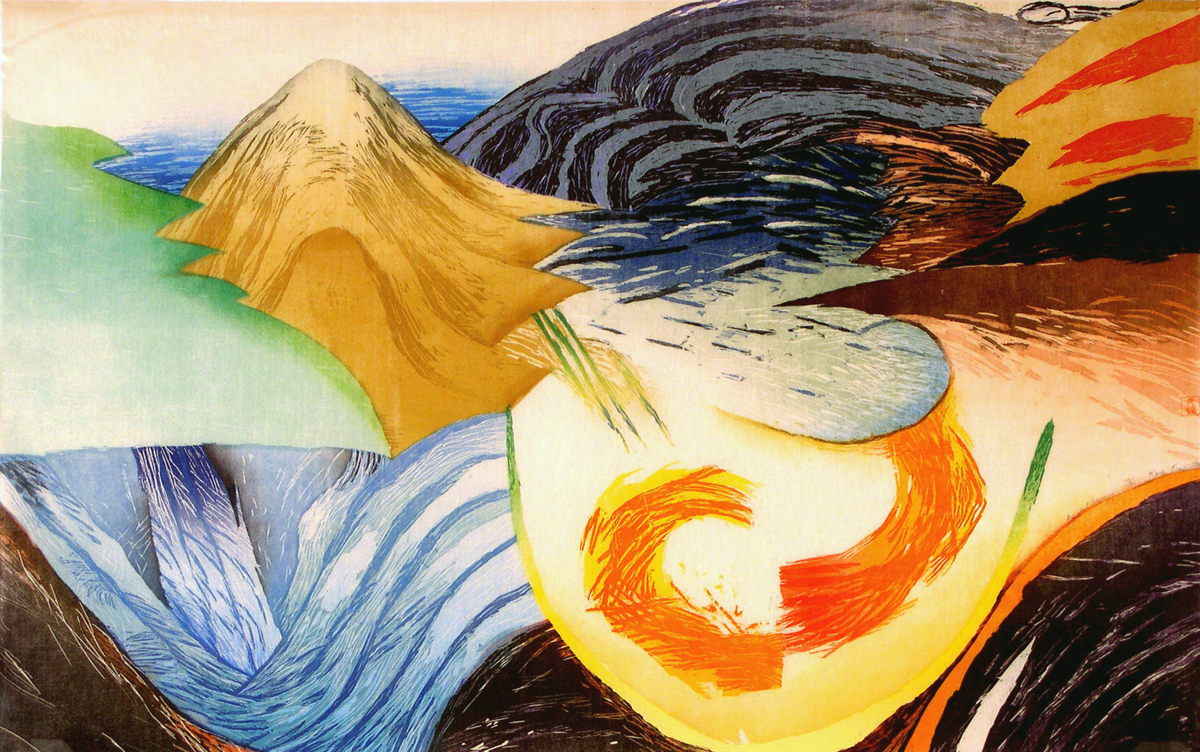 Ancient Geology
1987; color woodcut on Kaji Natural 100% Kozo Paper; sheet: 24 1/2 x 39 (61.87 x 98.42); edition of 30

Born 1952 in Omaha Nebraska
Nebraska born artist Karen Kunc completed her graduate studies in painting and printmaking at Ohio State University (M.F.A., 1977) and then returned home in 1985 to teach printmaking at the University of Nebraska Lincoln, her undergraduate alma mater (B.F.A., 1975). Since this time, the Great Plains landscape in and around her home in Avoca, Nebraska has infiltrated her imagery and inspired her palette. Primeval geology, however, also intrigued the artist at the time of her residency when she worked with UNO student Wendy Wiggs on the first four runs of the edition. The artist's chop is on right side edge. The recipient of the 2000 Governor's Art Award, Kunc is known internationally for her color reduction woodcut process, which requires a single woodblock carved, inked, and printed in successive stages rather than one block for each color as required for a traditional color woodcut print. She demonstrated her process during an interview with Graham Beal, former director of the Joslyn Art Museum, which was broadcasted on NET State Wide on August 30, 1993.She produced two sets of three woodblocks, also inspired by rural Nebraska landscapes, for the 1992 Abattoir Editions release of Ron Hansen's short story Nebraska. Kunc and UNO professor Bonnie O'Connell hand printed the edition of 500 copies under a grant from the National Endowment for the Arts. In 2007, Karen Kunc was awarded the Printmaker Emeritus Award by the Southern Graphics Council which coincided with a 30 year retrospective exhibition at the Leedy Voulkos Art Center in Kansas City.
---

Ripple, Hasta las Piedras—Hasta las Quillas, and Boreas(triptych)
1994; color lithography; sheet (each side panel): 11 1/8 x 14 1/4(27.94 x 35.56); sheet (center panel): 20 1/4 x 16 (50.8 x 40.64); edition of 30

Born 1950 in Marfa, Texas
"Madrid's art seems to be saying that enough space does exist in the world for all languages, all points of view, all people," notes Sandy Daliatore of the printmaker's markings derived from world alphabets, pictographs, editing marks, and scientific notations. Hovering between the non-representational and readable in fields of flux, these markings are used by the artist as a metaphor for life's travels and more specifically, the dynamic being "experienced history and recounted history," and "the structure and the use of language, conversation, and storytelling." The Indiana University graduate (M.F.A., 1981) is now a Professor of Printmaking at the University of New Mexico in Albuquerque.
---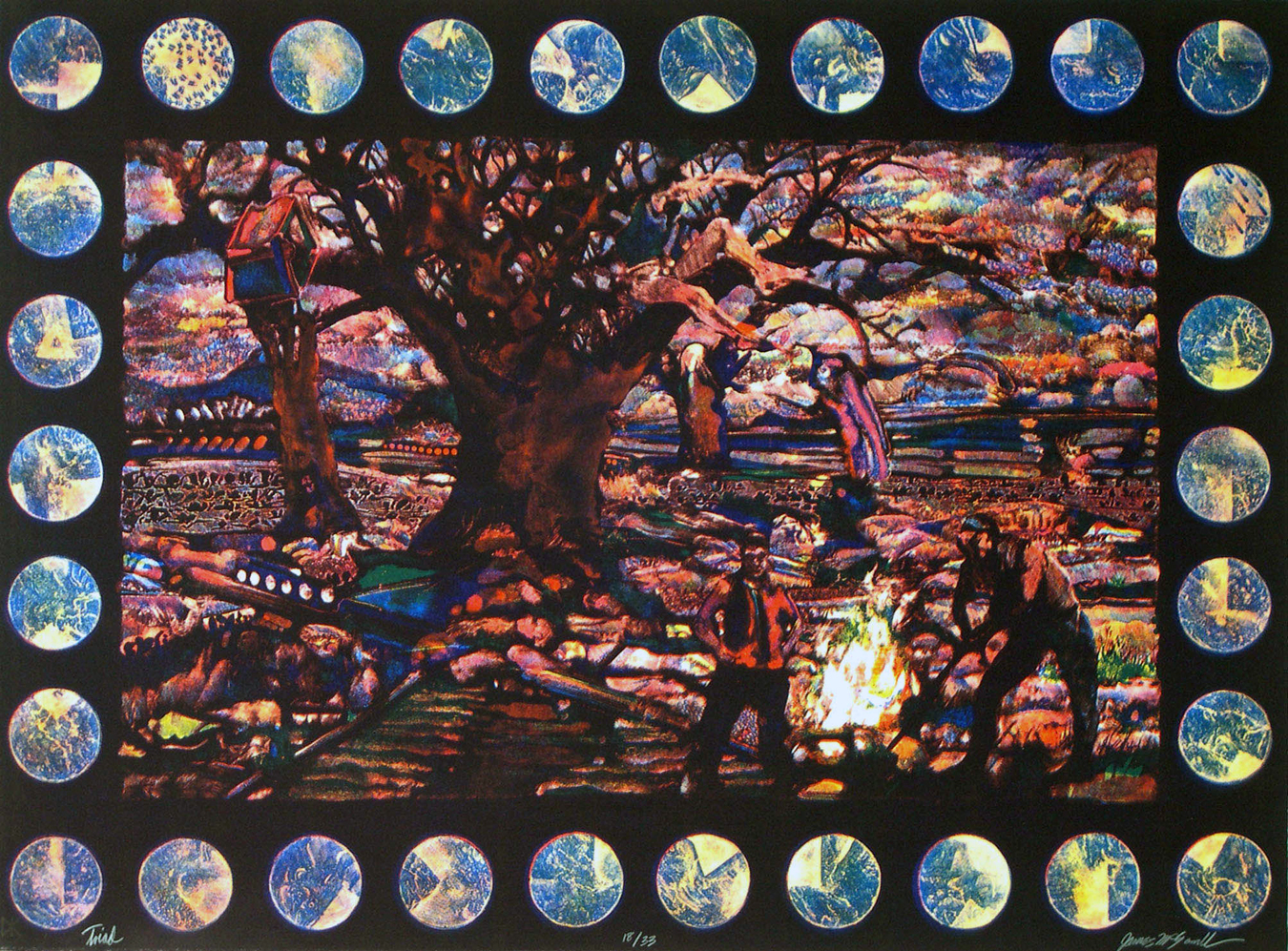 Triad
1980; color lithograph on Rives Grey; sheet: 22 3/8 x 30 (55.88 x 76.2); edition of 33

Born 1930 in Indianapolis, Indiana
The Washington University Professor Emeritus James McGarrell taught graduate painting for more than 20 years at Indiana University in Bloomington, where he earned his B.A. Following the completion of his M.A. at the University of California in Los Angeles, curator Peter Selz selected one of his paintings for the controversial "New Images of Man" exhibition held at New York's Museum of Modern Art in 1959. Two decades later, when this highly honored and internationally recognized figure painter was in residence at UNO (November 10-18, 1980), exhibitions such as "Since 1980: New Narrative Paintings" organized by the Metropolitan Museum of Art in New York discussed his work within the context of postmodern expressionism.
---
Wolfbat Railway
2011; relief and silkscreen on plywood and paper; 96" x 90" x 42", unique print)

Born 1972 in Virginia Beach, Virginia

Dennis McNett is the artist/founder of Wolfbat Studio in Brooklyn, New York. Dennis is a relief and silkscreen printer who produces large scale wood and paper sculptural prints in addition to traditional editions. Dennis is also known in the skateboard world for his skateboard and shoe designs. His work has been featured in "Juxtapoz" and "Bliss" magazines and the New York Times. He was invited to design and display his work in the windows of Barney's Fifth Avenue Store for the summer of 2011.

To Dennis an artist's residency is an opportunity to stage an event. At UNO Dennis built an engine for the Wolfbat Railway. The engine is constructed from plywood and paper and printed with relief prints and silkscreen prints. The students built oversize western hats to complement the train and a parade was organized to move the train to its temporary display site in Mammel Hall.
---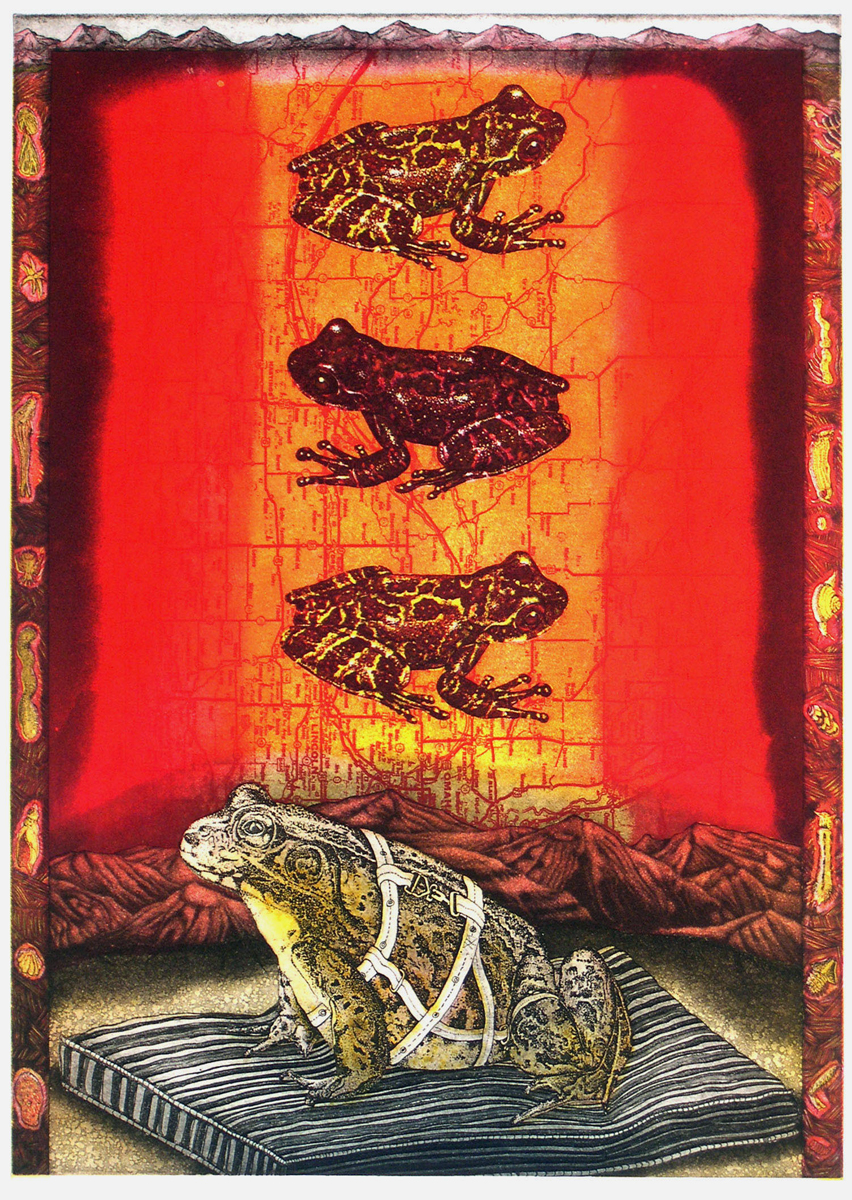 Frogman Arrives in Nebraskaland
1978; color intaglio; image: 22 3/4 x 16 1/4 (57.785 x 42.545), sheet: 29 1/8 x 22 1/2 (73.964 x 57.15); edition 30

Born 1938 in Omaha, Nebraska
In 2005, Menard was the recipient of the UNO Art and Art History Department's Distinguished Alumni Award. In the same year, his contributions to arts education over three decades at the University of South Dakota were recognized through his receipt of the College Art Association's Distinguished Teaching of Art Award and the Southern Graphics Association's 2005 Excellence in Teaching Printmaking Award. Menard has also contributed significantly to the collaborative press movement on university campuses through Frogman's Print and Paper Workshops, an annual summer workshop attracting students and professors of printmaking from around the country since 1979, and through Frogman Press and Gallery, which he opened in Beresford, South Dakota in 1994. The Frogman is the artist's alter ego and through its pejorative reference to the frog calls attention to his French heritage. Menard is an avid collector of frog related knick-knacks. In 2005, UNO Art Gallery exhibition "Frogman Prints: Frogman Collects" featured three decades of prints created by Menard, his students, and his collaborators. During his residency at UNO in 1978, Menard demonstrated his considerable skills as an intaglio specialist.
---

Harvest Tracks 1 through 4
1986; lithograph on Rives BFK; sheet: 35 x 24 (88.9 x 60.96); edition of 25

Born 1944 in Long Beach, California; died in New York City on July 28, 2006
At the time of his residency at UNO (April 1-3 and June 23, 1986), Richard Mock was known for his Linocut Social Commentary Prints, which appeared in the editorial pages of the New York Times between 1978 and 1996. Prints of this type could be seen locally at Gallery 72 run by Robert D. Rogers. The four lithographs printed by Gary Day and students Sue Sudbeck and Wendy Wiggs represent a new abstract turn for the artist and the results, observed Timothy Cohrs of Arts Magazine (April 1986), was "a kind of five-legged figure and a hairy plate, but also a wry comment on '50s design forms and on neo-primitivism."
---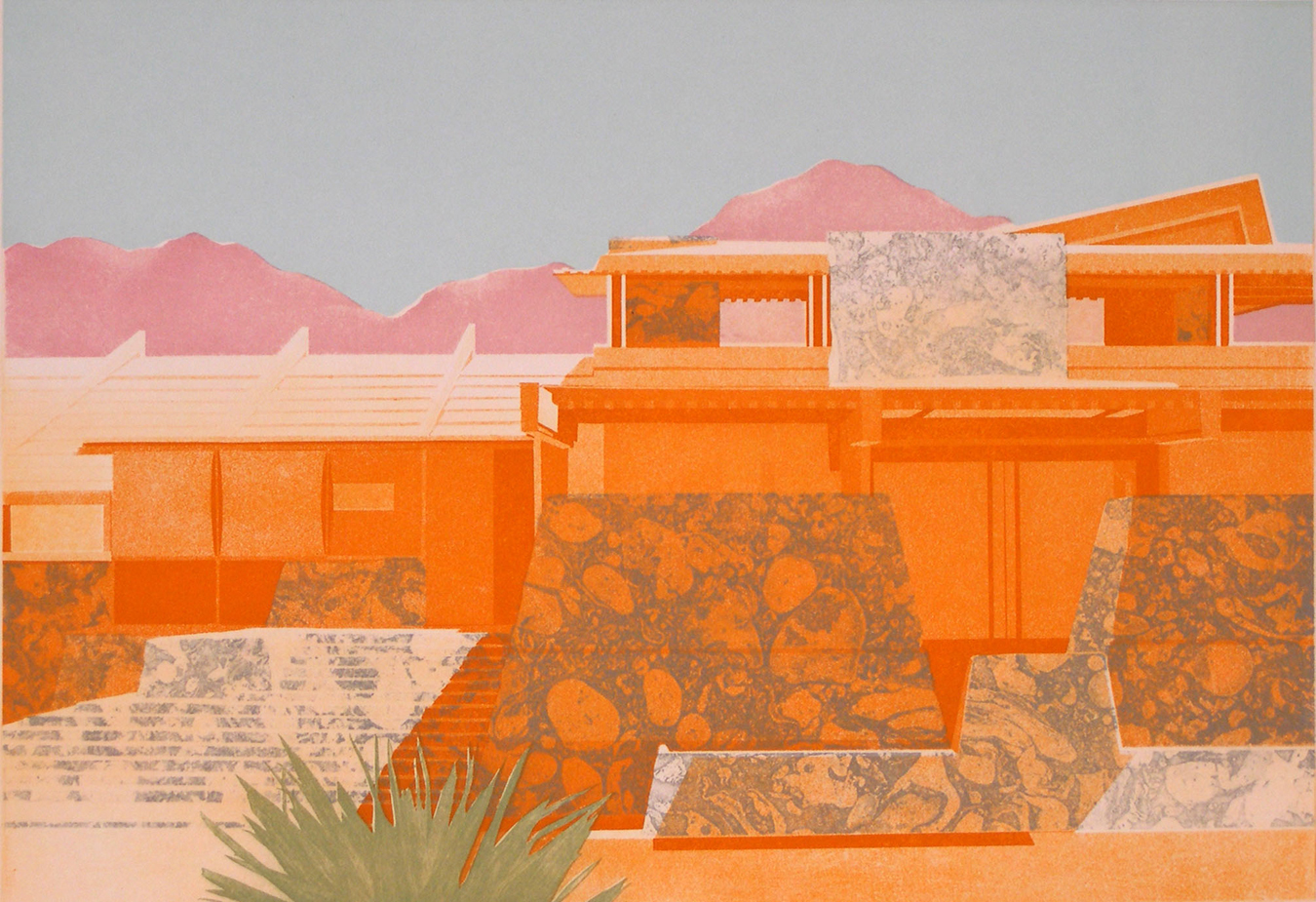 Taliesin West—Another View
1980; color intaglio on Newsprint Gray Rives; image: 13 3/4 x 19 3/4 (34.925 x 50.165), sheet: 21 3/4 x 29 7/8 (55.245 x 75.793); edition of 35

Born 1936 in Racine, Wisconsin
Frances Myers, who earned two degrees at the University of Wisconsin at Madison (B.S., 1962 and M.F.A.,1965), joined the faculty there in 1988. Students Barbara Davies, Beth Davis, and Mark Niemeyer helped Myers print during her residency (April 7-12, 1980). "Please thank the whole printing crew for me again—they were all so good. And especially thank Barbara for waiting on me hand and foot. I was spoiled when I returned," wrote Myers, who added, "It was a very good week for me—I've never done a print so fast!" The resulting edition belongs thematically to a portfolio of aquatints and intaglios commissioned by Karen Johnson Boyd of the Perimeter Gallery in Chicago in 1977 and published in 1980. The renderings of such notable buildings as the Unity Temple in Chicago and the Guggenheim Museum in New York City were more than mere illustrations. Instead, Myers used Wright's designs as a "catalyst" for her own exploration of "flat shapes defining mass, and the rhythmic patterning of structural elements." The published portfolio includes an intaglio titled "Taliesin West" (1979). Three aquatints and three intaglios, including the one editioned at UNO, are related to this theme, but are not a part of the portfolio.
---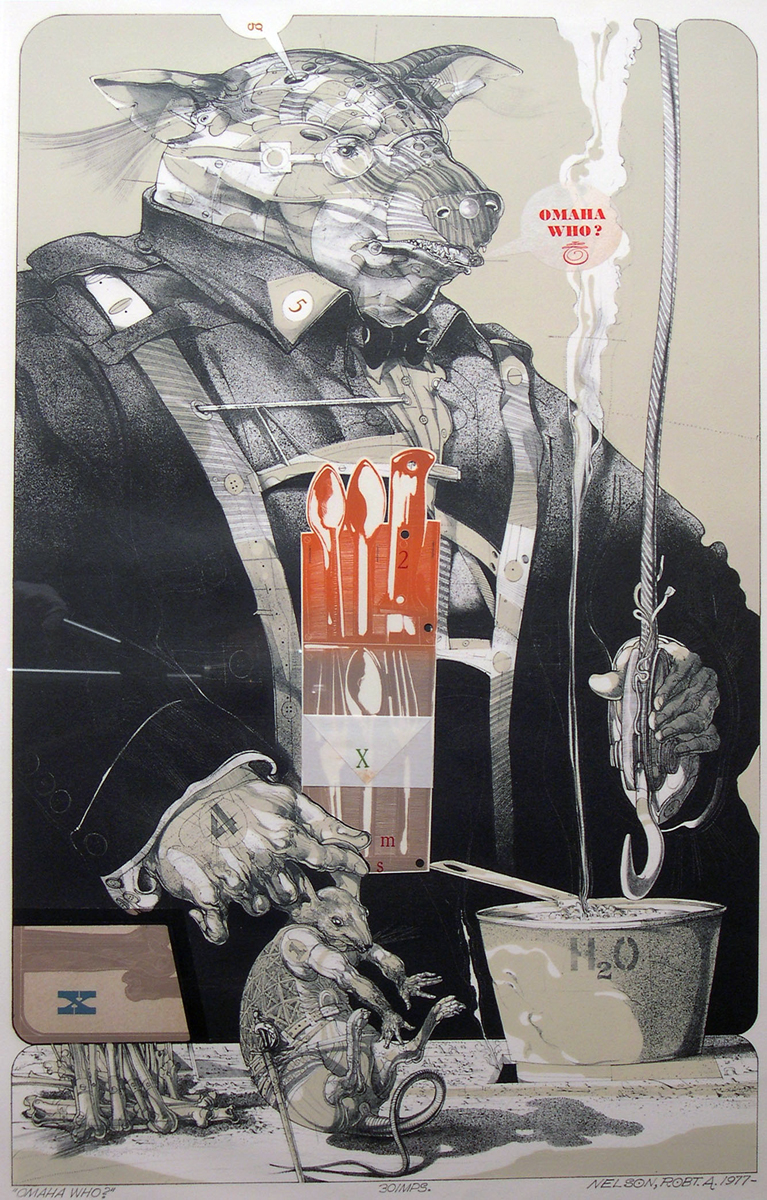 Omaha Who?
1977; color lithograph, chine collé and letterpress; image: 33 1/4 x 21 1/4 (83.82 x 53.34), sheet: 37 1/2 x 25 3/8(93.98 x 63.5); edition of 30

Wet Suit
1977; color lithograph, chine collé and letterpress; image: 32 1/4 x 21 3/8 (83.82 x 53.34), sheet: 37 1/2 x 25 3/8 (93.98 x 63.5); edition of 30

Born 1925 in Milwaukee, Wisconsin
Nelson's November 23 to December 18, 1977 residency occurred at the time when he was teaching at the University of North Carolina at Chapel Hill while simultaneously completing a doctoral degree at New York University. He was a well-established artist represented by the Banfer Gallery in New York City. Art audiences in Omaha were already familiar with his work featured in a 1965 drawing exhibition at the Joslyn Art Museum and in 1974, "Rockets, gadgets, mechanical soldiers and menacing insects" at Creighton University featured his more recent prints and drawings containing depictions of Washington and Lincoln, Annie Oakley and George Armstrong Custer, Billy the Kid and Dillinger. Before his arrival, the UNO Art Gallery displayed these prints notable for their imagery gleaned from American history and popular culture. His work was self-consciously out of step "with the grand modern movements of the middle 20th Century" and, as he once explained, "shot through with the last dying vestiges of surrealism, cheap illustration, and the qualities of calendar and tobacco can advertisements." Nelson's prints are darkly humorous, menacing, and disturbing. Perhaps the most startling or unorthodox aspect of "Wet Suit" was its creation. The nude body of UNO ceramics major Denise Downy was inked by the artist and then rolled on the litho stone with the help of his four male assistants. Majeski used Nelson's visit as an opportunity to develop his facilities by purchasing lithography stones. Nelson printed two editions, thereby producing more impressions for UNO to sell to cover the cost of these stones.
---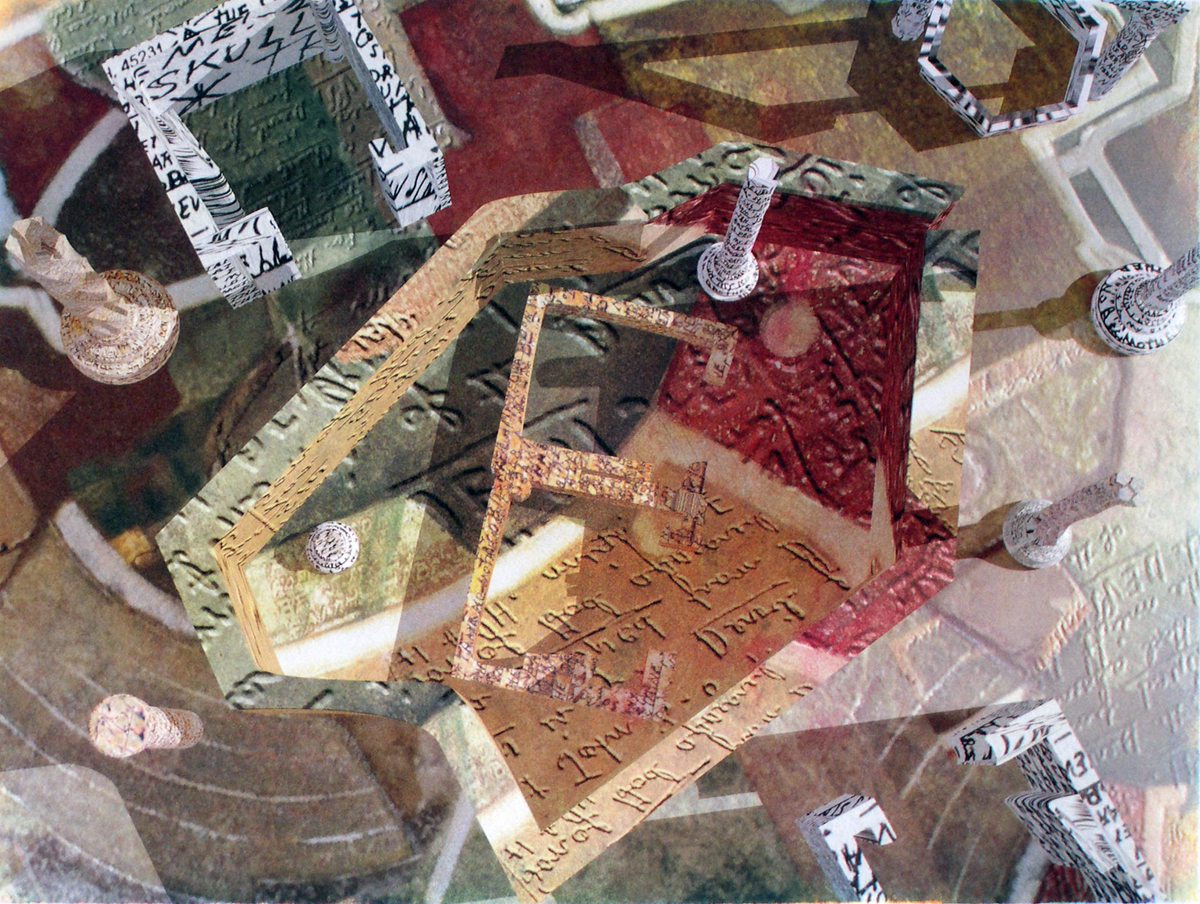 Omaha Agora
1996; computer generated color lithograph; image: 19 5/8 x 14 3/4 (48.26 x 35.56, sheet: 21 5/8 x 28 (53.34 x 71.12); edition of 18

Born in Los Angeles, California
Dennis Olsen, a graduate of the University of California at Los Angeles (B.A., 1964 and M.A., 1967), developed a deep attachment to Italy while studying there on Fulbright Grant that led to his co-founding of the Santa Reparata Graphic Art Centre in Florence in 1972. After joining the faculty of the University of Texas at San Antonio in 1980, he continued to teach there every summer and today he is the Director of the facility renamed the Santa Reparata International School of Art in 2000. The architecture of Antiquity and Renaissance Italy are suggested in the intaglio created during his residency (October 21-25, 1996) at UNO. "These pieces rely on photorealism to create tension between the possible and the improbable…I attempt to create forms and places which appear photographically real at first glance," he explained of his digitally produced environments. Olsen was a pioneer of printmaking's newest technology. Of the advantages of computer generated prints, he observed, "I am able to work with more complex architectural space than I could before. I can look at many different possibilities before I make up my mind as to what I want to do—instead of imagining them—I can actually see fifty different possibilities."
---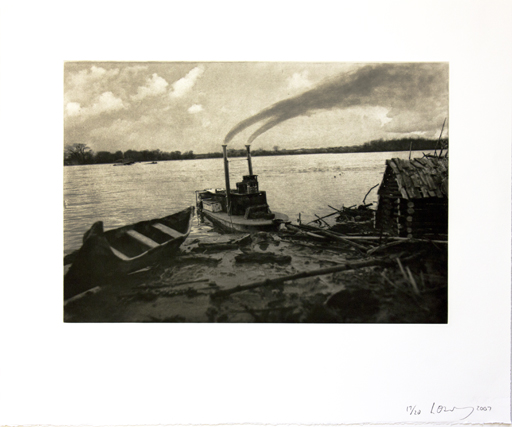 Platte River Camp
2007; photogravure on Somerset; 18 x 13
sheet: 25 x 21 (63.4 x 53.34)

Born 1961, Braunschweig, West Germany

Lothar Osterburg is a photogravure master printer and artist who builds small scale scenes from readily available, found materials. He photographs the scenes and prints them as photogravures.
Lothar immigrated to the U.S. in 1987 and was a master printer at Crown Point Press in San Francisco for four years. He then established his own press, specializing in photogravure and moved to New York City in 1994. He received an American Academy of Arts & Sciences Award in 2010 and he has had recent solo exhibits at the Fitchburg Art Museum, the Cantor Fitzgerald Gallery and the Zoller Gallery.

For this print Lothar built and photographed models of a steamboat, canoe, and cabin on site at the Platte River. The Photgraph was then printed as a photogravure to produce the edition.
---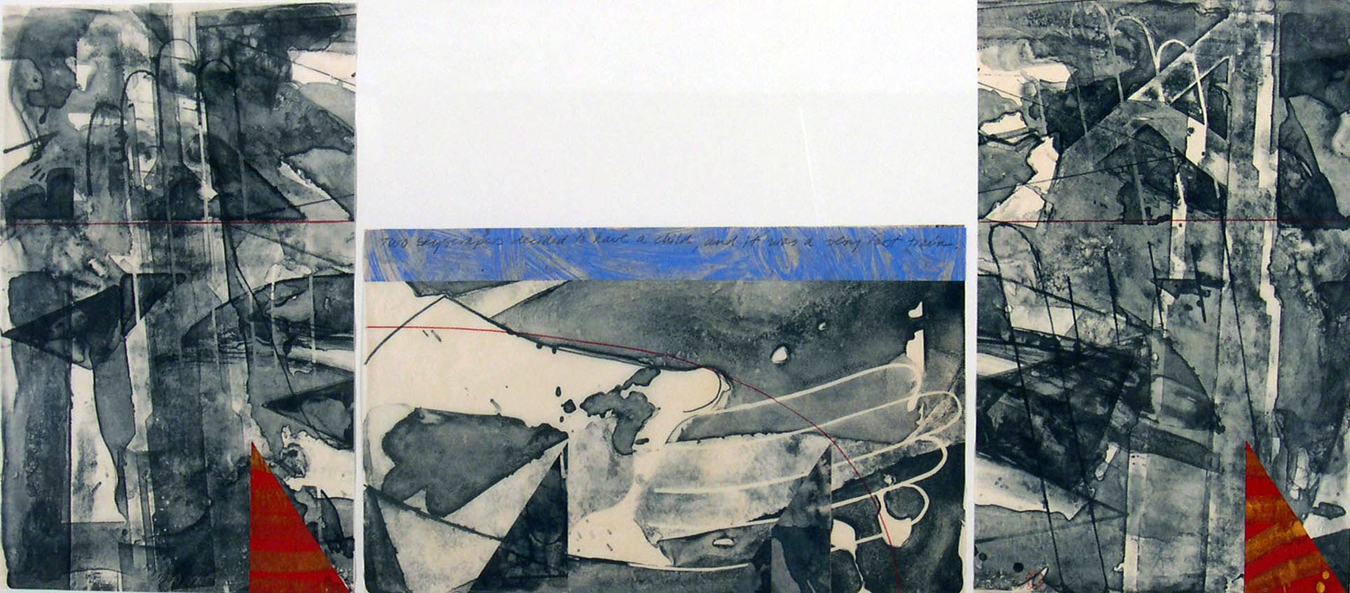 Two Skyscrapers Decided To Have A Child and It Was A Very Fast Train
1983; color lithograph, stencil, and collage on Shibugami; sheet: 20 1/4 x 12 1/2; 12 1/2 x 20 1/4 (50.8 x 30.48; 30.48 x 50.8); edition of 40

Born 1948 in Minneapolis, Minnesota
"I feel that I am always on the same train, but waking up in different towns…I never know what's coming up, but I do know that tomorrow I'll be somewhere else and will have to adjust to what presents itself there." -- Steven Sorman, 1991 The artist, who has a penchant for enigmatic titles and tends to avoid assigning meaning to his work, was on campus April 3-9, 1983. Chicago printer David Keister and UNO students Lynn Hosea and William Zuehlke helped Sorman edition his sumptuously collaged lithographs with drawn and stenciled markings. As Patricia Hampl observed in a 1986 exhibition catalogue, the artist "approaches all media as implicit collage. That is, as opportunities for improvisation and relationship." After graduating from the University of Minnesota (B.F.A., 1971), Sorman began cutting up his own work to create collaged paintings with lush surfaces created by a complex layering of materials—canvas, Japanese tissue and German handmade papers—drawn upon with oils, gouache, charcoal, and pastel as well as embellished with metal leaf and beeswax.
---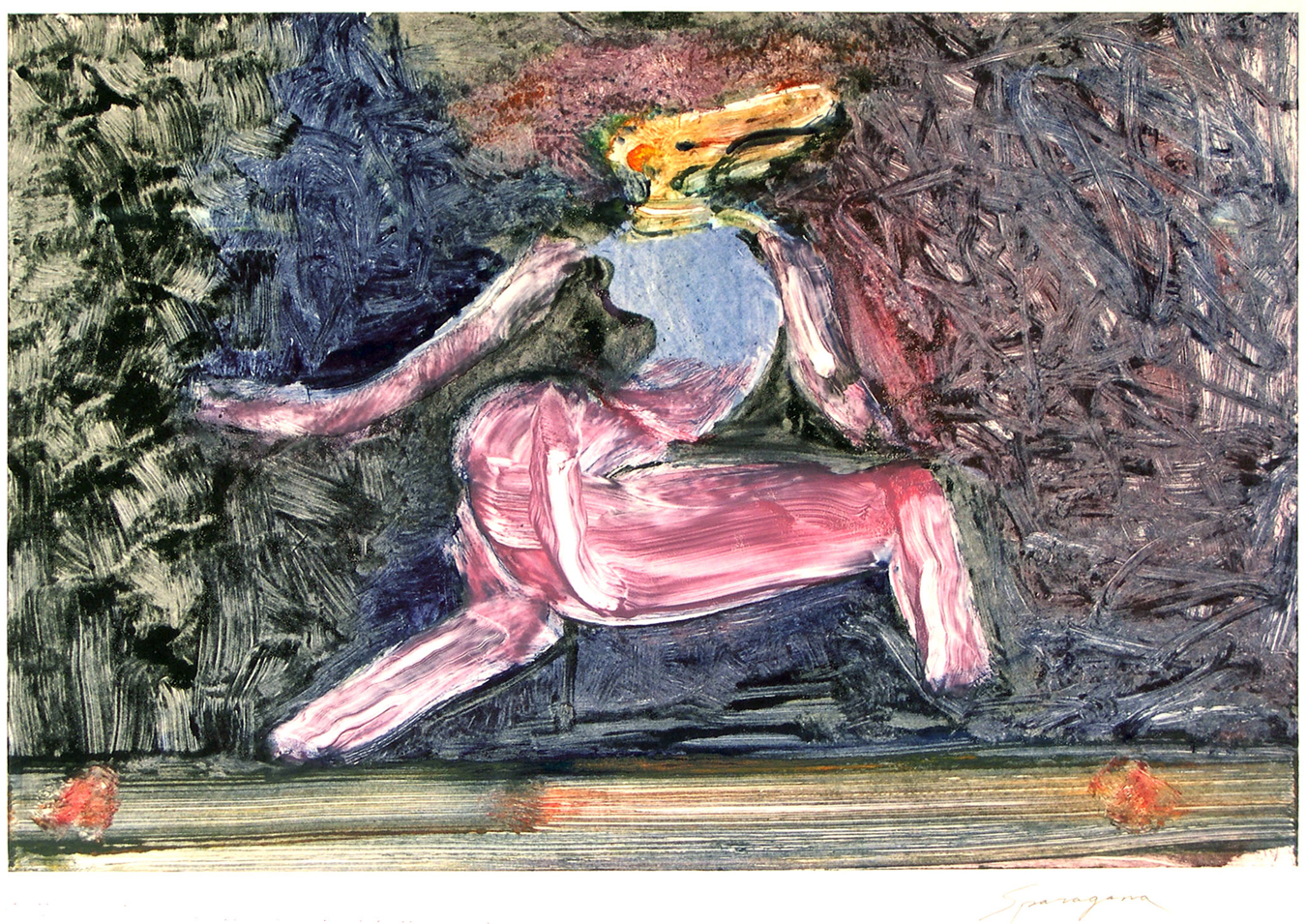 Untitled 2
1988; image: 23 3/4 x 25 3/8 (58.42 x 63.5), sheet: 29 5/8 x 41 1/2 (73.66 x 104.14); unique, monotype

Born in 1958 Rochester, New York
Now an Associate Professor at Rice University in Texas, the painter, who studied at the University of Michigan (B.G.S., 1980) and Stanford University (M.F.A., 1987) continues to make monotypes.
---
JUERGEN STRUNCK
Sendigala
1981; relief print on Sekishu; sheet (each panel): 22 1/2 x 45 1/2 (55.88 x 114.3); edition of 34
Born 1943 in Neidenburg, Germany
"Perhaps this is the purest form of printmaking practiced today; that in which the completed work rather than merely reflecting the medium, evokes responses of a higher order, consequently one's impression of Strunck's work is less on the fact that these are prints but rather more on an intense visual experience of broader context than prints customarily provide," wrote Garo Antreasian in a 1973 essay reprinted in a catalogue accompanying "Juergen Strunck: Relief Prints", an exhibition hosted by the UNO Art Gallery. "Some works begin to resemble cloth and dye," observed Roger Catlin, of the prints with a palette of muted green, orange, red violet, brown, blue, and red brown. The staff writer for The Omaha World Herald added that the shapes—triangles, circles, squares, and ovals—reference "feet, eyes, hips and other body parts." "The usual questions about symbolic forms or connotations to anatomy or comparison to rainbow colors bother me since this kind of reading intrudes on the perception of the print itself and can, in many cases, make it impossible to see the work I am actually doing," Strunck wrote Tom Majeski. Students James Hejl, Matt Garrean, and William Zuelke helped the University of Dallas professor print the edition during his residency (February 23-27, 1981).
---
MICHELLE STUART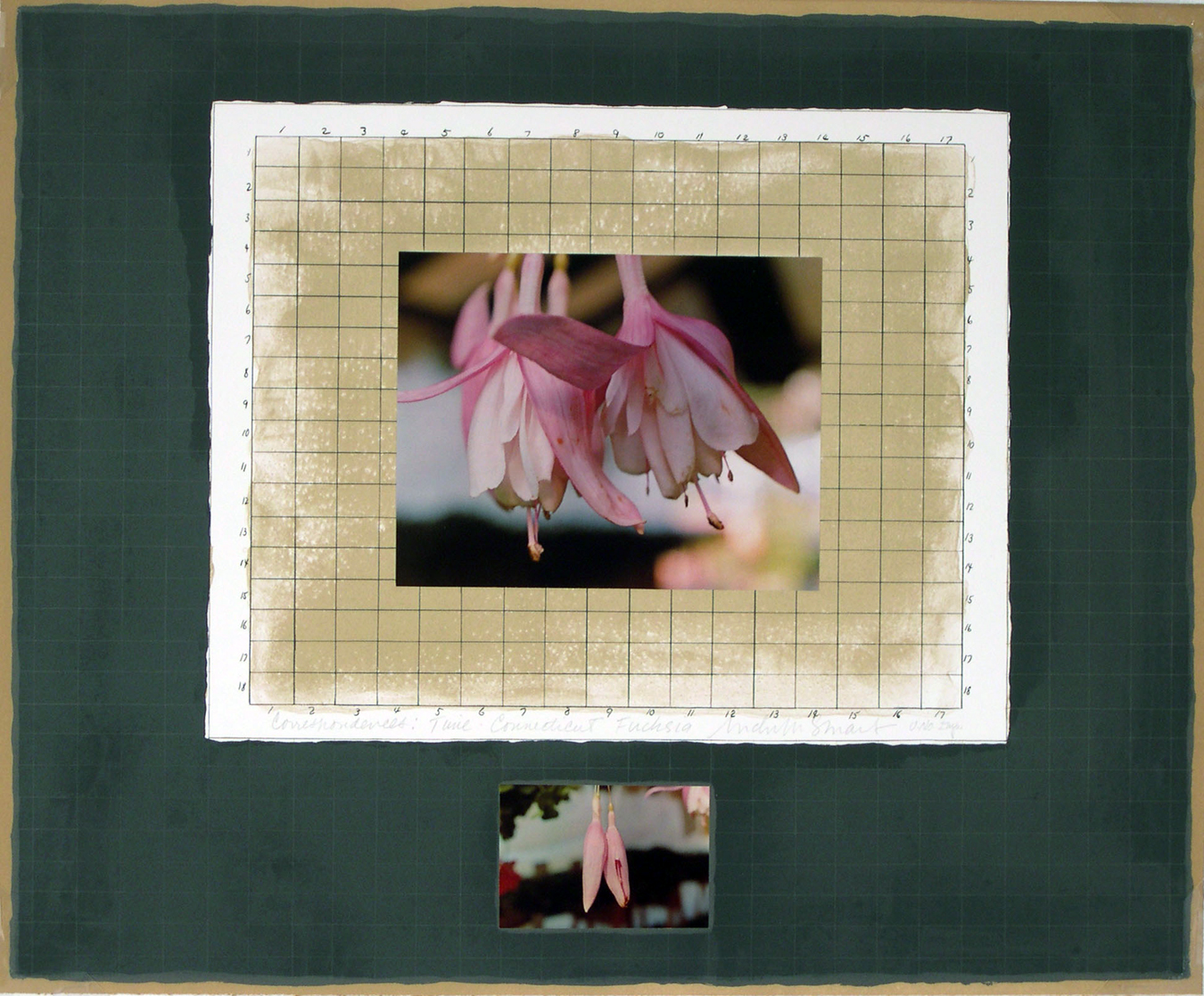 Correspondences: Time, Connecticut Fuchsia
1983; color lithograph, dye transfer photograph and collage on Rives BFK; sheet: 24 x 29 1/8 (60.96 x 73.66); edition of 36
Born 1933 in Los Angeles, California
The New York-based artist came to Omaha in 1981 as part of the I-80 series and her installation "Correspondences" explored the interactions of an ancient Mayan culture and its Spanish colonizers through arrangements of photographs, palms, and dried plants as well as passages from a conquistador's diary and a Mayan shamanistic medical book read by Stuart on an accompanying stereo sound track. Of her project, Stuart explained, "History was lived to be depicted and experienced at a distance in time and space. The artifacts of history can take many forms, physical objects, two-dimensional images, written and printed records and oral tradition. The process of selection and organization sets the records and evidence into a new context. By drawing on a variety of primary sources, the participant can perceive patterns or correspondences within time and locate relationships among forms of history experienced." The UNO print is only indirectly related to the installation. The grid, occurring often in modernist compositions, also refers to the time passages marked by calendars and the artist's work as a topographical drafter for the Los Angeles Army Corps of Engineers in 1952. Gary Day printed the lithograph, which also has a dye transfer photograph and collage elements, with the assistance of April Katz and Thomas Majeski during two phases --June 12-16, 1981 and January 11-15, 1982. The Joslyn Art Museum owns one impression from the edition, which has a July 8, 1983 cancellation date.
---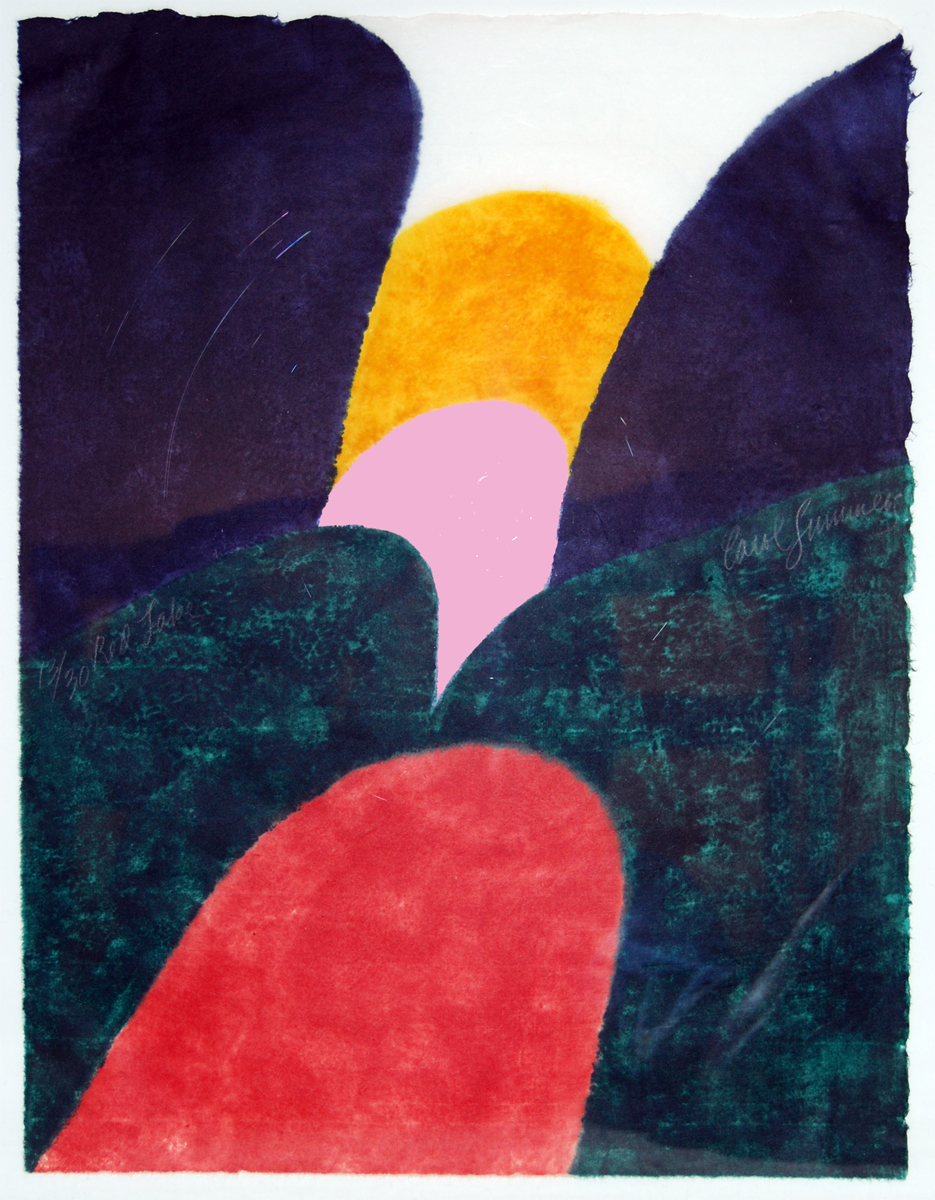 Red Lake
1978; color woodcut on Suzuki; 21 x 16 ( 53.3 x 40.6); edition of 30

Born 1925 in Woodstock, New York
Carol Summers is renowned for his intensely wild colors and revolutionary woodcut techniques. From 1948 to 1951, he studied painting and printmaking at The Art Student's League of New York and at Bard College, where he earned his BA. Summers produces his woodcuts by hand pressure using oil based printing inks and porous mulberry papers. After the ink is applied to the front of the paper, Summers sprays it with mineral spirits, which act as a thinning agent. The absorbing fibers of the paper draw the thinned ink away from the surface, softening the shapes and muting the colors. This produces a unique glow that is the hallmark of Summers' printmaking techniques. Summers printed the edition during his residency October 16-20, 1978, and was assisted by students Beth Davies, Dan Devening, and John Derry.
---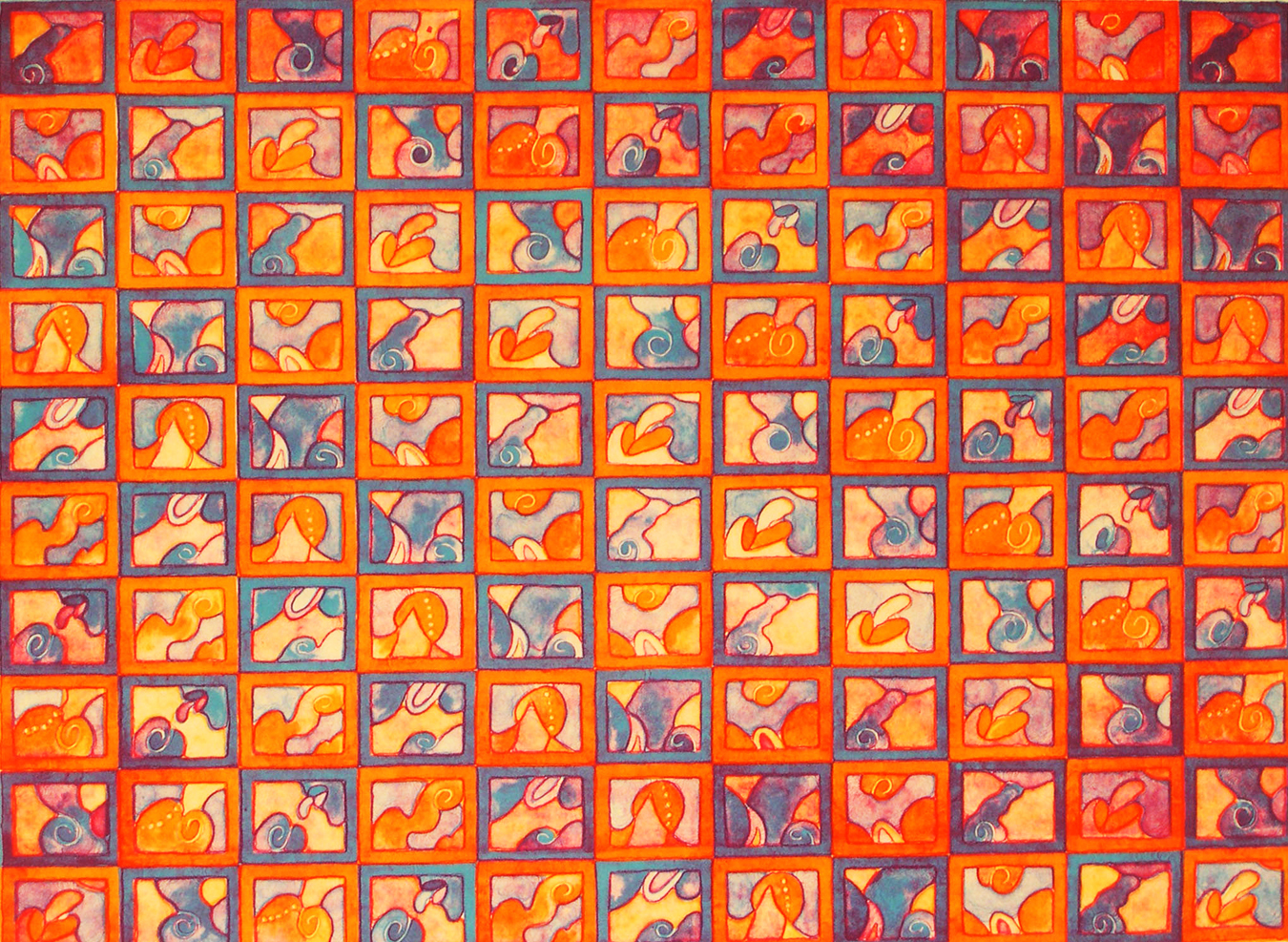 Ding Dong Daddy—Pow in the Kisser—Stamps
1979; color lithograph on Goya; image: 18 1/4 x 24 7/8 (46.4 x 60.96), sheet: 20 3/4 x 27 1/8 (50.8 x 68.58); edition of 30

Born 1923 in Tuscambia, Alabama; died July, 2003 in Tallahassee, Florida
"Ding Dong Daddy Pow in the Kisser" (1981) is from a series of lithographs with "stamps" representing kissing mouths that are also phallic and vaginal in their shape. This sexual innuendo is subtle and playful; a private joke about an infamous polygamist living in San Francisco during the 1940s nicknamed Ding Dong Daddy. Printmaker John Sommers once observed, "For Bill, it became an open invitation to make the fabled Ding Dong Daddy a vehicle, a way of expressing the duplicity in all society, particularly in art, and simultaneously to champion Ding Dong Daddy's philosophy of free expression, of being himself." At the time of his residency, Walmsley was exploring the fluid qualities of tusche floating cloudlike pools of color on top of one another and was among the few printmakers experimenting with new fluorescent inks developed by the Day-Glo Corporation. "I'm completing my drawing for a print that I can do in a few days since most of my prints take about 2 or 3 months—10 to 14 runs. This time I plan about 4 colors," Walmsley wrote Majeski shortly before his residency in early October, 1979. While in Omaha, Walmsley completed an edition printed by David Keister with assistance provided by students Barry Carlsen and William Gross. "The prints look good. I really appreciate the time that you all (all of you) put into it….Try my print in a black light—this print was really made for a black light in an almost dark room," Walmsley suggested after the workshop.
---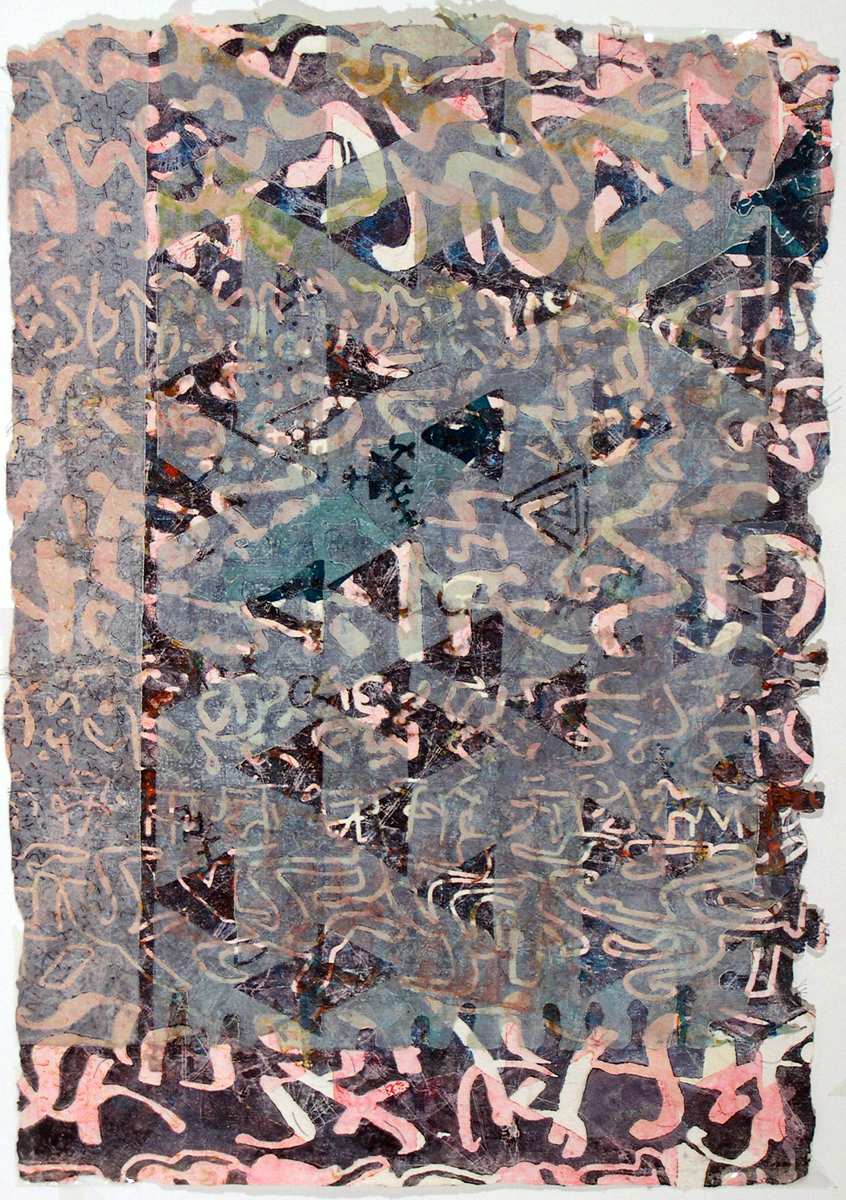 Non-Tacky Series, I
1982; relief monotype on handmade paper; sheet: 27 x 18 3/4 (68.58 x 45.72); unique

Born 1935 in Milwaukee, Wisconsin
"Peace Is Patriotic", a portfolio made for his M.F.A. award by the University of Wisconsin, Madison in 1968 demonstrated Weege's mastery of photo-reproduction techniques and made clear his objections to the escalation of American troops in Vietnam. The Museum of Modern Art, the Brooklyn Museum, and the New York Public Library quickly snapped up the topical prints with a psychedelic aesthetic. Weege also sold many of the prints during the National Mobilization Committee's anti-birthday party for Lyndon Johnson held in Chicago during the 1968 Democratic National Convention. After joining the faculty of the University of Wisconsin in the fall of 1971, he established the Jones Road Print Shop and Stable and began printing on handmade papers, an interest inspired by his wife, horticulturalist Sue Steinmann. During his 1982 residency, Weege created relief monotypes dominated by a palette of purples, blues, and red known collectively as the "Non-Tacky Series". Like other work from this period these monotypes contain dense layers of linear patterns-- circles, triangles, spirals, pictograms, and hieratic writing-- derived from global and ancient sources.
---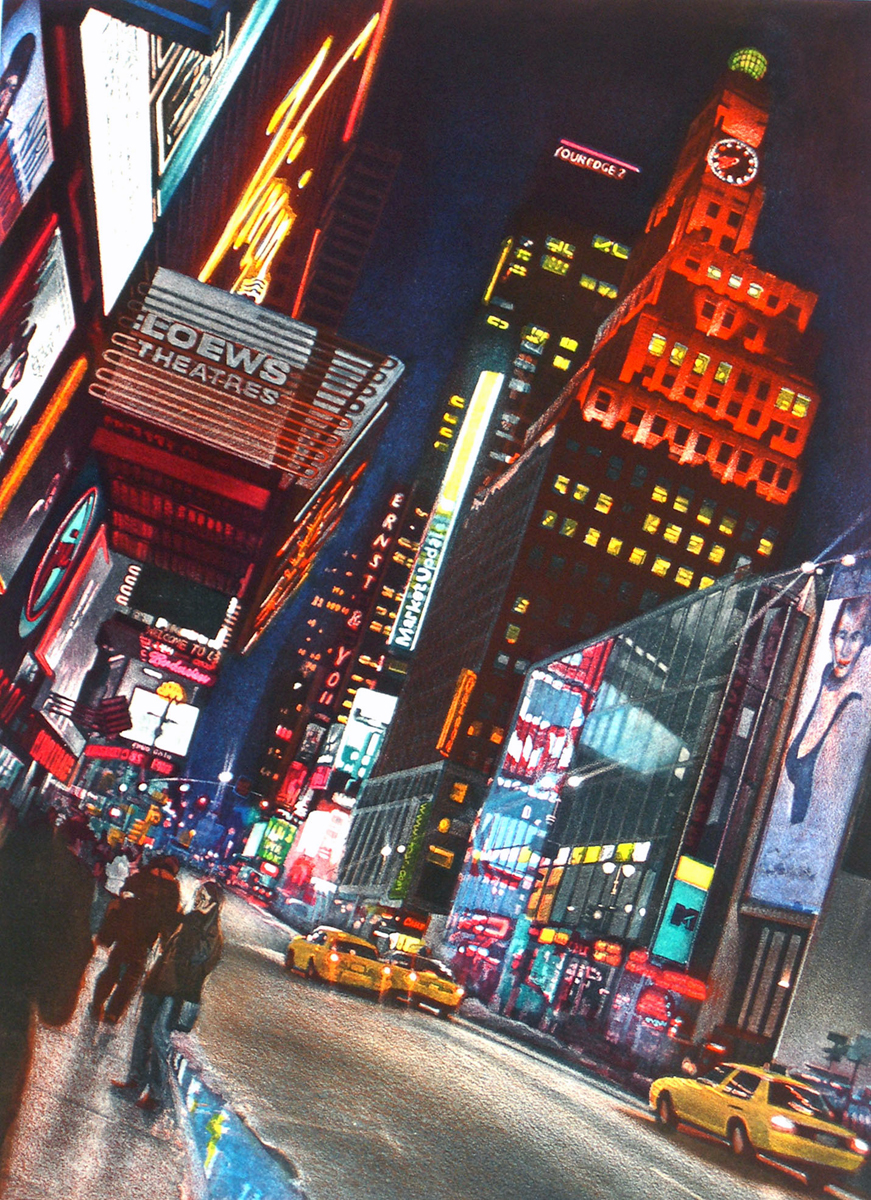 Saturation
2003; color intaglio and aquatint on Murillo white; image: 23 3/4 x 17 1/2 (58.42 x 43.18), sheet: 30 x 23 1/2 (76.2 x 59.69); edition of 30

Born 1955 in Ridgewood, New Jersey
Given the complex a la poupee' color applications on two elaborate intaglio/ aquatint plates, the paper support for "Saturation" was certainly awash with ink of highly saturated hues. A skewed vantage point, vibrant colors, and abundant signage help convey the garish full tilt excesses of the modern city, while communicating ennui rather than satisfaction or pleasure with this experience. In an age demanding instantaneous results, this graduate from the University of Wisconsin-Madison (M.F.A., 1982) and the Rhode Island School of Design (B.F.A., 1978) has dedicated his career to the mastery of varied labor-intensive intaglio techniques. While on campus (April 7-11, 2003), the Professor of Printmaking at Ohio University in Athens worked closely with Melissa Corwin and Julie Sopscak, two B.F.A. students in printmaking at UNO.h The edition was printed the following summer by Gary Day, Professor Bonnie O'Connell and students Corwin and Sopsack.
---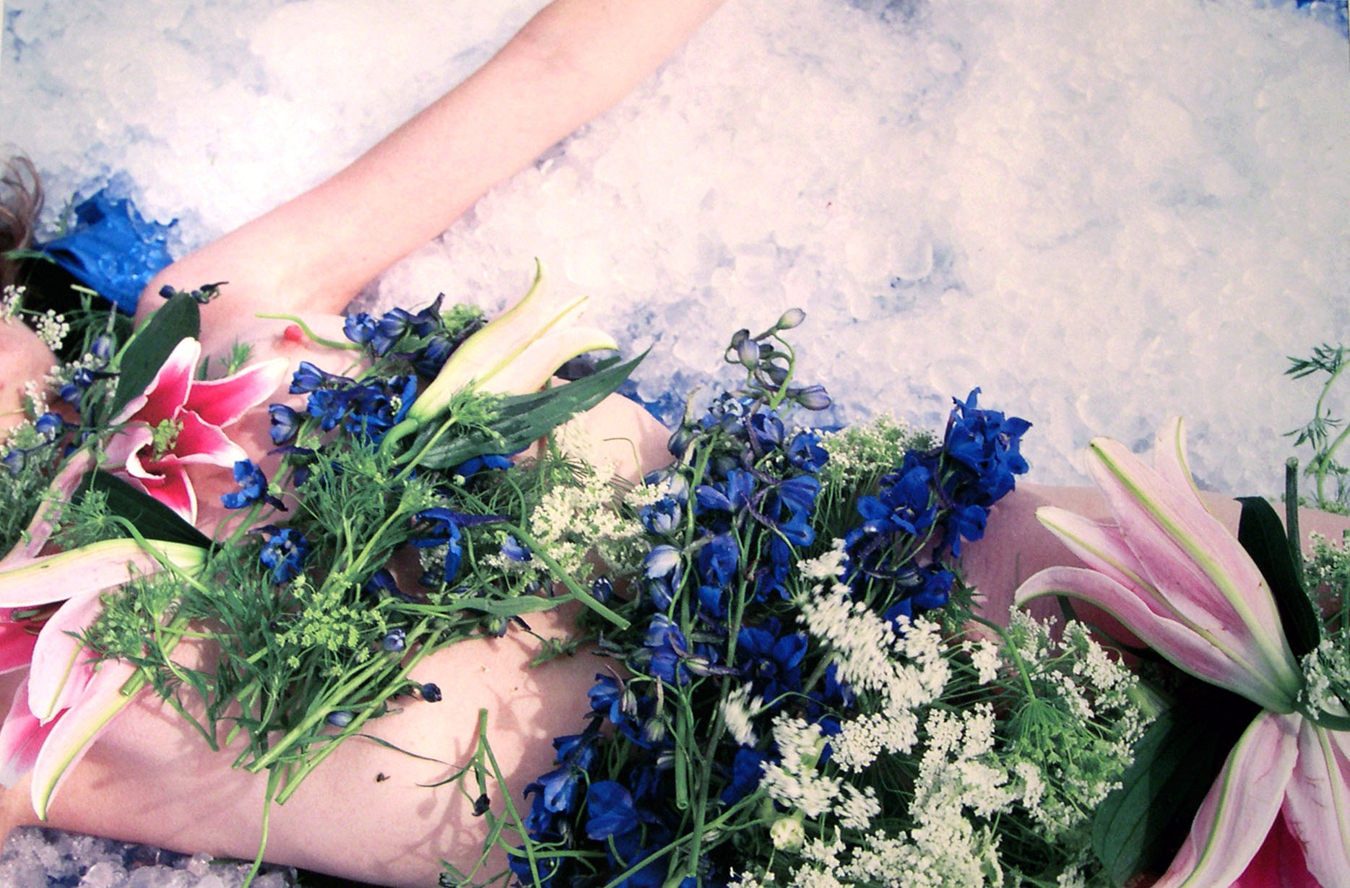 Untitled
2001; digital; image: 34 x 51 3/4 (86.34 x 129.54), sheet: 36 x 55(91.44 x 139.7); edition of 3

Born 1969 in Sweden
Westergren, who studied at the School of the Museum of Fine Arts at Tufts University (M.F.A., 1996) and Barnard College, Columbia University (B.S., 1991), was a resident at the Bemis Center from March to May 2001. While in Omaha she worked with Gary Day on a digital print. The wild flowers and ice evoke Åhus, a Swedish town on the coast of the Baltic Sea where her family once owned a vacation home. As with the painting series "Åhus Sommaren 1974", her print confronts feelings of guilt and disappointment stemming from a rivalry with an older sister whose own artistic career was never realized.
---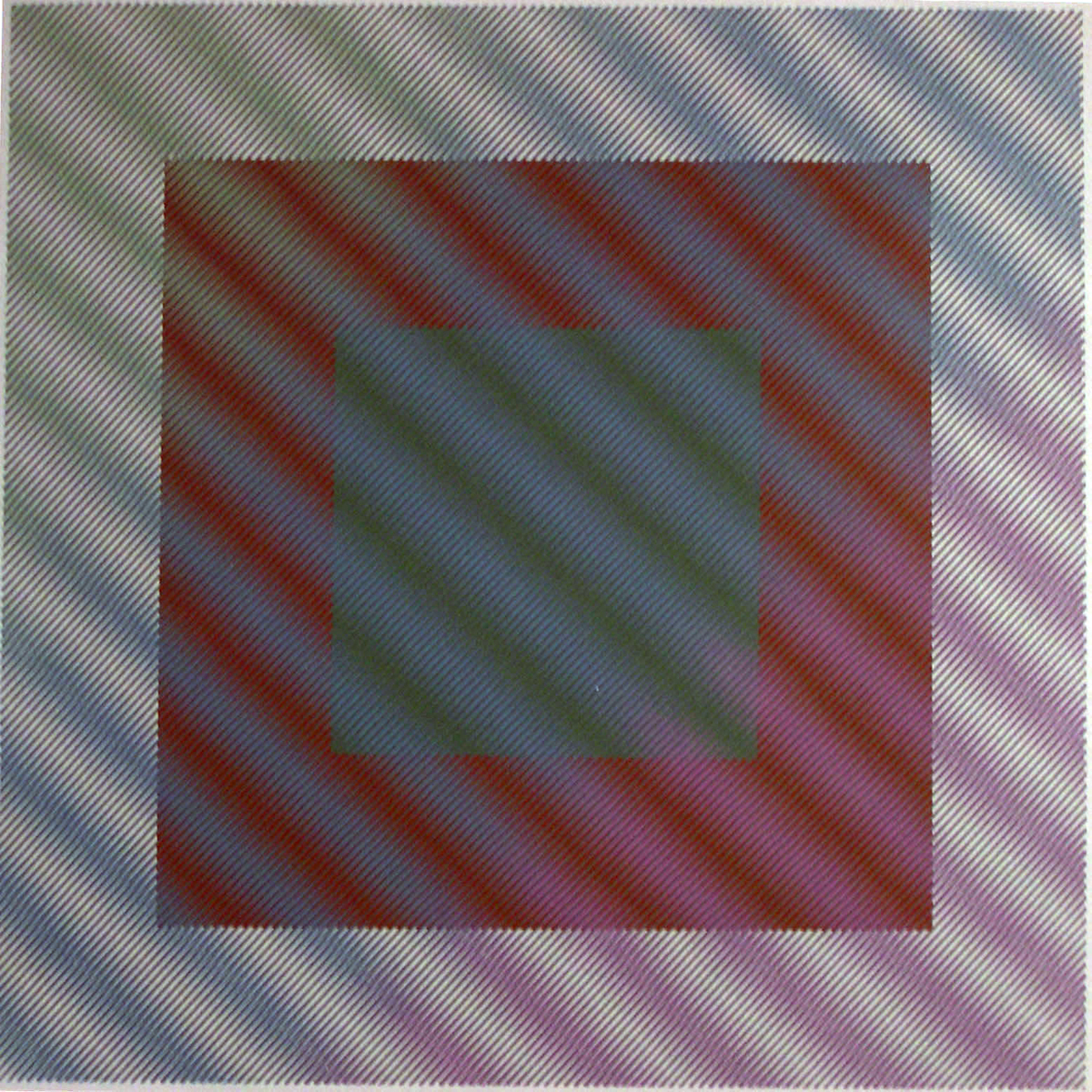 Untitled
1978; color silkscreen; image: 16 x 16 ( 40.6 x 40.6), sheet: 23 x 22 ( 58.4 x 55.9); edition of 30

Born 1942 in Hamilton, Ohio
The printmaking professor at the University of Louisville in Louisville, Kentucky earned his M.F.A. from Indiana University. Aside numerous purchase prizes, his work hung in United States Diplomatic Posts in the People's Republic of China, India, Mexico, Brazil, Argentina, Italy, France, and Poland as well as had been acquired by the Atlantic-Richfield Company Collection, the New York Public Library Print Collection, and the Sheldon Gallery in Lincoln, Nebraska. UNO Gallery Director Betty R. Hiller organized a exhibition of 20 prints in conjunction with his visit. During his residency, Whitesell editioned a photo silkscreen and taught UNO students how to construct their own equipment.
---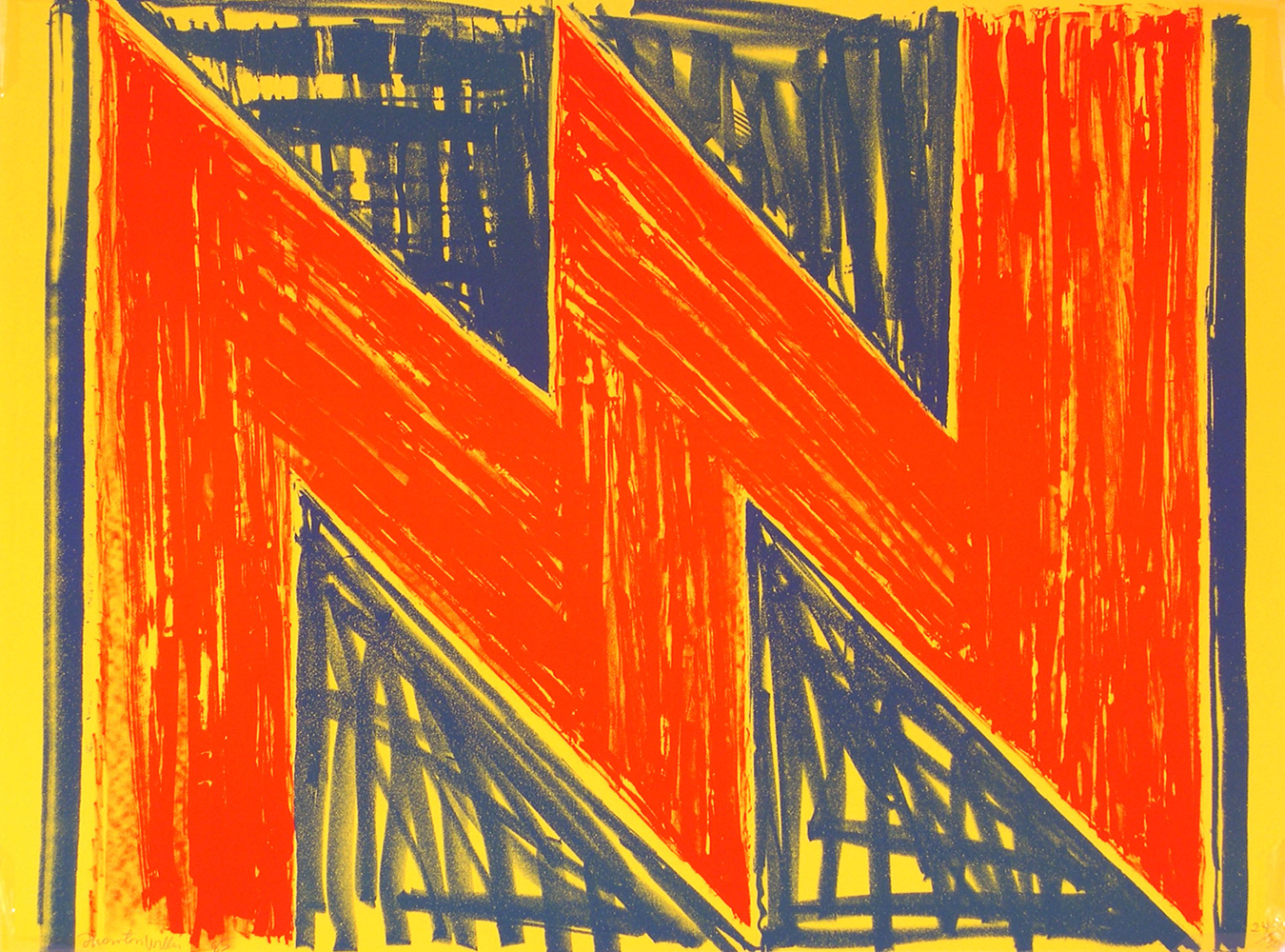 Omaha Flash
1985; Lithograph on Rives BFK; sheet 22 x 30 (55.88 x 76.2); edition of 30

Born 1936 in Pensacola, Florida
Students Richard Brown, Sally Moluf and Jeff Spencer had an opportunity to help Thornton Willis and Gary Day print "Omaha Flash". An impression from this edition was included in a 1985 exhibition at the C.W. Woods Gallery at the University of Southern Mississippi, where Willis earned a B.A. in 1962. Often grouped in the 1980s with abstract painters Sean Scully and Elizabeth Murray, Willis used a zigzag shape to explore figure ground relationships in a series of oil stick drawings on paper and paintings consisting of layers of rolled acrylic paint that created multi-colored strata within each stripe or resulted in a multicolored background topped by a solid colored zigzag. Of the resulting pictorial tension, critic David Carrier observed in 1984, "Even from a distance, we glimpse Rothko's soft edges; even close up, we known that Stella's lines are straight edges. By contrast, when approached, Willis' hard-edged zigzags dissolve into a sequence of painterly layers whose gestural structure has no direct relation to that larger form which it defines."
---
SANDY WINTERS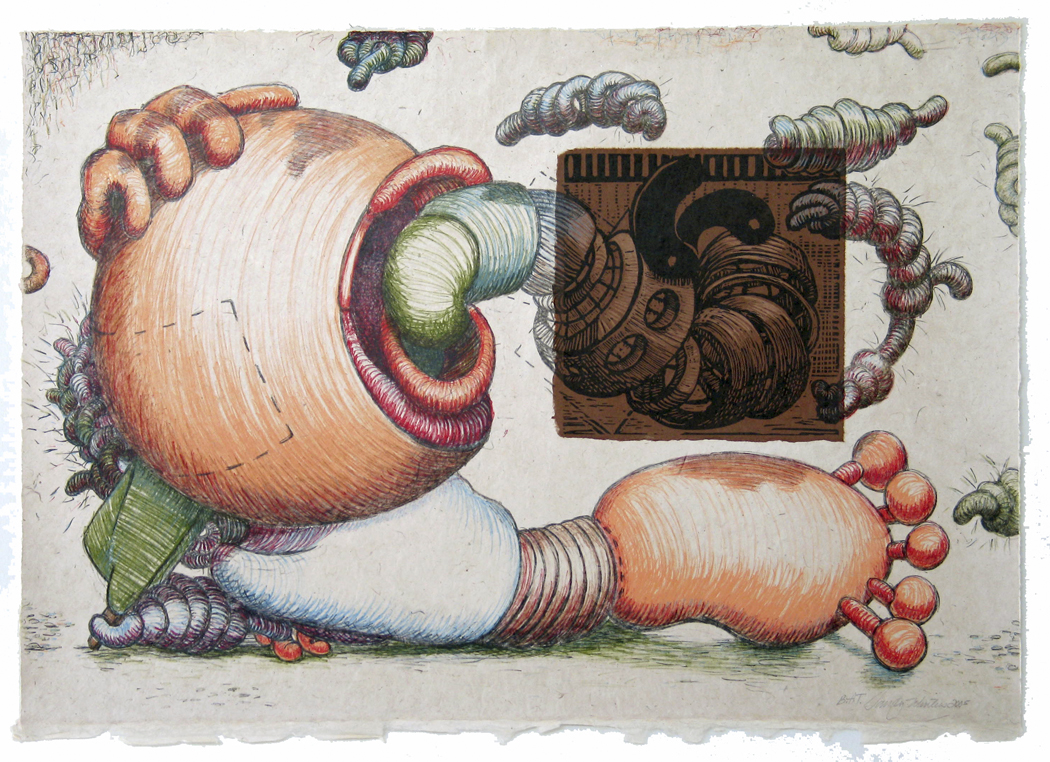 Darwin's Break II
2004; color lithography and chine collé; sheet: 22 x 32 (45.72 x 60.96); edition of 30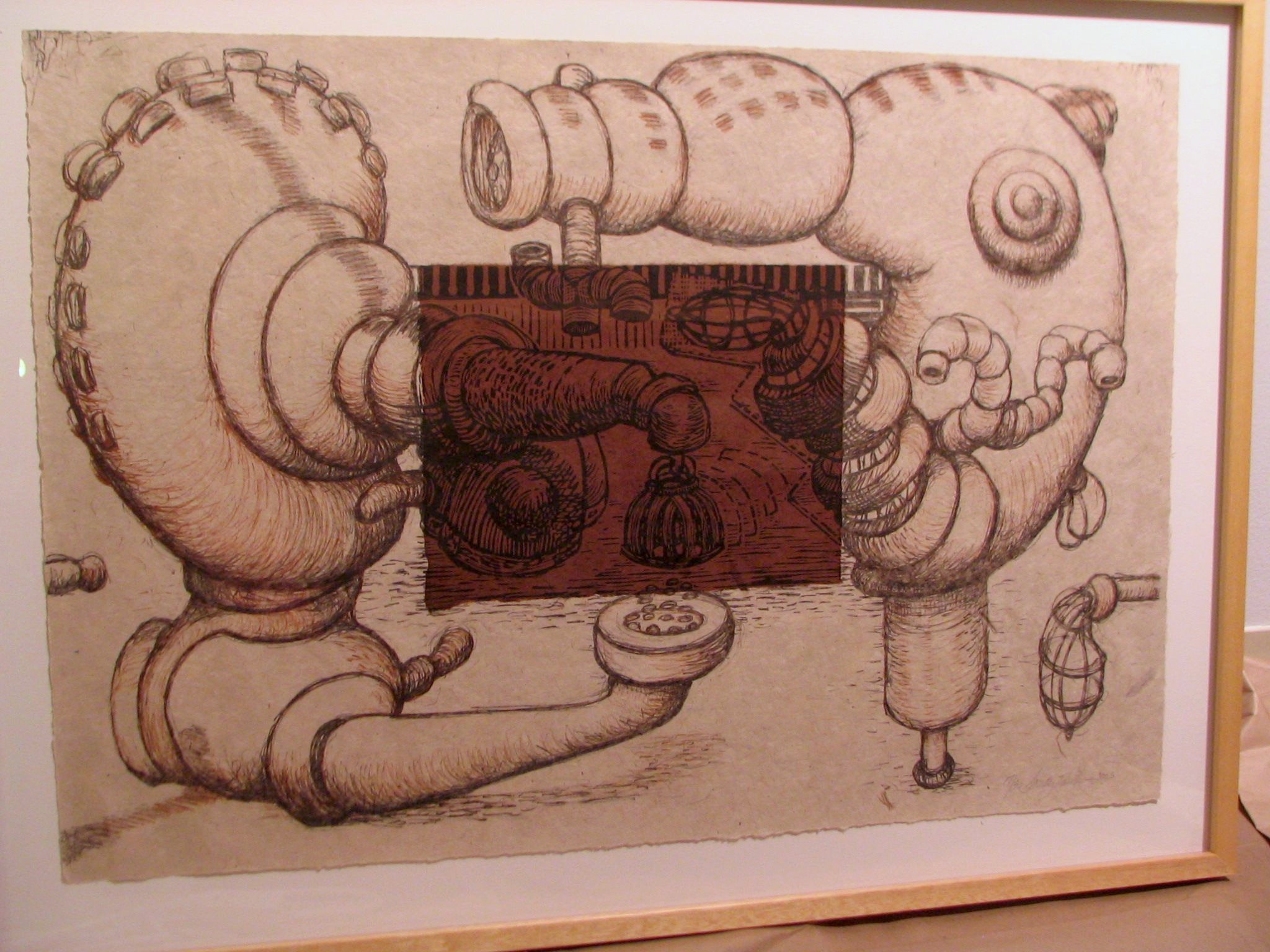 Meet Again II
2004; color lithography and chine collé; sheet: 22 x 32 (45.72 x 60.96); edition of 30
Born 1949 in Arcadia, California
Describing "Pretexts and Subtexts" as "part Loony Tunes, part Rube Goldberg," critic Eleanor Heartney notes that Winter's 2005 traveling installation "blends humor and anxiety in an irresistible mix." The cartoon style imagery of plumbing pipes and seedpods was drawn on aluminum panels that stretched 85-feet in length. The drawing continually evolved as the artist reconfigured it to fit each new gallery space. Out of this installation came first a six-foot long block print and then, a "new, larger composition" made by disassembling the blocks and reprinting them on various surfaces. Drawings in graphite and oil-crayon individualized each impression. As Winter's observed, "an entirely new series was spawned out of the symbolic obliteration of an existing work yet again." "Darwin's Break", a 2003 block print is the source of the lithograph editioned by the UNO Print Workshop. The student assistant, Hannah Marchio, later earned a M.F.A. in Printmaking from the City College of New York where Winters has taught since 1996.
---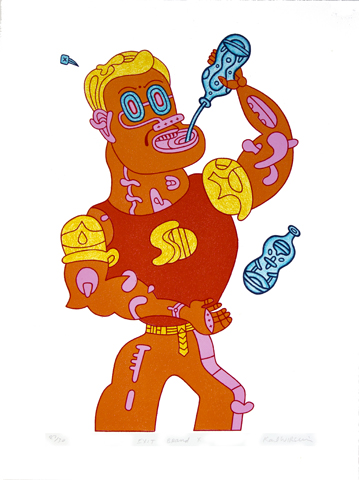 Exit Brand X
2009; color lithograph; sheet: 25 x 18 (63.5 x 45.72)

Born 1939 in Chicago, Illinois
Karl Wirsum was one of the earliest members of The Hairy Who. This group came to be known by the exhibition title of the same name for which the group received national attention. By the early 1970s, several Hairy Who artists came to be known as Chicago Imagists.

Recent exhibitions of Karl's work include a 2008 Exhibition "Win Some Works(Some)" at the Museum of Contemporary Art in Chicago and a 2010 show at Derek Eller Gallery in New York. His work is included in numerous public collections including the Museum of Contemporary Art and Chicago Art Institute in Chicago and the Whitney Museum of American Art in New York.

Exit Brand X is a six color lithograph printed from aluminum plates. The image was drawn during Karl's residency in 2009 and printed by Gary Day.
To purchase this print, contact us at

printworkshop@unomaha.edu.
---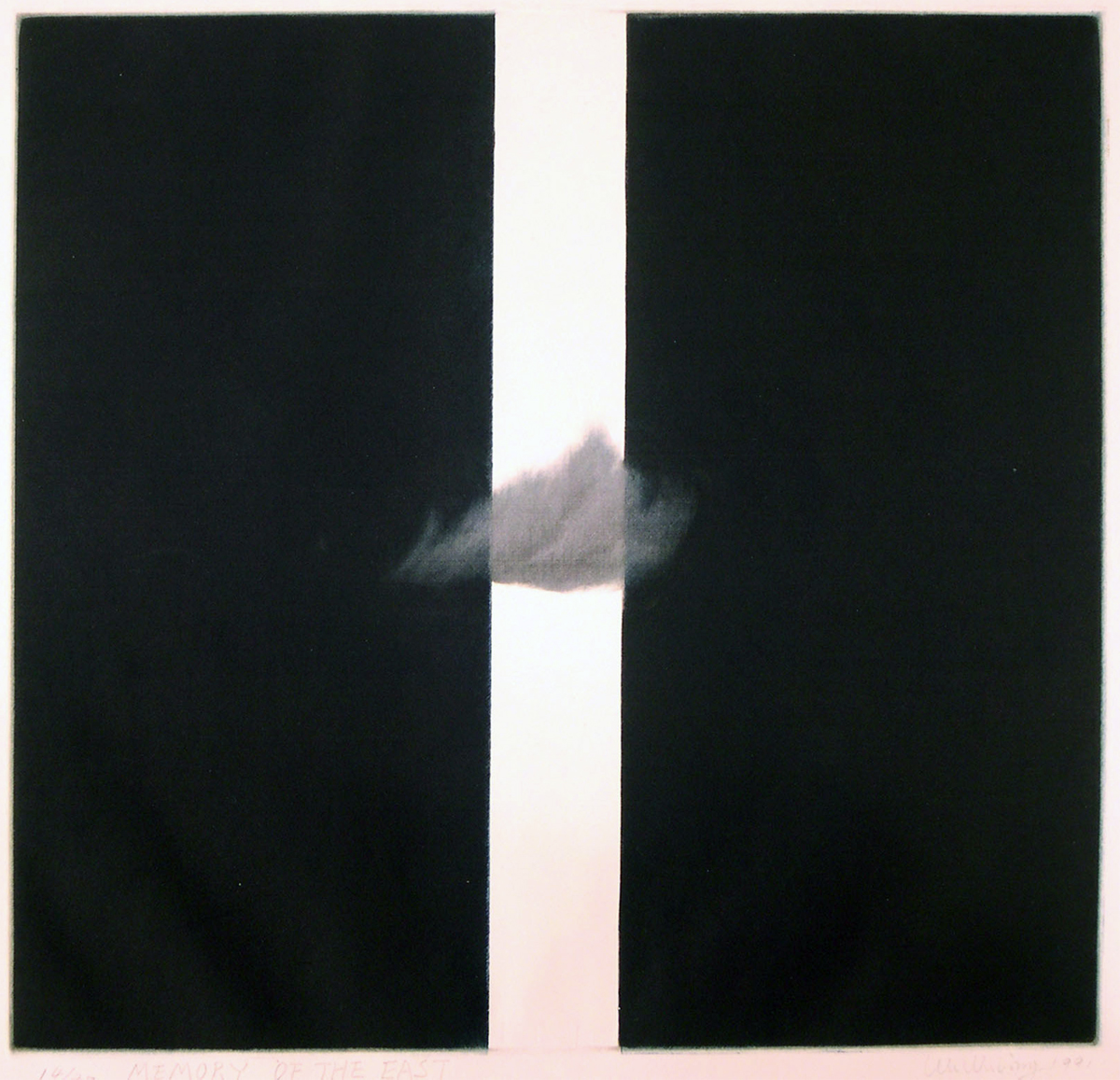 Memory of the East
1991; mezzotint on Arches; image: 14 x 15 (35.56 x 38.1), sheet: 19 1/4 x 19 3/4 (48.895 x 50.165); edition of 20

Born 1954 in China
The Chinese Army killed several hundred people during the 1989 Tiananmen Square protests in Beijing. The artist, then the assistant chair of printmaking at Juany Zhau Academy, was sent to a reeducation camp for his participation in these protests. Oppression in China had not eased significantly by 1991 when the printmaker came to campus for a residency. Wu Wubing specialized in mezzotint, a labor intensive and high physical process where tonality is achieved by rocking a tool with fine teeth to create pits of various densities on the surface of a metal plate. While at UNO he editioned a portfolio of seven mezzotints including one titled "In a Remote Place" that came with the following poem written by Wubing and translated into English by George O'Connell.

If it is eternity, why does it hide an uneasy shiver?
If it is a tremble, why does it brim with a detached tranquility?
If it is quietness, why it keeps echoing a low sob?
If it is weeping, why is it as melodious as a pure poem?
That, is the reason for eternity?
That, is the dream of the oriental
I am only aware---
Here exists no dust and hubbub
But a trace of sorrow left behind in the midst of harmony
---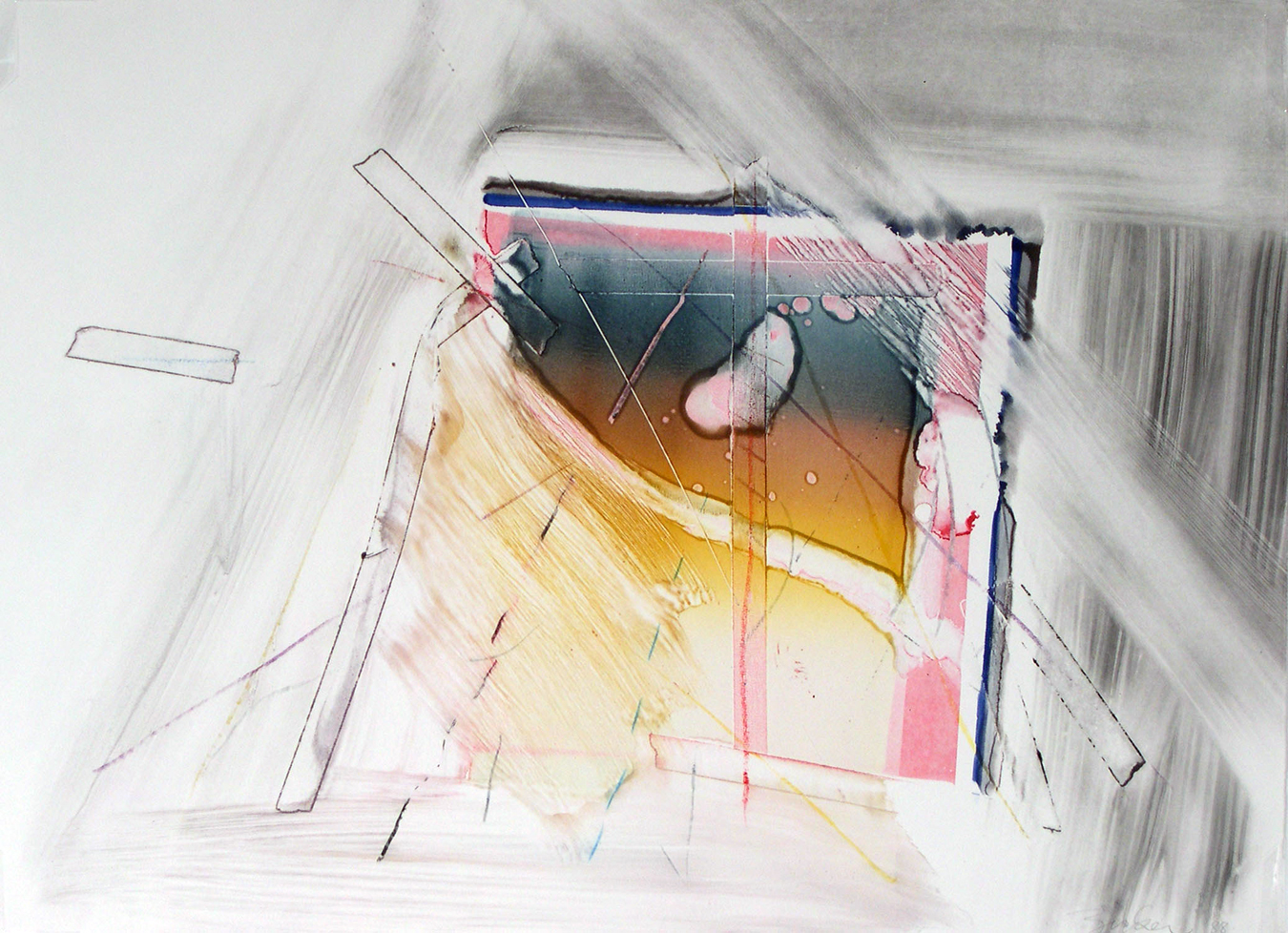 Untitled 1
1988; monotype on Arches 88; sheet: 22 3/8 x 30 (55.88 x 76.2); unique

Born 1924 in Los Angeles, California
A Printer Fellow at the Tamarind Lithography Workshop in the early 1960s and a graduate of the University of Southern California (M.F.A., 1951), where he later taught, Joseph Zirker was trained in the areas of lithography, intaglio, and relief printmaking, but distinguished himself as a master of the monotype medium. In 1967, the artist based in Menlo Park, California invented a process enabling the printing of a single, unique lithograph from an image drawn on paper, plastic or gessoed surfaces treated with acidified gum. During his 1988 residency, Zirker demonstrated processes allowing for "monotypes made from charcoal, carbon, graphite and pastel" to be "printed separately or in combinations with water based media."
---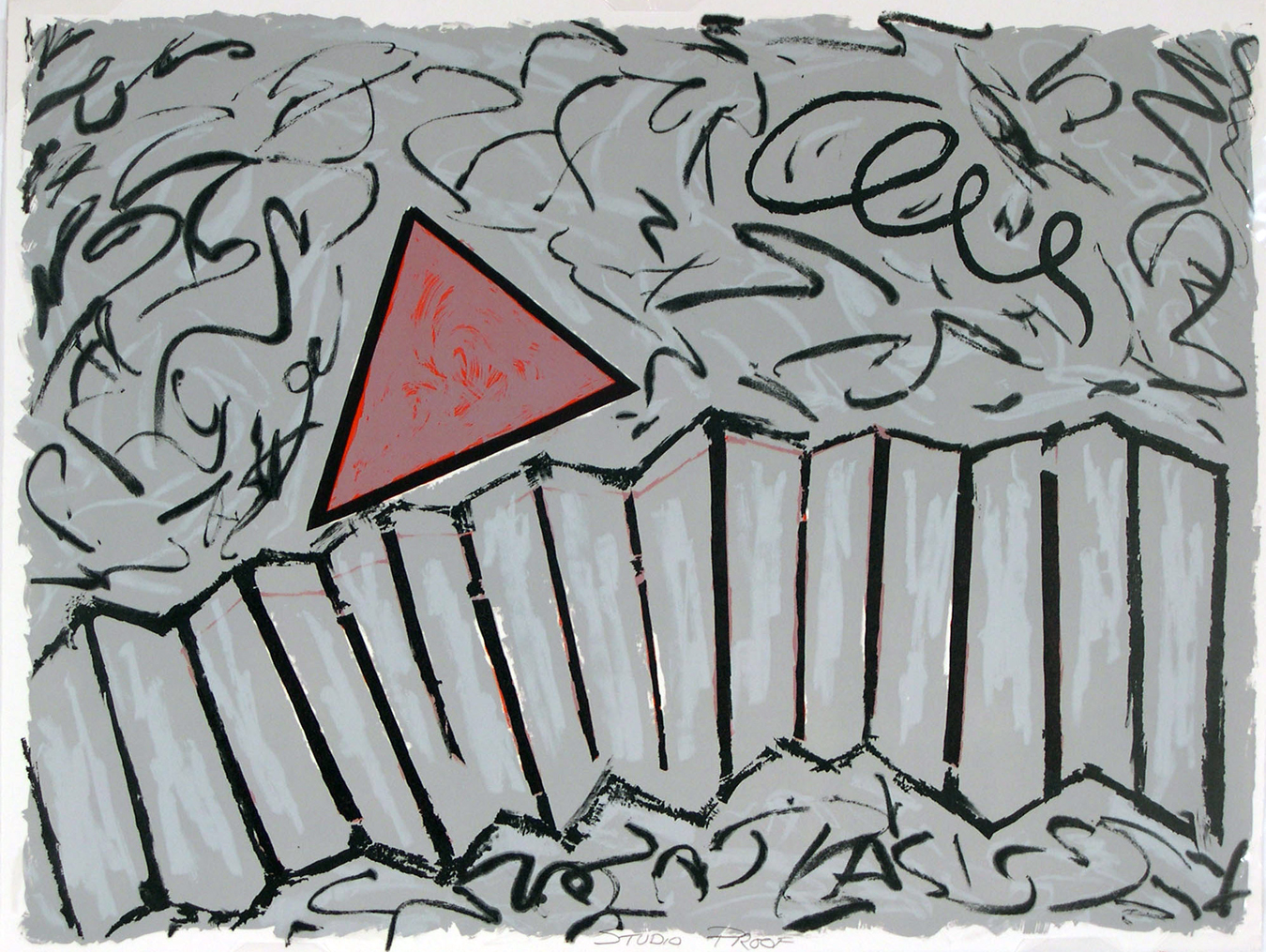 Holly's Triangle (labeled studio proof)
1982; color lithograph; image: 21 3/4 x 29 1/4 (53.34 x 73.66), sheet: 22 1/4 x 30 1/8 (55.88 x 76.2); edition of 16)

Born 1940 in Philadelphia, Pennsylvania
The Professor of Sculpture from the University of Vermont, who graduated from Hunter College, The City University of New York (M.A., 1977), was invited to Omaha by Holliday T. Day. Installed as part of the Joslyn's I-80 series, her installation "Holly's Triangle" included taped sound effects. While a 30-foot long accordion wall giggled as it expanded and contracted, a large foam core triangle chugged like a train. The whimsical and almost drawn qualities of these sculptural forms come through in the UNO print begun during Zucker's residency (September 14-17, 1981) and completed on August 26, 1982. Gary Day oversaw the hand printing and was assisted by Tom Majeski and students Bill Zuehlke, JoAnn Morrison, Jean Shannon, and April Rhinehart.
---
About The Print Workshop