Study the world past and present through the lens of art and architecture.
Study Art History Here
At UNO, students study the relationships between cultures and their artistic traditions, learn about artists and their creative processes, and obtain the methods to analyze and interpret art from around the world. Complementing survey and period courses are topical courses such as Technical Art History, Pop Antiquity, and LatinX Art.
---
What's Your Focus?
There are two focus areas in the Art History major: pick the one that is right for your future.

The Academic Art History focus is on students who plan on attending graduate school. Students take additional language and history requirements and upper-level courses.

For the student who wants to work in a gallery, the newly revised Arts Management focus provides students with public relations, marketing, and collections management skills to work in galleries, museums, and non-profit arts organizations.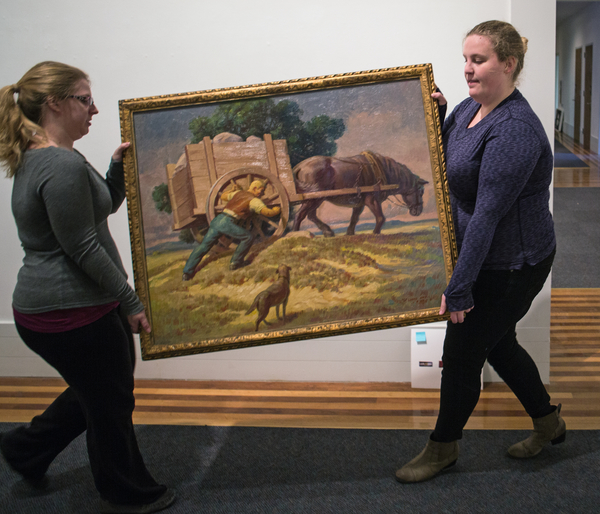 Art History students curate an exhibition in the UNO Art Gallery.
---
Hands-On Learning
UNO art history students present at national conferences, intern at local, national, and international art institutions, participate in archaeological excavations, organize art exhibitions, and study abroad in London and Italy.
---
Art History Careers
Students with an Art History degree become arts administrators, curators (museum and corporate), appraisers, conservators, museum educators, registrars, installers, docents, consultants, critics, and editors.
---
Post-Graduation Success
Our Art History students attend graduate school in Art History, Studio Art, History, Museum Studies, and Archeology at institutions like:
Temple University
University of Iowa
Syracuse University
University of Oklahoma
University of Denver
University College (Dublin)
Newcastle University
University College (London)
Trinity College Dublin
UNO Art History graduates also find positions in museums and galleries, both locally and nationally, including:
Joslyn Art Museum
Gallery 1516
KANEKO
The Ree + Jun Kaneko Foundation
Bemis Center for Contemporary Art
Arnot Art Museum (NY)
Michener Art Museum (PA)
World Chess Hall of Fame (MO)
Graduates of our Art History program also teach university courses and serve as faculty in establishments such as UNO, the University of Iowa, Jacksonville State University (AL), and St. Louis Community College (MO).
---
Beyond Art History
The critical thinking, communication, and research and writing skills that you gain in your art history courses will make you successful in business, law, and many other fields.
---
UNO Art History Faculty
The Art History faculty are teachers, scholars, and mentors.
---
Bachelor of Arts in Art History Requirements
In addition to the University General Education requirements, Art History majors are required to complete a selection of courses based on their degree tract. Courses used to fulfill University General Education requirements, if they are applicable, may be used to satisfy department-specific requirements.
Art History students fulfill core requirements with two introductory courses that survey art from prehistoric times to the present. Foundational studio courses enrich the understanding of the creative process while the Art History Seminar and Intro to Methodology courses provide students with research skills and approaches.
Students majoring in Art History at UNO can select from two different tracks: Academic Art History or Arts Management.
Students may also minor in Art History.
Minor in Art History Degree Worksheet