NASP CONFERENCES
Mark Your Calendar for New Orleans!
The NASP 2024 Annual Convention will take place in February 14–17, 2024, at the New Orleans Marriott and Sheraton New Orleans on Canal Street. Choose from nearly 1,200 educational sessions and meet peers with shared challenges and interests. Registration opens October 2, 2023.

The convention is an outstanding venue in which to showcase your research and practice. We are especially seeking presentations that will appeal to seasoned practitioners and assist them in delivering the highest quality, evidence-based practices in schools. The Call for Presentation Proposals Submission System now is open and closes June 14, 2023, at 11:59 p.m. ET. Download the flyer to learn more about submitting your presentation proposal.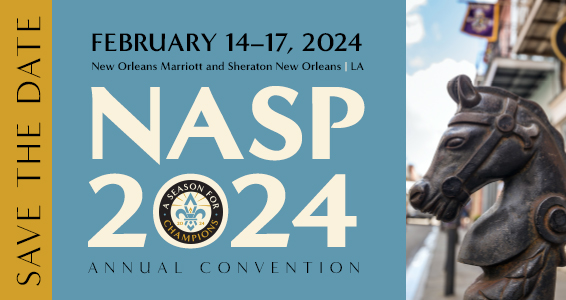 Check Out Our Past Experiences
NASP 2023 Convention
Creating a School Psychology Climate
Pictured: Brittany Sullivan, Maria Juarez



Improving Implementation of Second Step by Assessing Teachers' Perceptions - Gabby Foxx
Pictured: Dr. Kelly-Vance, Bri Greco, Meghan Rivera, Diedra Reeves, Brianna Stockton, Gabby Foxx, Dr. McKevitt
Putting the POW in Writing Interventions
Pictured: Dr. McKevitt, Brianna Stockton


Interdisciplinary Behavior Consultation: Nine Competencies for Behavioral Collaboration
Pictured: Christina Arispe, Sarah Hermann
Expanding on Diversity Committee Efforts for Graduate Students
Pictured: Brianna Stockton, Maria Juarez, Dr. Kelly-Vance


Examining Practitioner Preparedness and Self-Efficacy in Crisis Management
Pictured Dr. McKevitt, April Minor
Using Mindfulness Coloring to Reduce Reading Anxiety
Pictured: Dr. McKevitt, Meghan Rivera


Teachers Utilizing Sequential Restorative Circles Training Through Video Modules
Pictured: Dr. Kelly-Vance, Diedra Reeves
Follow us on INSTAGRAM and FACEBOOK to see more memories

Supporting our 2023 NASP Minority Scholarship Recipient, Bianca Ruiz

Dining Out and Exploring the City
Pictured: Alex Deman, Thomas Daly, Bianca Ruiz, Dr. McKevitt, Dr. Weaver, Sarah Hermann, Brittany Sullivan, Maria Juarez, Christina Arispe, Kyleah Schmidt
Pictured: Sarah Hermann, Alex Deman, Kyleah Schmidt, Christina Arispe, Maria Juarez, Diedra Reeves