A Look Back: Biden Visits UNO
Joe Biden, who was recently sworn in as the 46th President of the United States, visited campus in February 2019 to help launch the Chuck Hagel Forum in Global Leadership.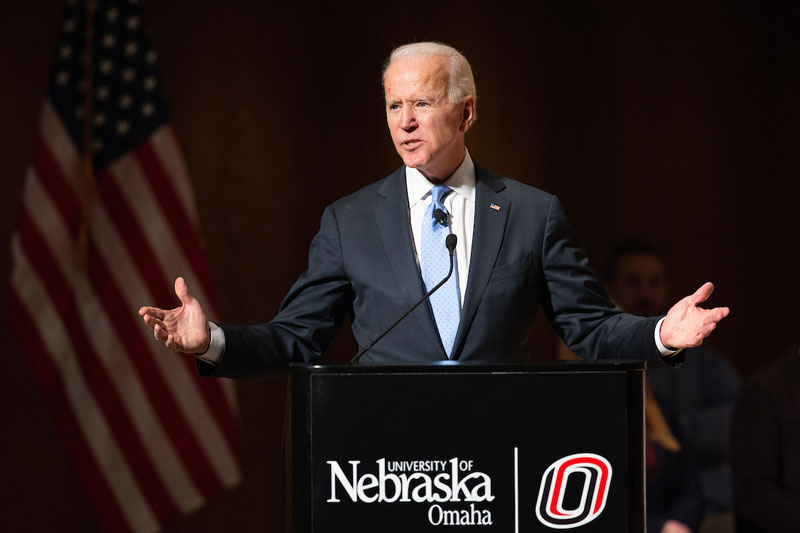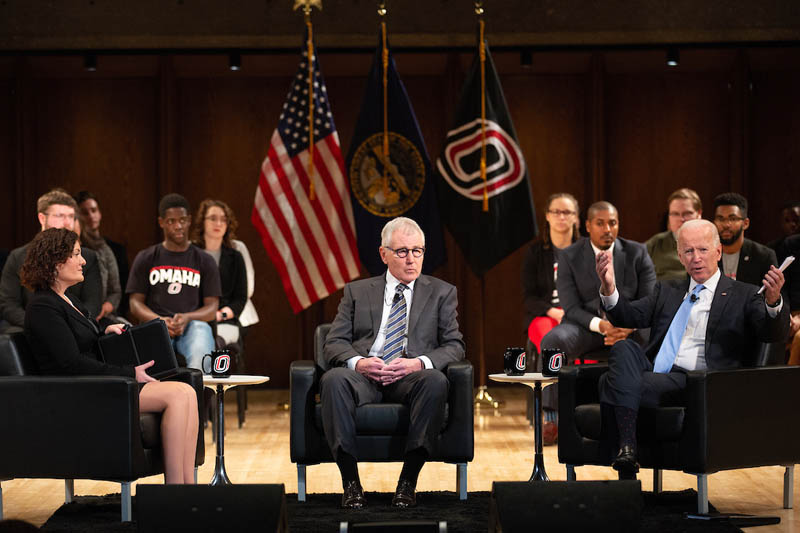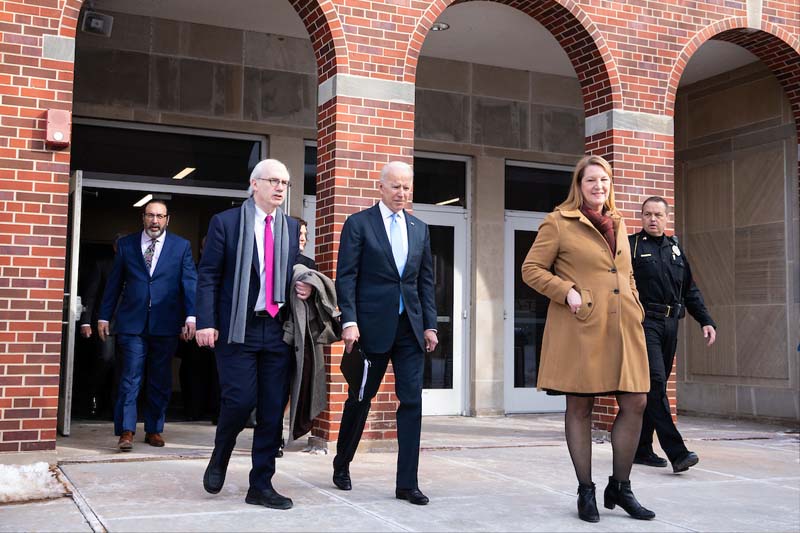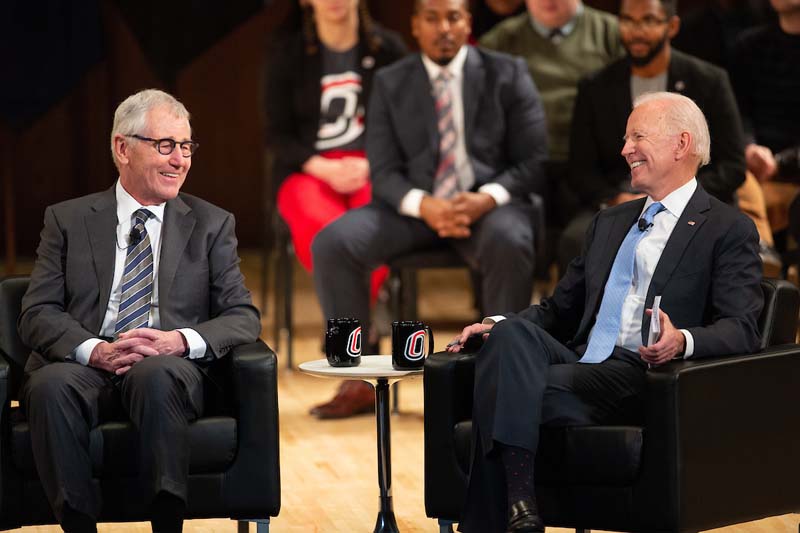 The following article was published on March 1, 2019, following a visit from then-former Vice President and current President-Elect Joe Biden, who served as the first guest for the Chuck Hagel Forum in Global Leadership.
The UNO series was developed by alumnus Chuck Hagel, who served as Secretary of Defense under former President Barack Obama and as Nebraska's senator from 1997 to 2009.
Biden was sworn in as the 46th President of the United States on Wednesday, Jan. 20, 2021.
---
In his first official visit to UNO, Vice President Joe Biden helped launch a successful start to the new Chuck Hagel Forum in Global Leadership before a capacity crowd at UNO's Strauss Performing Arts Center on Thursday, Feb. 28,
Biden, who served as the 47th Vice President under President Barack Obama from 2009 to 2016 and as a United States Senator from Delaware for 36 years, provided prepared remarks to more than 300 forum attendees.
His message to the students in attendance? Engagement with the rest of the world is vital to the success of the next generation of leaders.
"It's in our naked self interest to stay engaged, not because we are the only country who can save the world, but because we can't do it alone," Biden told the crowd. "We need leadership that sees what is coming over the horizon and expands and strengthens our resources."
During the forum Biden also took questions from UNO students ranging from the recent North Korea summit in Taiwan to long-term prospects for America's partnership with NATO and European allies during a moderated panel that also included former Secretary of Defense and U.S. Senator for Nebraska Chuck Hagel, a UNO alumnus, and was moderated by Lana Obradovic, Ph.D., UNO associate professor of political science.
Opening remarks at the event were provided by UNO Student Body President Renata Valquier Chavez; NU President Hank Bounds, Ph.D.; and UNO Chancellor Jeffrey P. Gold, M.D., who helped welcome Hagel back to campus.
"We focus much of our time here at UNO on breakthrough thinking - making the impossible possible on a daily basis," Gold said. "Secretary Hagel embodies something that we talk to all of our incoming students about ... once a Maverick, always a Maverick."
In Hagel's remarks, he recalled several stories involving Biden, with whom he served on several key Senate committees during his time as senator, including one of his first times meeting Biden on the Senate floor.
"At my first committee meeting, he walked over the Republican side of the aisle and put his arm around me... an uncommon gesture in politics today.
"What matters most in public service, as it does in life, is character," Hagel continued. "A person is not only measured by accomplishments, but also by compassion and thoughtfulness."
Biden also recalled a previous visit with Hagel to UNO early in his senate career, stating: "When I understood [UNO] are called the Mavericks, it really explains you. It makes me understand how the hell you got to be the way you are."
The former vice president and senator also credited UNO - as well as other higher education institutions - with leading the way, internationally, on important advancements in knowledge, economics and innovation.
"We have more great research universities in the United States of America, including here, than all of the rest of the world, combined ... every major life changing, life altering change has come out of a research university - not a corporation."
It was a message heard not just by students, but also elected leaders from across the state of Nebraska. Joining the hundreds of UNO students at the event were former Nebraska senators Ben Nelson and Bob Kerrey; former Nebraska representative Brad Ashford; members of the Nebraska State Legislature; members of the Omaha City Council; and members of the NU Board of Regents.
Throughout the forum, Biden also touched on the legacy of World War II, lessons he learned from his parents, experiences traveling abroad and during his time in elected office. In his closing remarks Biden called on UNO students and others in attendance to learn about the world, but experience it as well.
"We lead the world not by the example of our power, but the power of our example.
"I'm looking to you, I really am; I'm counting on you... There is nothing beyond your capacity. Nothing."
The Chuck Hagel Forum in Global Leadership is the second series launched by Sec. Hagel in partnership with UNO in recent years. The Chuck Hagel Symposium in Public Service, hosted in March and October of 2018, connected hundreds of high school students from the greater Omaha metropolitan area with experts in a variety of fields, all sharing their perspectives on public service.
In 2016, Hagel also partnered with UNO to host a two-day symposium exploring the lessons and legacies of the Vietnam War with national Vietnam veteran leaders, public officials and journalists.
Since leaving office, Joe Biden has maintained an active voice in global affairs through his leadership of the Penn Biden Center for Diplomacy and Global Engagement, part of the University of Pennsylvania. The center works to convene world leaders, develop and advance smart policy, and strengthen the national debate for continued American global leadership in the 21st century.
Video of the forum is embedded below and also available on YouTube.