Carrie Palmesano Named 2021-2022 Nebraska English Teacher of the Year
published: 2022/02/20
contact: UNO Department of English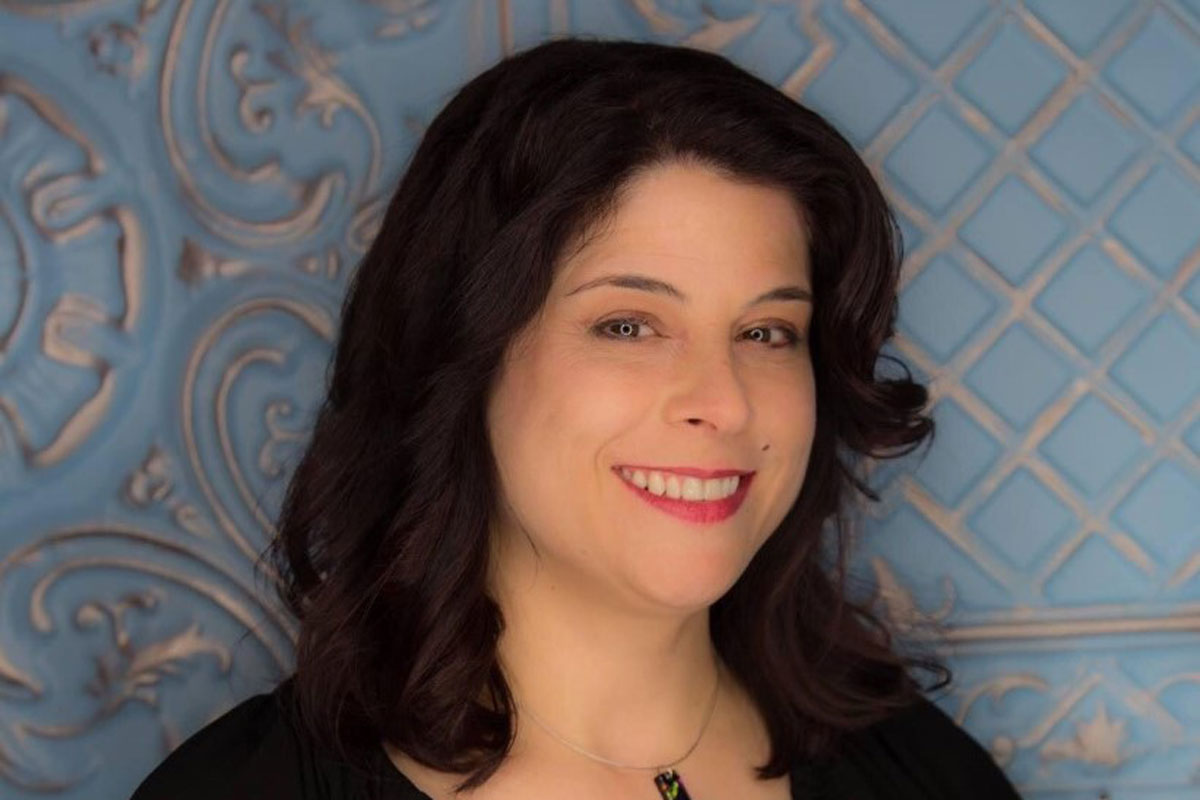 To those who know Carrie Palmesano, who has taught at Omaha South High Magnet School for the past 25 years, it comes as no surprise that the Nebraska English Language Arts Council and Nebraska Council on Teacher Education have named her as Nebraska's English Teacher of the Year for 2021-2022. An Omaha native who attended Duchesne Academy, Creighton, and then UNO (for a Master's degree in English), Palmesano is one of the most innovative, caring, and dedicated teachers one is ever likely to meet.
In the classroom, Palmesano makes literature come alive for her students – and also makes sure they come out of her classes as much better thinkers and writers than they were when they entered. She is inspired by the "creative aspect" of teaching, and says that what she most loves about teaching is "connecting with students and making an impact." To achieve those goals, Palmesano goes above and beyond what is required of her. Holding Saturday study help sessions for her Advanced Placement Literature and Composition students in the spring, before the AP exam (and bringing snacks, fruit, and pizza, to boot!), is just one example. Another is the way she helps her students overcome their hesitancy about reading and interpreting poetry by conducting a "March Madness Poetry Throwdown," during which each student chooses a poem from a list, conducts research on the poem and its author, and makes a presentation to their classmates; the class then votes on which of the two poems presented each day will "advance" in the competition. Eventually, this all leads to the "Final Four" poems, with each student getting to choose which poem they want to write a well-constructed essay about.
What Palmesano wants to do as a teacher is best revealed by her involvement with the Freedom Writers Foundation. Based on Erin Gruwell's award-winning book, The Freedom Writers: How a Teacher and 150 Teens Used Writing to Change Themselves and the World Around Them (1997), about her experiences as a teacher of disadvantage students in Long Beach, California, this organization explicitly strives to "Create opportunities for students to reach their full academic potential and aspire to higher education," "Publicly and systematically promote an educational philosophy that values, upholds, and honors diversity," and "Inspire students to realize their roles as vital members of their communities." Inspired by Gruwell's work, Palmesano went through the Freedom Writers Institute training program and subsequently not only transferred what she learned there into her teaching at South but also created a nonprofit organization in Omaha that over the years has brought in many guest speakers and conducted training sessions for teachers who want to help students in the same way Gruwell did.
But possibly what makes Palmesano stand out most, and earn her recognition such as Nebraska English Teacher of the Year and the Nebraska College Preparatory Academy High School Teacher Award, is the way that she engages students outside the classroom as well as inside it. The most prominent example of this is what she did in the spring of 2020, when educators across the country were in panic mode, dealing with the pandemic and online teaching. Hearing from some of her students, learning online for the first time, that they were struggling to keep their younger siblings occupied and happy while they themselves were in class and their parents were at work, Palmesano launched an ambitious project to help not only her students but also the greater Omaha community.
It started with some books that her own children had outgrown, and which had been simply stored in boxes in their closets; she thought she could distribute those to some of her students, who could then pass them on to their younger siblings. But then the whole project got bigger, because she realized that there were many more South students with the same problem. In response, Palmesano reached out to the Senior Class President at South, someone with lots of experience coordinating service projects, and she sought out donors for an Amazon "wish list" of science kits, arts supplies, books, and games that she had identified as appropriate for various ages. Eventually, they were able to purchase, put together, and distribute 1,500 bags of books, games, science kits, and art supplies to families that came through the mobile food pantry which had been set up in the Omaha South parking lot to help families adversely affected by the pandemic.
As one can see, Carrie's awards are richly deserved. We at UNO offer her our heartiest Congratulations! Needless to say, we are so proud to have her as one of our UNO Dual Enrollment English teachers, providing high-quality instruction to her students, empowering them, and inspiring them to pursue their dreams of higher education.