UNO Soil Judging Team Competes in Regional Contest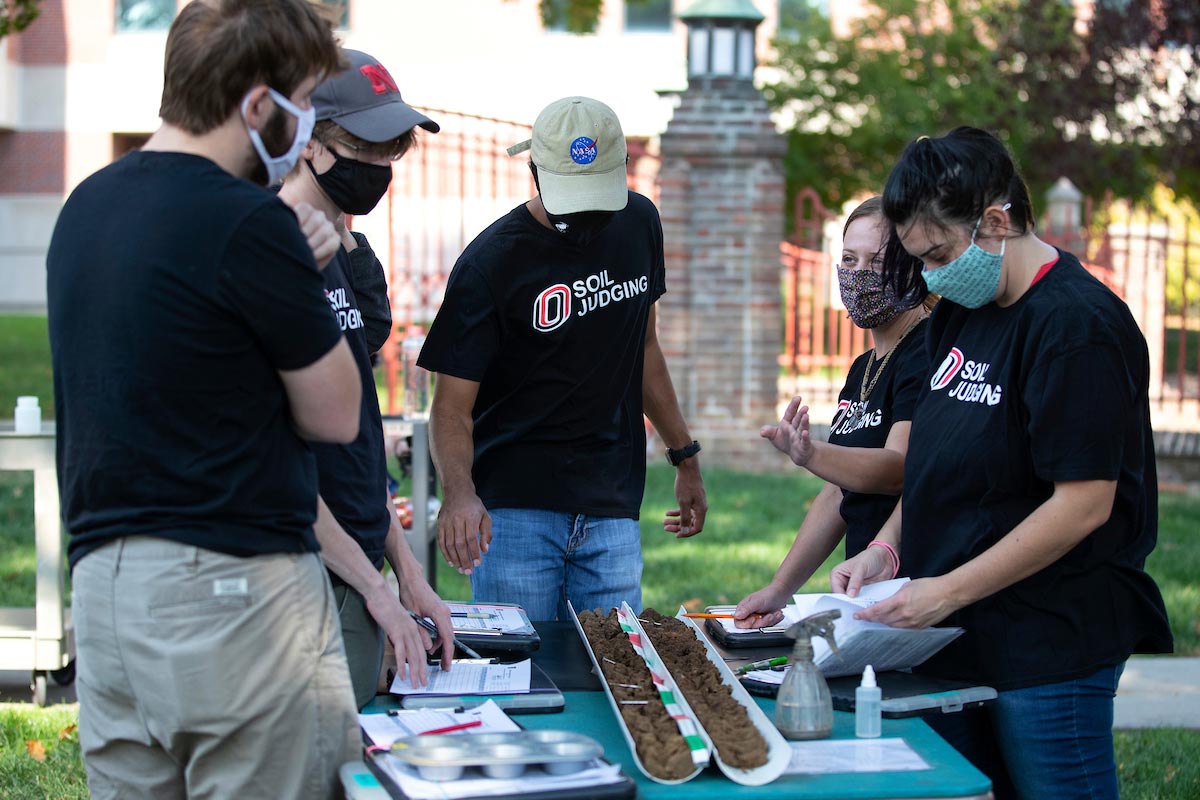 UNO's 2020 Soil Judging Team competed in the annual Region 5 Soil Judging Contest on Oct. 9, tying for fifth place in the group contest and placing seventh overall. UNO students Taylor Brumley and Justin Wheeler placed 21st and 22nd, respectively, in the individual contest out of 50 total students.
The 2020 UNO Soil Judging Team consists of Coach Ashlee Dere, Associate Professor of Geology at UNO, and the following students:
Taylor Brumley
Nathaniel Evenson
Ryan Melcher
Yulissa Vargas-Salinas
Justin Wheeler
Katherine Wojcik
While the coronavirus pandemic disrupted the originally-planned activities—teams would have traveled to an onsite competition in Missouri soil pits—organizers were able to quickly adapt to a format that aligned with current health guidelines. Soil cores were extracted from several Missouri counties and shipped to the participating campuses for analysis, including UNO, the University of Nebraska–Lincoln, Iowa State University, Kansas State University, University of Minnesota, South Dakota State University and the University of Missouri.
Soil scientists from the USDA-Natural Resources Conservation Service (NRCS) provide guidance and performed their own analysis of the soil cores in advance. The student competitors are then judged on how closely their interpretations match the experts.
The team analyzes multiple soil cores over the course of an afternoon, with a one-hour time limit for each. As the clock started for round one, the students poked and prodded the soil and noted initial observations, before claiming smaller samples to take for further analysis.
The students rubbed the soil between their fingers trying to feel for the grit of sand or levels of clay. Adding specific amounts of water to see how well it holds together, they then rolled the soil into a rope-like ribbon to see how moldable it is—can it bend like a wire or does it fall apart? All of these sensory, tactile tests can help the students profile their soil sample, and the amounts of sand and clay can determine how much water the soil can hold.
This kind of analysis has important real-world applications, and these interpretations are used especially in geotechnical consulting, landscape classification and construction.
In both practice sessions and the contest, the students have a standard set of tools at their disposal: a book of Munsell soil color charts to determine the hue, value, and chroma of their sample; diluted hydrochloric acid to test for the presence of carbonate; a mortar and pestle to grind the sample and inspect smaller particles; a sieve to separate out rocks; just to name a few.
As the students finished their first round of judging and prepared for round two, Dere offered encouragement.
"You guys work together really well," Dere told the students. "I heard lots of good negotiations and discussions, and that collaboration is what it's all about."
Some of the UNO students participated in the contest as part of a course, while for others it's an extracurricular activity. They have a diversity of interests and were drawn to the soil judging competition for various reasons.
Nathaniel Evenson, for example, is interested in archaeology and learned that studying soils can be useful in that field, particularly when looking at paleo soils. Justin Wheeler, on the other hand, is interested in pursuing volcanology, which he sees as a particularly interesting field in the geosciences.
UNO junior Taylor Brumley, competing for the third year, has a direct interest in soil analysis. She says her experience with the contest helped her gain an internship with the NRCS.
"After doing the competition the first year, I applied for the NRCS Pathways Program and got a job," Brumley says. "What really helped me was that I'd been doing the soil judging. This is what I want to do, and I get to learn more about what I can do with it as a career."
As a soil scientist intern, Brumley works out in the field and gets to classify soils that are then added to the soil survey for Nebraska. The soil judging contest utilizes a lot of the same skills required for the job.
The UNO Soil Judging Team has been participating in the Region 5 contest for four years, and this valuable opportunity will continue to be available to students in the years to come.
If you have a story idea, news tip, or inquiry please contact:
Courtni Kopietz | ckopietz@unomaha.edu