New Curriculum Uses Real Climate Data to Teach High School Chemistry
Can students learn about acids and bases by examining data on dying coral reefs and ocean acidification? Can they connect gas laws to the high winds that whip across Nebraska and the wildfires in California?
contact: Christopher Moore - Physics Department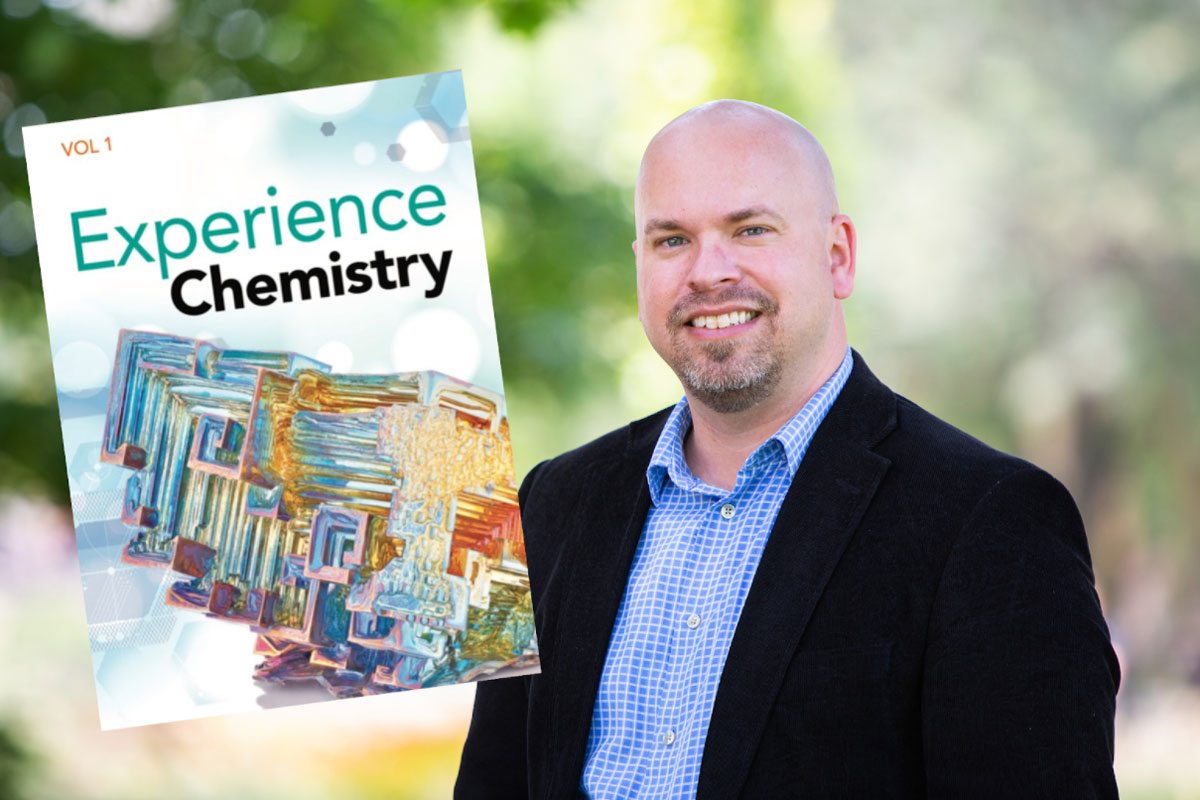 Can students learn about acids and bases by examining data on dying coral reefs and ocean acidification? Can they connect gas laws to the high winds that whip across Nebraska and the wildfires in California? Authentic, phenomena-based learning is the idea behind a new high school chemistry program adopted this year by Omaha's Millard Public Schools and co-authored by a UNO professor.
According to the author team, learning chemistry is about more than just memorizing the periodic table. Active, participatory science needs to engage and encourage students to think and figure things out. The best way to do that, they say, is to crunch actual climate data, explore through experiments connected to real phenomena, and complete real projects.
Experience Chemistry, the new curriculum, is co-authored by Christopher Moore, a professor at UNO and expert on chemistry and physics education. Michael Wysession, a professor in earth and planetary sciences, and Bryn Lutes, a lecturer in chemistry both at Washington University in St. Louis are the program's other co-authors.
According to Moore, the curriculum incorporates the most up-to-date, research-based science teaching practices that promote active learning in which students collaborate to solve problems and investigate new concepts. With over 150 pages of explicit climate-based content, the curriculum also focuses on phenomena in which today's high school students are deeply interested.
"Backed by decades of research on how students learn chemistry, this is the type of curriculum I've dreamed of creating for years," Moore said. "We've taken all of this research and packaged it together to create a chemistry curriculum that both engages students and makes busy teachers' lives easier."
The new curriculum, published by Savvas Learning Company (formerly Pearson K-12), is also the first high school chemistry program to fully align with Nebraska's new college and career ready standards for science. These standards focus on integrating content learning with doing science and real-world phenomena.
"When students see how chemistry relates to their everyday lives, it helps them develop a deeper understanding of the scientific concepts they are learning. That understanding is enhanced even more when they actually do the science," said Bethlam Forsa, CEO of Savvas Learning Company, in a press release. "Experience Chemistry takes scientific inquiry to a higher level by providing students with hands-on learning experiences that connect those concepts to the real world."
Moore is also author of the books Creating Scientists and Teaching Science Thinking, which describe for teachers the best practices in teaching science through doing, and how to implement the national standards on which Nebraska's are based. Wysession was on the author team that wrote those national standards.
"This really was the dream team for chemistry education," Moore said. "We used real data throughout the curriculum, including the latest report of the Intergovernmental Panel on Climate Change, so that students would have an authentic, real-world experience of chemistry, just like new standards demand."
Just released, Millard is one of the first school districts to adopt Experience Chemistry. A version designed specifically for California has already been adopted in most of that state's largest school districts, including Los Angeles and San Bernardino.
"We've been getting a lot of positive feedback from teachers and school district leaders about this curriculum, exactly because we engage students using topics they care deeply about," commented Moore. "We expect that within a few years, most American high school students will be learning chemistry using real climate data, possibly through our curriculum."
That movement starts in west Omaha inside Millard high schools.