New Study Suggests Athlete Activism Doesn't Impact Performance
A new study from the UNO Department of Sociology and Anthropology shows athlete activism doesn't impact performance.
published: 2020/08/31
contact: Courtni Kopietz - College of Arts and Sciences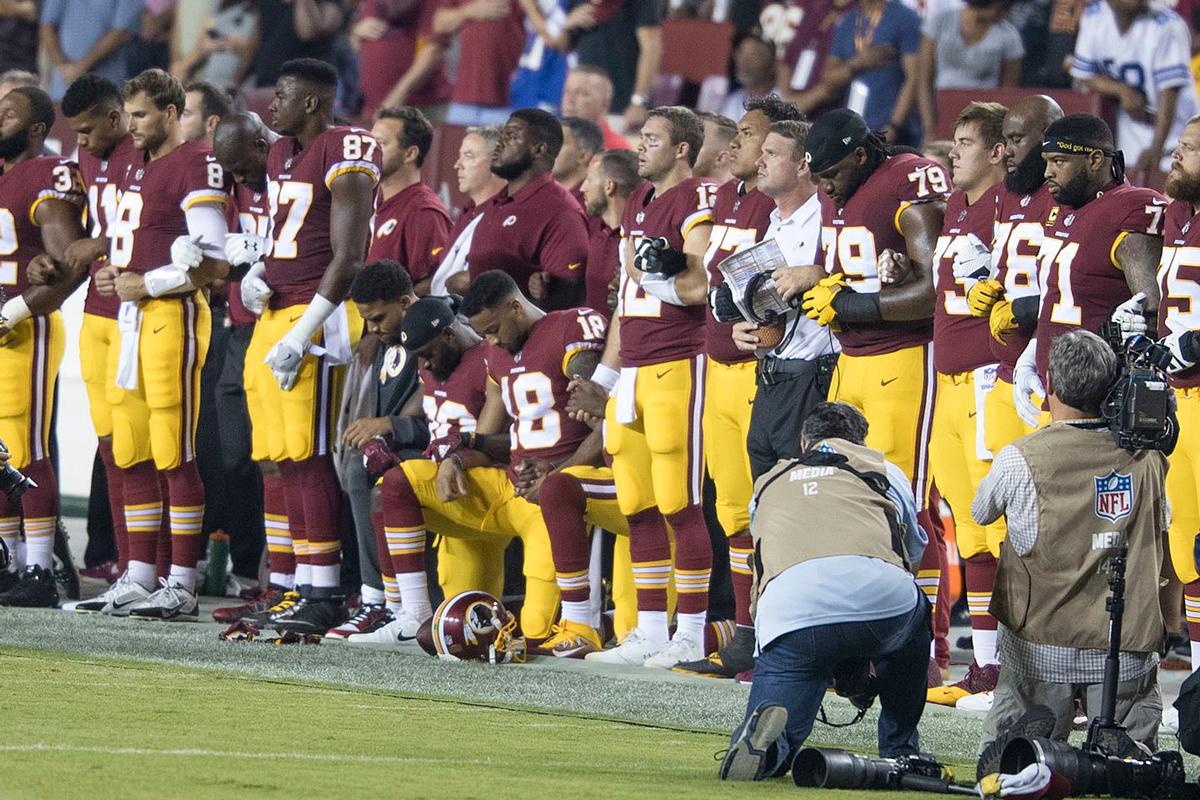 Washington football players during the national anthem before a game on Sept. 24, 2017. Photo by Keith Allison via Wikimedia Commons.
Wednesday, Aug. 26, 2020 marked four years since Colin Kaepernick started peacefully protesting racial injustice during the national anthem at NFL games, an act that eventually led to his suspected blackballing from the league. There have been other protests in the years since, but particularly a renewed focus in 2020 as more athletes take a knee—or refuse to play at all—to protest violence against Black people and police brutality.
Daniel Hawkins, Ph.D., chair of the department of sociology & anthropology at UNO, recently completed research analyzing one argument that often comes up in the debate on athlete protests: do these protests negatively impact a player's performance?
While the criticisms against athlete activism are varied, the argument that players will lose their edge and be unable to successfully compete in the world of elite sports is one that "seeks to delegitimize and derail athlete activism," the paper states.
"Professional athletes have a highly visible platform to promote awareness of social issues and to become leaders of social movements," Hawkins says. "But some people argue that stadiums or arenas are simply not the 'right place' for social activism. One tactic used to keep activism out of the sports world is to argue that athletes who protest before games will 'distract' themselves and their teammates from performing well when the competition starts. As far as we know, nobody has actually tested that argument with data."
Hawkins, along with collaborators at Skidmore College and the University of Minnesota, specifically tested how athlete activism impacted performance on both the individual and team level during the 2017 NFL season, in the wake of Kaepernick's 2016 demonstrations.
The short answer: it doesn't.
The study, available as a preprint in SocArXiv, found that neither a player's own protests nor their teammates' protests affected individual performance. And, by measuring a team's performance relative to sportsbook expectations, no relationship was found between protests and team performance.
The null finding provides evidence that player protests have no effect on performance; they neither hinder nor facilitate success.
The study also looked at how players' race, age, position, salary and contract length contributed to their likelihood to participate in the wave of protests.
The results found that, with all other factors equal, Black players were more likely to protest and almost 28 times more likely to kneel during the anthem, specifically, compared to non-Black players; and the higher the salary, the more likely a player would participate in kneeling as a protest. Other factors, like contract length and position, showed no effect on the likelihood of protesting.
While this study looked specifically at professional athletes, there is room to investigate further with athletes at the college or high school level.
"We suspect that many people who secretly disagree with athletes' social stances use this distraction argument because it appears to be a politically neutral and purely sports-based reason to oppose activism," Hawkins says. "And this argument, even if true, reduces athletes down to game-playing machines here for our entertainment rather than the complex and socially conscious humans they actually are. We hope our research, especially if confirmed by future studies, will show that this distraction argument is not a legitimate reason to limit athletes' social activism."