MACCT Student Applies Classroom Lessons to Role with Nebraska State Patrol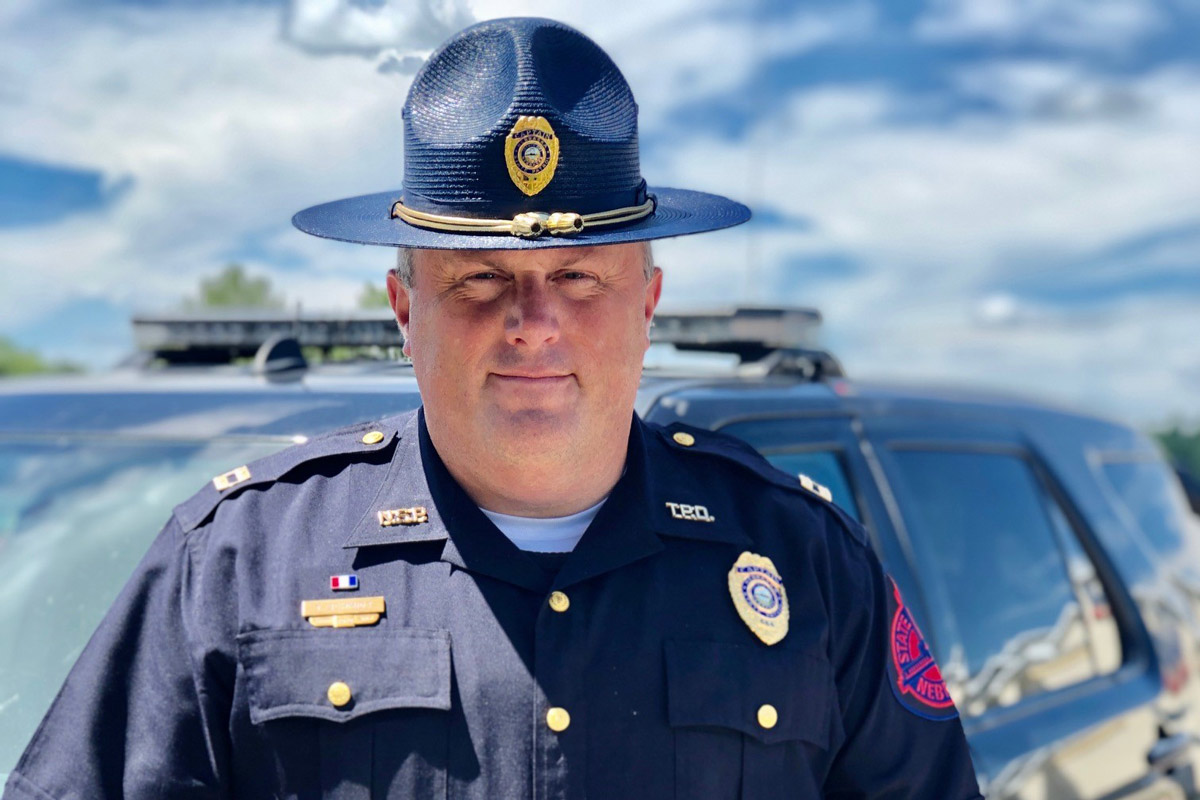 The classes in Master of Arts in Critical Thinking (MACCT) program at UNO has Tyler Schmidt seeing his role with the Nebraska State Patrol (NSP) with fresh eyes.
Schmidt, who began his studies in Spring of 2019, serves as Captain of NSP's Troop D, which comprises 27 counties in central and Western Nebraska. As protests unfolded across the country in late May and early June in response to the death of George Floyd in police custody , Schmidt's troop was sent to the area surrounding the state capitol in Lincoln to augment local law enforcement response.
"During the daytime, protesters would come in, absolutely peaceful," Schmidt says. "We would have the occasional rock or water bottle thrown, but for the most part, everything was peaceful."
However, protesters alerted police and patrol that there were bad actors present. Schmidt says the protesters didn't want their message taken away from them by people that had alternative intentions to destroy things.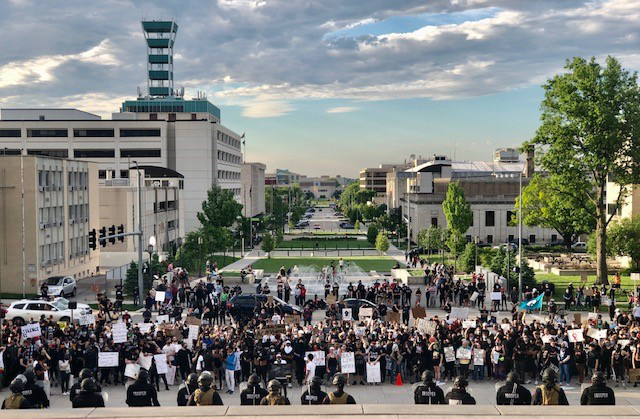 Schmidt says the protests grew calmer as the days went on, and he attributes this shift in tone to his colleagues' listening and messaging tactics. His concentration within the MACCT is Organization Science and Leadership. It focuses on applying the tools of social science and scholarship in the fields of organizational behavior and leadership to understand the causes of employee behavior, well-being and performance.
"My role as a commander is to support frontline persons, to think about things critically and what I've learned in the past, what I'm going through in the curriculum now, and pushing that message out to my people.
"[The state patrol] was not there to change minds," Schmidt says. "We were not there to change messaging, and we needed to make sure that our troopers understood that. It's not about getting into an argument. It's about listening to what the message is, allowing it to be done peacefully, and maintaining civility."
The MACCT program takes an interdisciplinary approach to its curriculum, offering students the opportunity to pursue breadth and depth within the liberal arts and sciences as they develop the skills and abilities necessary for critical thinking, creativity, and leadership.
Schmidt lives in rural Harlan County with his wife, Jill, and two children. Both he and his wife are active in the community through involvement in youth sports, 4-H Extension, fair board and church groups.
He says he was initially drawn to the MACCT program because he saw an opportunity to build upon interests he already held.
"I have always been involved with developing new officers and troopers during their time in the academy and into their field training. Their commitment to become better officers excites me with the direction law enforcement is taking with more community involvement."
Schmidt says this unique curriculum has allowed him to view the protests in Lincoln through a multi-faceted lens.
"What are the issues that the protesters have? What is the expectation of the neighborhood, the city at large? How does this reflect on the state? How does this reflect on the Nebraska State Patrol? [W]hen bringing in everybody's needs to the group and understanding that everyone has a role in it, you can't help but take a moment of pause to see how this affects them. It makes you more aware. The slightest move on your end can cause moves on others' ends."
If you have a story idea, news tip, or inquiry please contact:
Courtni Kopietz | ckopietz@unomaha.edu