Hagel Symposium in Public Service reaches out to local high school students
published: 2018/10/31
contact: Joseph Price - College of Arts & Sciences
email: jprice@unomaha.edu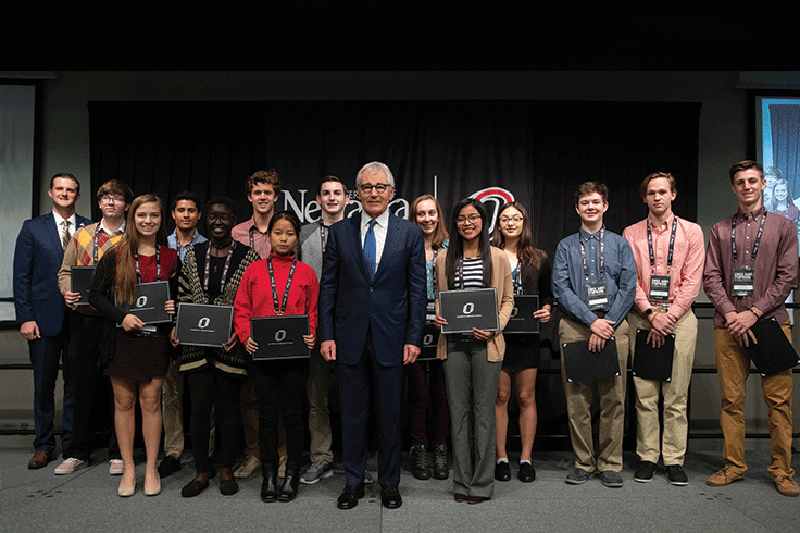 The "eww's" were audible as high school students opened the small white cardboard boxes in front of them identified only by the number "2."

In her presentation, "Freaky Food: What We Will Eat in 2050?" Beth Chalecki (Political Science) challenged students to sample the contents of different boxes.
Box "2" contained crickets and mealworms.
Her mission? To emphasize that growing populations around the world and the effects of climate change on agriculture may affect what we can eat (or can afford to eat) in the not so distant future.
Chalecki was just one of nine presenters at the Chuck Hagel Symposium in Public Service, held on the UNO Dodge Street campus on March 23 and again on October 17, 2018.
Each daylong event connected hundreds of high school students from the Omaha metropolitan area with university and community professionals engaged in public service from a variety of fields and perspectives.
The planning team for the Symposium included the College's associate dean, Randy Adkins, Jody Neathery-Castro (Political Science), Joseph Price (Creative and Critical Thinking), and UNO alumnus Chuck Hagel (Class of '71), who served as United States Senator from 1997 to 2009, and U.S. Secretary of Defense from 2013 to 2015.
Hagel said of the events, "I appreciate UNO sponsoring these Public Service Symposiums. America's young leaders learn about the nobility of public service and its importance to our country."
Both days began with a keynote address from Secretary Hagel followed by breakout sessions chosen by the students and led by faculty from the Colleges of Arts and Sciences, Business Administration, Public Affairs and Community Service, and the University of Nebraska Medical Center. Presentations focused on the fields of international affairs, law, medicine, public policy, and many other topics-- all related to public service.
A highlight for a number of students was the opportunity to ask Senator Hagel questions after the keynote address.
Other College presenters included Michelle Black (Political Science), Maggie Christensen (English), Cristián Doña-Reveco (Sociology and Office of Latino and Latin American Studies), and Elaine Nelson (History).
Adkins said that the event helps fulfill our metropolitan mission because, "It gets students from the Omaha Metro area onto our campus, gets them thinking about college, and thinking about a number of different career paths where they might give back to our community."
To jump start the students' college experience even further, participating high schools selected one Hagel Scholar from each school, a student the high school deemed exemplary in the area of public service. Selected scholars received a dual enrollment scholarship, offered through UNO's Office of General Education and Dual Enrollment.
Last March's high schools included Omaha Public Schools' Benson, Bryan, Burke, Central, North, Northwest, and South, Millard North, South, and West, as well as Westside and Ralston High Schools. The second Symposium held in October was expanded to include Papillion-La Vista High School.
"With the opening of the newly renovated Strauss Performing Arts Center in late 2018, our hope is to host as many area high schools as we can each fall," Adkins said.
The feedback from the March symposium was overwhelmingly positive. One area high school teacher said, "Our kids couldn't stop talking about the symposium or the sessions for days."
If you have a story idea, news tip, or inquiry please contact:
Courtni Kopietz | ckopietz@unomaha.edu