Engelmann discovers prehistoric species at Saints and Sinners Quarry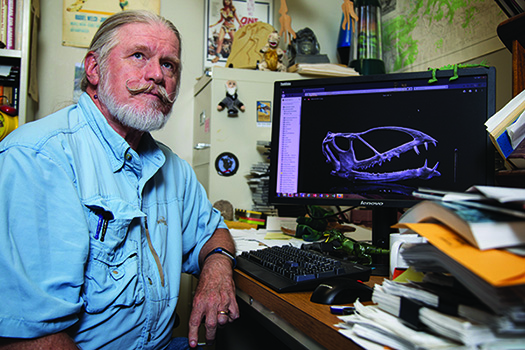 UNO Geology professor George Engelmann and colleagues are making national headlines for unearthing the fossil of the oldest desert dwelling pterosaur yet discovered, extending the pterosaur record back 65 million years. The flying reptile's name is Caelestiventus hanseni, which means heavenly wind in Latin. 
"We happened upon this one," Engelmann said. "It's partly luck, but it's luck resulting from a concerted effort. You can't just plan to find one of these."

Unlike most pterosaur fossils, these bones were found fully intact because they were discovered in sand dunes.  Engelmann says the location of the fossils is part of the reason the discovery has generated so much interest; pterosaurs aren't typically found in this part of the world.

"There are as many as 30 of these fossils around the world, mostly in Europe or Greenland," Engelmann said. "They were much more widely distributed than previously thought. This one lived in a desert, so it shows they lived in very diverse habitats early in their history."
The fossils were discovered at a dig site in Utah known as Saints and Sinners Quarry, a site first discovered by Engelmann and Daniel Chure of Dinosaur National Monument, National Park Service.
The site has produced many new species.  "All are new genera as well," explains Engelmann, "including a dinosaur, and including the pterosaur. Together with Brooks Britt (Museum of Paleontology, Department of Geological Sciences, Brigham Young University), we have been developing the locality and doing the initial analysis on everything that comes out of it."  Fabio Dalla Vecchia, a pterosaur expert from Institut Català de Paleontologia Miquel Crusafont, Sabadell, Spain, was also invited to collaborate on this project.
The team has published an article about the discovery in Nature Ecology & Evolution.
Also listed as contributors are Michael Whiting (Department of Biology and Monte L. Bean Life Science Museum, Brigham Young University) an insect taxonomist who helped with the phylogenetic analysis and Rod Scheetz, who is the director of the BYU Museum of Paleontology where the specimen was prepared and is deposited.
If you have a story idea, news tip, or inquiry please contact:
Courtni Kopietz | ckopietz@unomaha.edu