Intelligence Community Scholars Win Welch Award for Third Year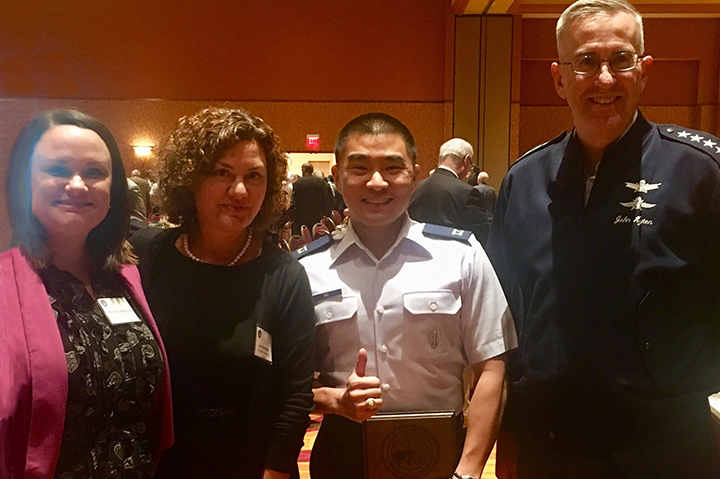 Victoria Cera, Michelle Wietbrock and James To are this year's General Larry D. Welch Deterrence Writing award winners, and this is the third year in a row that members of UNO's Intelligence Community (UNO IC) have won the award.  Their winning paper is entitled, "Xi Jingping's Rise and Aspirations: Prospect Theory Analysis."
Wietbrock and To are pictured above, while Cera was attending DIA's National Security Analysis Summer Camp in Maryland at the time of the Assurance and Deterrence Symposium. All three are political science graduate students. 
Director of UNO IC, Dr. Lana Obradovic, Political Science, says, "I am incredibly proud of them as Wietbrock (Indiana) and To (Montana) are our online students. This award demonstrates not just how strong and rigorous both our online political science academic program and IC scholars are, but how opportunities to actively participate in research are not limited to those on campus." 
She adds, "Some of our previous winners are now working for the Department of Defense and UNO, and our IC program particularly is quickly becoming known as the place to recruit the next generation of national security experts."
The UNO IC program is a member of the U.S. Strategic Command's Deterrence and Assurance Alliance.  Students conduct research on national security, deterrence and assurance, weapons of mass destruction, cyber and space security, and violent extremist organizations and are given opportunities to participate in workshops and seminars and to have direct interactions with scholars, experts, and members of the intelligence community.
For additional information, please contact Lana Obradovic.
If you have a story idea, news tip, or inquiry please contact:
Joan Bell | jbell@unomaha.edu