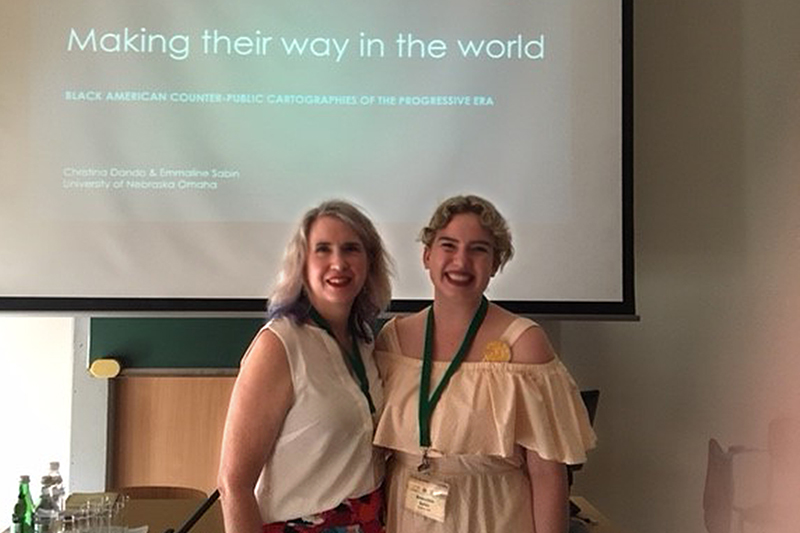 Emmaline Sabin, Black Studies/Women & Gender Studies double major, is currently a student assistant on the Shirley Goldstein exhibit (Goldstein Center for Human Rights).
Three years ago, her mother, Geography faculty member Christina Dando presented at the International Conference of Historical Geographers in London.
After the London trip, mother and daughter wistfully thought, "wouldn't it be cool to present together at the next meeting in 2018 in Warsaw?" Dando is half Polish and Sabin a quarter.
This summer, they made it happen. They found a research topic they both could equally contribute to – a historical study of the ways Black Americans used geography and mapping in the Progressive Era – and submitted a proposal to the conference.
Emmaline had grown up the granddaughter and daughter of academics and had attended many conferences and presentations.  The International Conference of Historical Geographers in Warsaw was an opportunity to go from the audience to the podium, with mother and daughter sharing writing and presenting duties.
It worked out perfectly that Emmaline's interest in Human Rights coincided with the trip to Warsaw. In addition to the conference, they were able to visit the Jewish Historical Institute, the Museum of the History of Polish Jews, the Warsaw Rising Museum and took a day trip to Auschwitz-Birkenau.
If you have a story idea, news tip, or inquiry please contact:
Joan Bell | jbell@unomaha.edu