Center promotes the understanding of human rights issues through teaching, research, creative activity, and community engagement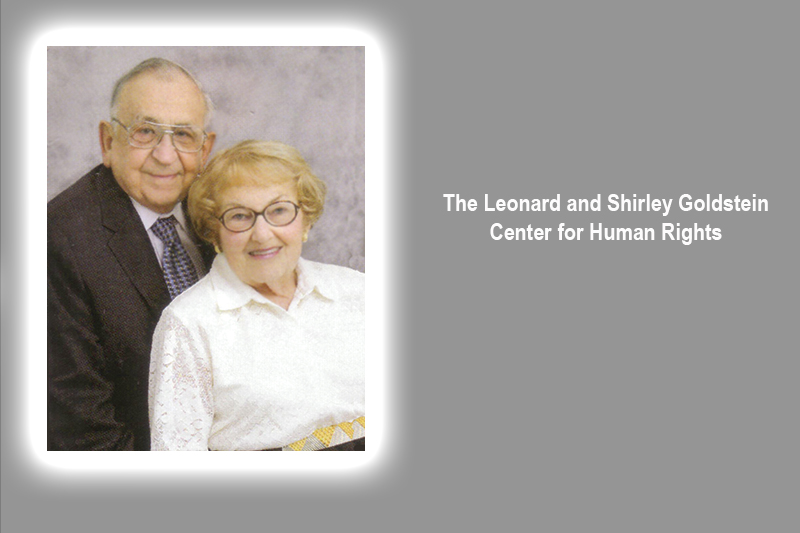 At its December 1, 2017 meeting, the Nebraska Central Coordinating Commission gave final approval to the establishment of the Leonard and Shirely Goldstein Center for Human Rights.
Earlier, the October 6, 2017 Omaha World-Herald announced that the University of Nebraska Board of Regents had approved the Center, "Shirley Goldstein donated $2 million in 2015 to endow such a center. She died this year, and her husband died in 2012.
Her son, 70-year-old Donald Goldstein, attended the regents meeting. He and his sisters, Kathy Helm and Gail Raznick, contributed additional money so a 'community chair,' or leader, of the human rights program could be hired."
The Leonard and Shirley Goldstein Center for Human Rights will be a nonpartisan, nonsectarian organization that promotes the understanding of human rights issues through teaching, research, creative activity, and community engagement. That Center will build on the legacy of Leonard "Buddy" and Shirley Goldstein and their more than forty years of supporting human rights initiatives. The center still requires approval by the Nebraska Coordinating Commission for Postsecondary Education which meets December 1.
"'We're honored to have this gift at UNO,' said David Boocker, dean of arts and sciences, referring to all of the Goldsteins' support.... Boocker said the center will take on topics such as immigration, religion and health care." OWH
"Regent Hal Daub of Omaha, who knew Shirley Goldstein, said the center will be a fitting tribute to the family." OWH
With Leonard's financial and moral support, starting in the early 1970s, Shirley made many trips to the Soviet Union to meet with Soviet dissidents and to assist in bringing Jews out of the Soviet Union. Together they worked for the resettlement of over 100 Jewish families in Omaha.
In 1996, Shirley Goldstein was awarded an honorary Doctor of Humane Letters degree from UNO for her many contributions to the cause of human rights, and Leonard was recognized by several organizations including being named Humanitarian of the Year by the Jewish Federation of Omaha in 2011.
The Shirley and Leonard Goldstein Lecture on Human Rights was established at UNO in 1997 through a gift from the Goldsteins to focus attention on the plight of people around the world who suffer from abuse. The 2017 lecture featured an exhibit from humanitarian photographer Lisa Kristine entitled "ENSLAVED: An Exhibition of Modern Day Slavery" and supplementary events examining issues from history as well as current tragedies.

We're honored to have this gift at UNO
- David Boocker, Dean of Arts & Sciences
If you have a story idea, news tip, or inquiry please contact:
Courtni Kopietz | ckopietz@unomaha.edu