Dando publishes Women and Cartography in the Progressive Era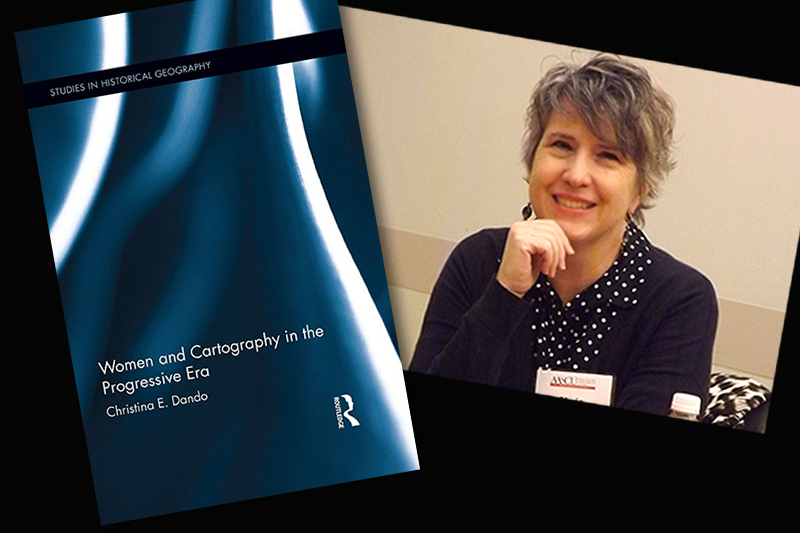 Publisher Routledge writes of Christina Dando's first book "Long overlooked, this women's work represents maps and mapping that today we would term community or participatory mapping, critical cartography and public geography. These historic examples of women-generated mapping represent the adoption of cartography and geography as part of women's work. While cartography and map use are not new, the adoption and application of this technology and form of communication in women's work and in multiple examples in the context of their social work, is unprecedented.
This study explores the implications of women's use of this technology in creating and presenting information and knowledge and wielding it to their own ends. This pioneering and original book will be essential reading for those working in Geography, Gender Studies, Women's Studies, Politics and History."
Within the text, Dando explains the evolution of women in cartography, "By focusing on issues considered to be "municipal housekeeping," such as education, sanitation, and food safety, women could work towards improving their cities and society while still being perceived as "proper" women and mothers. Underlying their work was the belief 'all municipal problems had to be solved before the city would be a good place in which to live' (Flanagan 1990, 1045). But, in order to address the issues they identified, women had to address the policial structures governing their communities. Through women's clubs and organizations, women gained experience in political activism well before they attained the right to vote. Geographic knowledge and maps were an important element of their activism."
Christina Dando is an Associate Professor of Geography at UNO. Her research interests include the impacts of media and technology on human perception and interaction with the environment, particularly the Great Plains. She is also interested in gender and geography, how landscape and environment have long been gendered as well as how gender impacts human experience and interaction with the environment.
If you have a story idea, news tip, or inquiry please contact:
Courtni Kopietz | ckopietz@unomaha.edu