Certificate will make students competitive in applications for medical school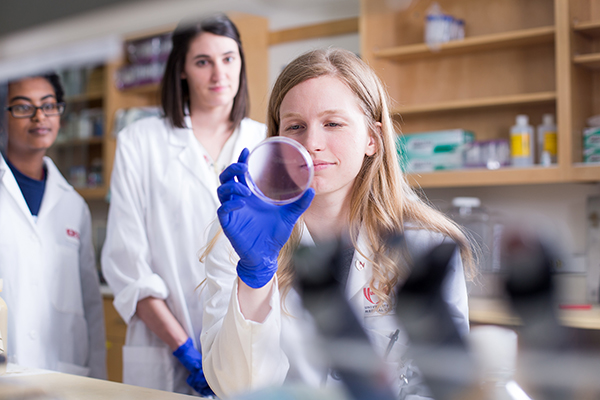 According to Dr. Paul Davis, Director of the Health Careers Resource Center, "The goal of the Graduate certificate in Biomedical Science is to provide a post-baccalaureate experience that will prepare students for future clinical training, particularly for medical, dental, pharmacy, physician assistant, or veterinarian schooling."
Davis explains, "According to the US Bureau of Labor Statistics 'Healthcare occupations will add more jobs than any other group of occupations.' However, the acceptance rates in doctoral-level clinical professions has historically been low (approximately 30% nationwide). Common reasons for rejection of applying undergraduate students is either lack of competitive GPA, and/or lack of competitive standardized test scores (e.g. MCAT, DAT, PCAT, GRE, etc.) Nationwide, there has been a growth of 'secondary training' to augment the broad undergraduate experience with more focused pre-clinical training and to better prepare students for the standardized testing."
Required graduate courses include Clinical Reasoning (3 hrs), Clinical Readings (3 hrs), and Biochemistry II with lab (4 hrs).  Students will also choose 3 hours from Advanced topics in Biology, Research in Chemistry, or Biology Independent Research and at least three hours of elective coursework in Chemistry or Biology.  Pre-requisite undergraduate courses may also be required.
Additional information can be found in the graduate catalog.
If you have a story idea, news tip, or inquiry please contact:
Joan Bell | jbell@unomaha.edu
Our Campus. Otherwise Known as Omaha.
The University of Nebraska does not discriminate based on race, color, ethnicity, national origin, sex, pregnancy, sexual orientation, gender identity, religion, disability, age, genetic information, veteran status, marital status, and/or political affiliation in its programs, activities, or employment. Learn more about Equity, Access and Diversity.
scroll to top of page