History Department hosts national association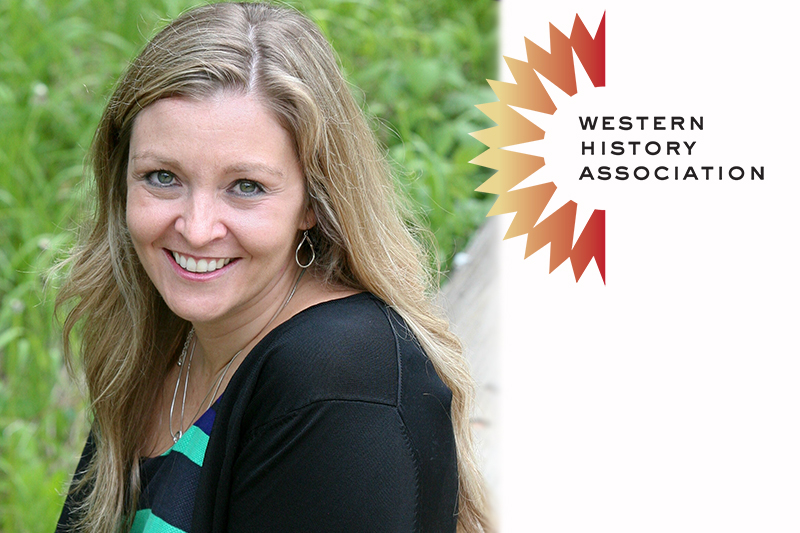 On July 1, 2017, the executive office of the Western History Association (WHA) will relocate from the University of Alaska Fairbanks to the Department of History at the University of Nebraska at Omaha. Elaine Nelson, Assistant Professor of History, will serve as the association's next Executive Director.
The Western History Association was founded in 1961 by a group of professional and avocational historians bound by their belief in the American West as a place rich in history and deserving of further study. Membership in this non-profit organization is over 1,500 and it plays a major role in shaping western history, including the fields of women and gender, race, Indigenous people, borderlands, immigration and ethnicity, labor, and the environment in the west.
Nelson first attended a WHA meeting as a Master's student in 2003. She then started her Ph.D. and worked for the organization as a graduate student when it was located at the University of New Mexico. Nelson has remained an active member of the WHA, and, in the words of current WHA President Stephen Aron (UCLA) the membership is "delighted" to have her on board to shepherd it through its next chapter: "Her university has made a substantial commitment to the WHA," Aron said. This, "together with Elaine's energy, enthusiasm, and all around good sense, augurs great things for our organization."
The WHA's presence at UNO will bring exposure to the University's programs and the History Department's current strengths in western and Native American history. One of the unique aspects of the WHA is its support of graduate students. M.A. and Ph.D. students from diverse programs throughout the country attend the annual conference where they present their work, network with peers, and benefit from access to scholars in their field.
In the WHA office at UNO, Nelson will oversee a staff that helps with membership, fundraising, and conference planning. A significant part of that staff will be a Graduate Assistant who receives two years of funding, and several other graduate student volunteers who attend the conference to assist with conference registration and other responsibilities. The Graduate Assistant will be a nationally-competitive position and a method for recruiting graduate students outside of Nebraska to complete their M.A. work with UNO's history faculty.
WHA opportunities will place UNO history M.A. students in direct contact with potential employers and professors from Ph.D. programs in which they plan to apply. Graduate students will have the opportunity to participate in programs and initiatives for K-12 education, Digital Humanities, and Public History through co-sponsored projects with organizations like the Library of Congress, Smithsonian Institution, Buffalo Bill Cody Museum, Gene Autry Museum, Newberry Library (Chicago), Huntington Library (San Marino), Bancroft Library (Berkeley), Gilcrease Museum, Beinecke Library (Yale), National Cowboy and Western Heritage Museum, Organization of American Historians, American Historical Association, Native American and Indigenous Studies Association, Mormon Studies Association, Coalition for Western Women's History, American Society for Environmental History, and the Pacific Coast Branch of the American Historical Association.
If you have a story idea, news tip, or inquiry please contact:
Courtni Kopietz | ckopietz@unomaha.edu