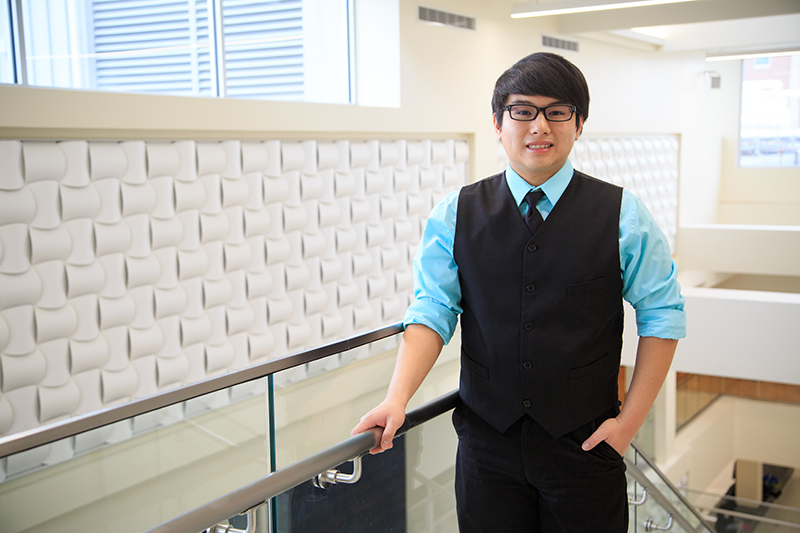 A junior in the Biology program has been recognized nationally for his commitment to campus and the community.
Campus Compact, a Boston-based non-profit organization working to advance the public purposes of higher education, announced the names of 273 students who will make up the organization's 2017 cohort of Newman Civic Fellows, including Jimmy Nguyen, who has already made an impact in his short time as a UNO student.

"Jimmy is an outstanding campus and community leader who is fully committed to addressing barriers to student success," Chancellor John Christensen said in a statement to Campus Compact. "Mr. Nguyen is remarkable for his dedication to service activities on and off campus and for his advocacy for service to his fellow students."

In recent years, Nguyen has devoted his time and talents to establish and lead the South Sioux Student Association, which exists to help students from his hometown who come to the university persist until graduation, and has grown this organization by over 200 percent since 2015.

Additionally, in his hometown of South Sioux City, Nguyen has invested in the success of his peers by helping to establish a local book bank and has served on the Sioux-land Youth Advisory Council and the Teen Pregnancy Prevention Initiative. He continues his work with these organizations today while also continuing his efforts on campus.

"By far, one of the toughest challenges of our society today is 'inclusiveness,'" Nguyen said. "We alienate those we do not fully comprehend. My upbringing has made me experience this personally. Growing up as an immigrant child, I had to assimilate into a drastically different culture. This created a huge social barrier that caused me loneliness, anxiety, and depression. Therefore, in order to help others, I advocate against 'social exclusion.'"

As a 2017 Newman Civic Fellow, Nguyen will be a part of the first cohort to benefit from a completely re-designed fellowship. The Newman Civic Fellowship, named for Campus Compact co-founder Frank Newman, is a one-year experience experience emphasizing personal, professional and civic growth. Through the fellowship, Campus Compact provides a variety of learning and networking opportunities, including a national conference of Newman Civic Fellows in partnership with the Edward M. Kennedy Institute for the United States Senate. The fellowship also provides fellows with access to exclusive scholarship and post-graduate opportunities.
"The cultivation of community-committed leaders has never been more crucial," said Campus Compact president Andrew Seligsohn. "We rebuilt the Newman Civic Fellowship experience because our country needs more people who know how to bring communities together for positive change. We are thrilled to welcome this group of 273 exemplary students as the first cohort to participate in this new model."
The Newman Civic Fellowship is supported by the KPMG Foundation and Newman's Own Foundation.

About Campus Compact
Campus Compact is a nonprofit coalition of more than 1000 colleges and universities committed to the public purposes of higher education. As the only national association dedicated to this mission, Campus Compact is a leader in building community engagement into campus and academic life. For more information, visit www.compact.org and follow @Campus_Compact on Twitter.
If you have a story idea, news tip, or inquiry please contact:
Courtni Kopietz | ckopietz@unomaha.edu