Sapphire Andersen continues studies in Finland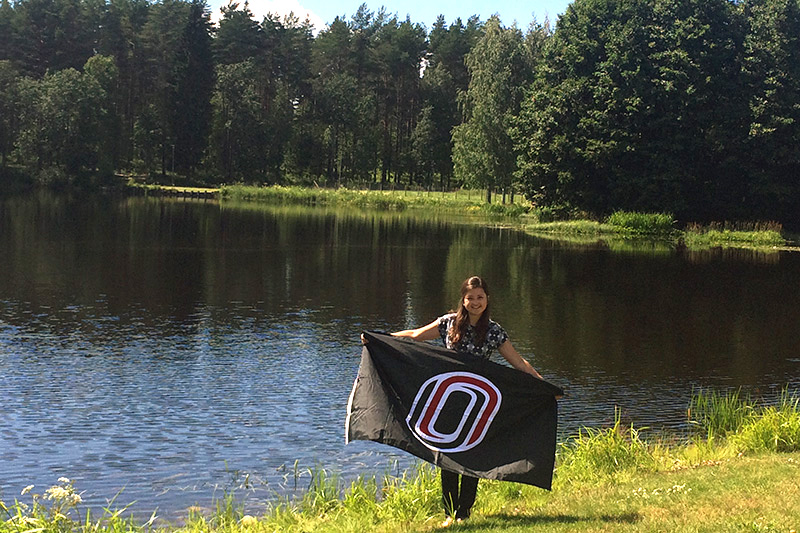 Sapphire Andersen, who graduated this fall with a double major in Political Science and English and a minor in Women's and Gender Studies, was named the 2016 Nene Field Ambassador to Aalto University School of Business in Mikkeli, Finland, and was recently featured in an interview by International Studies and Programs. Portions of that interview follow:
Can you tell us about your experience as a Nene Field Ambassador?
I was the Ambassador in summer of 2016 when I traveled to Aalto University in Mikkeli, Finland. It's an international business school so I studied business while I was over there, and I took a class in non-profit management and one in managing technological change.
People are always surprised to find out that I was not a business major, but I was able to find the classes very relevant to things I was working on; I've always had a passion for non-profits and I've worked with them through the Community Engagement Center and the Collaborative [at UNO].
What can you tell us about Aalto University?
If business or international business is your thing: this is absolutely the opportunity for you. I was intimidated about keeping up with the coursework over there, but you are able to connect with your professors and your classmates just as you would at UNO.
What were some of the highlights of the experience for you?
I feel like I learned a lot about myself and how adaptive and independent I could be. Living on your own in a different country is a challenge, and you end up learning a lot about yourself and how you deal with situations where you're not completely in control. It can be intimidating but it's such an incredible learning experience that I know I wouldn't have found here in the states or here at UNO, because this is a place I'm comfortable.
Although the experience was recent, has being an ambassador influenced you in any tangible ways?
My personal experience over in Finland shaped my perspective at an opportune time in my life. Coming back and finishing my final semester in the fall of 2016 was so stressful, but my experience just gave me a whole new perspective about what was important to me.
In Finland, they're very in touch with nature, they're very introspective, and they take a lot of time to themselves, which is something you don't see a lot of here in the United States. We're running around all the time, we work 40 hours a week, as a student you have classes on top of that... there's so much stress and pressure and responsibility put on you. Being able to take a step back and have a different mindset was something that was really valuable to me.
Any advice for others considering study abroad?
I know that it doesn't always work with schedules or it doesn't always feel like it's financially an option for you, and I was in that same boat until I found the Nene Field Ambassador Scholarship. Look for those opportunities that are outside of the box. I don't know if I would have looked into Finland, but it ended up working out, and now I would give almost anything to go back! The ability to be open to new places, ideas, and people is something that is absolutely priceless that comes with studying abroad.
If you have a story idea, news tip, or inquiry please contact:
Courtni Kopietz | ckopietz@unomaha.edu