New Concentration in Biomedical Physics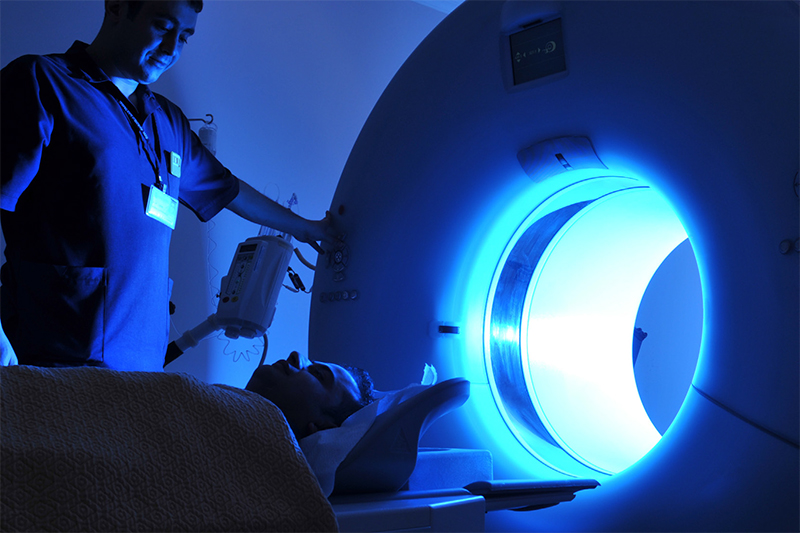 Biomedical Physics is a field of Physics that applies physical concepts, theories and methods to make new discoveries in biology and improve medicine and healthcare. Biomedical physicists must be competent in physical and mathematical science, understand biological and physiological systems, and understand and speak the language of physicians.
The Bachelor of Science (B.S.) degree in physics with concentration in "Biomedical Physics" is offered for students who intend to continue education in biological physics, medical physics or go to medical school. To help the prospective physics majors make optimal decisions, they are encouraged to speak with a departmental adviser as early as possible.
Required Coursework
Introductory physics (14 credits) and math (14 credits) courses:
PHYS 1950 Physics Gateway Course 1 credit
PHYS 2110 General Physics 1 ‐ Calculus Level 4 credits
PHYS 1154 General Physics Laboratory I 1 credit
PHYS 2120 General Physics ‐ Calculus Level 4 credits
PHYS 1164 General Physics Laboratory II 1 credit
PHYS 3250 Mathematical Methods of Physics 3 credits
MATH 1950 Calculus I 5 credits
MATH 1960 Calculus II 5 credits
MATH 1970 Calculus III 4 credits
(Students taking a number of 2000‐level mathematics courses may be permitted to waive Physics 3250
or Physics 3260.)

Physics core courses (15 credits):
PHYS 3300 Introduction to Biomedical Physics 3 credits
PHYS 3450/PHYS 8455 Classical Mechanics 3 credits
PHYS 3600/PHYS 8605 Thermodynamics and Statistical Physics 3 credits
PHYS 3750/PHYS 8755 Electricity and Magnetism I 3 credits
PHYS 3800/PHYS 8805 Optics 3 credits

Three advanced laboratories (choose three from the following list) (3 credits):
PHYS 3504 Experimental Biomedical Physics I 1 credit (required)
PHYS 3524 Experimental Physics II 1 credit
PHYS 3544 Experimental Physics III 1 credit
PHYS 3564 Experimental Physics IV 1 credit

In addition to the above requirements, a senior project (1‐3 credits) is mandatory. Two upper level electives PHYS 4500 Biological Physics (3 credits) and PHYS 4550 Physics in Medicine (3 credits) are required for the total of 39 credits.
Recommended courses from other disciplines:
General Chemistry w/Lab (8 credits); Organic Chemistry w/Lab (8 credits); Biochemistry (3 credits);
Biology I w/Lab (5 credits); Biology II w/Lab (5 credits).
Please contact Dr. Alexey Krasnoslobodtsev for additional information.
If you have a story idea, news tip, or inquiry please contact:
Courtni Kopietz | ckopietz@unomaha.edu